Updated on July 8, 2020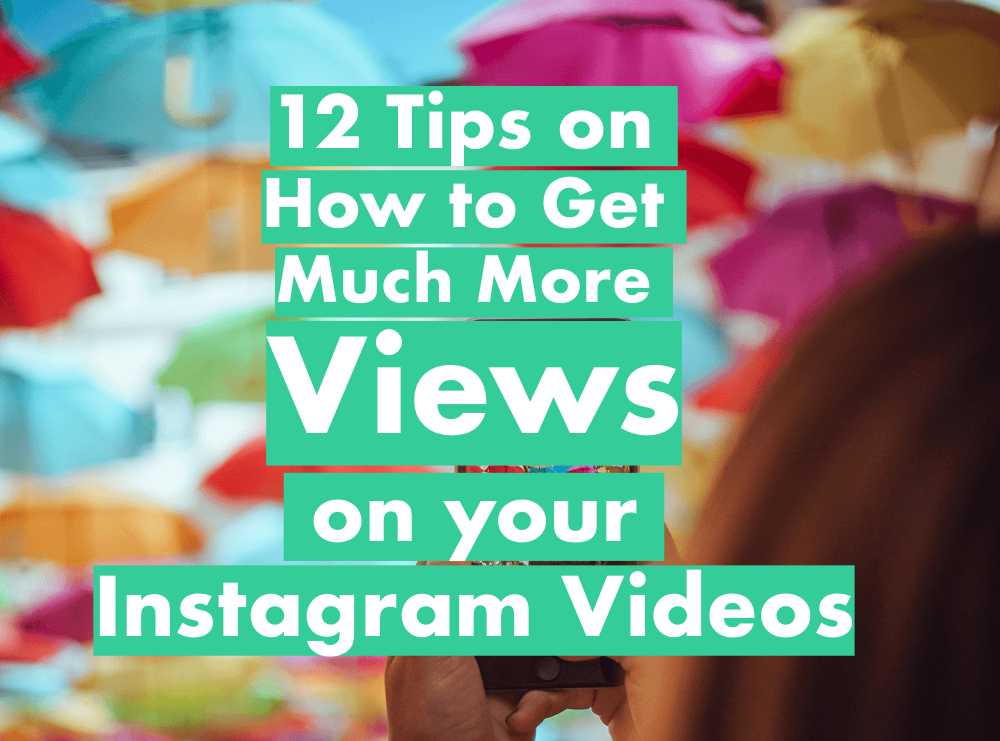 Instagram is set to become the most essential social media platform for videos. To influencers and bloggers at least. However, with more and educational, entertaining and valuable content transferring from some platforms over to Instagram and IGTV, now is probably the best time to pursue audiences on IG. With a rapidly growing viewer-base, a loyal and consistent audience, great advertisement conversions, as well as other mouth-watering metrics, Instagram videos are a lucrative, yet relatively untapped market, especially on IGTV.
Stats show that efficient use of IG videos has a tremendously positive impact on sales and customer reach for any person and/or brand. If you want to grow your audience today, Buzzvoice has prepared an extensive, in-depth guide on how to get much more views on your Instagram video publications. Without further ado, let's see how you make it happen!
1. Choosing the right videos to post
Trying to explain what videos works best is not a simple job. This is really a matter of many variables and nuances.
We can give you a free pointer though. Actually, it very much depends on your niche and audience. Different people react differently to particular ideas and visuals, so you have to know a few things before proceeding with a specific concept. About your followers that is.
Animated heartfelt stories or flashy infographics? One is better for an art magazine, and the other should generally be preferred by business insiders, etc.
Of course, there can be exceptions, but assume everything goes according to the general rule.
If you're a brand – avoid posting long videos in the feed or stories. When you publish something in the feed or upload it to the story section, people expect different things than when they hop onto IGTV.

When it comes to Insta feed & stories, make your videos short, colourful, memorable and exciting. Entertainment here is much more valuable than deep meaning or tackling social problems. Yes, those can be acknowledged every once in a while, but easy-going content works best!
Say less, show more to be short and specific.
2. Pursue the right content ideas
Video posting is very limited if you only consider the regular feed and story sections. If you are an influencer or a blogger, however – you can upload longer reviews, opinion videos, daily vlogs, etc. but post them on IGTV. Your format isn't really limited when you are an individual rather than when you operate a business account. However, regardless of your account type, BTS or Behind the Scenes and How-to video stuff is always appreciated and gets decent engagement rates and lots of views. Stuff like this Grant Cardone video (below) also gets audiences raging!
And a last noteworthy fact, according to a statistical blog by Hootsuite, How-to and instructional videos the most popular form of video content on Instagram. Why? Look at the post by Tasty below, and you'll get the hang of it…
3. Be aware of the statistics
Time to use this knowledge to your advantage:
A regular IG user will spend around 70% of his/her time on IG watching videos

They spend between 65 and 110 minutes on IG in total, so that is anywhere between 45 and 80 minutes per day, dedicated to video content.

People who watch more than 60 minutes of IG videos per day are more likely to name IG as their favourite social media platform
Food & Drink, Travel and Music pages are the most popular page types to follow
Most watched video content types are:

How-to and instructional (80%)

Most people will only watch your video for 3 to 10 seconds
These numbers and much more statistical data on IG videos are available to anyone, all thanks to Wibbitz.
We also have to shout out MediaKix. They published a nice piece about videos on IG and video marketing on this social network. People over there did extensive analytical work and found out that a great way to boost video view numbers is to do sponsored videos.
Why?

Well, mainly because they get 3 times more comments and a lot more engagement…
4. Editing
We all wish to create the best possible video and spend the least amount of time editing, producing, writing the script, etc. But the pre and post-production stages are actually the key ingredient in turning raw and loose video footage into a great form of entertainment. IG shouldn't just be turned into a dumping ground for unedited video.
Put in effort in making videos look appealing. It pays off, trust us.
Let's focus on editing for now. It's not just for removing awkward pauses or cutting away from the shot when someone is doing silly things in the background. We can also talk about the various specific video codecs, formats, resolutions and etc. that Instagram prefers. Meeting those specifics helps you take advantage of the 'Meta' and gets you more views.
We have an extensive video spec list to help produce the best video content on Instagram. The following was gathered from various online sources:
Choose aspect ratios of 16:9 for a Landscape video, 1:1 for a Square video, 9:16 for a Vertical/Fullscreen video and a 4:5 ratio for a fullscreen experience. On IG, experts recommend using the square format.
Video resolution should be no less than 720p (so above 1280×720 pixels or above 720×1280)
Video width should not be more than 1080 pixels
Make sure the video is not larger than 15 megabytes (if you're uploading to the feed) or 650MB (for IGTV uploads)
Use H.264 video codec and AAC audio
Here's an infographic from Later which is handy in case you forget all about the right aspect ratios and resolutions for IG videos.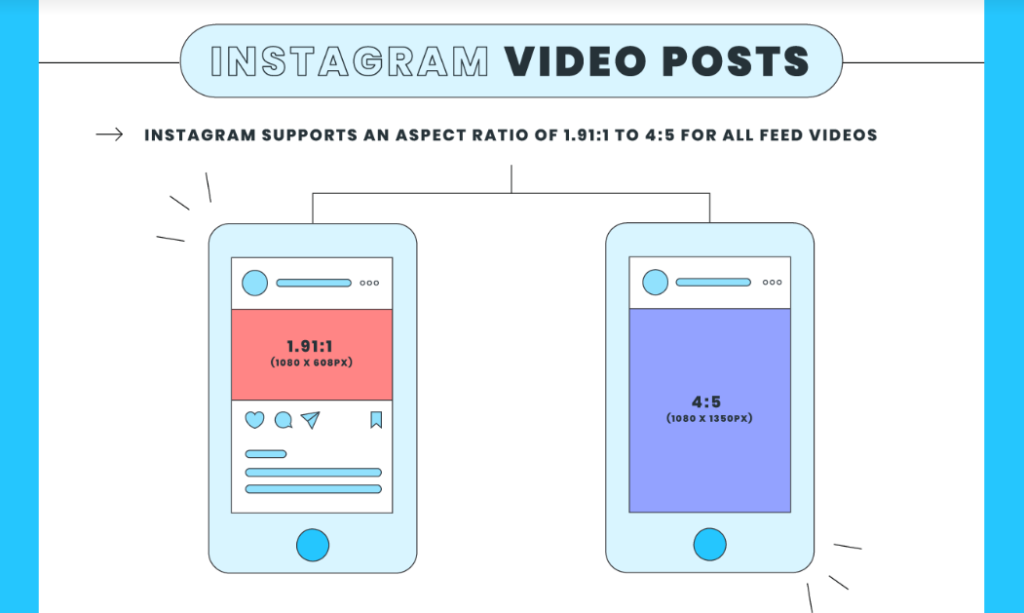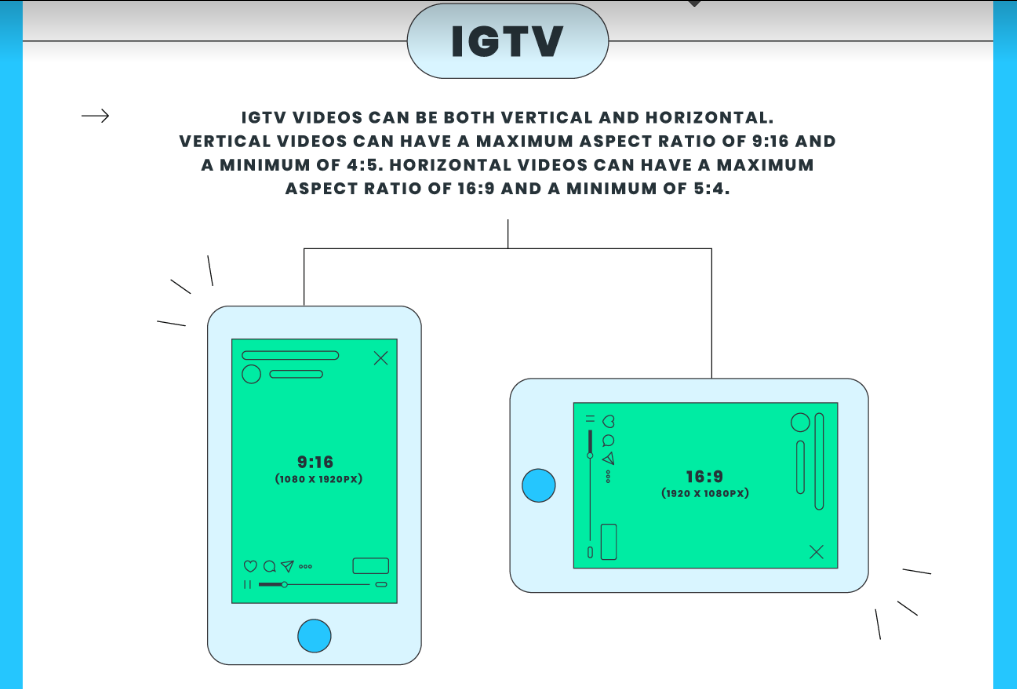 Make sure you edit on PC or MAC, so you can create the best end product.
Don't know how to edit? Choose from the thousands of video editing lectures online. There is tons of material for beginners, more advanced users and even pros. You can find it on sites like Udemy, Skillshare and Lynda amongst many others.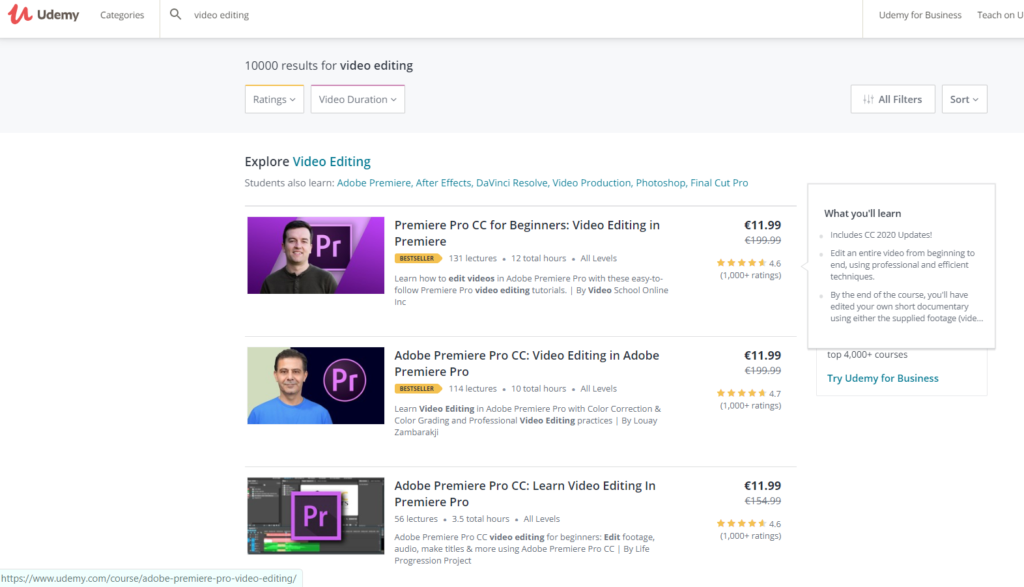 If you learn to work with apps like Sony Vegas, Adobe Premiere and Adobe After Effects or Final Cut Pro, you can make much more appealing video content. Your viewers will definitely be sharing and engaging with more enthusiasm than you are used to.
5. Give yourself a little boost
Were you aware of the fact that it is possible to buy Instagram video and IGTV views? Yes, you heard us right. Anyone who wishes to boost the popularity of their video content and seeks to attract more viewers has a quick solution. They can browse Buzzvoice service pages to find Instagram video views for sale. Get anywhere from 100 to 50,000 views delivered within 30 minutes after purchasing.
Buzzvoice makes it really simple. It's an easy-to-do process that only takes a few minutes, tops.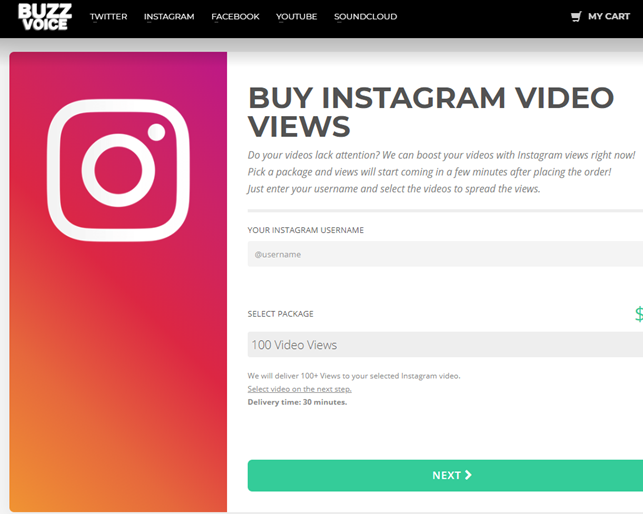 Navigate to the page where Buzzvoice offers to buy IG views.
Enter your IG username
Select your package (worth noting is that the more you buy, the more you get, meaning that larger packages offer more views per every dollar and cent you spend)
Select the post which needs more views, add the order to your cart
Proceed to the checkout and pay
Watch the views roll in
6. Four letters – I G T V
Back in 2018, Instagram launched IGTV, a new platform within Instagram, oriented towards vertical, long-form videos. It diversified the platform and allowed lots of more meaningful content to be uploaded. Its direct competition is no other than YouTube. Ever since launching it, Instagram has been tireless in promoting this feature. The developers kind of force it into your face, but not up to the point where it gets annoying. However, IGTV content is an excellent niche for getting more recognition and uploading longer, more in-depth video content. It's great for vlogging also.
IGTV has a set scale for videos at 1080×1920 px and the file which you upload mustn't be larger than 650MB.
More and more marketing strategists are seeing IGTV as a means for Instagram to increase the time their users spend on the app without making them feel bored.
On the other hand, content creators see it as this new and uncharted territory where audiences are much less picky about what they watch. The more lenient attitude towards post-production is a great way to get more views without investing in editing classes or the purchase of studio-level equipment. However, do not mistake less picky with having no standards at all. IGTV viewers do appreciate well-made video content and won't fall for trashy clickbait. All the time…
7. Instagram ads
Instagram ads show the most amazing engagement results. Out of all social media platforms, they are probably the leaders in ad delivery and sponsored content placement right now.
Make sure you are familiar with Instagram ad management software, at least on a basic level before proceeding. You will be dealing with real money and real expenditures.
Money spent could equal money thrown away if you are not thinking this through.
There is a vast gap between just placing ads randomly and using Instagram advertisements to your favour.
You have to know the age, location and gender (if possible) of your audience. Your video will be seen by thousands upon thousands of unique people, so if you want the ad to pay off and be beneficial to your business – make sure that the first few moments of your video do stand out and grasp the attention of the viewer. Make sure you can hook them in within the first seconds as, after that, the point of no return will be crossed.
Short on ideas? Here are tens of IG ads examples Adespresso collected that could help you get started.
One more thing worth noting, Hubspot, Wistia & Adage determined that IG users have the shortest attention span. As the image below indicates, you can see that the suggested length of a video ad is only 30 seconds. We recommend that you try to get your point across in under 25.
8. Expand your channel & attract audiences from other social media outlets
The audience on Instagram goes by the name you might be aware of – 'Followers'. The more followers you have – the better. SocialmediaExaminer posted a very insightful and helpful read for IG page owners who wish to attract and retain refined, engaged audiences or in short – how to get more and engaged followers.
According to them, in order to grow the number of followers (and subsequently video views), your page should:
follow a strategy and a plan (growth hacking, long-term growth or short-term spurts)
utilise local influencers or those who are mingling in a similar field
interact with its audience
create brand stories
include Call to Action buttons in posts
make them feel rewarded for following you (freebies, unique content after a survey, etc.)
Attracting new followers to IG is great. Whether they come from Facebook, Twitter, Behance, or wherever else, every single new follower is a benefit for your page. If you want more views, this is precisely what you have to do. It is likely that up to 30-40% of any influencer's followers on IG didn't find them on this social media, but were instead introduced to their content on other platforms. If your stuff goes viral elsewhere, adding thousands of views to IG is a piece of cake. In general, you will have slow, yet steady results, indicated by the growing number of views on IGTV and followers.
9. Give your audience a nudge of approval
If you want more views on your videos, don't forget to focus on your audience.
Have you heard about the platform that is revolutionising online trade? Shopify, anyone?…

We won't ramble for too long, but let's just say that they get tons of views on their videos thanks to the brilliant ways they share the spotlight with their followers and clients.
10. "Don't use hashtags because they're outdated" would be like the worst advice ever.
Wondershare mentions that you get 12-13% more engagement on any Instagram post, just through the use of a single hashtag. Instagram allows you to add 30 hashtags to any post, so if you want to attract the broadest possible audience – use all 30. However, if you can carry out keyword research and find the most associated keywords, do that and always share the same few. Make audiences associate particular hashtags with your videos.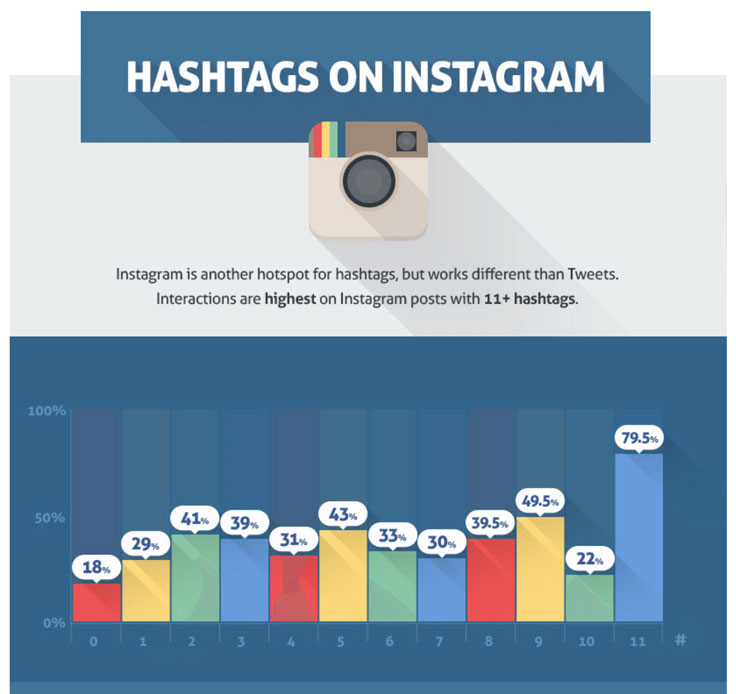 If you are interested in finding optimal and most efficient ways for using hashtags – make sure you are familiar with a quite recent publication by Louisem. The author, Louise Myers, discloses tips on how much hashtags you should use and where to put those hashtags. It's like an abridged version of "Hashtags for dummies" where the author shows top hashtags on IG and warns about the potential dangers that your page can face if you misuse hashtags. The article engulfs the very basics of hashtag use which is really helpful along the way to boosting view numbers!
11. Write & share stories
Bloomberg is one of the most influential business news outlets in the world. However, instead of just covering the stock market and posting basic economic insights, their journalists put out impressive, immersive and sometimes even thought-provoking stories.
They focus on events and people in the world of business that the general public might not be aware of. Instead of abundant hashtag use, they take a different route and lure audiences to their blog by giving condensed summaries or quotable facts on Instagram feed and/or stories. Their videos and stories always tell 'Follow the link in our bio to read more'. Which a lot of people will do.
Persuasion at its finest.
The numbers, facts or shortened stories, reduced into short videos, captivates the audience which follows the instruction and clicks on the bio, to find the link and read more about the particular issue. Captivating an audience, investing in quality content and consistency results in more clicks, more views, more reads and more profit, of course.
12. Find the peak times
We mentioned this in some of our previous blogs – if the timing is not everything that matters, it certainly means a whole lot to the success of your post. A marketing platform by the name of Later looked at 12 million posts on IG and found out that the best times to post are between 9am and 11am EST.
The graphic, taken from a blog by Later.com illustrates exact timeframes for post publishing when you wish to have the most engagement. Make sure you adjust them according to your own audience and its quirks as well as nuanced differences. Use this chart as a potential guideline, but make sure to find your own solutions!