Updated on August 3, 2020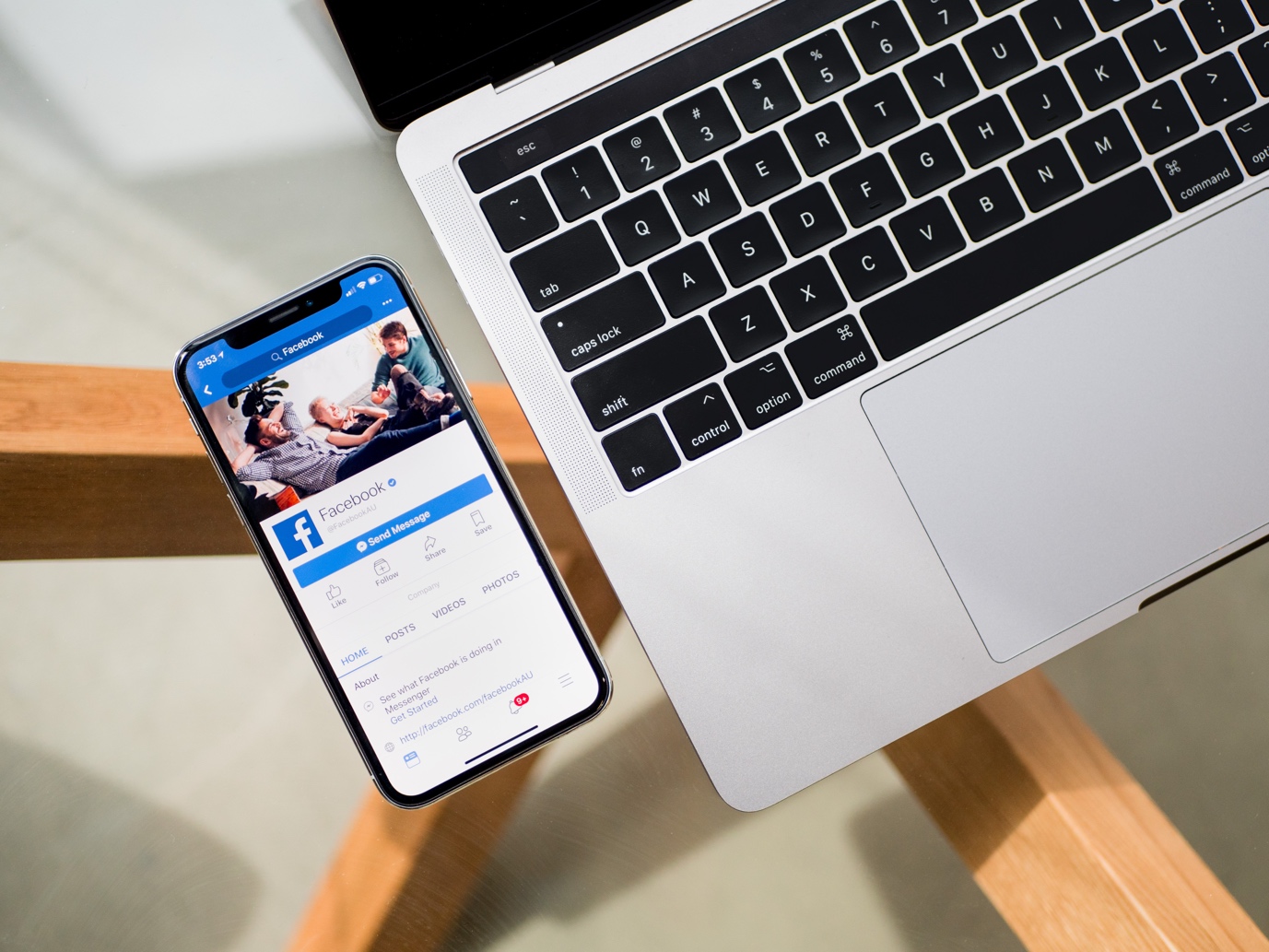 1. Place your hook in the first three seconds
The reason why Facebook made auto-play was so that users would be tempted to see more. But this can only happen if the first three or so seconds of your video are enough to captivate them even on silent. One site that has mastered this is BuzzFeed, and this is how they do it: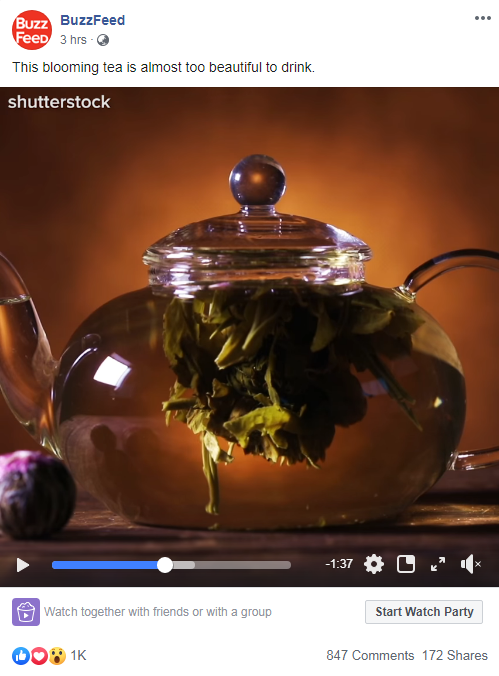 Eye-catching thumbnails: BuzzFeed makes sure that the thumbnails they use catch people's attention even while they're scrolling past the video.
Use a short video description: You can use the video title itself if it's intriguing enough. Otherwise, you can also give a teaser on what the video's about.
Start immediately: BuzzFeed wastes no time grabbing attention. The first frames of their videos are already tailored to act as a hook.
Here is a reference video you can use that was posted recently. It's already gotten nearly 10 million views as we write: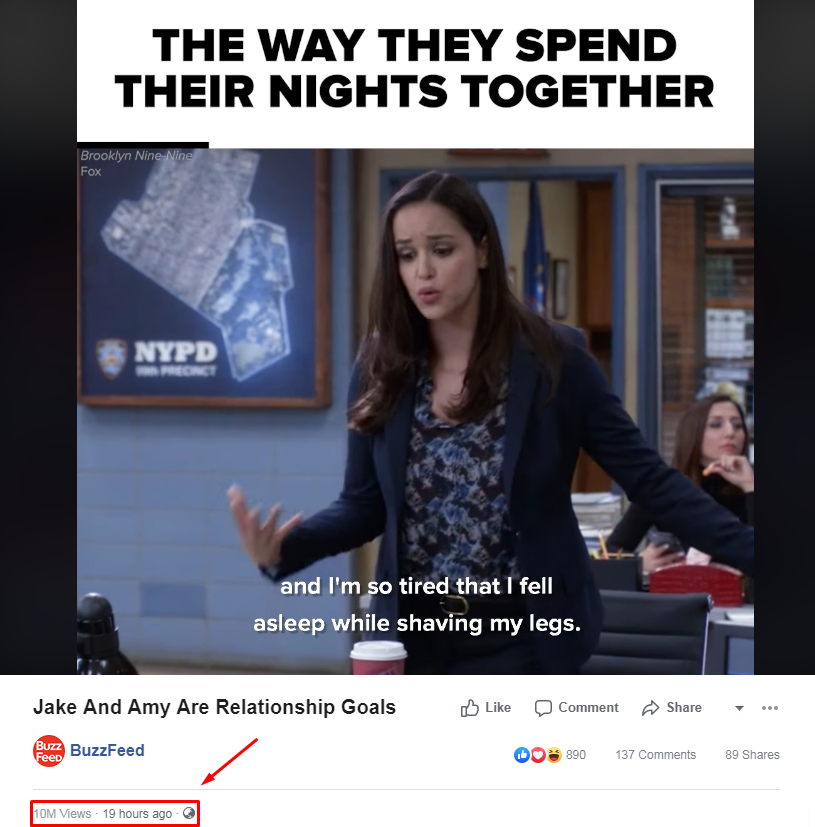 How to upload your own thumbnail
You can choose or add your own thumbnail upon video upload.
If you already posted your video, you can still change the thumbnail by selecting "Edit Post" among the choices from the drop-down menu. The same pop-up should prompt you.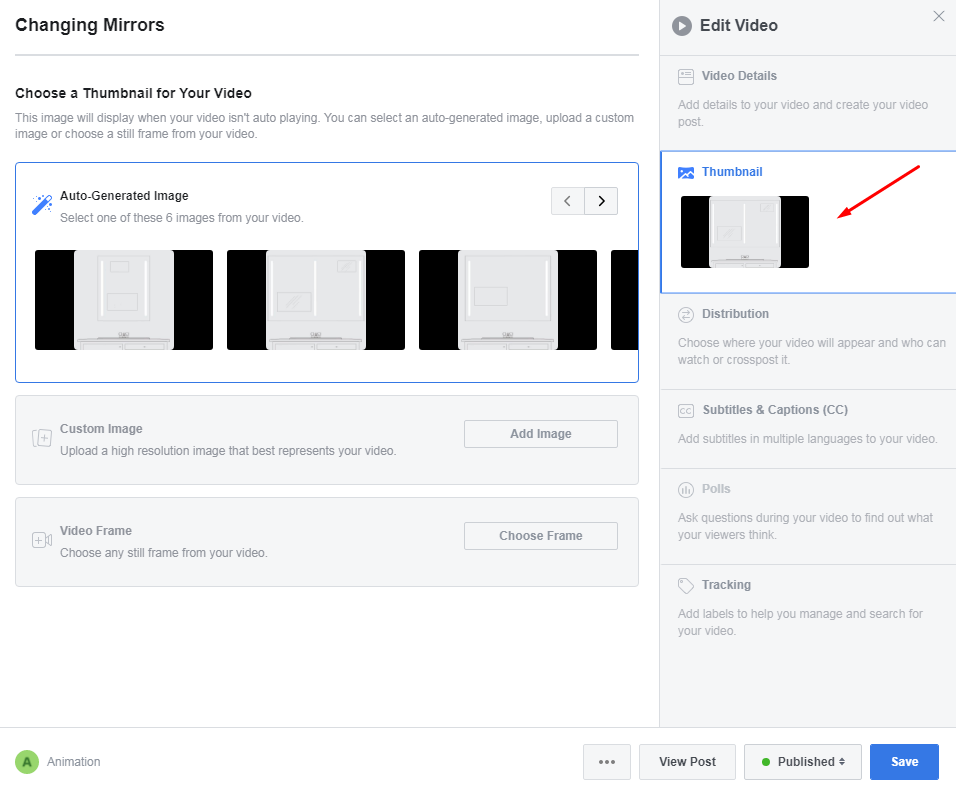 2. Make your videos square
Earlier in the year, we funneled $1500 into researching how videos become widespread in social media. One of our discoveries was how square videos showed better performance than landscape ones along the lines of views, reach, and average engagement, more so on mobile. We weren't the only ones to notice this, either. We came up with a few reasons why:
Over 92% of people who use Facebook do so on their mobiles.
Since 2013, videos viewed through mobile increased by 233%. Plus, over 50% of video viewership happens on mobile devices.
Square videos are proportionately 78% bigger on mobile compared to on desktop.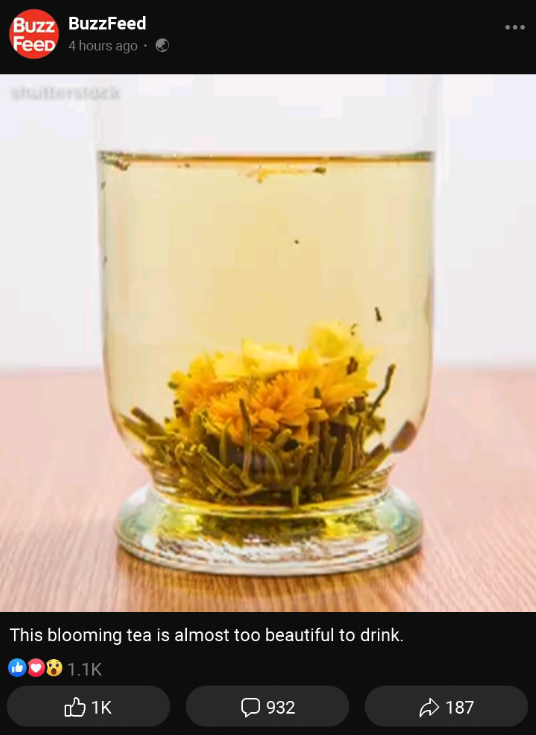 Considering that the number of people video viewing on mobile is increasing, you might want to play around with releasing square videos. They might improve your viewership. Alternatively, you could also post vertical videos now that Facebook shows bigger previews for them.
As for us, we use Animoto to make short, simple videos. For videos that require better production value, we use After Effects with Adobe Premiere.
3. Make your title descriptive
Facebook itself advises that you make your title descriptive so that your video is easily searchable. Considering that Facebook experiences more than 2 billion searches each day, taking time to optimize video searchability will be worth it.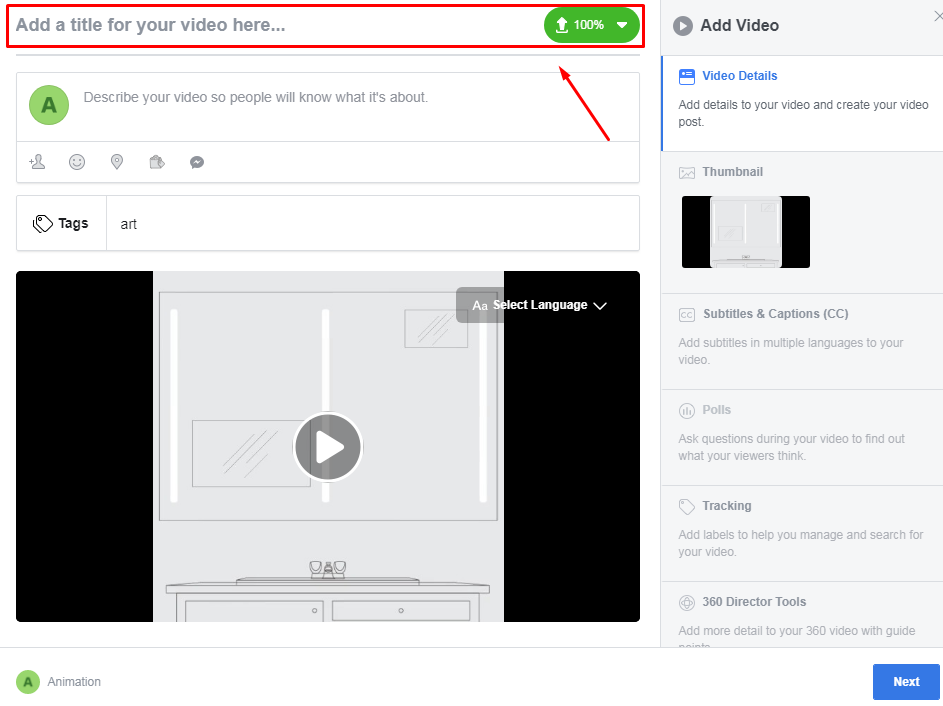 You can craft your title as you upload the video on Facebook.
4. Tag other people and pages
Another way to widen the reach of your video is to tag other pages on Facebook. Make sure that you tag only relevant pages, meaning either those that you want to pay attention to your video or those that contributed to your video in some way. Some examples of what or who you could tag are the following:
Those who helped inspire the video — "Huge thanks to J. K. Rowling for being our muse."
Those who were acknowledged within the video — "Here's why we love The Golden Compass."
Those who contributed directly to the video — "Featuring George Takei"
Those whose attention you'd like to get or who are somehow related to your video — "We'd like to challenge Gus Johnson to do this next."
Just type "@" before the name of the person or page you'd like to tag on Facebook. A few choices should pop up from which you can pick.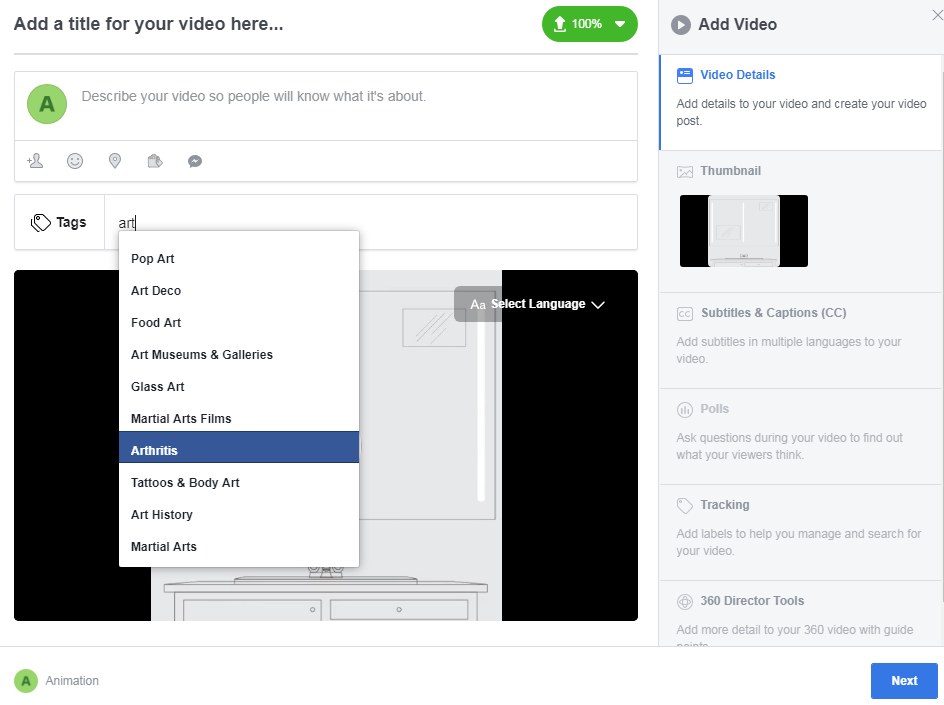 5. Select a featured video for your page
This feature lets you select a video and place it on a prominent position on your page. It also auto-plays. Selecting a featured video is a fantastic way to show off your top video to visitors who would like to find out more about your page. Here's a sample view:
If you haven't selected a video to feature yet, Facebook will ask you to pick one.
If you would like to change what you already selected, click the pen on the upper right-hand corner and click "Change Featured Video."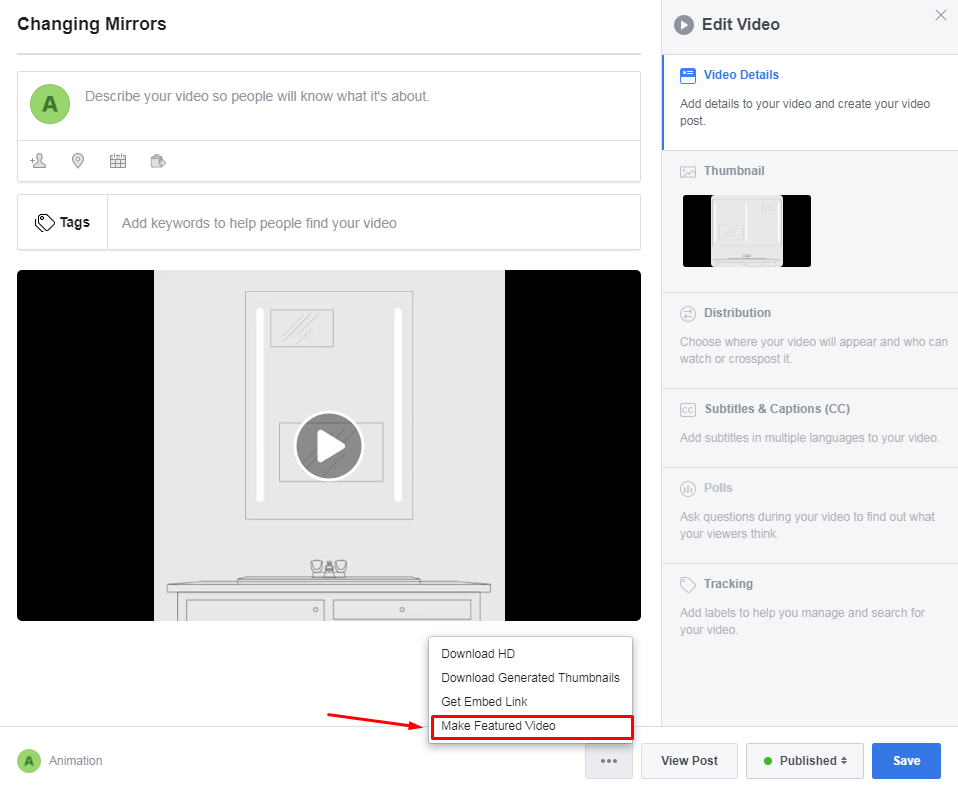 6. Upload to Facebook directly
Native videos sent to Facebook outperformed those shared by links to video platforms such as YouTube. ("Natively" meaning uploaded directly and auto-played in the feed, as opposed to uploaded on a different platform then shared via links.)
Quintly assessed more than six million posts on Facebook, from 2016 July December, and discovered the following:
Interaction with native Facebook videos were 109.67% greater on average than with Youtube videos. They also had an average 477.76% greater share count versus YouTube videos.
Buffer can help you with this in two ways: It natively uploads videos in queue and posts them directly to Facebook, and it allows you to fully optimize your schedule for Buffer.
7. Curate your potential viewers
TechCrunch studied Facebook's News Feed and shared their results. According to them, relevance is key in Facebook's algorithm. Facebook assigns personalized scores for relevancy to each story and rearranges these stories for every user.
The great news is that Facebook allows you to tweak these features, too! This way, you can ensure that you get to share your stories and videos to those who're more likely to engage with them.
You can do this after you upload the video but before you hit publish. In the low left-hand corner, you can set the preferred audience or audience restrictions for the video. A pop-up should come up with the following options: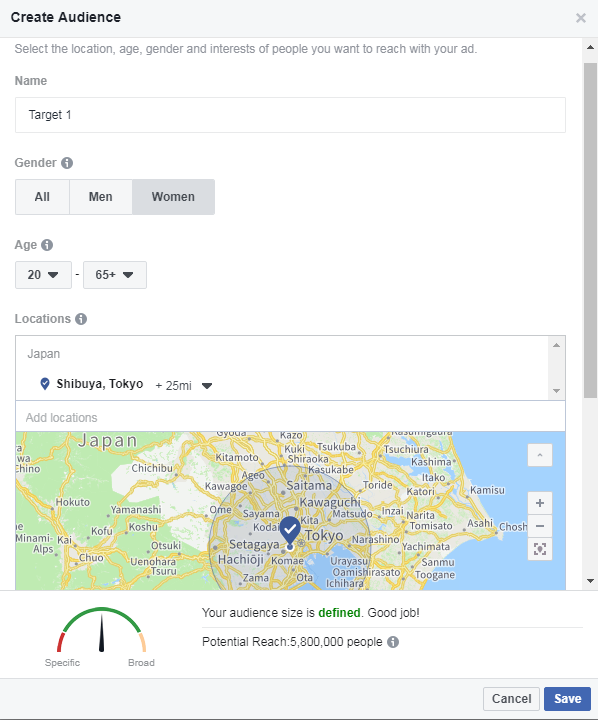 Preferred audience: Through this, you can establish which kind of viewers you'd like to see your video on the basis of their Page likes and interests. For instance, a yoga clothing store could select interests like "athleisure" and "health and beauty" for their video about their new clothing line.
Audience restrictions: On the other hand, this option works in contrast with preferred audience. Whereas preferred audience was about who you want to reach, this is all about who you don't want to reach. Only audience members you've decided on are allowed to see the video. For instance, a cosmetics shop in Indonesia could restrict their viewers so that only Indonesian women from 25 years old to 35 years old can see their video.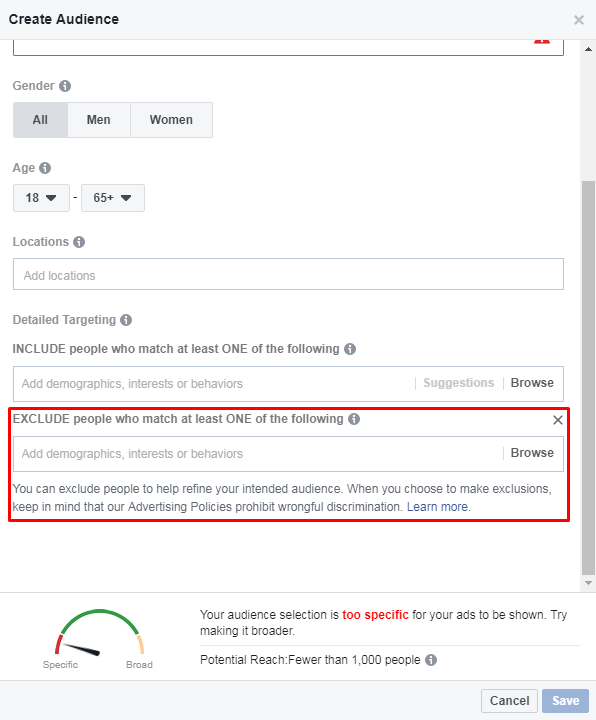 By putting thorough thought and effort into tailoring your potential viewers, you can increase the engagement levels of your video. After all, the only ones who'll be seeing it are those who are relevant to you and your topic. In this manner, you increase interaction and interest (if you set the correct target!). If you'd like, you can also get the ball rolling by buying Facebook views.
8. Produce a copy specifically for Facebook
This is for creators who wish to share their videos on multiple platforms. A good rule of thumb to follow is to modify your copy per platform so that they maximize the features of the platform. Facebook has two distinguishing characteristics, and here's how you may use them to your benefit:
Posts have large character limits: Facebook lets you type more than 63 thousand characters per post (though they do cut off at around 400). This allows you to play around with short and long copy. Short is better at driving clicks and long is better at engaging.
Comments have large character limits: Facebook comments let you type up to eight thousand characters. This allows your viewers to craft long-form opinions about your content. Airbnb, for example, asked their viewers to relate their favorite story about being with their mom on vacation for a video about Mother's Day. Because the comment character limit was high, their audience were able to share so much more. This isn't something you could do on, say, Twitter.
Here are five ways you can create compelling copy on Facebook:
Play around with long- and short-form posts
Include a quotation from your video
Throw in a few emoji
Ask something
List things down
If you're interested in learning more about these advices, head on over to the complete post on tailoring a post perfectly suited for every platform.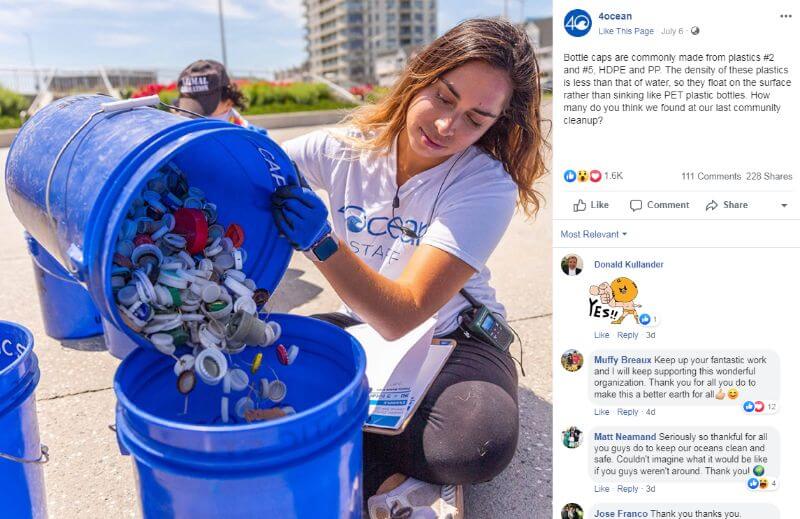 9. Center around one main point
YouTube creators Neal and Rhett Mclaughlin shared one nugget of insight for video producers: Videos are shareable only if they center around one simple point.
Is the video summarizable in a sentence? Is that sentence easily digestible yet compelling so that viewers will be drawn to let others know?
What we're getting to is that if the video can't be summarized in a sentence, then your audience will take a long time trying to explain to others what they are attempting to share.
That makes sense if you think about it. Viewers have an easier time sharing videos if they have an easy time explaining what they're about. They can only do that if videos have one simple, central point.
Link and Rhett put this thought into action. Before even preparing a script, they try to step into their audience's shoes. They come up with reasons why the audience would like to share their videos.
For former Vice President of Agency Strategy and General Manager of Video at BuzzFeed Jonathan Perelman, viewers share videos for five reasons:
To boast
To make colleagues and friends laugh
To be sociable
To broadcast their feelings and opinions on a topic
To have first dibs at finding something
Does your video lead your audience to at least one of these goals?
10. Preview your video in the copy
Another way you can switch up writing your copy for a Facebook video: Give a short description of your video.
Asking your audience to watch your video is asking for them to commit time. If they're on the fence, you can give them a helpful nudge by providing some info about what your video is about. Facebook recommends that you pull out a significant moment or quote from your video and convert it to text on your post. This way, you can manage expectations about your video.
A descriptive video copy and a relevant, eye-catching thumbnail is a great combination. They will grab attention as users look through their feed. Check out these examples: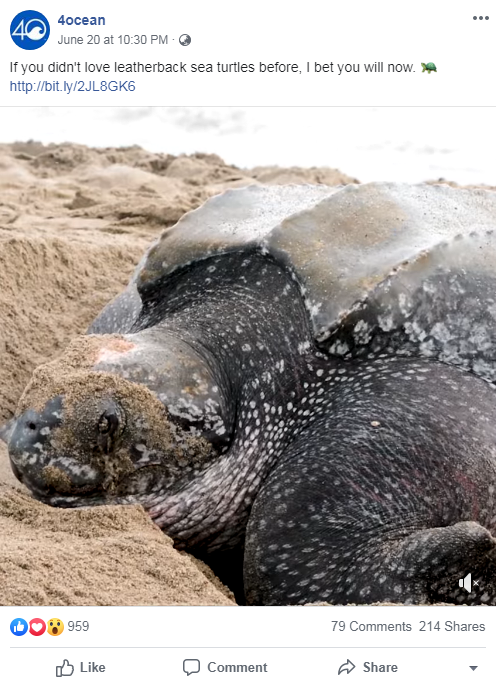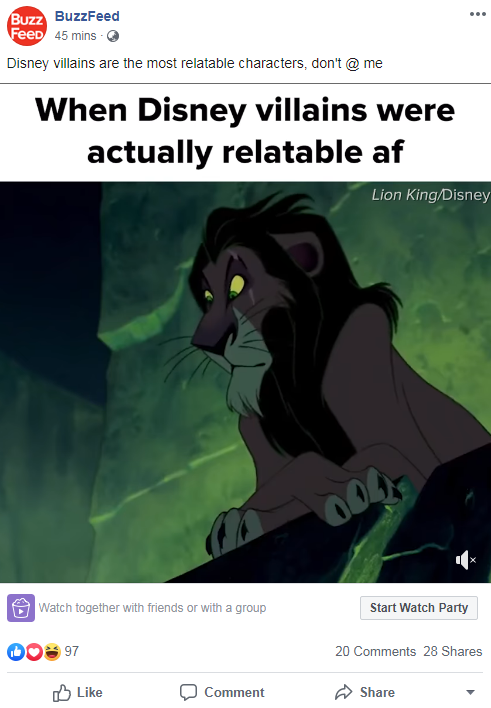 11. Analyze video performance through Facebook insights
Did you know that Facebook tracks the metrics of your video? They give information like video views, average watch time, and minutes viewed. These metrics greatly help with providing insightful information about which of your videos were most engaging to your viewers and which weren't.
To view these metrics, simply go to Facebook Page Insights. Click the tab for videos, then click on any of your videos you'd like to analyze.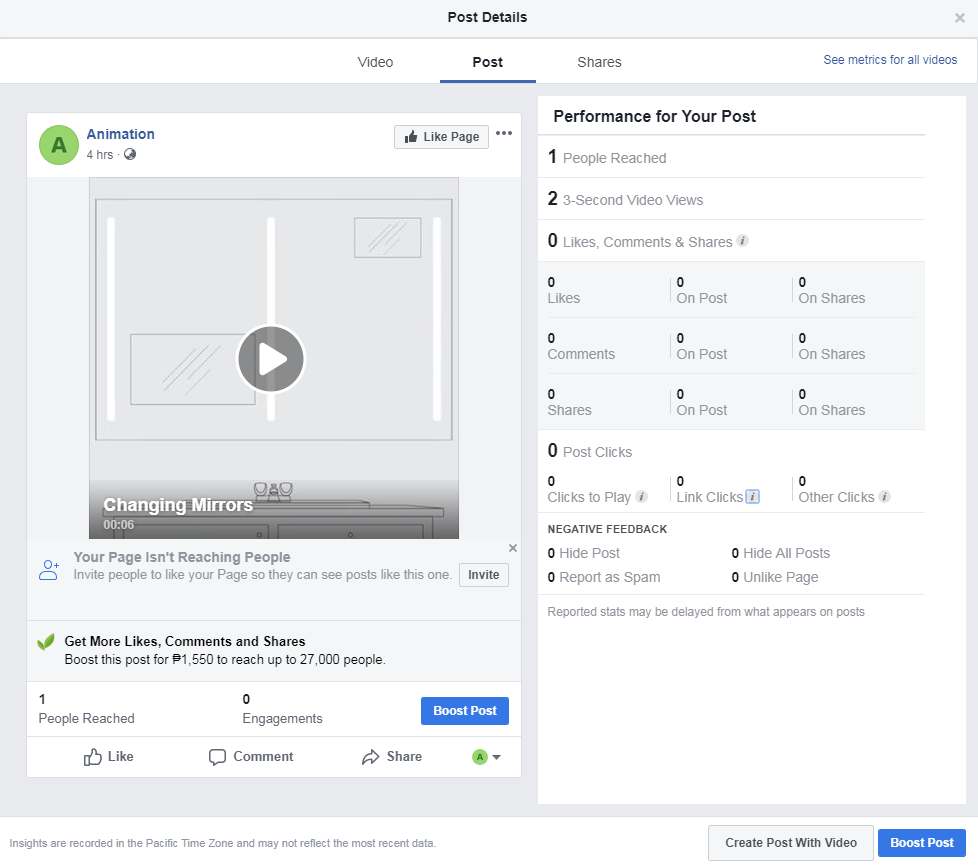 Some useful metrics we like to see include:
Ten-Second Views: This measures how many people viewed the video for at least ten seconds. This also includes those who watched your video until the end if the video is shorter than ten seconds.
Video Average Watch Time: Meanwhile, this lets you see where viewers on average chose to leave your video to do something else. You would do well to investigate this part of the video yourself so that you can see why viewers lost interest. If you do, you could change gears and generate even better content next time.
Post Engagement: This shows the reach and engagement your video generates.
12. Remind viewers they can tap for audio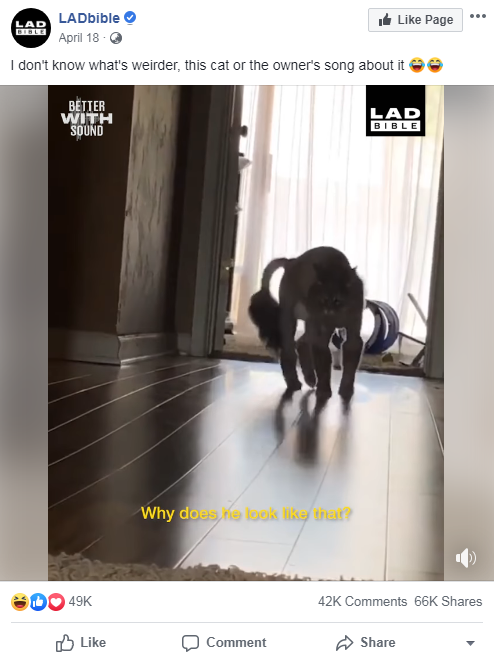 Another nifty way to get around silenced auto-played videos is for you to pop-up a suggestion that viewers tap their screen for audio. Since pop-ups do get disruptive, they have to be timed and designed appropriately to not be annoying. A great example comes from 20th Century Fox's Kingsman trailer: (which we owe for this tip):
Seeing as the aesthetic of their pop-up matches Kingsman's theme and the caption style, it isn't disruptive. It was also timed so that it doesn't stop you from viewing any significant parts of the trailer. Plus, it barely took up any screen space.
13. Go live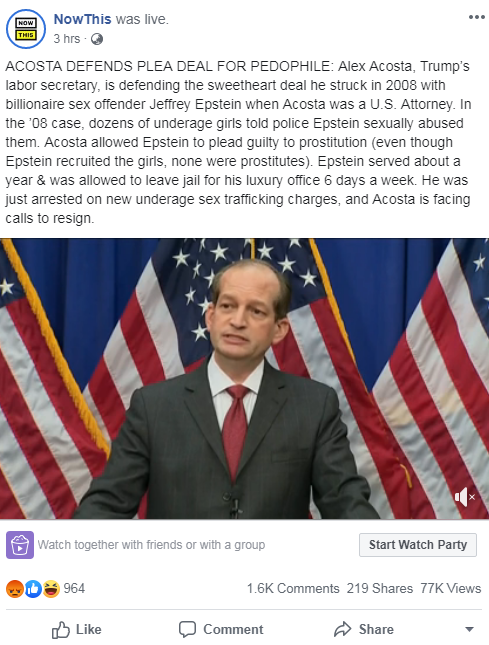 Facebook prioritizes videos that go live over those that don't, so this is a surefire way to get viewers hooked. Facebook itself said that they algorithmically treated live videos with more favor because they tended to keep viewers engaged.
As Facebook announced, they'll rank live videos higher and then lower the ranking of the video when they're no longer on live. They do this because audience members usually spend, on average, thrice the amount of time viewing a live video than one that isn't.
Even better, as Social Media Examiner discovered, even their material that wasn't live received more exposure after they chose to go live. Founder and CEO Michael Stelzner hypothesized that because Facebook algorithms place their brand's live videos before users more often, these same users would go on the Social Media Examiner Facebook page to look through more material. This happens even when users don't want the live videos.
In addition, you don't have to worry about your live videos disappearing into the Facebook ether when they finish. Facebook records live videos automatically, then publishes them on your profile or page when it ends. For instance, when we went live for our team meeting on marketing strategy before, we were surprised that the video garnered over ten thousand views within the first 24 hours!
14. Upload videos with captions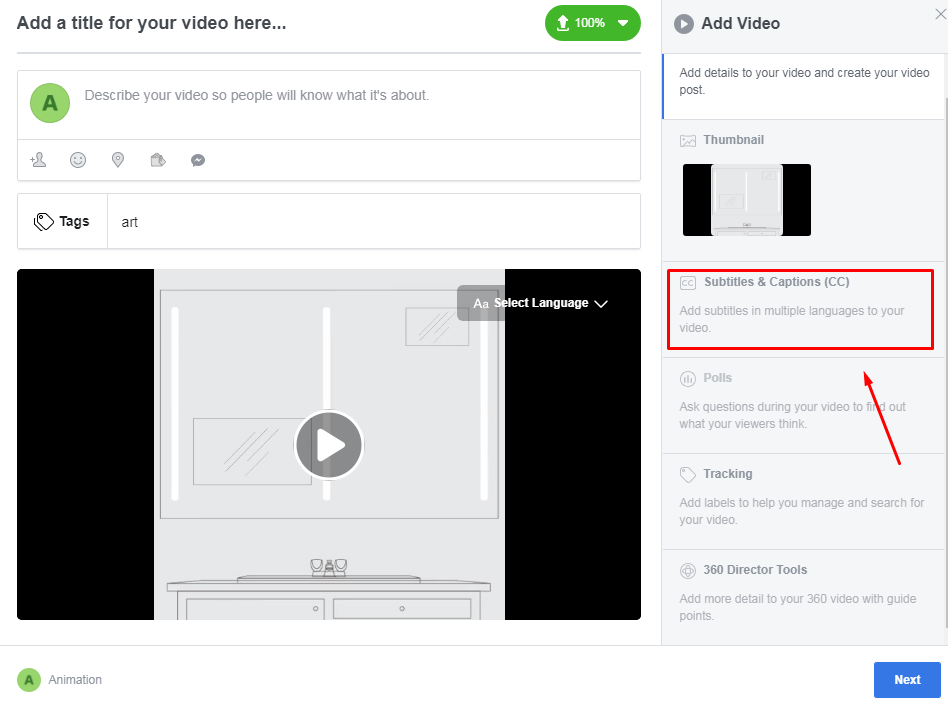 85% of videos on Facebook are watched on silent.
Though Facebook can auto-play videos with audio, it's hard to tell how many users actually watch them with the audio on. After all, users can mute all videos even when they auto-play within the app or even put their phone on silent.
We have a feeling that most users actually watch without sound. And if they can't get what's going on without sound, then you'll lose a lot of viewership.
To avoid this, we suggest that you add captions or subtitles along the bottom of your videos. As you upload your video, you will be prompted to upload a subtitle (or SRT) file as well. Again, if your video is already uploaded, you can still edit it.
(It also seems like Facebook has added an automated captioning function to all videos. Soon, you may not need to upload subs manually.)
Another option is for you to overlay your video with text through a video editor like Animoto. Straightforward and colorful text overlays help make your video more engaging and appealing.
As an example, look at this great video by NowThis: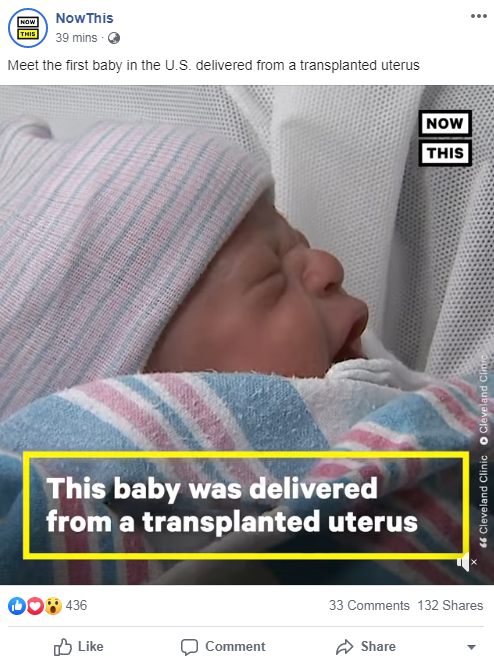 15. Include a call-to-action (CTA)
Calling your viewers to action increased your website traffic, encourages engagement, and may also convert them into customers. There is a common misconception that CTAs are only buttons that lead to a website or a sign-up sheet. In truth, they can be something even simpler, like including "Find out more here: Link" in your post.
Though Facebook removed the CTA feature for videos, you can still throw in CTAs in creative ways.
You could add a website or blog post link in your video's post copy and encourage viewers to discover more by following the link. Alternatively, you could also ask them to talk about their opinions as comments.
Call their attention to a CTA or include text overlays (for example, Learn more about boosting views at blog.buffer.com). According to Wistia, mid-video CTAs convert viewers the best.
After your video content ends, you could add a CTA static image or text overlay and leave that up for some time.
An example is how Gary Vaynerchuk places his share bear during or after his videos. Another way to do this is to place a CTA on the Facebook post itself, which you can accomplish using video boosts. More explanation follows below.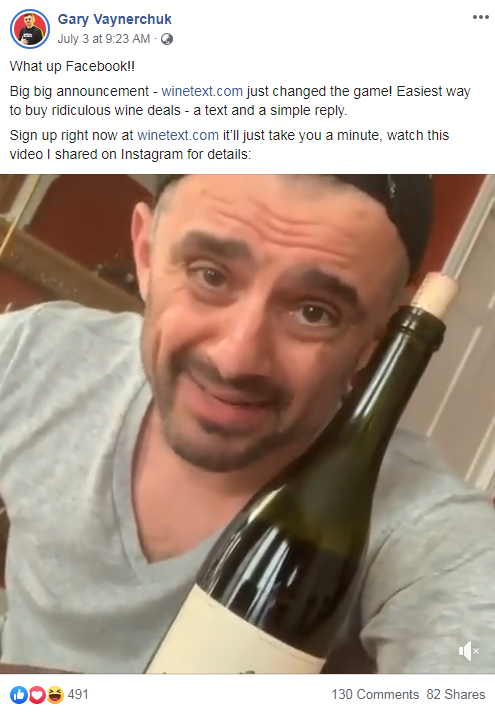 16. Embed your Facebook videos in blog posts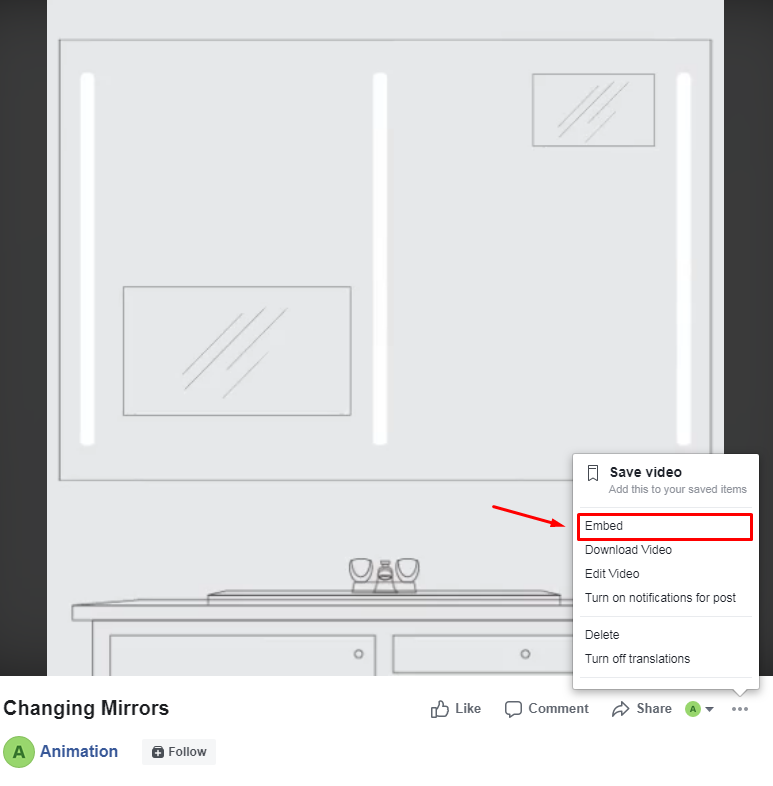 If you run a blog, you might also want to embed your videos on them so that you can reach an even wider audience.
In order to copy the code for the embed, navigate to your video that you'd like to embed. Press the arrow for the menu at the top right-hand corner of your post. Then, select "Embed." After that, it's as easy as copy-pasting the code to where you want the video to show on your website. In addition, you can also decide whether or not the full post will be included.
This is an example of how it will appear: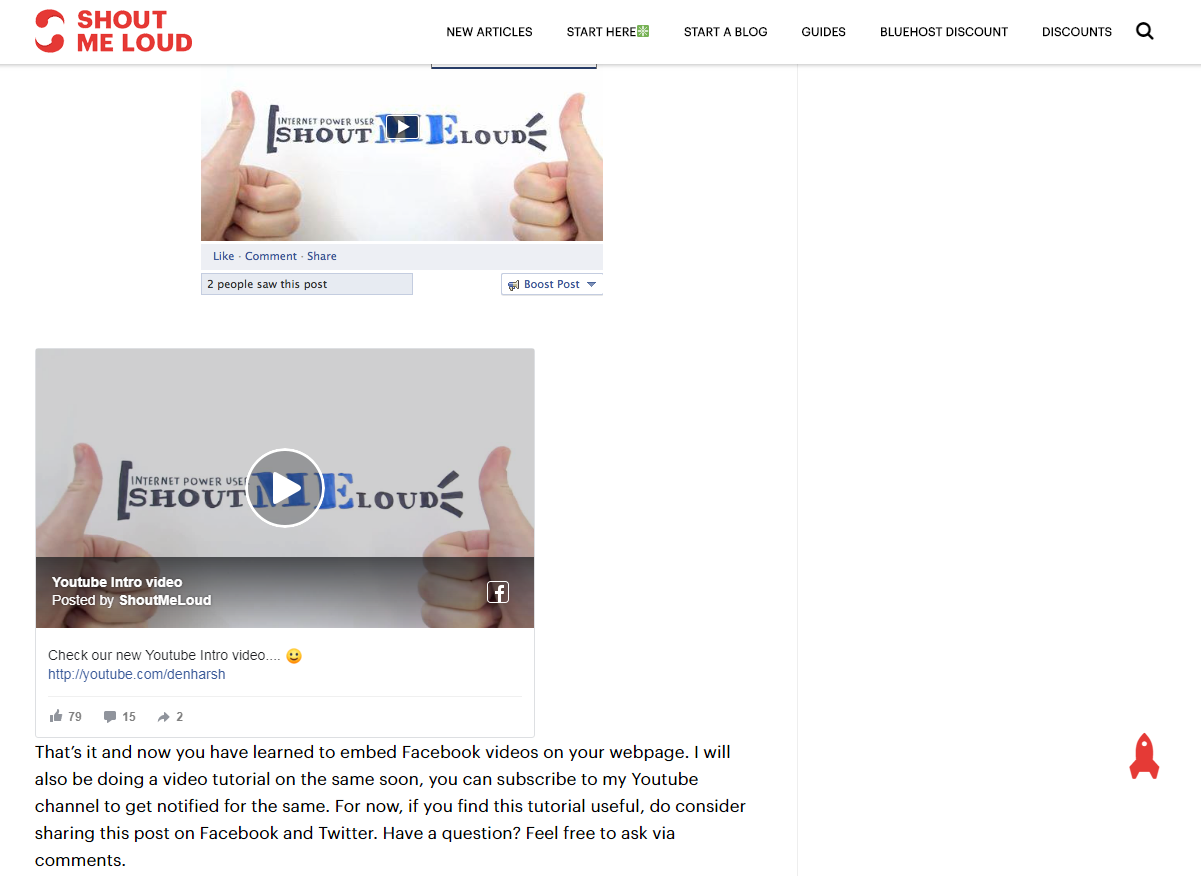 17. Boost your video using Facebook ads
Considering that Facebook knows such extensive information on all of its users, it's a great place for spreading targeted ads among a large audience. This way, your video will have a larger viewership.
Using Facebook ads help pinpoint your videos towards a niche audience. For instance, if your video is about cabinets in Barcelona, Spain, Facebook lets you target users who live in Barcelona and show a liking for furniture.
In case you're lost, we'd love to share with you how to create and tailor an ad video using Facebook's Ads Manager:
Under Consideration, choose "video views" as the objective.
Choose your ad placement, budget, and audience.
Upload your video or choose an existing one from the video library.
Create your copy.
Include a CTA.
Really, a great benefit to running video ads on Facebook is you can CTA. To accomplish this, place a check mark on the box that says "Add a website URL" and answer all fields. The right-side screenshot should give you an idea on how to ad will appear.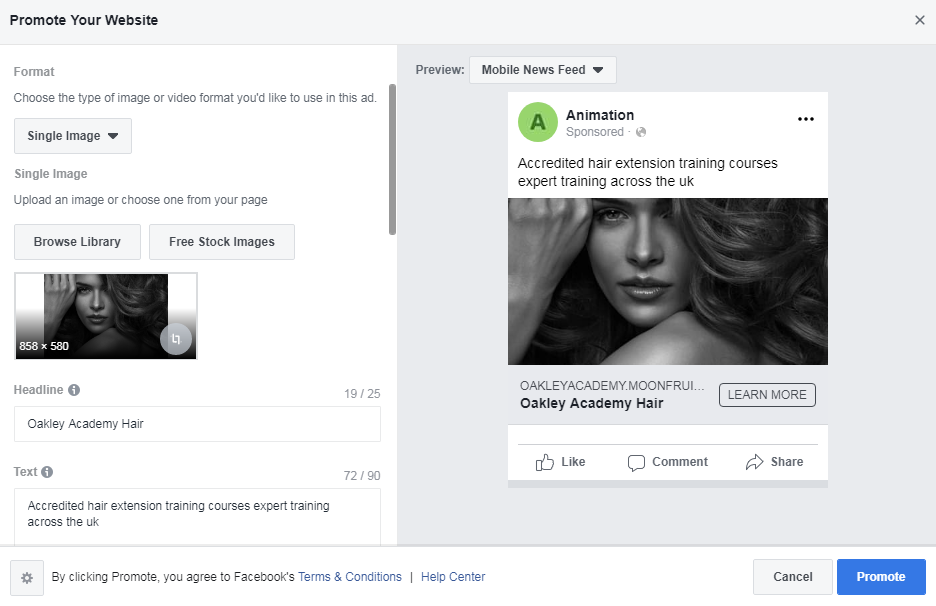 As an alternative, you can also boost any already uploaded video by hitting the button called "Boost Post."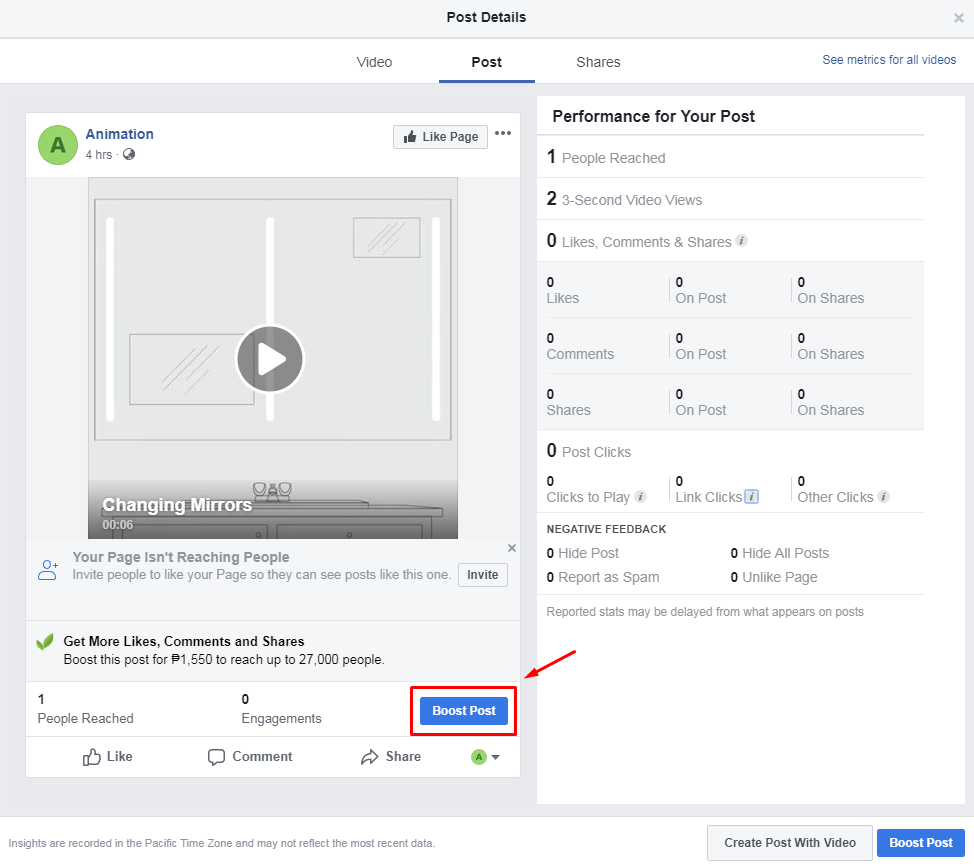 If you'd like to get faster results on Facebook marketing campaigns, you may want to head on over to our services page and buy Facebook Views or likes and shares for a quick boost.