Updated on September 12, 2022
An evolving reality
In less than a decade, Instagram has experienced meteoric growth. Going from one of dozens of promising social network upstarts—remember Digg, StumbleUpon, Friendster, and other less fortunate members of the late 2000's gang—hoping to make a mark to becoming a behemoth with over a billion people using the platform.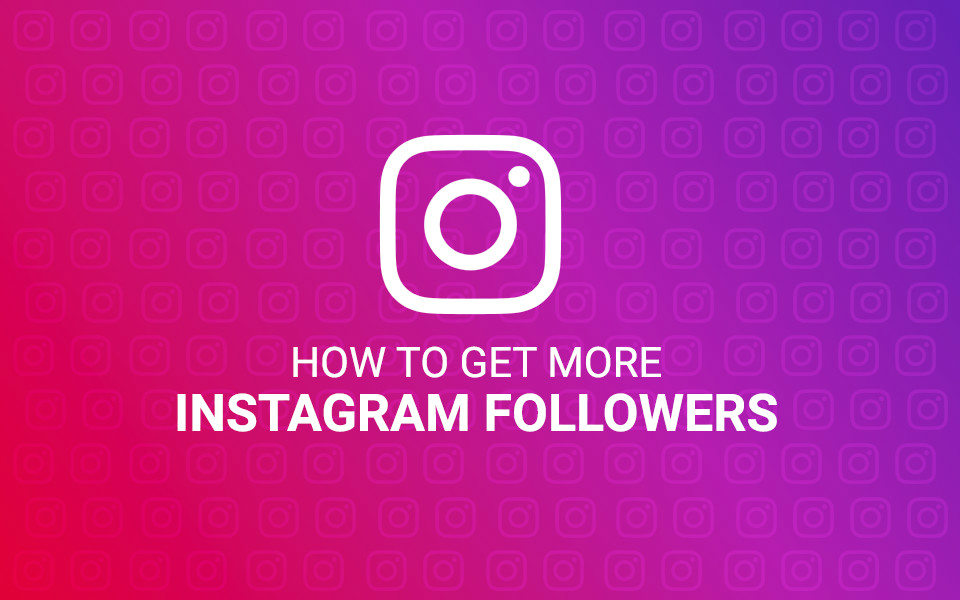 Over time, it has made its case many times over as the next frontier for businesses to acquire new leads and form or bolster mutually beneficial relationships with customers. But as Instagram has gotten more attractive to brands the world over, it has naturally become a lot more competitive.
And this is doubly true for growing your Instagram following.
Doing complicated
Why is that so?
Frankly, where do we start. Is it…
the constantly changing algorithm,
the increasingly limited organic reach,
the intense competition with attendant choice overload, or
the rising complexity fueled by a never-ending avalanche of new functionalities
You can take your pick, but it's actually down to a combination of all of the aforementioned (and other related) factors.
Be that as it may, you have to look past the difficulty (and complication) and consider the benefits (or reward) of thriving on Instagram and getting more followers, because your followers are your primary audience.
They are your first responders, your advocates and evangelists, your gateway into innumerable interconnected social circles, and your informal agents out there in the world who should be spreading the word about your brand or business.
They are your FANS in every sense of the term.
So, in the current challenging, unforgiving, and ultra-competitive landscape:
How Can Your Business Effectively Acquire More Instagram Followers?
Turns out, not by enacting some talked-up, preciously-guarded industry supersecret.
The big hack is to pedantically and concurrently implement a collection of individually straightforward processes. The key phrase is "to pedantically and concurrently implement."
We'd go over the most prominent of these processes, techniques, or methods in detail as we move along. However, note that you may have to indulge in further reading (resources provided of course) to exploit these techniques to full effect.
1. Ensure you nail the fundamentals
Before you consider doing anything advanced whatsoever to add more followers, it is imperative you set the right foundation. Else, your follower acquisition rate would be less than optimal; which unsurprisingly would skew results when you actually start turning the gears.
Bottom line: This should be your first port of call.
Here are the three main elements you must check off your list:
A. Setup and OPTIMIZE your business profile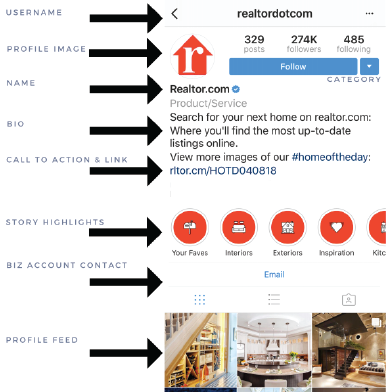 Your profile is your homepage on Instagram. It should:
provide a succinct overview about your business and the services you offer,
include key details that'd aid your ability to rank (or for people to find you), and
give random scrollers who develop an interest in your business credible reasons to follow you
Guides
How to properly setup an Instagram business profile [Source]
How to further optimize your profile [Source]
Consult other guides for additional optimization tips. For instance, this on story highlights.
Noteworthy tip
The key to a fully optimized profile is to understand that your profile is never fully done. Optimization is always ongoing.
You want to be able to test out new approaches, try different arrangements, and keep up with the times—whether that is a new Instagram algorithm update, things or happenings your customers are interested in, or say changes in your industry.
Compare the earlier illustrative shot of Realtor's Instagram profile to what it looks like at the time of publishing. Note the changes in the bio, URL, and story highlights.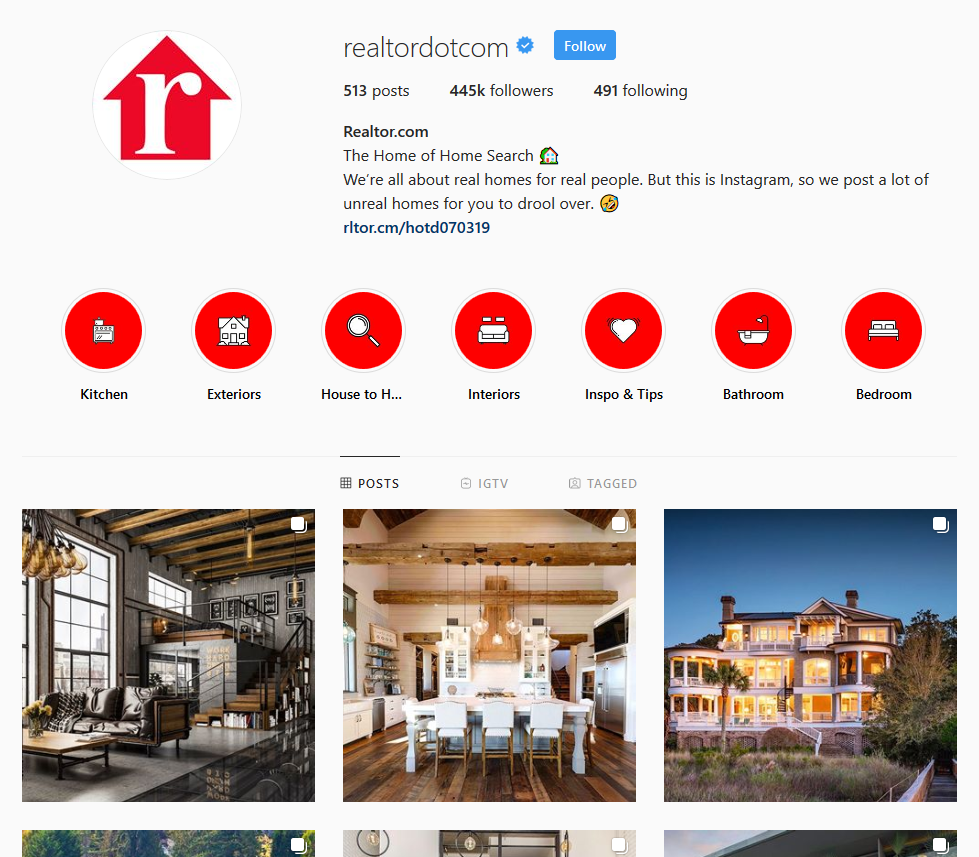 B. Implement a unifying aesthetic
Instagram has always been visual and for the foreseeable future would remain so. Granted, prospective followers are mostly interested in content quality: However, the presentation is crucial.
If your content, feed, and entire Instagram aesthetic isn't cohesive and visually appealing; users who happen upon your profile would be less inclined to tap the follow button.
Guides
Noteworthy tip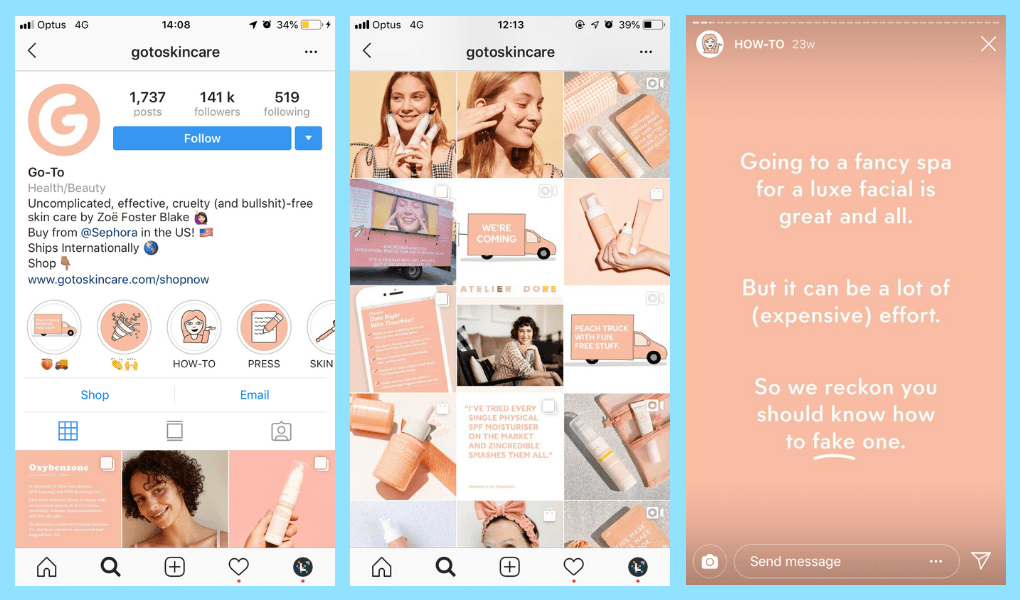 Consistency is the watchword.
As you'd observe, @gotoskincare curates a pastel aesthetic to be a major identifier of the brand's Instagram presence. As such, it is emblazoned across all sections from the feed to the stories; as well as story highlight cover images and even IGTV.
C. Regularly post top-quality, engaging content
The presentation and actual quality of your content interact as yin and yang to convince profile surfers that if they want first dibs on similar high-value content in the future, they must follow your business.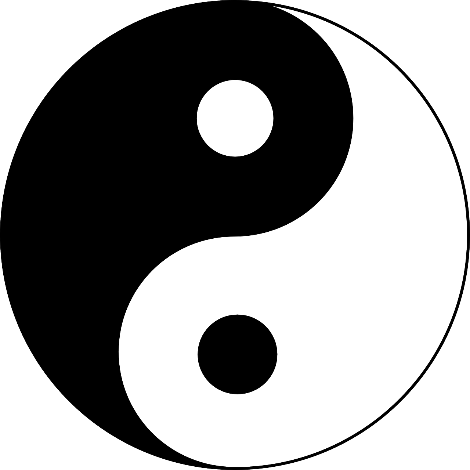 A maxim that should always guide your Instagram marketing campaign is: If you do not have high-quality content to share, do not post anything at all. Not even as a placeholder as it'd be a blemish on your feed.
Guides
Noteworthy tip
Learn how to write interesting captions that spur engagement. Here is an illustrative guide; and another with examples to get you going.
To put the importance of an enthralling caption in perspective, research by HubSpot found that simply including the words "Like" or "Comment" somewhere in a post caption increases the number of likes (by up to 89%) and comments.
It needn't be direct either. You can elicit more response by ending your caption with a question or encouraging your followers to tag their friends as exemplified by @mvmt in the caption below.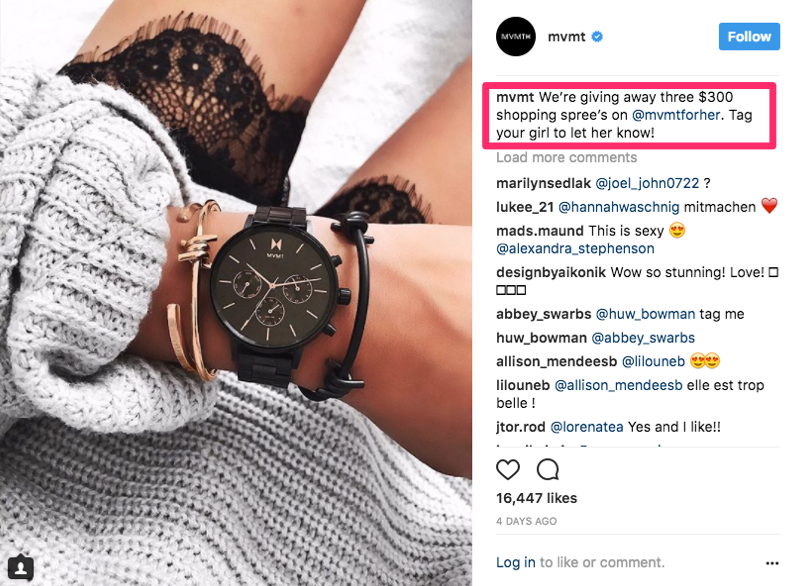 2. Leverage your reach on other platforms
It is not uncommon to find the nifty, little social network icons—primarily comprising Facebook, Twitter, and Instagram—at the header and/or footer of a business website.

This is the commonest and most basic way to extend your reach outside Instagram.
However, you could go further by referencing your Instagram page to the audience you target across other marketing channels; both online and offline. Besides your website, these include the email newsletter, other social networks, or even a flyer.
Actionable tips
A. Work your Instagram feed directly into your website design.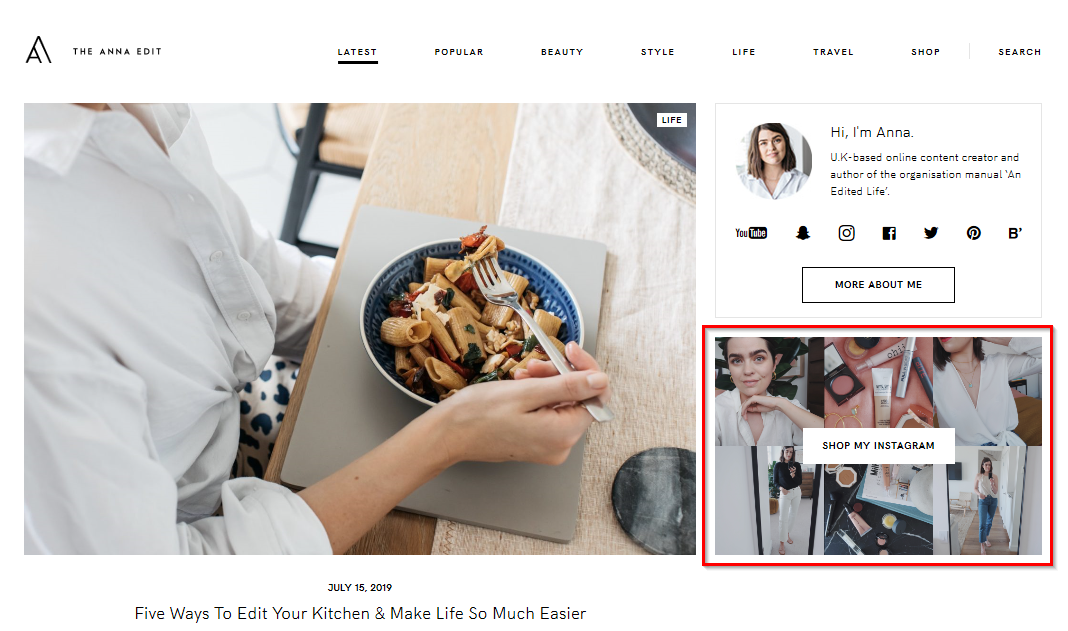 B. Embed your Instagram posts in blog articles.
How to. [Source]
C. Cross-promote on other social network platforms.
For instance, if you are a fashion brand with a YouTube channel; you could share snippets or previews of a new collection on YouTube. Then invite your viewers to go through the big reveal of the entire collection on Instagram Stories at a specified date.
D. Integrate Instagram into your email marketing campaigns.
@warbyparker explored this option via two methods used concurrently.
First, they used a collage of awesome images to convince email recipients to use their branded Instagram hashtag as well as post user-generated content (UGC) to Instagram.
Secondly, they added a row of social media icons at the footer section of the email.

@goodamerican was more direct.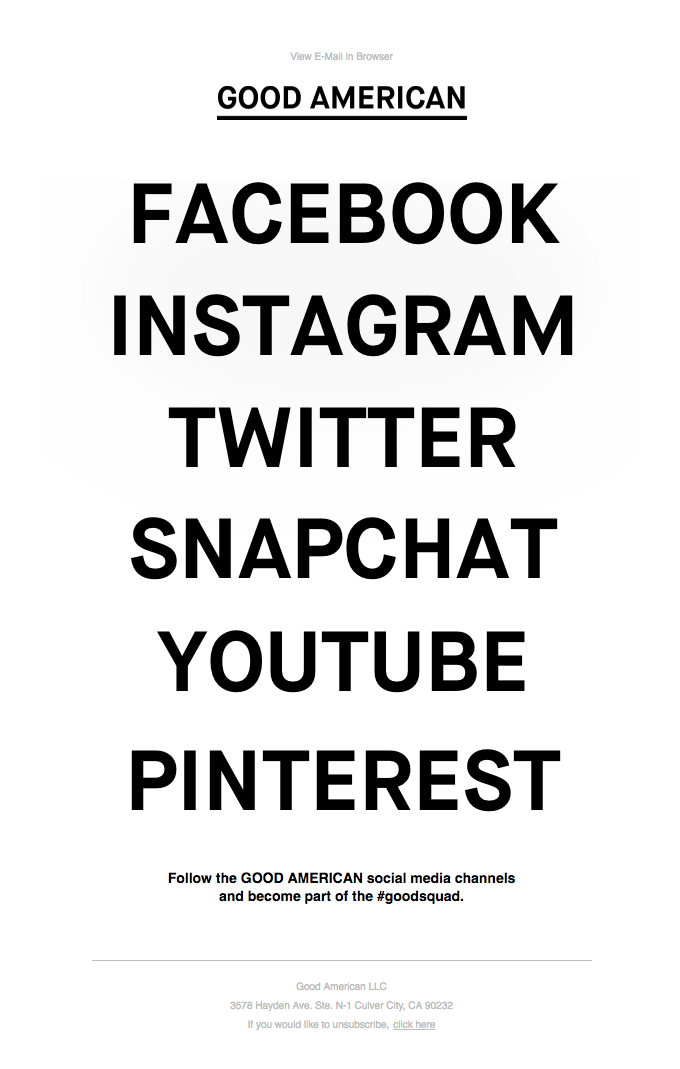 Advanced stratagem
Collaborate.
It is only one word, but for brands, and especially outfits with a decent following, it can be a difference maker. Not only in terms of the number of followers acquired, but
the cost of follower acquisition,
the stage said followers would fill in your sales funnel, as followers acquired via collaborations or partnerships are more likely to make (or commit to) a purchase, and
tapping into a new audience that may never have been on your radar.
Forms
partnering with a brand, preferably in completely different industries; or
building a long-term relationship with an influencer, rather than a one-off #sponsored post to avoid the posts coming across as yet another ad
Common methods
Instagram stories takeover
Co-written blog posts or eBooks
Co-hosting Instagram IGTV videos and live sessions
Giveaways
Guides
How businesses collaborate on Instagram [Source]
A comprehensive guide to influencer marketing for businesses [Source]
Instances
@starbucks linked up with ecommerce store @shopbando to create stunning cups complemented by the campaign-specific hashtag #bandoxstarbucks.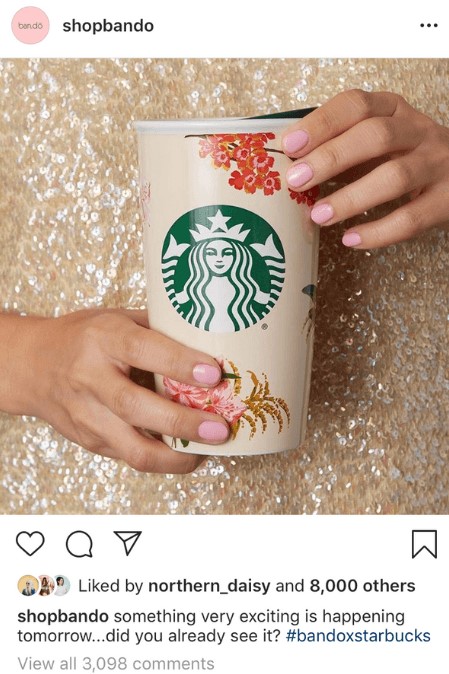 @pixibeauty entered an enduring partnership with skincare influencer @carolinehirons on several projects including creating a new product together.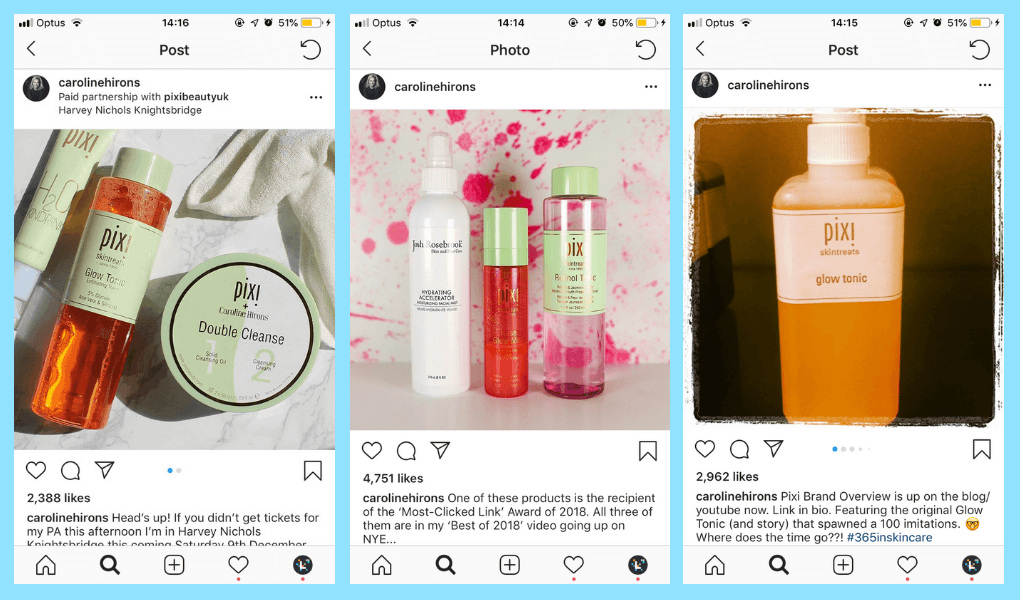 3. Use effective hacks to make your business profile and content more appealing
Here are three fundamental hacks to get started with:
A. Repost relevant, high-quality, top-performing content posted by others
Why
Reposting (colloquially called a regram) is convenient
If other Instagrammers are reacting positively to a top-performing post and it appeals to you; chances are it'd also appeal to your audience
If the content organically spurs engagement and sharing, it'd most likely do same when you share it; except this time, you'd be reaping the benefits directly
How to find these posts
Use Hashtags
Find the top-performing posts for hashtags related to your industry
Confirm they were posted by individual Instagram users, not your competitors (fan or brand pages)
Scan each content (photo or video—videos work best) for the most endearing
If you naturally feel the urge to share a content, repost it on your page
Implore customers to share their photos
In social media marketing speak, photos (and all content) of this kind are called user-generated content (UGC).
Ideally, you'd have made a couple of sales, and then if necessary, incentivize your satisfied clients to take (and share) quality images with the product they purchased.
Alternatively, use micro-influencers.
Some call them the future of Instagram marketing and there's some truth to that sentiment. The cut-off point is a subject of harsh debate, but if you're only trying to gain traction, stick to micro-influencers in your niche with no more than approx. 5000 followers (so-called nano-influencers).
You can offer direct compensation for taking pictures with your product, to send a free product to test/try out (and or without direct compensation to share their thoughts), or indirect compensation via an affiliate deal (they receive a commission per sale they bring you).
The endgame is to repost several UGC photos that customers naturally start tagging your brand handle in posts when they receive products. More often than not, a follow-on effect of tagging is tapping the "follow" button.
Here's an instance:
@westelm regularly shares UGCs shot by happy shoppers. The UGCs are of the shopper's space setup beautified with pieces bought from West Elm.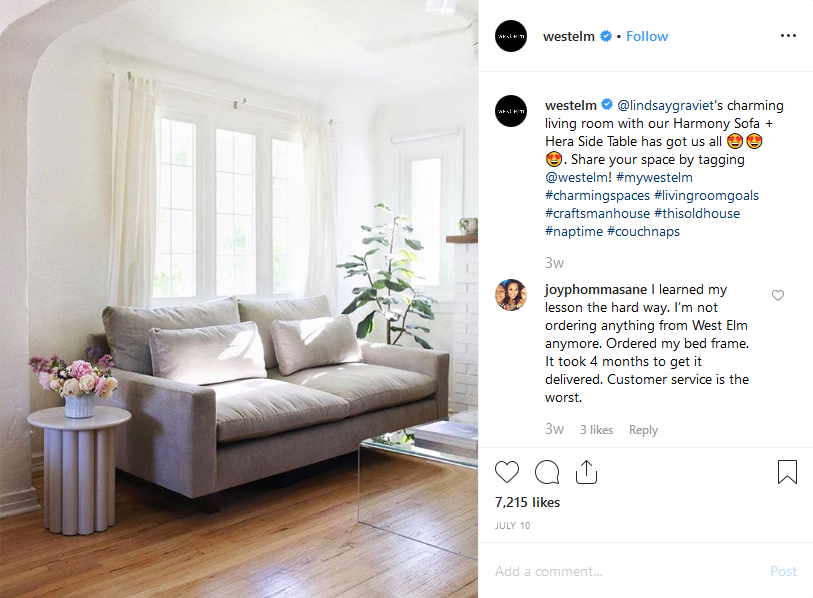 The furniture pieces are the Harmony Sofa…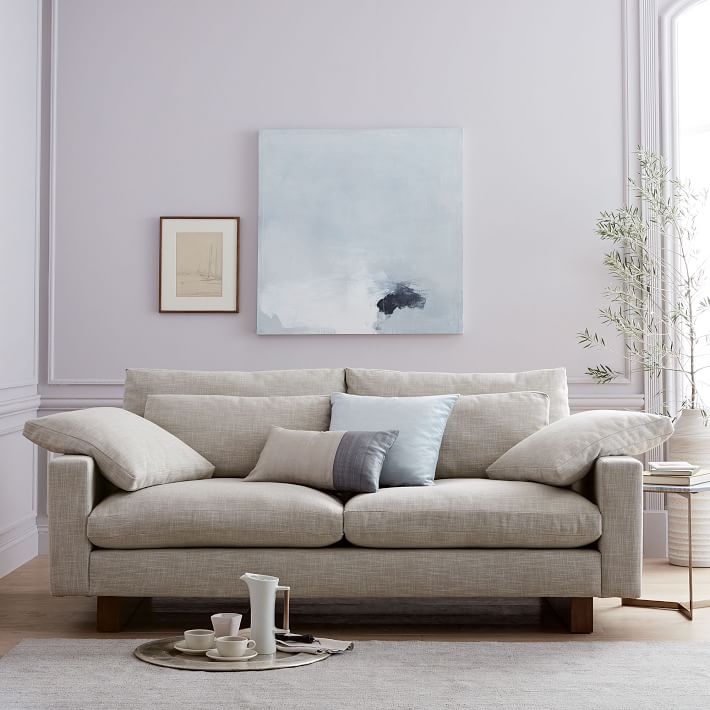 …and the Hera Side Table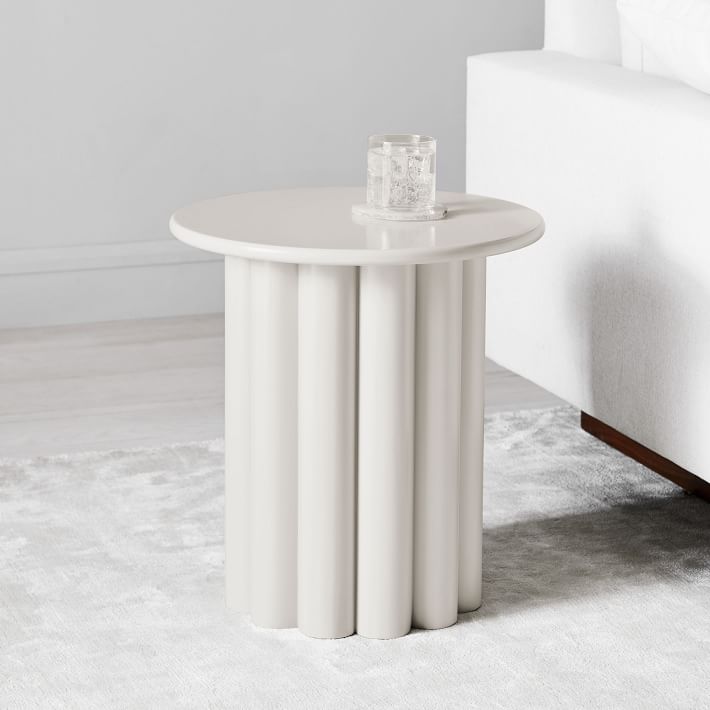 How to regram
Guides
Best practices (Regram etiquette)
Ask the original poster (owner of the content copyright) for permission to repost.
It might seem like a red tape; but if you want to play by the books, it is imperative you do so. When you do not, you're actually infringing on Instagram copyright guidelines.
Now 99% of the time, simply crediting the original source is sufficient. And surely there are millions of businesses and Instagrammers out there who do not seek permission for every regram.
But a copyright owner conversant with the prevailing rules can potentially cause you headaches in that minute 1% if the time they decide to press forward. Exposing your business to such liability, especially if you have high exposure, isn't prudent.
Always credit the original source.
In the West Elm regram shared above, note the credit given to the original content (copyright) owner—@lindsaygraviet.
This probably goes without saying; but it is necessary to state that the content you repost should not contrast with your brand message.
If you must edit the content, do so lightly. If you have to undertake a major re-do to keep the content on brand; find another to regram.
B. Put a face to your business
Why
Here's a universal truth in business circles you may know firsthand: People do business with people they know, like, and trust.
In fact, Dan Zarrella of HubSpot in an analysis of 1.5 million images found that photos with faces received 35% more likes.
A study by researchers at Georgia Tech had a similar finding when they analyzed 1.1 million random pictures on Instagram. In their review, photos with faces received 38% more likes and 32% more comments.
If it isn't already apparent; making your content—and wider account—more personable and relatable is a sure way to turbocharge engagement and increase your following.
How
Introduce your followers to the individuals behind the amazing product your sell (or service you render).
It may be the founder, a designer, or someone on the wider business team.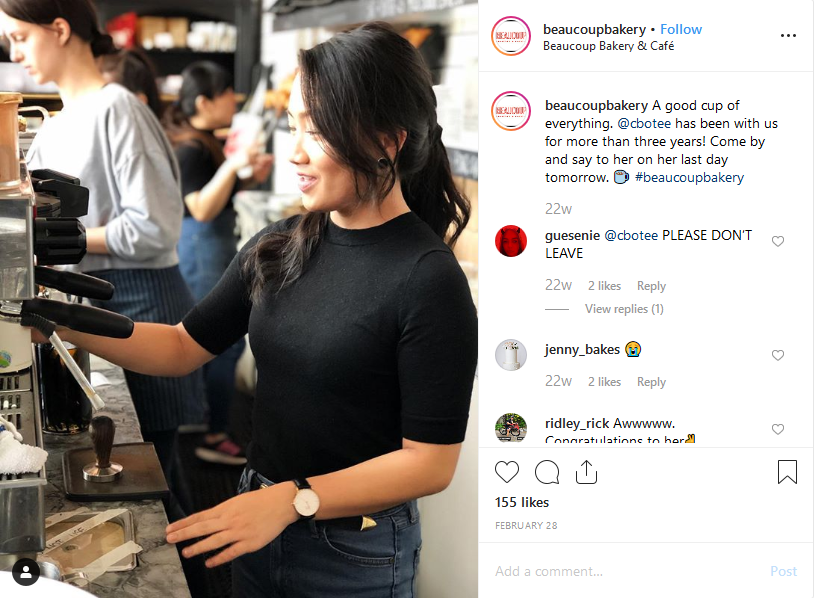 Beyond posts, apply same concept to your videos and stories.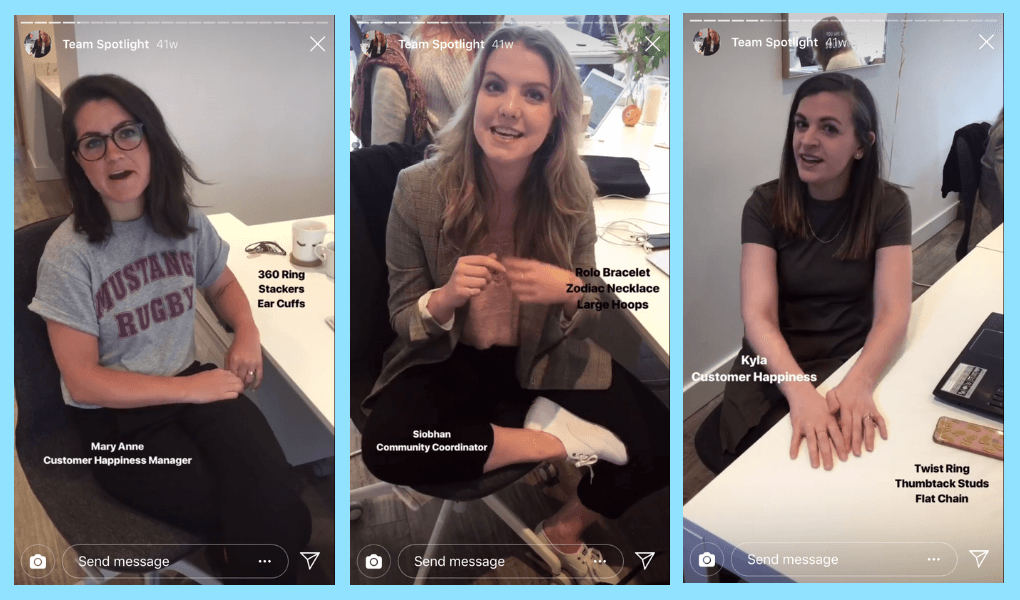 Share user-generated content of a happy customer using (or holding) your product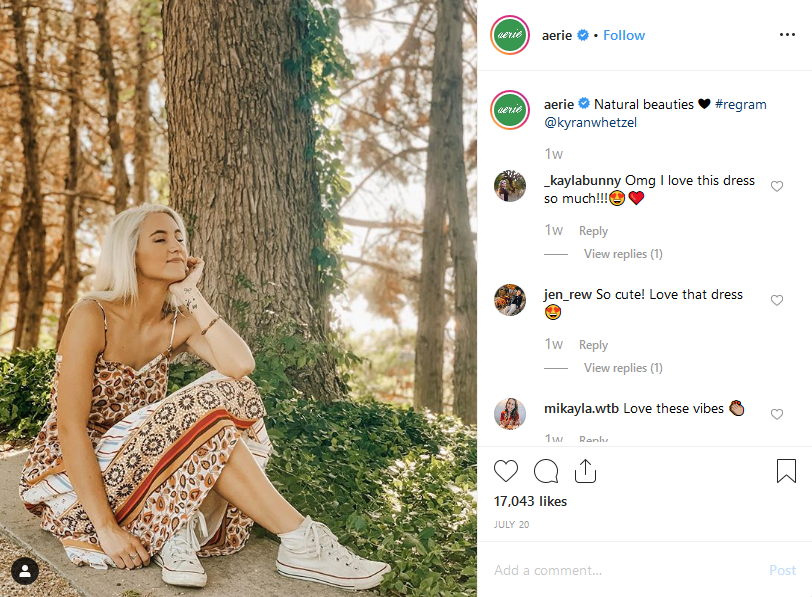 C. Milk Instagram Stories
Why
IG Stories has broken into a monster social channel in its own right with over 500 million daily users. And up to 25% of viewers of branded stories swipe up to visit the appended link, which is massive by marketing standards.
With stats like that, many brands (up to 50% according to Instagram Internal Data) are joining in on the action to boost exposure, keep their audience engaged (using a different fun format from the tired, regular static image + caption IG post schtick), and drive more sales.
Guides
How
Beyond ratcheting up engagement, it is possible to exploit Instagram Stories to tack on more followers.
Here's how: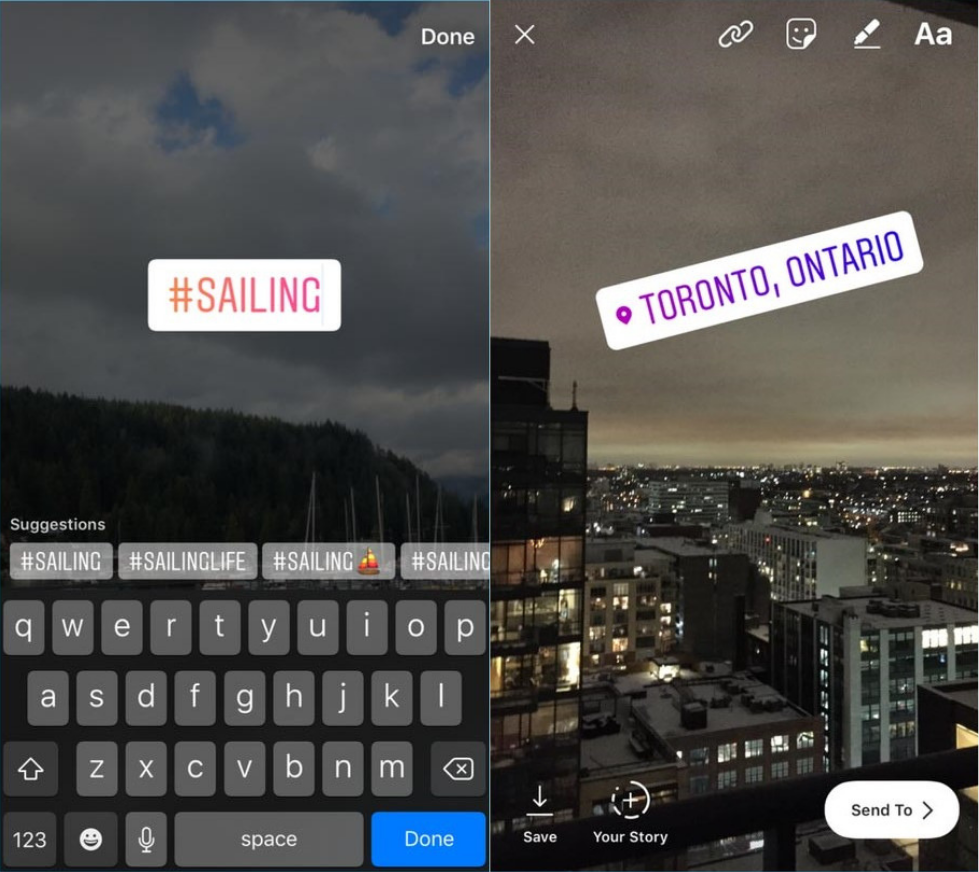 Tips
You may receive a notification when your story is added to the Search Result page for a location
How to tell when your story is visible on the Search page of a hashtag or location [Source]
4. Pay to Play
The free-to-use illusion
On the surface, Instagram appears to be a platform you can use free of charge. You do not have to pay a fee to open an account, to continue using the service, nor to use select features.
However, there are hidden costs. Whether that is paying for a social media management tool, hiring a social media manager, or the value of the time you expend trying to implement techniques that may or may not yield measurable positive results.
A valuable assist
What if there was a way to directly boost your brand page's follower count that is safe, effective, and just as importantly cost-effective?
The biggest benefit of this approach, although not immediately obvious, is that it creates social proof and simulates high audience reach & engagement. Together, they help make your content—posts, videos, stories, and what not—more visible and increase the efficacy of methods already shared above.
Put simply, directly bulking up your following would enable you achieve optimal results when you implement the processes shared above.
Users who come upon your content will feel more inclined to join the fray (click the follow button) and as a direct consequence Instagram would push your content to more eyeballs in a classic case of snowballing.
Hold all the cards as to the size, rate of increase, and speed with which you add more followers. You can start by taking baby steps.
Alternatives
Complement purchasing followers with either of the hacks below:
A. Run a contest (or host a giveaway)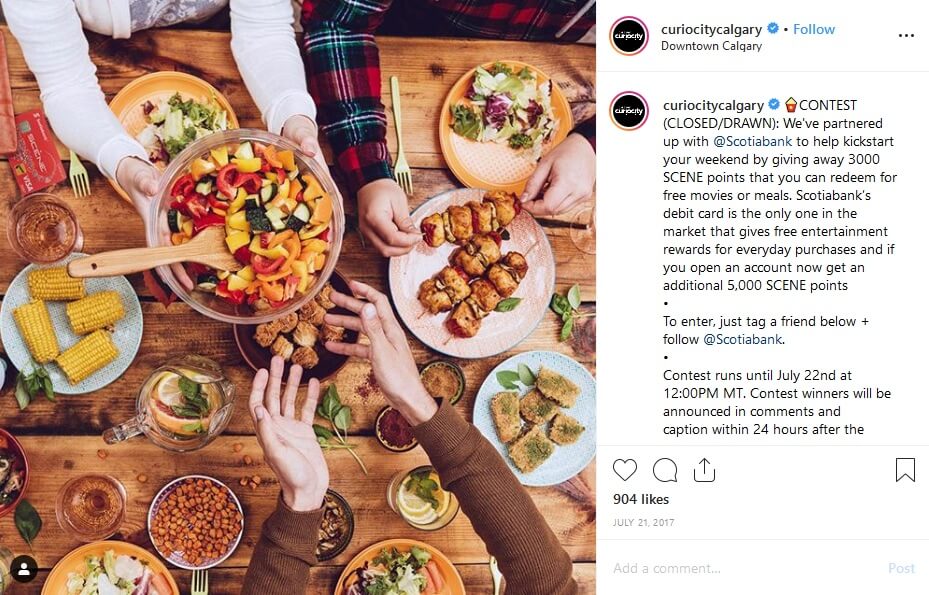 Why
Tailwind ran a study in 2017 with a major finding that holding an Instagram contest increases follower growth by an eye-watering 70%. Also, posts related to IG contests received roughly 64 times more comments and 3.5 times more likes.
How
The ultimate Instagram contest guide [Source]
Tips
If you can reach a larger audience via your website, consider hosting the giveaway there for a larger reach.
Do not forget to include an option to follow you on Instagram and other social media networks.
Reach out to giveaway blogs.
The blog owner will do a review of your product complete with UGC photos. Afterwards, they'd host a giveaway for their audience to win a product with the stipulation that you send the winner a product as well.
Preferably contact blogs in your (or a relevant) niche.
Go a step further; use giveaways and contests to drive sales courtesy of this instructive guide by the folks at Oberlo.
B. Take out an ad
You have two options:
Promote one of your Instagram posts [Source]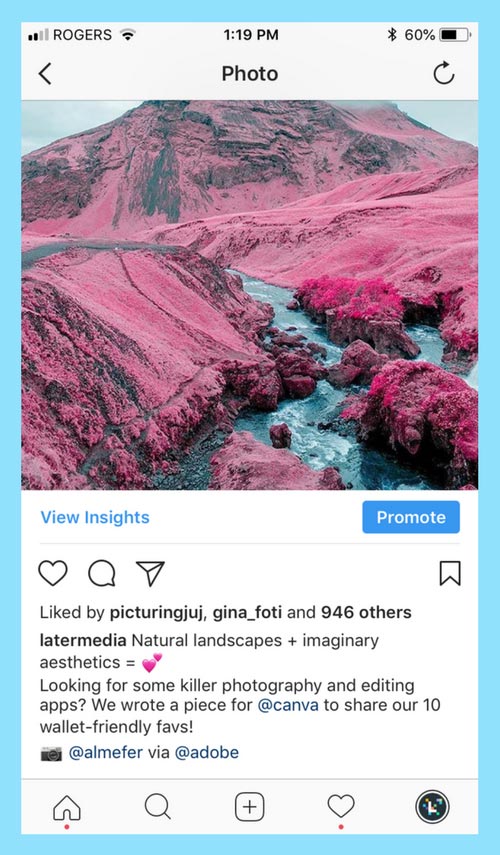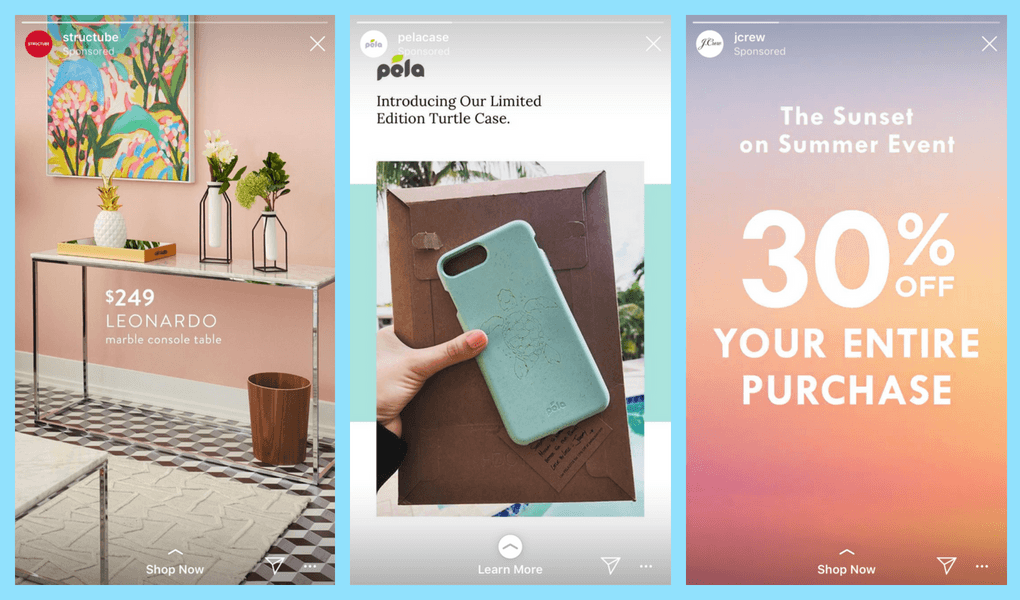 That said, it is crucial to note that Instagram ad campaigns are a mix of art & science. As such, while the potential is undeniable; it is not uncommon to get poor results at the outset, tweak, and run A/B tests until you hit a winner.
23 Best Tools To Help You Get More Instagram Followers
Photo Editing Apps
Core Editing
Text Editing
Typorama (iOS)
Holistic Instagram Management Tools
Stories Editing Apps
Clipomatic (iOS)
Contest Management Tools
Wishpond (Web)
Shortstack (Web)
WooBox (Web)
Cross-Platform Promotion Apps
Competition Analysis and Tracking Tools
Social Blade (Web)
Social Rank (Web)
Analytics
Hashtag tracker by BrandMentions (Web)
Visual Marketing Index (Web)
Final Words
Pushing up your follower count today may seem like a difficult undertaking, but it doesn't have to be. By committing to gradual execution of eminently simple and straightforward techniques; you can reliably begin to improve your reach, the appeal of your content, and by extension a sustainable increase in your followership.
Furthermore, it may be prudent to directly get more followers to facilitate even better results and cut time that you could direct to other critical aspects of your marketing campaign and business operations. You can start small and proceed cautiously and methodologically if you prefer.
SocialShaft will be at your behest at every point of the order process to offer guidance, make clarifications, and in so doing ultimately help you achieve the Instagram marketing results you yearn for your business.