Updated on September 23, 2022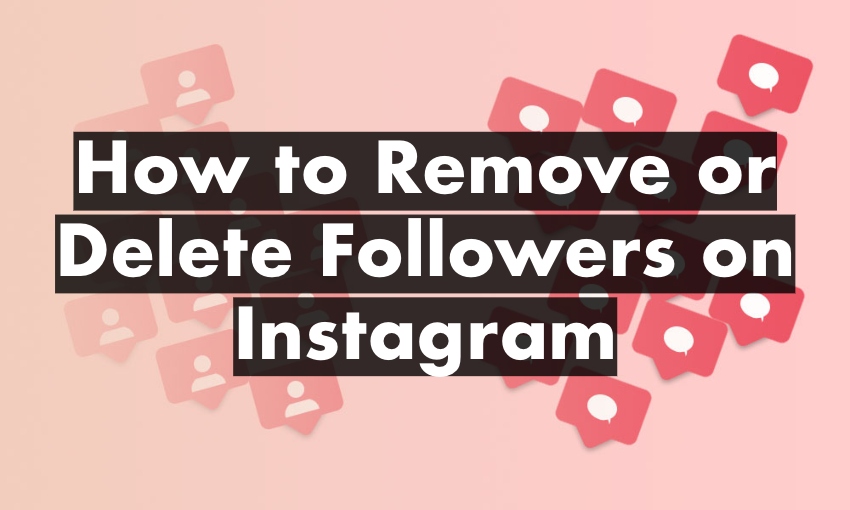 The Definitive Guide to Removing Instagram Followers in 2022: Meaning; How; Why; What Happens After; Remove v Restrict v Block; FAQs
Plethora of reasons to pare down
The eternal struggle to gain followers on Instagram is all too real for brands, creators, professionals, and influencers. The quicker, the better too. Every so often, however, the tune changes and a user on your follower list needs to be purged.
Cogent reasons range from the obnoxious troll, stalker, spammer, or cyberbully leaving noisome commentary on your posts to seriously considering propping up your engagement rate by losing accounts that do not, have never, or over a recent time span have not interacted with your content.
Whatever it is though, Instagram does offer a nifty, easy-to-use "Remove" feature to be used shrewdly when blocking seems excessive or harsh. The soon-to-be-ex follower will not be notified and your posts and stories will subtly but abruptly stop showing in their feeds.
In this comprehensive guide on how to remove followers on Instagram, we earnestly kick things off with:
multi-step instructions on how to delete Instagram followers on all devices—via Web Browser and App;

what it means to remove a follower and what occurs after;

if, when, and for what reasons you should expel a follower;

as well as a succinct prose on the alternatives to removing a follower on Instagram
---
How to Remove Followers on Instagram on Windows, Mac, Chrome, and Linux OSes
EDITOR'S NOTE:

Following its introduction in 2018, the 'Remove' feature was exclusive to Apps.

Starting in 2021, the feature is live on the web version of Instagram. Consequently, you can delete followers on Instagram from a web browser on all devices—including tablets, laptops, and desktops.
Step 1: On your web browser, go to Instagram.com (Dark Mode) and Login.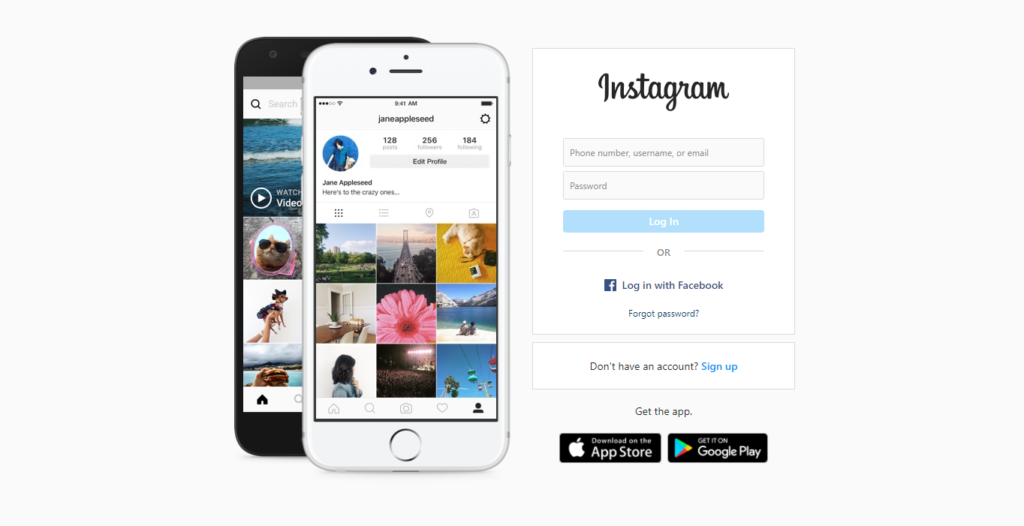 Step 2: Click on
or your profile picture at the top right.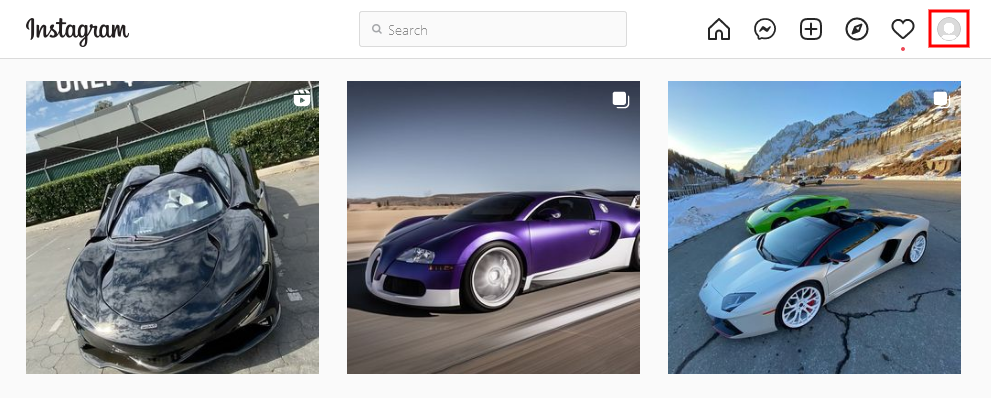 Step 3: Click on
Profile in the drop-down menu.

Step 4: On your profile page, click on Followers.

Step 5: On the Followers pop-up that pulls up, click the Remove button to the right of the follower you want to delete.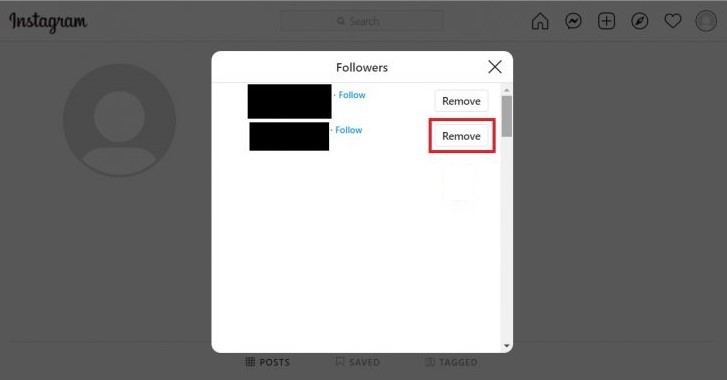 Step 6: On the prompt that follows, click Remove again for confirmation.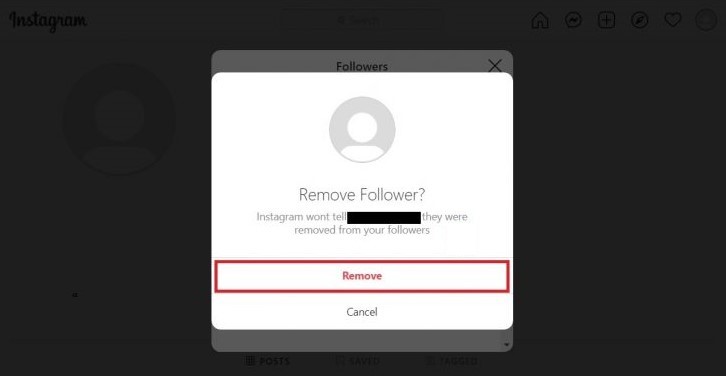 ---
How to Remove Followers on Instagram on Android and iPhone
Step 1: Open the Instagram app. Sign into your account if you haven't already done so. Then tap

or your profile picture in the bottom right to go to your profile.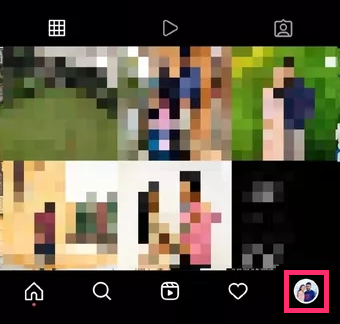 Step 2: At the top of your profile page, tap Followers.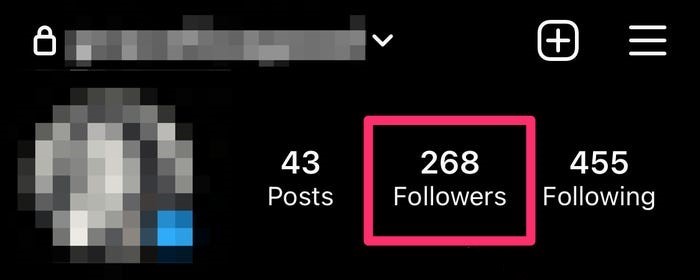 Step 3: Ferret out the follower you want to remove. To do so, use either of these four routes:
1. Enter the follower's name in the Search field at the top of the Followers tab.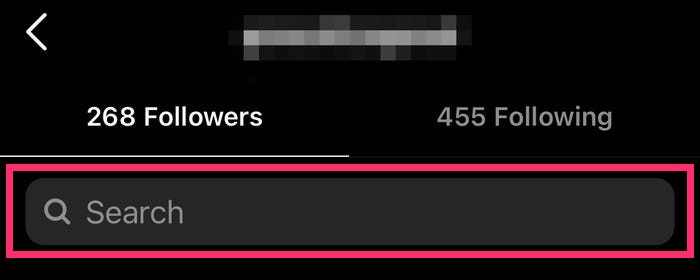 2. Tap the Accounts You Don't Follow Back category.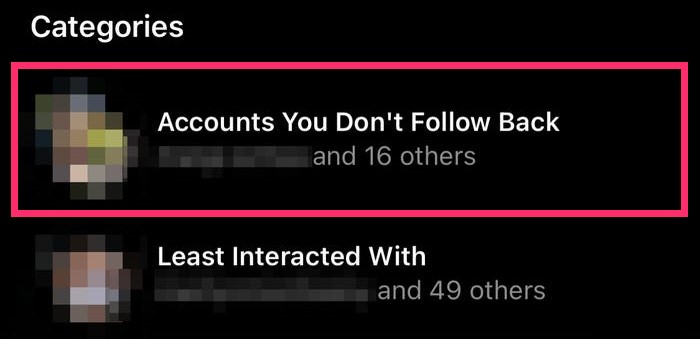 3. Tap the Least Interacted With category.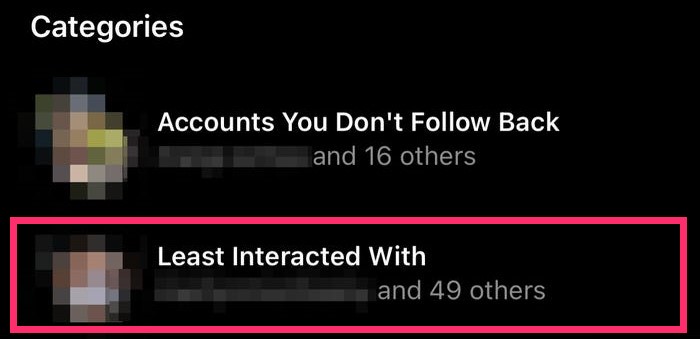 4. Scroll through the All Followers list.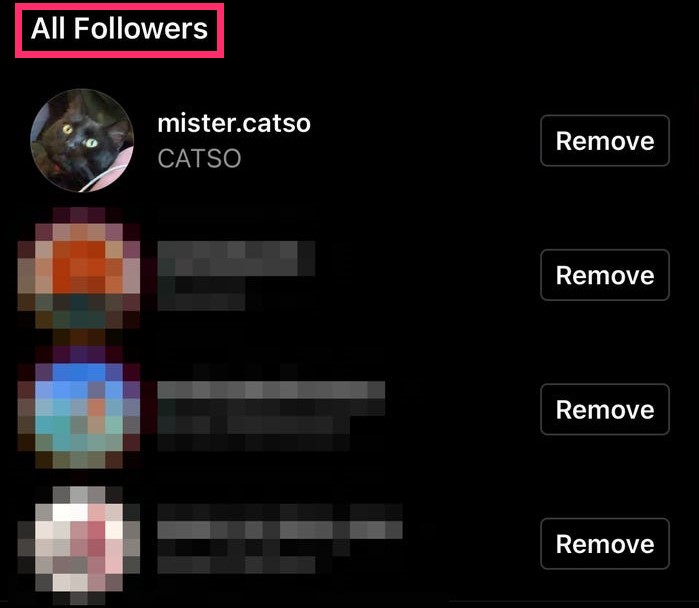 Step 4: On pinpointing the follower you'd like to axe, tap the Remove button to the right of the follower's username and name.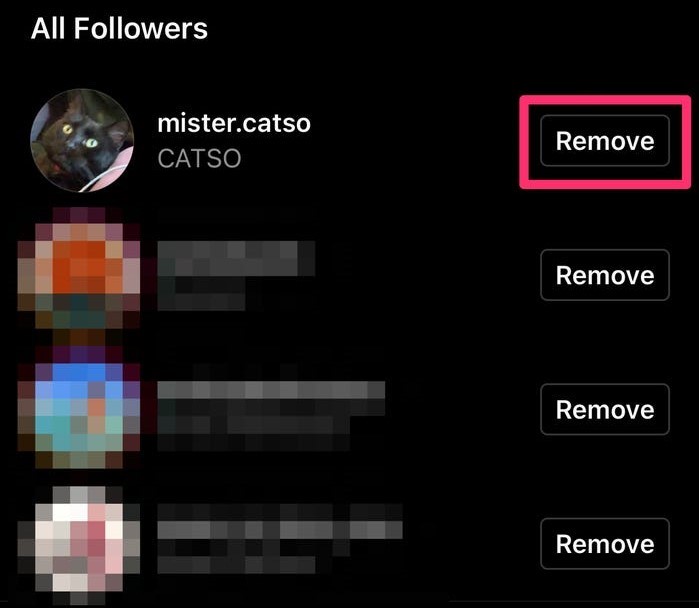 Step 5: In the dialog box that follows, tap Remove again to confirm.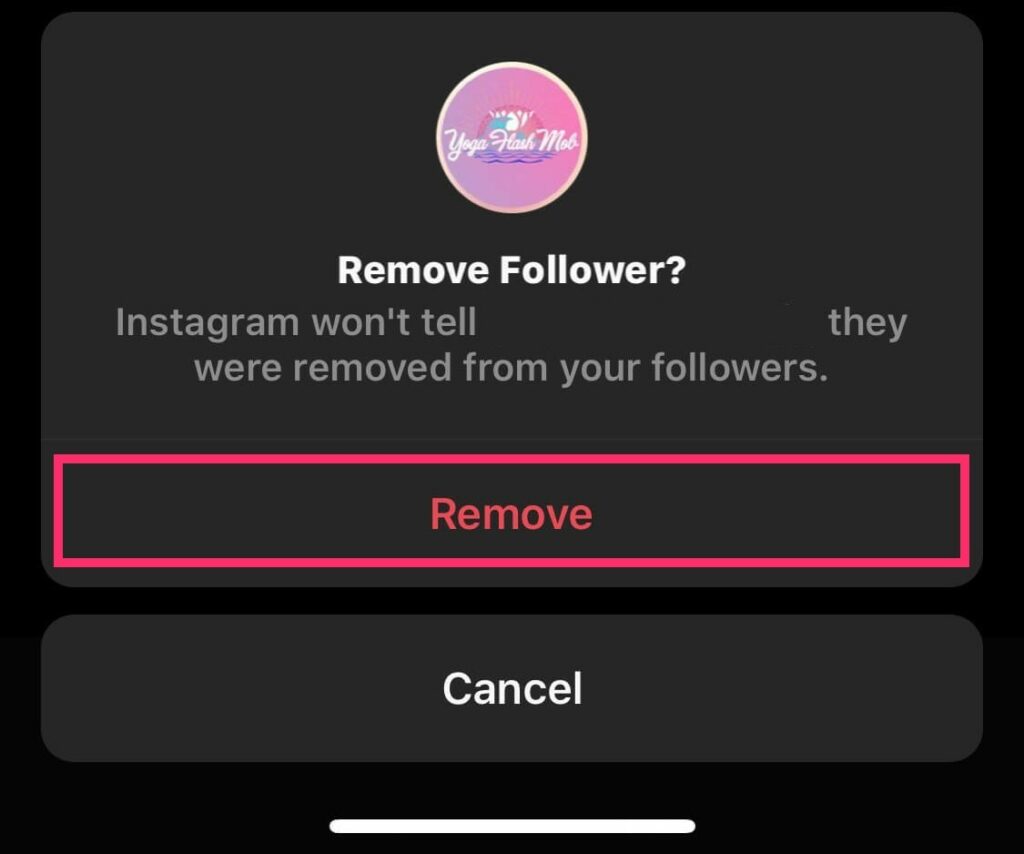 Repeat steps three through five to delete another follower.
---
How to Remove a Follower on Instagram Directly from the Follower's Profile
Step 1: Open the Instagram app. Sign in if you haven't done so already.
Step 2: Navigate to the profile page of the follower you want to remove. To do so, use either of these three routes:
Tap the magnifying glass icon at the bottom to pull up the Search & Explore page. Tap Search in the search field at the top, then type the username of the follower you want to delete. Tap Search in the bottom right. Tap Accounts below the search bar to filter your results. Tap the follower's profile details to go to their profile page.


Follow steps one through three of the previous section to find the follower in the Followers tab. When you do, tap the profile picture/username/name of the follower to go to their profile page.


Tap the name of the follower when they appear on your timeline or feed.
Step 3: On the profile page of the follower, tap the three-dot icon—

on iOS or

on Android—at the top right.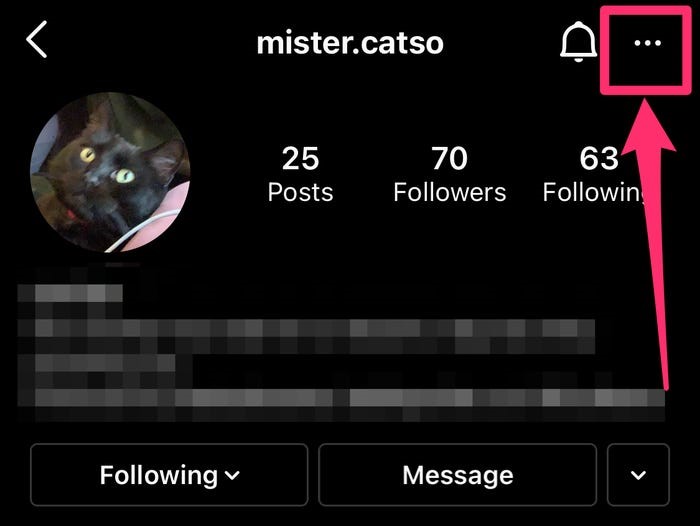 Step 4: In the menu that pops up, tap Remove Follower.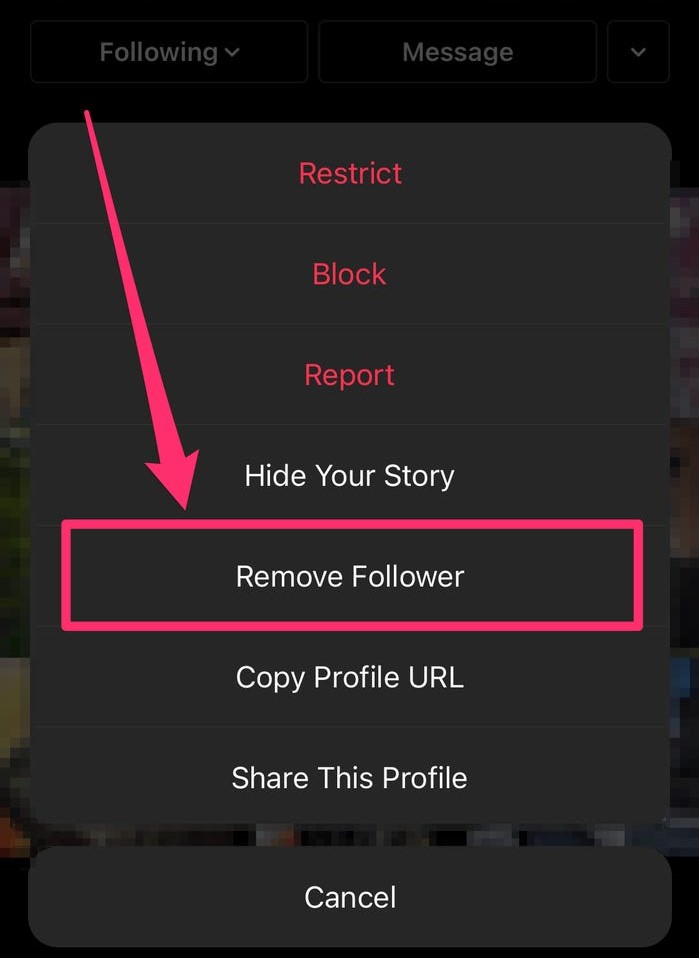 Step 5: Lastly, in the dialog box that follows, tap Remove for confirmation.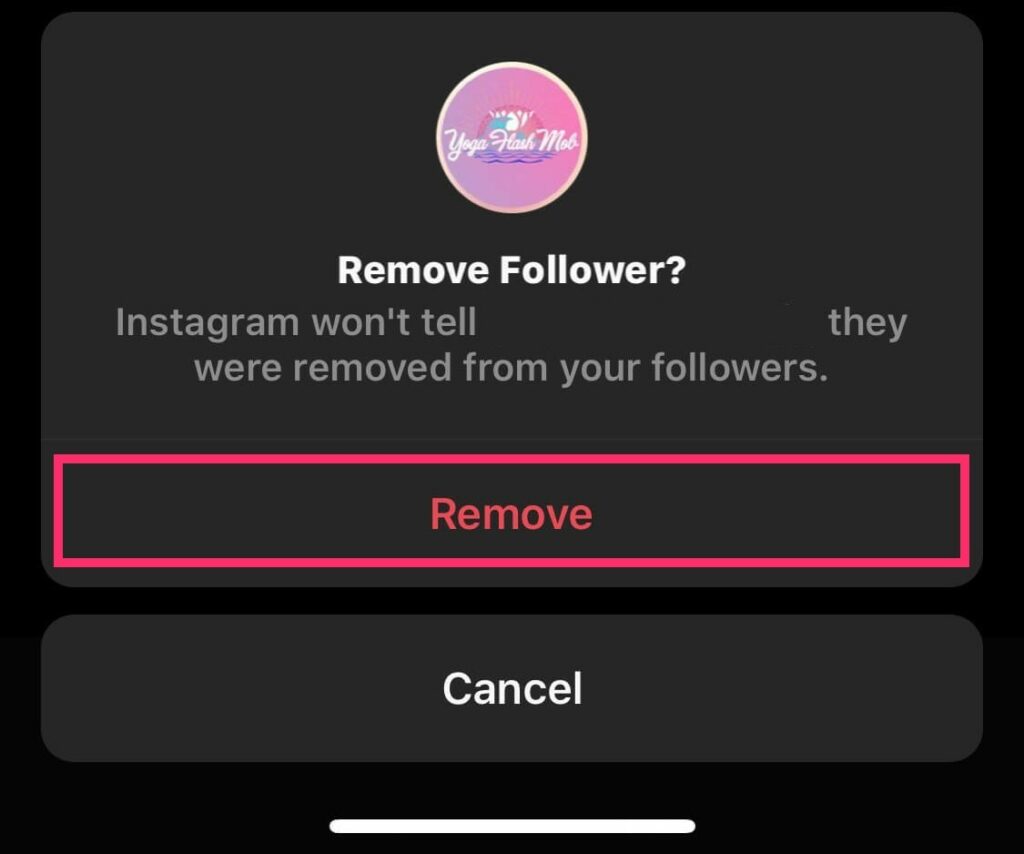 ---
How to Mass-Delete or Remove Multiple Followers on Instagram
A word of caution
Instagram is yet to roll out the sought-after function to delete more than one follower at a time. Not for complexity reasons, to be sure. Adding checkboxes to select multiple accounts before mass-deleting in one go isn't particularly string theory.
They have their reasons. But it didn't matter in time past as third-party tools picked up the slack.
The most successful brands and personalities on Instagram leverage tools, connected apps, and services to raise their game and sustain sky-high performance, so it wasn't much of a stretch for developers to add the valuable feature to better manage followers and for businesses to use it seamlessly.
That has since changed with Instagram pushing back more firmly at automation. API access—a prerequisite for the tools to work—for some developers have been rescinded. Accounts have been sanctioned—action blocked, shadowbanned, or worse.
Consequently, the pool of top-notch Instagram apps, software, and services—on mobile and desktop—that enable bulk follower removal has dwindled dramatically. Excellent apps like InstaClean – Cleaner for IG and Cleaner [iOS, Android], Cleaner for Instagram [iOS, Android] are not available anymore.
Currently, to find a quality third-party app or site to bulk remove followers, you have to spend more time looking around, you may have to pay a fee to access the feature, limits may be imposed to prevent raising any flags, and perhaps more importantly, you have to be very careful about security.
You see, most Instagram tools require login access to perform their high-profile functions. Apps that enable you to delete multiple followers are one such type of tool. And with the disruption fomented by official Instagram policy, bad actors identified an opportunity and are filling in.
Granted, they are far and few between. But you can never be too cautious. One security measure to implement is to change your password before and after using one of these apps to be safe.
How to remove multiple followers on Instagram
Step 1: Decide on type of approach
You can choose to have the app automatically filter your followers for ghost, business, inactive, and foreign followers; then delete them in bulk. You should be careful though; some apps that claim to remove in bulk automatically actually block the accounts—a very important distinction.
On the flip-side, you could use the app to filter your followers, then manually screen them to avoid removing false positives—foreign accounts may be bilingual—before selecting which accounts you wish to remove in bulk.
We heartily recommend the latter semi-automatic approach. A variant of it is to use a free—or more likely—paid followers' analytics or audit tool like Mass Unfollow for Instagram [iOS], Spamguard, or Iconosquare. Then review and remove the accounts manually on Instagram.
Or, you can adopt the technically safest, completely manual, but tedious and time-consuming approach where you analyze, screen, and then gruelingly remove each follower one at a time via the Instagram app, web version, or the follower's profile.
Step 2: Select and bulk delete
The exact steps will differ slightly between apps; but mass-removal apps follow a familiar routine and share helpful, intuitive instructions.
In general, you authorize access to your account. Select the followers you wish to remove. We recommend you select no more than 50 followers; 30 followers or less is ideal in one batch. Then remove the selected followers in bulk.
Wait a while, repeat with another batch of <30 but no more than 50 followers.
Selecting or attempting to remove hundreds of followers will most assuredly draw the attention of Instagram's AI to your account and you don't want that.
Some apps will impose a limit on how many followers you can select or delete at a time and within a specific duration: Others may not. Understand that when they do, it is mutually-beneficial for the health of your account and the developer's continued API access.
Of course, the burning question is: What apps are safe to use? You'll have to do a bit of digging yourself. Apps pull support from time to time and new entrants sometimes make a splash with more convenience and better filters.
Go to the app stores on iOS and Android and search for an app with the highest, most-recent reviews or use your trusty search engine for a recent list of apps from a reliable source.
---
What Happens When You Remove a Follower on Instagram?
What does it mean to remove or delete a follower?
When an Instagram user chooses to follow your business or personal account, they opt to have your posts and Stories appear in their feed. A convenient alternative to always checking out your profile to see content you recently shared.
When you unilaterally remove this user—a follower—from your list of followers; you withdraw the permission for your posts and Stories to appear in their feed.
This function is permanent. No reversals. After deleting a follower, the user will have to follow you again to show up on your follower list and begin seeing your posts and stories in their feed.
Does a follower receive a notification when you remove them?
No. The follower you remove will not be notified that you've removed them or stopped them from following you.
However, if they could find out and confirm whether they've been removed, if they notice that your posts no longer appear in their feed.
To confirm, they simply have to navigate to your profile page.
If your profile is still public, they'll not see a 'Following' button. In its place, they'll find an active, blue 'Follow' or 'Follow Back' button. If your profile is set to private, they will not be able to see or interact with the posts or Stories in your profile page.
Of course, you can follow the same steps to know if someone removes you as a follower.
Can a follower you removed re-follow you afterwards?
It depends on the status of your account.
If your account is public, they can easily tap the 'Follow' or 'Follow Back' button on your profile page to follow you again. When they do, you will get a notification.
If your account is in private mode, tapping the 'Follow' button will result in a 'Follow Request' that you have to accept before they can become a follower again.
Can a follower you removed still see your posts and stories?
If your profile is set to public, as is the case for most business and professional accounts, removing a follower transforms the user to a regular Instagram user who can view as well as engage with your profile, posts, stories, highlights, and more.
If you do not want a follower to see any content you share, you have two options.
Option 1: Set your account to private. For brands and influencers, this isn't much of an option, as it hides your content from every Instagram user who does not follow you.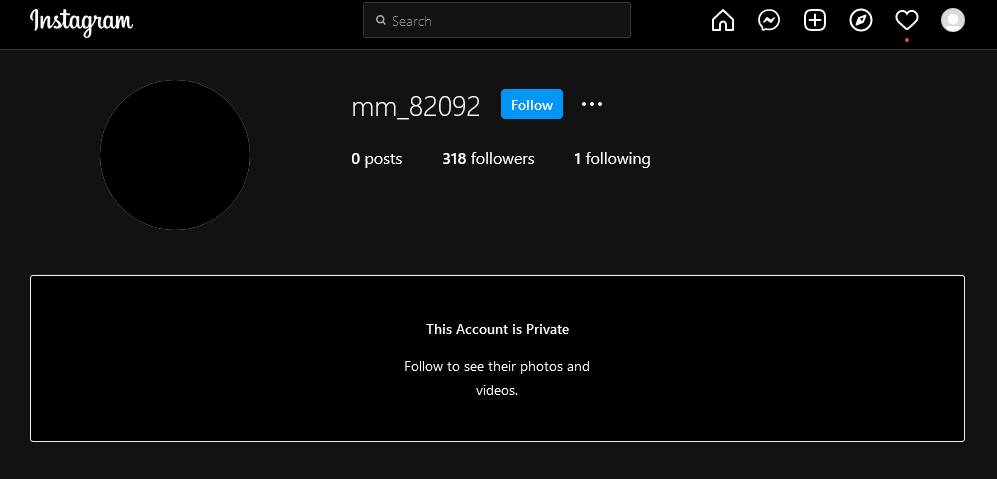 Option 2: Block the ex-follower's account. This is a more targeted option that restricts access solely for the user(s) you blocked. The blocked user will be unable to view or interact with your profile, posts, and other content types.
Can you see the posts of a follower you removed?
Yes. Unless, their account is set to private and you aren't a follower or you are blocked.
After removing a follower on Instagram, do their likes and comments remain?
Yes. The likes, comments, and other interactions on your content will remain available (they do not disappear).
Can you still exchange messages with a follower you removed?
Yes. Either you or the ex-follower can message each other.
To stop a previous follower from sending you a DM, you'll have to block them.
Can you follow a follower you removed?
Yes, you can remove a follower but still follow them. Followership on Instagram is not a two-way link as is the case on Facebook. You can opt to mutually follow a user—where you follow a user and the user follows you or only one party follows the other—you follow the user or the user follows you.
Consequently, removing a follower has no impact on your own follow status with that user.
---
Why and When Should You Delete Followers on Instagram?
A deep clean
If you specifically sought out this guide, odds are you have your reasons for removing a follower. However, if curiosity got the better of you or you want reassurance that you're not about to make a monumental error; the nagging question you want an answer to is…
"Why would I want to remove a follower I expended time, sweat equity, and resources to acquire?"
Now, if a follower is being a nuisance or you notice their views do not reflect your values; your options are limited and a removal might be in order.
That said, you should think of your followers' list as you would a mailing list or cold call list. The size of the list is not the be-all and end-all target. Performance is equally important.
In Instagram marketing, the analog of the size of a mailing list is your audience size; and performance is equivalent to your engagement rate. The bulk of your audience are your followers. Instagram delivers your posts directly to their feed as well as the feeds of a limited number of non-followers.
Instagram's continued success in both usage and revenue relies on keeping its 2 billion active users (as of late 2021) happy and glued to their screens; which creates plenty of incentives for its algorithm to be pedantic about the quality of content that shows up on a user's feed.
One way the algorithm evaluates content quality is the engagement rate. If a significant percentage of the people who see a post or view a video do not interact with it—by leaving a like or comment—the algorithm knows not to send it to more feeds. If this becomes a pattern with the content you post, your reach and audience size will shrink over time.
For a business, that's a nightmare. Consistently producing excellent content is hard enough. It'd be devastating if your content is not being shown to as many users as possible.
This is also a concern for influencers and professionals like photographers looking to build tight-knit communities. But there's another reason why the engagement rate is critical for this group—sponsorship.
Brands eager to leverage influencer marketing want to be certain your list is chock-full of actual people who take your recommendations to heart. Your engagement rate is one of the clearest evidence or metrics to verify authenticity and ascertain whether they should collaborate with you or a different creator.
Thus, whether you are a business or an influencer, cleaning up your follower list can be helpful to achieving your grand goals. Nevertheless, before you enthusiastically set off to scrub your list of followers, here are four key deets to bear in mind:
You CANNOT undo a removal. As such, you must be certain that deleting a specific follower is a net positive.


Not all followers will be active. As a business, you shouldn't expect every existing or prospective customer to interact with your content. Sometimes, getting to plant your brand in their minds is as good as it'll get until they patronize your business.


When cleaning up your follower list, the objective is not to remove every follower except your most loyal fans. Audience size may currently be attenuated by how well your audience engages with your content, but it is far from a non-factor.

A reasonable target is to confirm the average engagement rate for an account of your size (with similar number of followers) and type in your niche. Then work out how many followers you need to spurn to get within a hair breath of, if not above, this average rate.
In general, influencers can afford to apply stricter criteria for purging followers than businesses.
Categories of Instagram followers
Active Followers
Followers who interact with your content are described as 'active' followers.
This is a catch-all category for anyone who has ever engaged with your photos, videos, Stories, and other content types—from your superfans or stans to the occasional lurker who drops a like every now and then.
Inactive Followers
Life happens and some people have to lay off Instagram for a while for unknown but usually understandable reasons. Unfortunately, you are unlikely to be privy to their circumstances. They may only be gone on an extended break or they may be pursuing new interests and have sworn off using their account again in favor of a new one.
As a result, most creators establish a cutoff or dormancy duration that separates active followers from inactive followers. For some, it's 90 days, 180 days (6 months), 12 months, or some other figure after their last interaction.
An additional or alternate dormancy benchmark is whether they have interacted with a set number—say 100— of your latest posts; depending on frequency of posting.
Inactive followers should be low on the chopping block of followers to remove as there is a risk of axing a couple of awesome followers who have good reasons to be away or never engage—say they're the quiet type who don't feel inclined to like or leave a comment on every post that catches their fancy.
Mass Followers
You'll have a hard time finding anyone who likes mass followers. Other accounts they follow are unlikely to be thrilled and you should not be either.
What are the odds they'd notice your post in their feed amongst those from the 6000 other accounts they follow? Mass followers aren't always real either, they may be bots.
Regardless, they offer little value to any community or fanbase. Matter of fact, chances are high you wouldn't miss them (or that they'd realize they'd been removed) after you give them the boot.
If you are still hesitant about this removal thing, these are amongst the safest choices to let go.
Ghost Followers
Any follower who does not fit neatly into any of the first three silos is almost always a ghost follower.
Ghost follower is an umbrella term for accounts that are unlikely to ever engage with your content. It could be because:
they're bots or fake users,

they only followed you because they expect you to follow back, or

they aren't active much on Instagram with low-quality content if there's any
In theory, ghost followers are prime candidates to be chopped; but false positives are a non-zero risk. A regular, genuine user may have a hastily-prepared bio that isn't professionally done, not share content often, and have an extremely low follower-to-following ratio.
These attributes satisfy the definition of a ghost follower, but they may not be one. Certainly, don't count on automatic auditing services to reliably label ghost followers correctly. It is incumbent on you to perform a manual screening.
Screening criteria
A. Too many followers with a relatively small following
B. An abundance of monotonous comments, such as 'cool'
C. Bio that is barely legible
D. Most posts are promotional
E. Posts are generally of low quality if you find any
F. Username appears to be random
G. Having a generic photo is often a dead giveaway
Individually, these criteria do not tarnish the profile of a follower—well, except the first—but if an account ticks multiple boxes, it should ring alarm bells.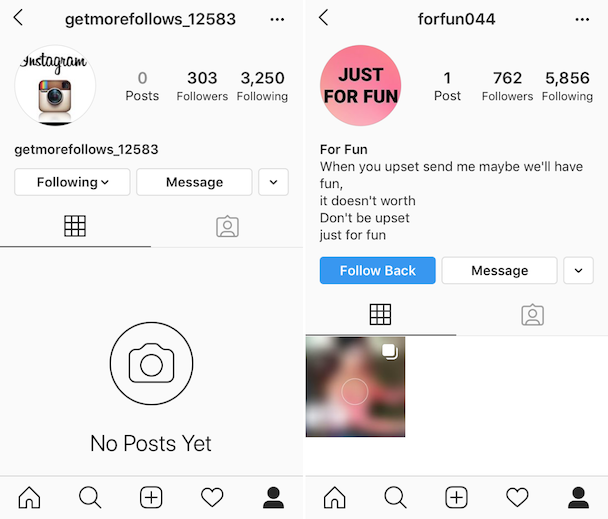 For instance, the accounts in the screenshot above check boxes A, C, E, F, and G and are obvious choices for prompt removal.
---
Ways to Curtail Interactions with Followers on Instagram: RESTRICT vs REMOVE vs BLOCK
Instagram understands a one-size-fits-all solution is not ideal for dealing with disruptive or unwanted followers and their content.
Sometimes, you may only want to put their content out of sight; other times, you desperately want to nuke any connection you have to ne'er-do-well characters.
Prefer it or not, Instagram has opted for different options with varying degrees of penal actions and this section is entirely about us succinctly unraveling these methods.
Restrict
Synopsis
Say, the reason for your displeasure with a follower is not that they don't interact with your content. It is that you aren't comfortable with their comments and messages.
Removing the follower in question from your follower list wouldn't necessarily stop them from commenting or sending you DMs; maybe this is a temporary development; and aggravating or not, they shore up your engagement rate and audience size.
The restrict function subtly hides a follower's messages, comments, likes from you without notifying the follower.
Their comments will not be visible to the public as well. Only the follower can see the comment they add. You can opt to leave it hidden, delete it, or approve it to be seen by everyone after reviewing it.
Unlike removal, restriction is reversible.
How to restrict followers on Instagram
You can restrict a follower through Settings, through their comment, through their messages, and through their profile.
Here's how to restrict a follower through Settings on the Instagram app:
Tap or your profile picture in the bottom right to go to your profile.
Tap the Menu or Hamburger icon in the top right.
Tap Settings. Then Privacy.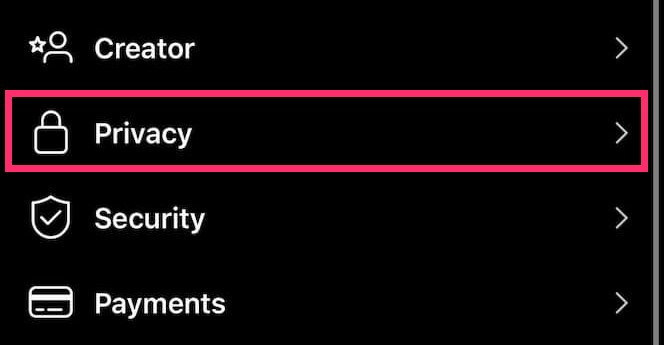 4. On the Privacy settings page, tap Restricted Accounts.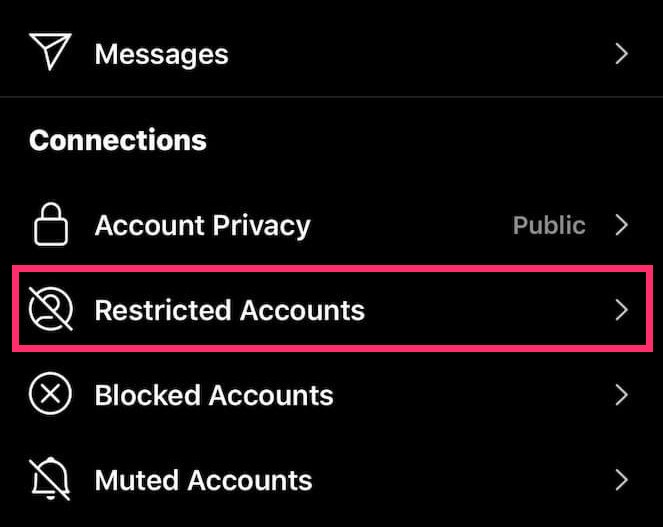 5. On the Restricted Accounts page, use the Search bar to find the follower you want to restrict and tap Restrict next to their username. Or Unrestrict to lift a restriction.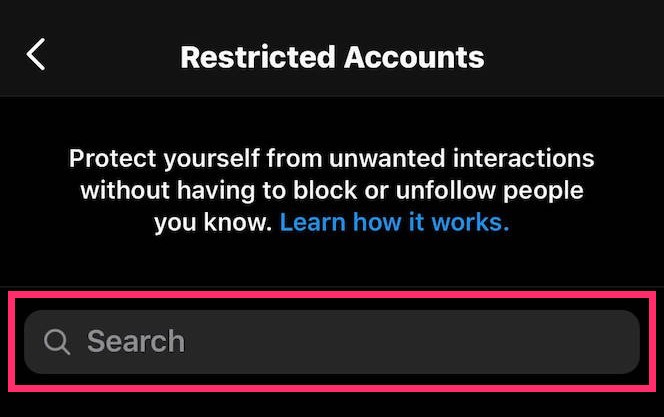 ADDENDUM

If you want to restrict comments and messages from all recent followers who started following you in the last week, rather than one individual follower, you can use the Limit function.

Most wouldn't find it useful, but it is there should you need it. You can select a duration of up to 4 weeks during which all comments and messages they add or send will be hidden.
Remove
If you have a ghost follower who is inactive, care little for the positive connotations of interactions from an unruly follower, or for any reason want to eliminate your posts and Stories from the feed of a follower; the Remove function is your go-to option.
The punitive measure of a removal is that the follower can no longer see your posts and Stories in their feed and the benefit is that it cleans up your followers' list and could be positive for your engagement rate. It has no effect on likes, comments, shares, and messages.
That said, it is the only irreversible function on this list, so use it carefully.
Block
Synopsis
Of all the functions available to rid yourself of or limit interactions with a follower, Blocking is the nuclear option.
It drops the curtain completely on a follower as they stop being a follower and cease to receive your posts and Stories in their feed. Furthermore, they can't find or view your profile; can't view your posts, stories, highlights, and other content types; nor can they like, comment, share, or send you a message.
The only glimpse they get of your account is any like or comment you leave on public posts.
Blocking is reversible. However, when you unblock a user, their previous deleted likes and comments on your content would not be restored. Also, when you unblock a follower, they do not remain a follower, they can only become a follower again after they follow you anew.
How to block followers on Instagram
You can block a follower through their profile or through their messages.
Here's how to block a follower through their profile on the Instagram app:
Tap at the bottom of the app and search for their username to go to their profile.
On their profile page, tap on iOS or on Android at the top right.
Tap Block in the pop-up menu.
If you want to block the follower and new accounts they may create, tap Block again at the bottom of the dialog box to confirm.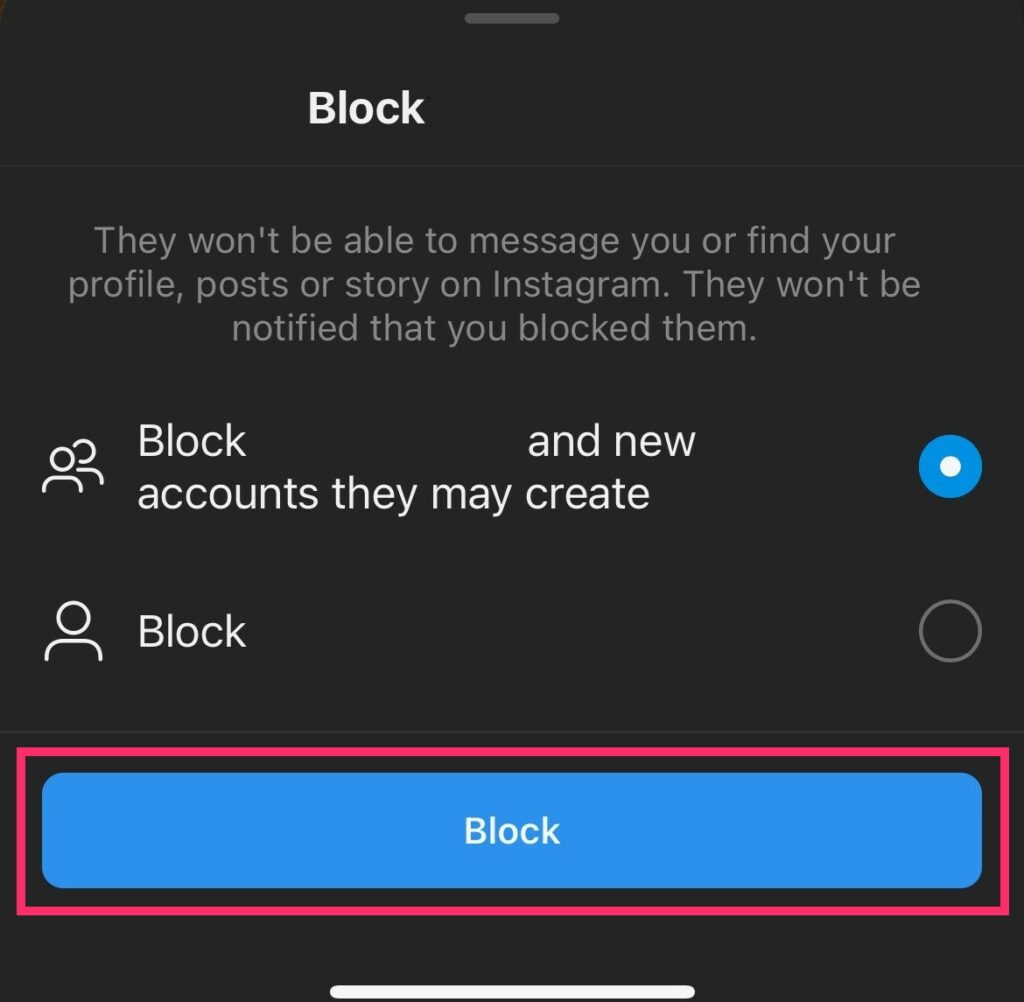 5. If you'd rather block only this account, tap

next to

Block [username]. Then tap Block again at the bottom of the dialog box to confirm.
---
Rounding Up
Removing a follower may not be at the top of your to-do list but it may be prudent to delete followers that are dead weight.
Truth be told, expelling a follower from your list of followers to improve engagement rate can be just as critical to your account growth and continued success as gaining new followers.
However, you want to be fastidious about removing followers as it is irreversible. The follower(s) you remove should satisfy strict criteria and you should endeavor to audit the list manually. In certain instances, you may opt to apply a lighter punitive measure, such as restricting or blocking a follower from commenting, in lieu of a removal.
Let us know your thoughts about and experience cleaning up your follower's list in the comments.