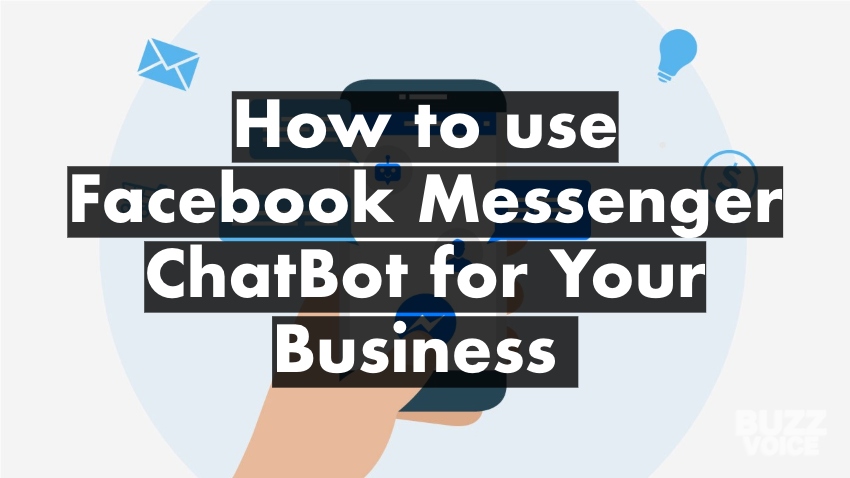 Running an online business is not easy, especially when you have a lot of customers and you have to reply to every single message sent to you. If you have other things going on in your life aside from your business, it will help save time and energy to automate your customer interactions and responses.
Facebook has introduced the use of chatbots. Chatbots help you provide personalized answers to every customer. This is a highly efficient way to interact with your customers plus, the responses are super fast, so this is a good way of improving your customer service.
Why you should use Facebook messenger chatbot
The world is becoming increasingly internet-oriented, and almost everyone has a phone and is on social media. With social media apps like Facebook, you don't need to leave the comfort and convenience of your home to buy a product or lay a complaint. People that run businesses online have to level up to meet the needs of their customers, and the Facebook chatbot might be the turnaround your business needs to grow better.
Facebook chatbot provides automatic responses to common questions. You can also make it answer the frequently asked questions so you'd have more time to respond to more serious complaints. Other services such as bank transactions can be accomplished using particular chatbots. In essence, chatbots are very flexible and provide many valuable benefits for your business.
Here are some unique ways to use Facebook messenger bots for your business.
Personalized content and better customer service
Some chatbots are focused on providing individualized content to customers. With these bots, you can strengthen the relationship between you and your business without even doing any work. For example, some chatbots help customers find answers to their complaints or requests. All they need to do is type out what they're searching for, and a range of personalized solutions will be provided. If your business is solely content-oriented, and you want to direct users to your website, you should make sure your customers know how to reach you when they need extra help that requires your services.
Answering frequently asked questions
Again, it is super stressful and even boring sometimes to reply to the same set of messages from different customers over and over again. You can use chatbots for this purpose. You or your customer service team can compile a list of questions commonly asked by customers and then orient your bot on what to say in response. The chatbot looks out for keywords in the customers' message to determine what response to give. For instance, if a customer is inquiring about tracking their order after making payment, a chatbot can help answer all their questions on time.
You should note that the chatbot might not answer all their questions, so you should provide another means for dissatisfied customers to talk to actual customer service agents. Also, let them understand that the chatbot is an automated system. To protect your customers' identity and personal information, ensure it is done directly on your business website or any other direct means of contacting rather than on Facebook messenger.
Efficient and time-saving product purchases.
Chatbots might not be as effective as qualified customer service personnel, but they are highly beneficial for improving sales and making more profit for your business. The chatbot can be designed to help customers search for whatever product they're looking for and help them through the purchasing process. For instance, if a customer wants to order a product, they can talk to a chatbot that asks all the crucial questions to provide personalized searches for the category of products they wish to order. After the selection has been made, the bot guides them on making payment and scheduling delivery.
Entertain your customers
Business isn't always about buying and selling. It is true that the main aim of a company is profit maximization but keeping old customers and making new ones is vital for the growth of any business. People always love to go where they feel appreciated and heard. If your brand provides quality customer service and fun entertainment, be sure that your number of followers will surely increase, and this change translates to an increase in online patrons. Customers will even refer you to their friends, which, in turn, builds your reputation and optimizes profit.
For example, you can engage your customers by sending them content, games, and interesting facts to get their attention and entertain them. Games they can play with other people can also attract and invite more users and followers on your Facebook.
Offer additional and specialized services.
If you own a website that offers automated services, it doesn't stop you from providing those services on your Facebook Messenger App. Another way to think about it is by integrating your messenger button into your website. Facebook messenger bots can carry out specialized services like automation to make payments, transfer money, request an exchange, and other streamlined services. You also need to provide menus so it'll be easier to navigate on your site.
As mentioned earlier, for customers that still have complaints even after using the chatbot, you can provide a means to make sure they talk directly to personnel from the customer service team. To make sure your bot is working perfectly, you can carry out a validity test. This is done by using different devices to log in on Facebook messenger and test if the bot is working perfectly.
Retargeting your subscribers
You can integrate your Facebook messenger button into an ad. Every ad targets a specific number of people. Every person that clicks on your ad becomes a subscriber to your bot. This means that you can reach or retarget them again at no cost at all.
Bottom Line
You will not regret the decision to use a Facebook messenger bot for your business. With all the tips mentioned above and a little dedication, you can be at the top of your industry's game, in terms of customer service and marketing, in a little time.