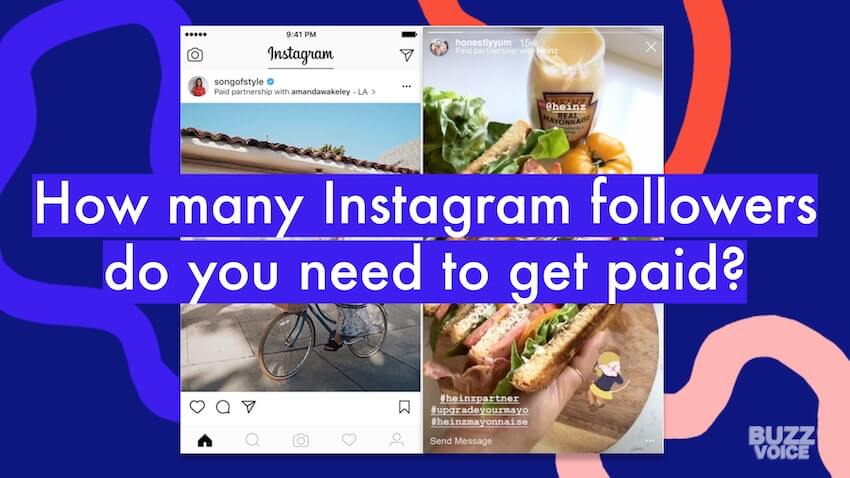 Instagram influencing or Instagram business can seem like a very lucrative career choice. And that's true, because let's be honest… It's easy money and a fascinatingly entertaining way to make a living. It's no wonder why celebrities and influencers try so hard to attract attention on social media. Getting paid hundreds, thousands, hundreds of thousands or even more than a million dollars (USD) per post if you're someone like the Rock. But, let's rather focus on a more approachable figures for a beginner. Let us turn our attention to figuring out how to get paid on Instagram before we figure out an exact number.
Followers aside, you need to have a good reputation
A good reputation can lead to repeat business, at least according to a blog post by Vamp-Brands. It's not hard to see why you should agree with their idea. If you have a clean slate behind you, and if you have followers, there aren't many particular setbacks or worries that a business might have before hiring you.
And trust us, they want to hire you. Because, according to Mediakix infographic, around 80% of advertisers/marketers find Instagram influencer marketing effective or very effective.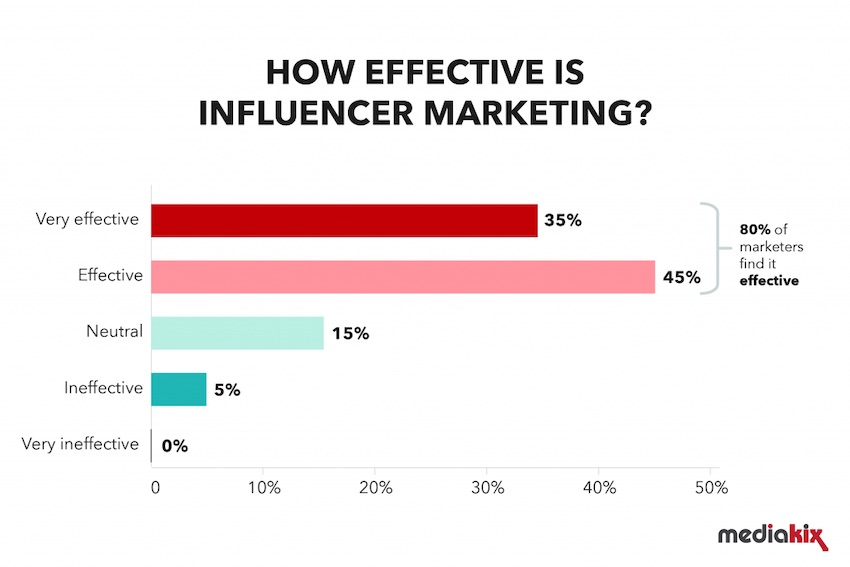 Since they will spend/invest money into your ads, they don't want to jeopardise their own reputation. Associating themselves with a scandalous or unpredictable persona is not everyone's cup of tea. It only works for people like Kanye, Dennis Rodman, Donald Trump and a handful of well-known people. But they're masters at what they're doing. Besides, there are only so many brands that are into shock marketing.
If you can pull off marketing tricks and create controversial ads that are super-engaging and gets the people going, you could attract attention. But trust us, it's definitely a slippery slope. By trying to become a scandalous persona, you are putting a huge media target on your back. They might try to dig up info about your private life, etc. It's not a fun picture.
This is why you should try to remain professional on social media. Avoid any kind of politics, bigotry, racism or drama. You can read our blog about setting up the best ads. In the post, we also highlight what not to post, in order to avoid controversy and the gain or poor reputation.
Good engagement rates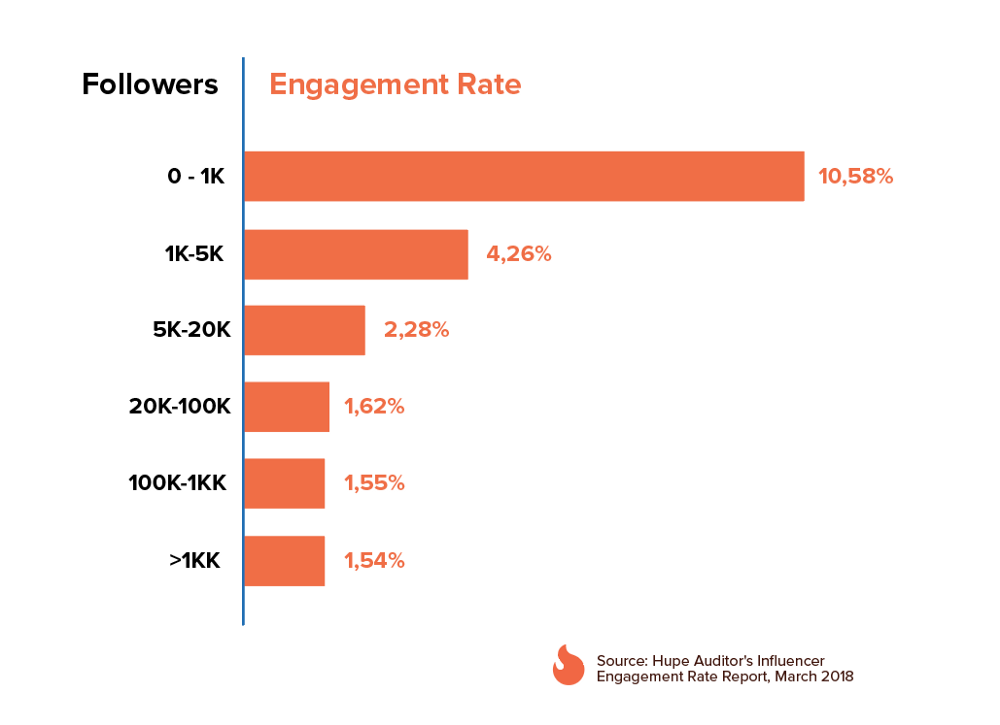 It does also depend by niche, but here's an accurate estimate from HypeAuditor about average engagement rates on Instagram per the number of followers. If your engagement rates are higher – that's a huge plus and you can use it to pull in advertisers and marketers like a magnet. They want people with high engagement numbers. However, if your engagement numbers are more than 1% below the average, you likely won't be getting awesome deals and will only be offered smaller rates.
Regardless of the general figures, you should also be oriented and willing to know average engagement rates in your particular niche. These tend to fluctuate and you should keep tabs to know about the state of your business and to better adjust the pricing for maximum business.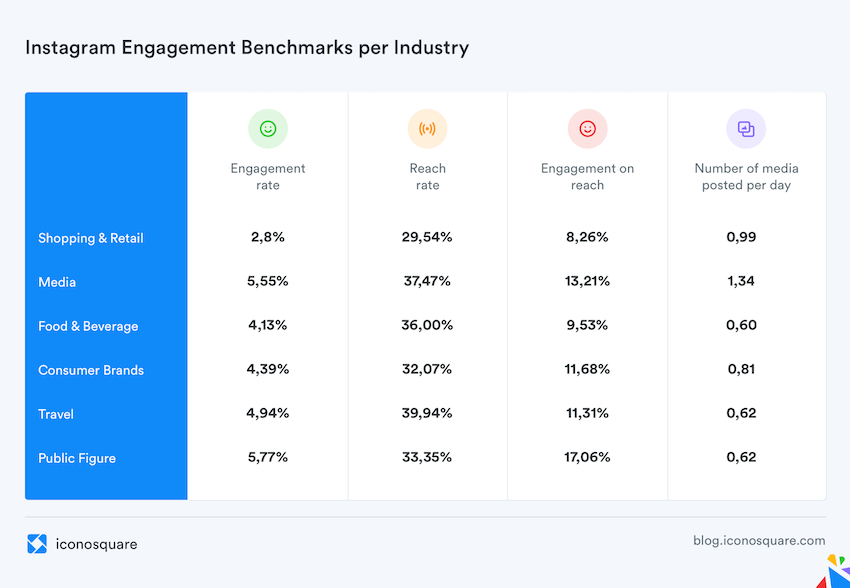 Look at this infographic by Iconosquare. It clearly shows that if you are a media brand, you have to post more unique content to stay relevant rather than in shopping or retail. That's simply because of the fact that the average engagement rate is almost twice as high in Media when compared to shopping.
You can see your engagement numbers and calculate the percentage by dividing the number of interactions with your 5 most recent posts by the total number of your followers.
So, for example if a page has 100,000 followers and gets 5,000 engagements on average, then the engagement rate is 5%. Engagement numbers are available in profile (
) – > three stripes at the top-right (
) and 'Insights' (
). Please keep in mind that Instagram only shows engagement numbers for only about 48 hours. So, you have to keep your eye on it to calculate. If you are anywhere around the average, you should attract at least moderate attention from marketers.
It's usually a good idea to focus on a particular niche
Every celebrity and every brand are known for something. George Clooney is an actor, not an NFL Quarterback, Coca-Cola is a soft-drink manufacturer not an investment bank. Look at every popular influencer or company on Instagram. They each have a niche in which they specialise. It is essential for you to find one as well. It's not necessary to be focused on a very particular sphere but it does help if you can narrow things down.
Examples of particular niches are: 'Tech blogger', 'Nature photography', 'Car news', 'SEO marketing', etc.
Examples of very specific niches would be: 'Bentley automobile reviewer', 'Pancake & crepe chef', 'IPA & Craft Beer Brewery, etc.
If you try to be a coacher, lifestyle trainer or pick any broad sphere of influencing, at least try to spot a valuable sub-niche to make you stand out. There could be a thousand lifestyle coaches in Southern England, but you can be the only lifestyle coach with a focus on creating personal social media brands. Furthermore, you could own a programming-focused blog with emphasis on app development, etc.
The more you narrow down, the easier it is to attract target audiences and siphon out audiences that would be engaged with your content.
Strengthen your brand
In addition to trying and position yourself and your brand in a concrete niche, you should simultaneously be striving to do everything in order to strengthen your brand. By it we mean:
· Try to earn follower/buyer/reader and any other audience trust
· Invest into marketing to be seen outside of your core audience
· Interact with your followers and other audiences
· Use multiple channels, preferably besides Instagram to connect with audiences
· Post unique content and upload stories regularly
All of these actions are crucial to better your brand and improve the trust and confidence your audience has in you. Don't forget the golden rule and saying about reputation. There is a saying in some languages which, translated to English would sound something like:
One bad deed negates ten good ones.

Folk
And it's true. Remember Jared from Subway? Aside from all of the memes and dark jokes, do you even comprehend how hard was it for the fast food chain to clean their reputation after such a colossal problem? Furthermore, you could look at Tiger Woods who had a very rollercoaster-like couple of years. Amidst his scandalous divorce and other very public issues, the golfer arguably lost close to a 100 million USD in ad earnings alone. They had to put in enormous effort to clean their names in the media. This correlates with our first point of trying to have a good reputation, but is also more oriented towards maintaining that reputation.
Commercial brands also have to try and do everything they can to do responsible and creative marketing. That's because one mess-up, like Papa John's for example can force your company's value and reputation to spiral down like a diving fighter bomber jet. If you want to see an example of what it looks like when a company acts responsible (or tries to seem such in order to not lose profits), glance at what Coca Cola or Mercedes-Benz post.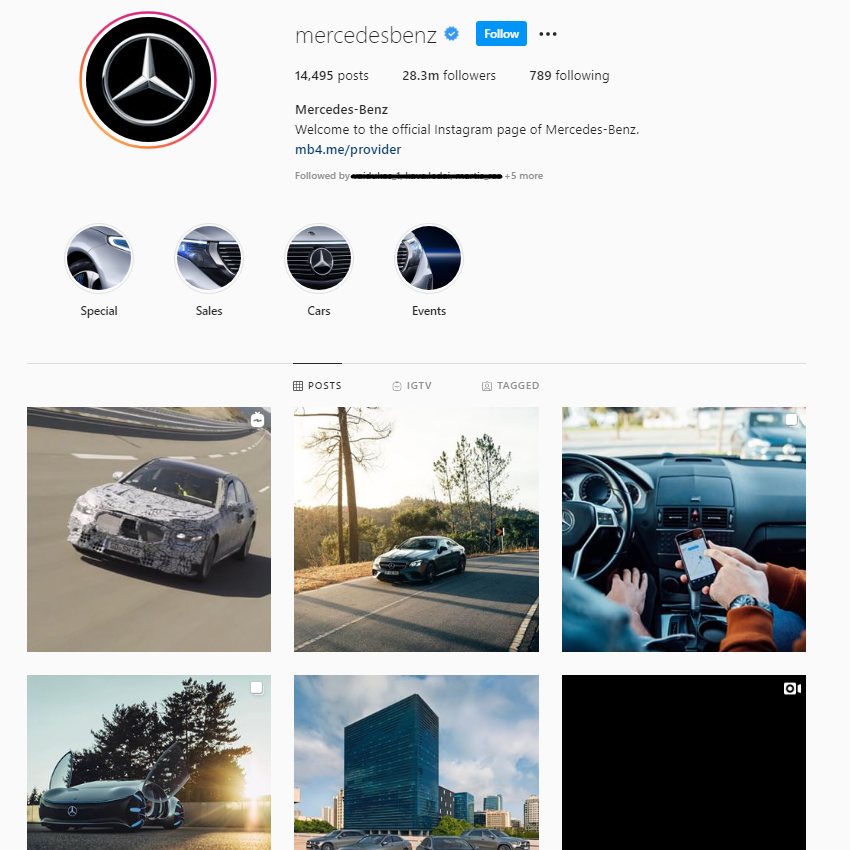 The Georgia-based soda/pop mega-company focuses a lot on social issues and tries to maintain an image of a socially conscious business. Merc, the German auto manufacturer is drastically different. They're all about business. Just pics and videos about their product and company achievement. Nothing to be mad about or nothing that could harm their reputation. We suggest you watch and learn.
Don't be afraid to boost your prestige and reputation with the help of Instagram services from BuzzVoice. Affordable high-quality followers, likes and/or comments could do a lot to stimulate your growth as well as solidify your brand!
Look at a prospect of signing with an influencer agency
If you are determined to be an influencer and you don't want to bother with the business end of things, you could try and sign with an influencer marketing agency. This route does have its pros and cons.
Influencers that have under 200,000 followers are still considered niche. Some businesses just don't have the time to pick out all suitable influencers for their campaign, in your niche. A lot of the time, a company wants to have a said number of posts out there, and they need more than a handful of influencers to fulfil their campaign goals. As we said, finding them one by one would be super time-consuming which is why they often sign contracts with agencies who have influencers on a contract.
Signing with an agency offers an almost-guaranteed income and an almost-guaranteed stream of clients. However, we strongly recommend to bet on yourselves, and to sign flexible, short-term (not indefinite) contracts.
If you're under a long-term contract, and your followers double while you're under contract, it's good business for the marketing company, but not to you, unless you have variable pay rates. Until you grow to self-sustainable numbers, it could be wise to choose and sign with an agency to make Instagram influencing a reliable stream of revenue.
Keep a close eye on your competitors
If you are not under contract, and don't want to be in a legal entanglement with a corporation, you have to have a very strong knowledge of your competitors. Things like:
What services do they offer?
How much they charge per

Story link
Story shoutout
Customised story post
Customised feed post
Link in bio
How often do they publish sponsored posts?
What are their engagement numbers?
How many new followers do they acquire per day, week, month?
How do their stats compare to yours?
If you can manage such information, you will find ways to either undercut the market in order to increase your market share or to find areas of improvement that you could work on.
Try and stay creative
All things considered, if you put out creative, engaging and unique content on the Gram, good things are going to happen to you. Even if you are a very niche influencer, you could earn as much as 50 thousand dollars annually from Instagram alone just from shoutouts and promo posts. You just need to manage your content and try and preserve your reputation.
However, if you just reblog content and repost low-quality stuff while not caring about your brand image, even a million followers won't result in steady cash flow.
The final answer: it depends
The exact number of how many Instagram followers you need to get paid depends on a lot of things. It depends on your niche, engagement numbers, brand awareness by target and potential audiences, uniqueness of content, etc.
You could find Instagram page owners with only around 1,500 – 2,000 followers who can get paid for posts. Similarly, you could find pages and influencers with around 50,000 followers who aren't getting any attention from businesses, advertisers and promoters. With that being said, it's safe to say that any page with over 100,000 followers can get paid. Some stats suggest that you could get paid with no more than 700 followers but in reality, that's a one-of-a-kind situation and not a rule.