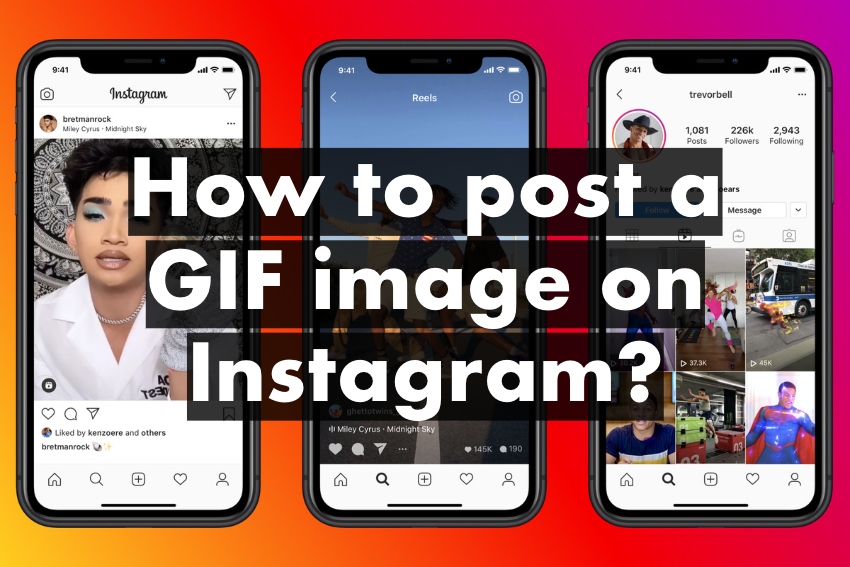 You can add gifs to your Instagram stories, or you can post them to your feed. Let's talk about the latter option, and let us elaborate more on how to post a gif to Instagram.
The easiest way is to have access to a vast database of gifs. Arguably the most popular gif media database is GIPHY. However, there are tons of others like GIF Keyboard, etc. In this example, we will use GIPHY. So, download the GIPHY app first.
1. Open it and sign up or sign in with your GIPHY account (if you want)
2. Find a gif that you like, either via search or on your homepage
3. Look for the 'Share' button which looks like the share button on Instagram (a paper plane icon), click it
4. Click the Instagram icon in the next screen
5. Allow GIPHY to access your photos and to open the Instagram app
6. Select 'Feed' in the next screen to create a feed post with a gif
7. Click 'Next'
8. Edit the gif by adding filters, changing the cover image, etc.
9. Add the caption, location or tag someone
10.  Share the post to your feed
---
There are two things to keep in mind here
#1 When uploaded, all gifs will be converted to loops of videos on Instagram
#2 You aren't restricted to the use of GIPHY or other apps. You can download gifs from anywhere and upload them straight from your Camera Roll/Gallery