7 Top Apps and Tools for Editing Instagram Reels [Updated for 2023]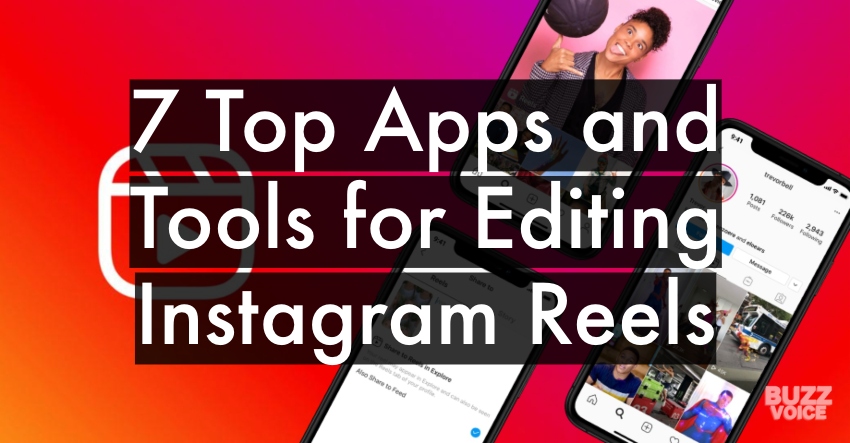 Wear many hats
To excel on Instagram and accomplish cardinal objectives, influencers, social media managers, business owners, and marketers are compelled to hone a diverse skill set.
Say hello to Jane, confectionery vendor, who moonlights as a photographer, videographer, designer, editor, copywriter, researcher, optimization specialist, creative director, ad manager, and whatnot.
Faced with a dizzying array of tasks to complete on the clock, leveraging the best tools amp up productivity and nudge you that much closer to your marketing goals.
Edit like a pro
If you're on this page, you're on the lookout for the best Instagram reels editing apps that are user-friendly and stable, offer an eclectic mix of advanced controls, and enable you produce captivating reels that attract and convert.
We have just what you're foraging for. The ultimate compilation of excellent reel editors that serve up sur-reel results regardless of the degree of familiarity you have with recording and tweaking videos.
Let's jump right in!
---
7 Best Video Editors to Create Epic Instagram Reels
1. InShot: Overall Best App for Editing Instagram Reels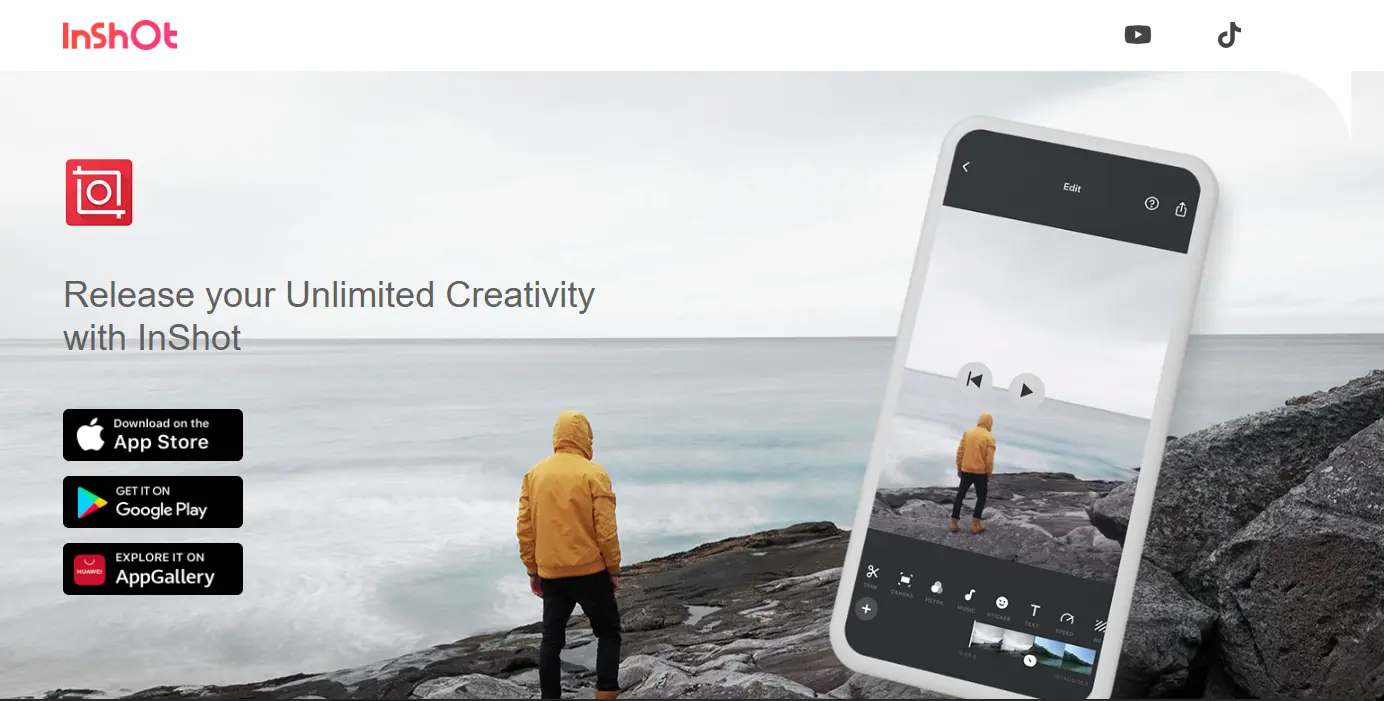 Platforms: Android, iOS; Website
Pricing: Free; In-App Purchases; Premium Subscriptions ($3.99/mo., $14.99 -$17.99/yr., $34.99 – $39.99 for Lifetime Access); 7 Days Free Trial
InShot is a fan favorite and makes the strongest claim to being "the" go-to app for on-the-go editing of Instagram reels. The numbers tell it all. More than 500 million downloads, upwards of 15 million reviews on all platforms with an outstanding 4.8/5.0 mean rating.
As far as votes of confidence goes, it does not get louder or clearer.
Driving its widespread adoption is the seamless mashup of basic, intermediate, and advanced controls presented in a UX that fully imbues the KISS (keep it simple, stupid) design principle.
Right off the bat, you can reorient a clip to the recommended vertical aspect ratio through the 'Canvas' menu. Trim, merge, and duplicate videos; add transitions; and apply varied filters and effects.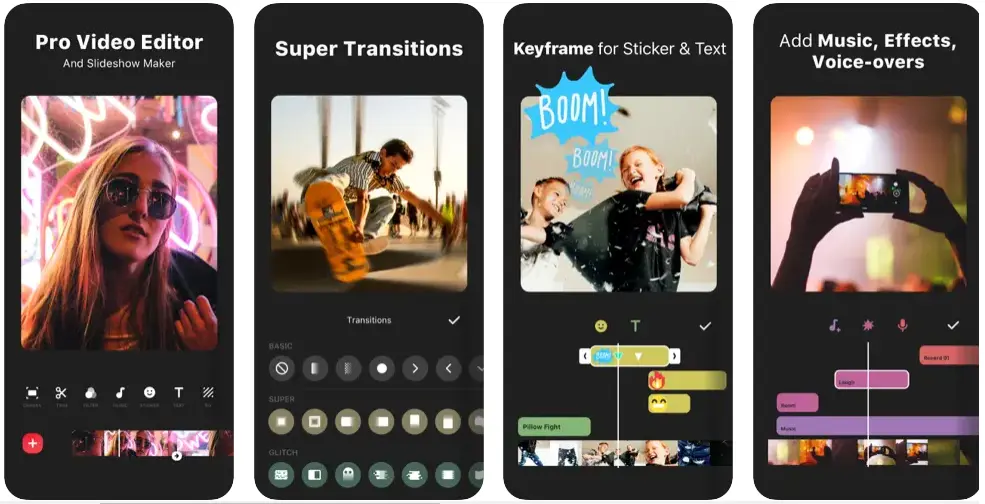 Beyond these basic functionalities, InShot offers you complete control over uber-precise speed adjustments, from 0.2x to 100x. Tweak the contrast, shadows, blur level, and saturation. Import your preferred soundtrack, append voiceovers and sound effects, or extract audio from another video.
The PiP (Picture-in-Picture) mode is great for creating enthralling reaction videos in a tick. Fiddle with the background, employ the green screen effect, and pick colors from the video that you can use to match the color of text added for instance.
Speaking of text, use the keyframe feature to animate texts, stickers, and PiP layer. And for expert tips and tutorials on how to use its large collection of features, the regularly updated official InShot YouTube channel is a fantastic resource.
Most functionalities are available to use on your Android, iPhone, and iPad at zero cost. Certain packs and modes (such as exporting in 4K/60fps) are paywalled. However, you'd find, as we did, that the one-time flat fee of $34.99 ($39.99 on iOS) for lifetime access is a steal.
A trial for 7 days and a cheap $3.99 pro sub for one month grants ample opportunity to scan through all that InShot has to offer.
2. KineMaster: Best Runner-up Instagram Reels Editing App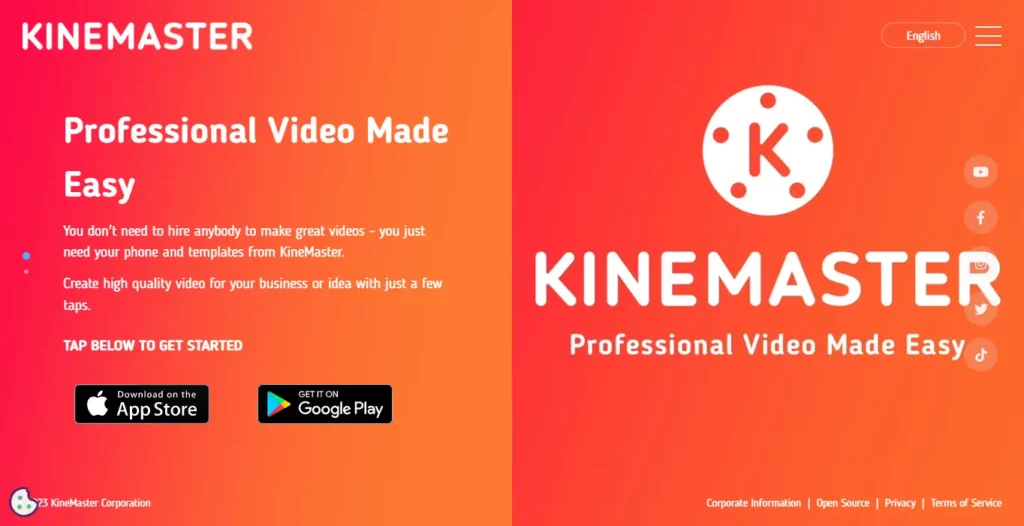 KineMaster assessed the familiar, traditional process of adding then editing a clip to your liking; and sought out an ancillary stab at efficiently creating eye-popping and polished videos.
They settled on stockpiling templates that amateur and experienced editors alike can rejig or take inspiration from for their needs.
On the 'Home' tab, search for the perfect template by keywords, title, or category. Furthermore, through the 'Me' tab, you can create a free KineMaster account where you can store your favorite templates and get to them quickly whenever you desire.
Modify a preferred template or imported clip using a dynamic array of tools, functionalities, and thousands of visual & audio effects.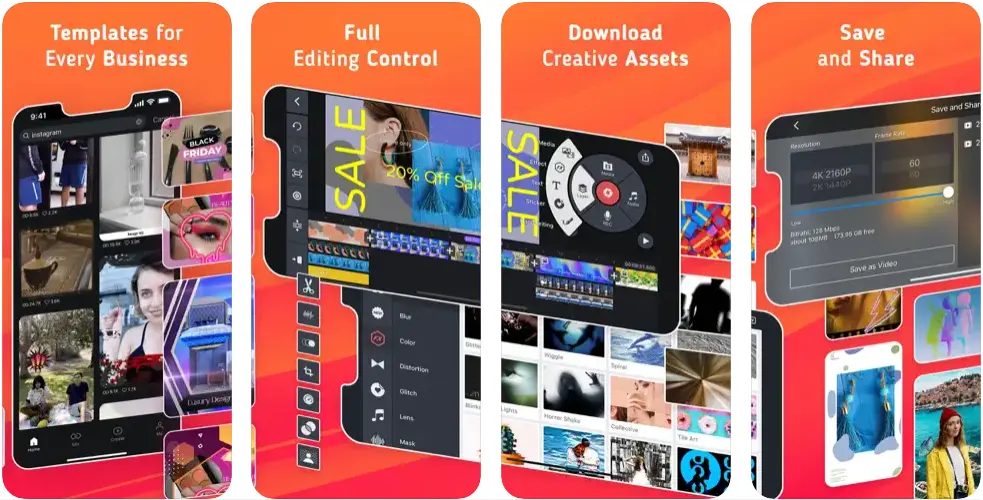 Combine multiple layers of sounds, special effects, and graphics. Record voiceovers, use the voice changer, and perform professional-grade audio ducking. Engage in advanced color grading and install custom fonts.
Composite two or more videos with the help of the Chroma Key VFX feature, leverage the keyframe feature to make your footage pop with custom motion graphics, and turn to the Magic Remover tool to alter the backgrounds of videos with a single tap.
The free version of the KineMaster editor is sufficient for many, but we aren't particularly enthused by the recent substantive hike in subscription fees. A premium subscription eliminates the watermark and ads as well as grant unrestricted access to the KineMaster Asset Store.
3. Canva: Best Web App for IG Reels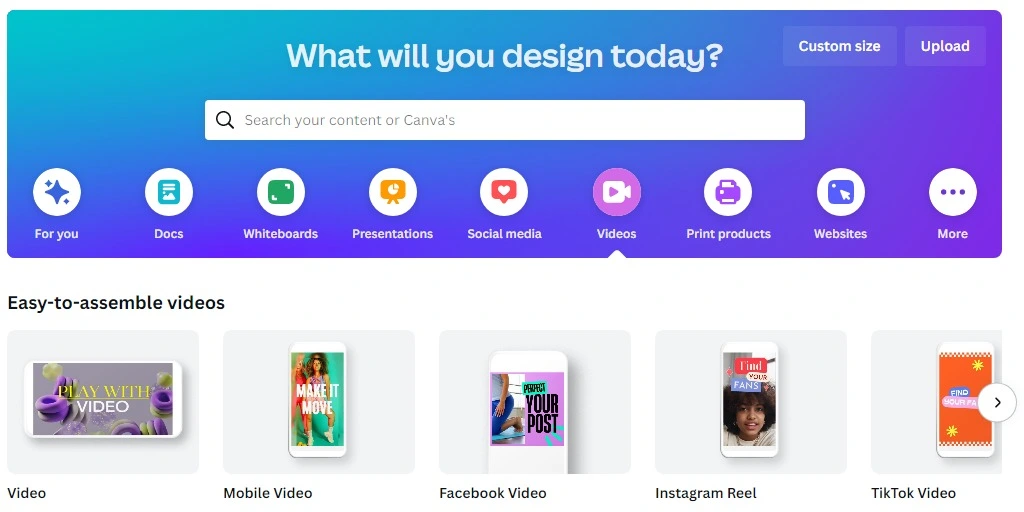 Canva shot to fame as a novel, intuitive drag-and-drop web tool to create spectacular graphics. Today, it is a far more vivacious, all-in-one hub, presenting content creators with the opportunity to design and edit a multitude of media types; from business cards, flyers, and brochures to Instagram Reels and Stories.
Staying true to its heritage, you can fluidly edit footage on a browser of any device. In addition, you can customize clips on every major platform via apps and software for Android, iOS, Mac, and Windows.
The biggest draw of Canva's Video Editor is the astounding compendium of templates, effects, and elements at your fingertips. Resize, crop, and flip videos. Add stickers, change fonts, and animate illustrations. Collaboration with team members is a cinch—share edits at whatever stage of completion with anyone or involve others in the editing process.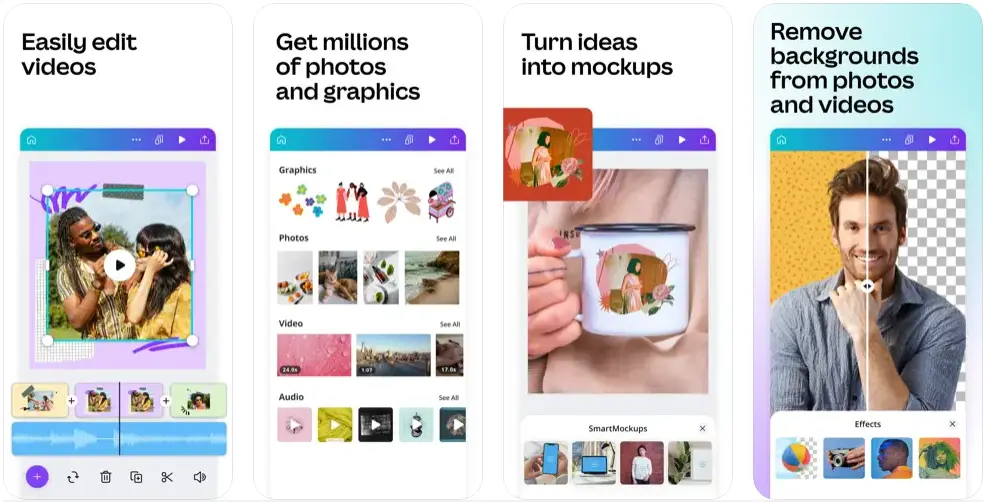 Best of all, while all tools including the video editor can be used for free with more than 250,000 free templates and more than a million free photos and graphics; on a pro sub you gain unlimited access to the even more expansive library comprising 600,000+ templates, 100 million and counting premium elements (including stock photos, audios, stickers, and videos), and 1TB of cloud storage.
Consequently, as opposed to subscribing for a dedicated video editing app, you get an all-purpose premium tool for only $12.99/mo. ($14.99/mo. for teams of up to 5) and $119.99/yr. ($149.90/yr. for teams of up to 5).
A generous 30-day trial offer is available to all new users.
4. VN: Best Freemium Video Editor for Insta Reels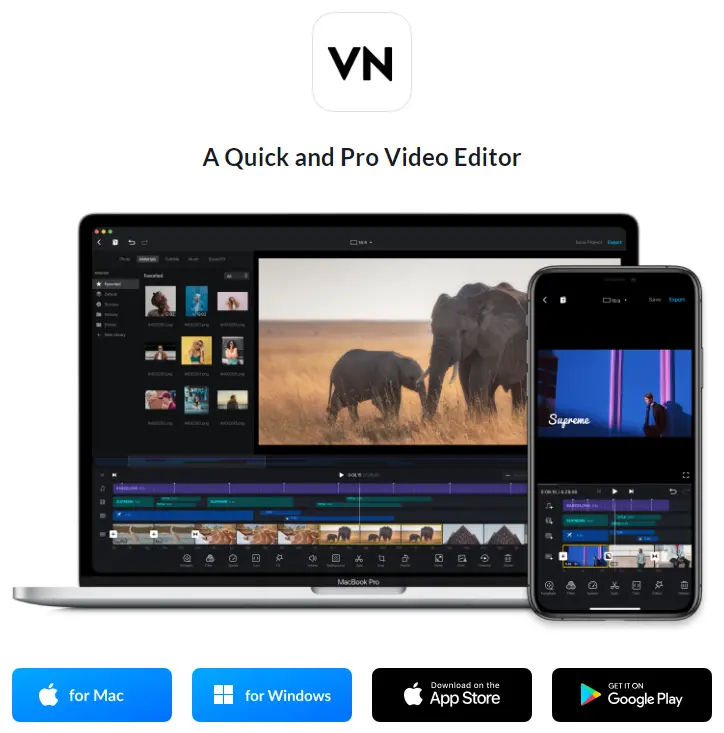 A common characteristic shared by some of the best video editors is the inclusion of a visible watermark that can only be removed when you subscribe to a premium plan.
VN (VlogNow) takes a sledgehammer to this practice. Videos edited on the free version of the VN video editor lack watermark or brand logos as would be the case if you edited with the Instagram native app. At this point, you ponder what the catch is?
Technically, there is none. The VN video editor covers the basics—resize, trim, crop, reverse; use of transitions and effects like blur and pixelate; and zooming into frames. As well as hold its own against paid competition, with the availability of multi-track editing, the ability to record voiceovers, keyframe animation to introduce dynamism to static elements, precisely reorder frames and clips, speed curve for adjusting the speed of the video, export footage with framerates of up to 120 fps, and more.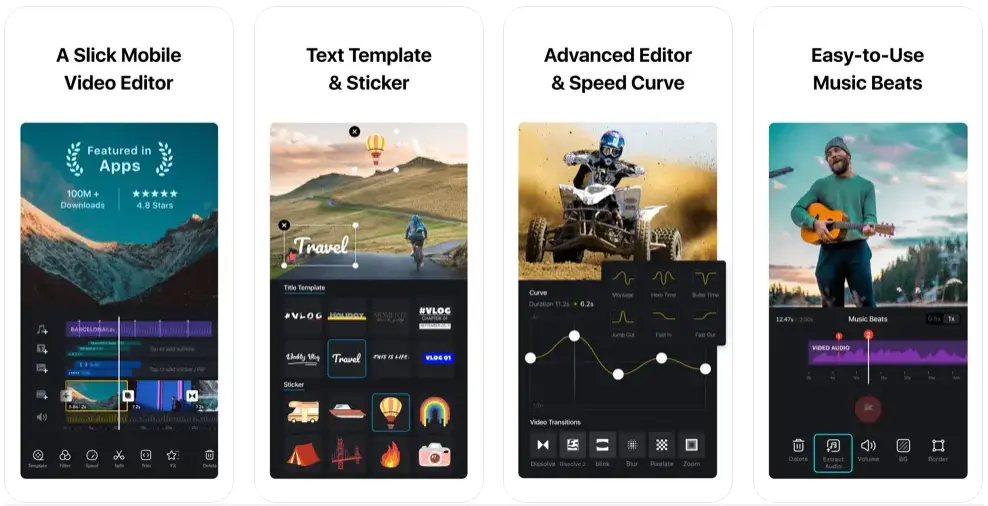 In fairness, VN's stack of effects, filters, and templates is quite tame, but that is par for the course for freemium apps in the content creation space, and does make up for it in some way with the option to import your own audio, clips, and elements to embellish your footage.
VN is available on Android, iPhone, iPad, and Mac. A premium package that eliminates ads, allows you to create unlimited projects (the free plan is limited to 100 projects), and marginally expands the selection of elements is available, but it is not a must-have to create high-quality Instagram reels. The free version would do for many.
Alternatives to VN include CapCut by ByteDance (parent company of TikTok) and Quik by GoPro (the famous action camera brand).
5. Adobe Premiere Rush: Best Reels Editing App for Prosumers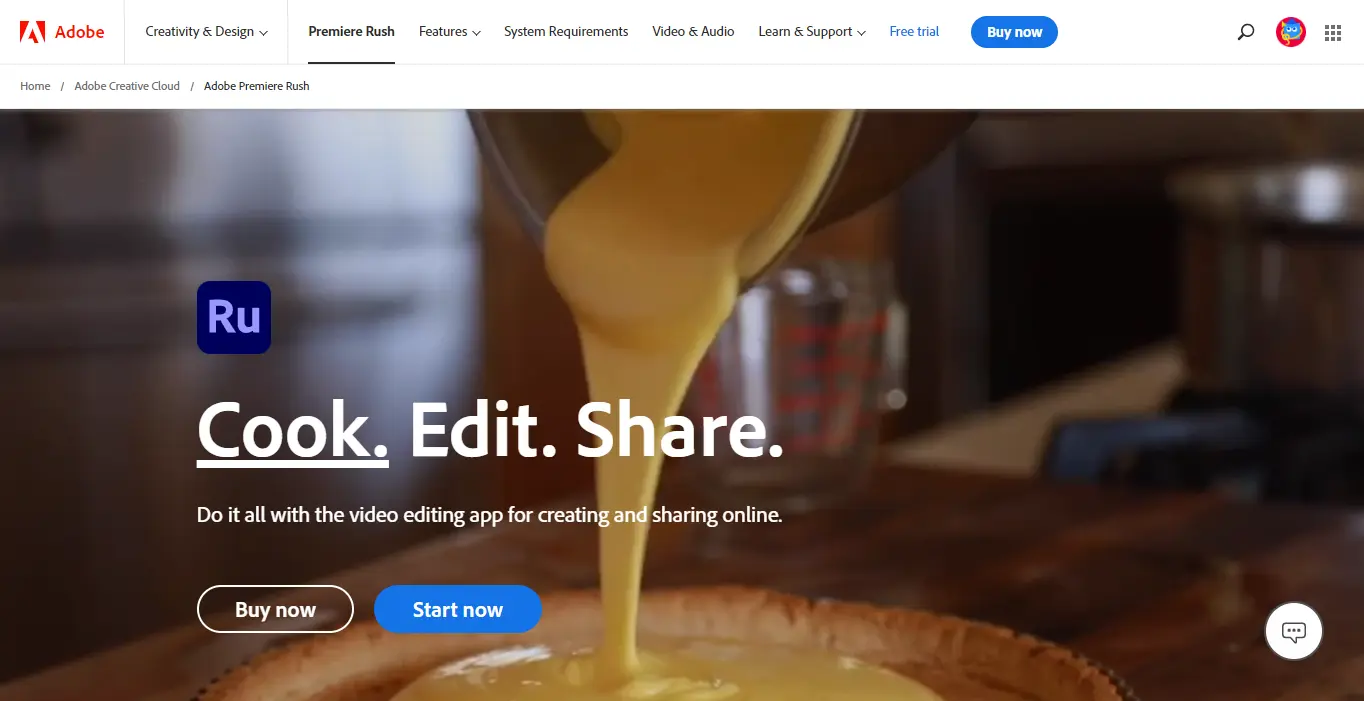 Adobe is the most recognizable name in the creative field and the Premiere Rush is the behemoth's strategic attempt to compete favorably in the nascent 'shoot-and-share' mobile video space.
Rush is the scaled-down version of and gateway product to the award-winning Adobe Premiere Pro video editing software. Set the canvas to the ideal 9:16 ratio for Instagram Reels. Mesh more than half a dozen tracks and zoom into a track's timeline for precise modification. Leverage Adobe's iconic palette of tools for unrivalled tweaking of the clip's color, shadow, highlight, and exposure.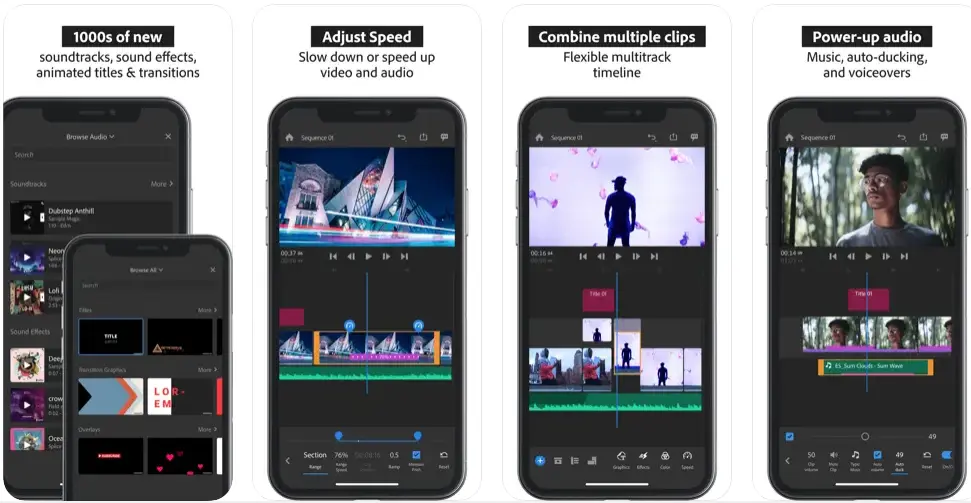 With an Adobe ID, sync your progress across the entire ecosystem of Rush apps; although you'd need a premium sub to use Rush's desktop apps.
Templates, overlays, and transitions; royalty-free soundtracks; speed adjustment; animated titles/text, Picture-in-Picture, and unlimited export of videos that you can record on the app with the built-in camera are some of the other superb features smartphone videographers cheer for.
We particularly laud Adobe for not blemishing videos created on the free version of Premiere Rush with a watermark, as is obtainable on Canva, VN, and CapCut.
That said, a premium subscription—the Adobe Express license—offers a rich trove of benefits. Including 100GB cloud storage (a massive jump from 2GB on the free version); bundled access to Adobe Express (create social graphics), Adobe Photoshop Express (mobile app for editing pics), Adobe Spark Video (create video slideshows), and Adobe Spark Page (create web pages); Adobe's exclusive retinue of 20,000+ fonts; and more than 160 million Adobe Stock photos as well as other premium assets.
6. Clips: Best Editing App for IG Reels on iPhones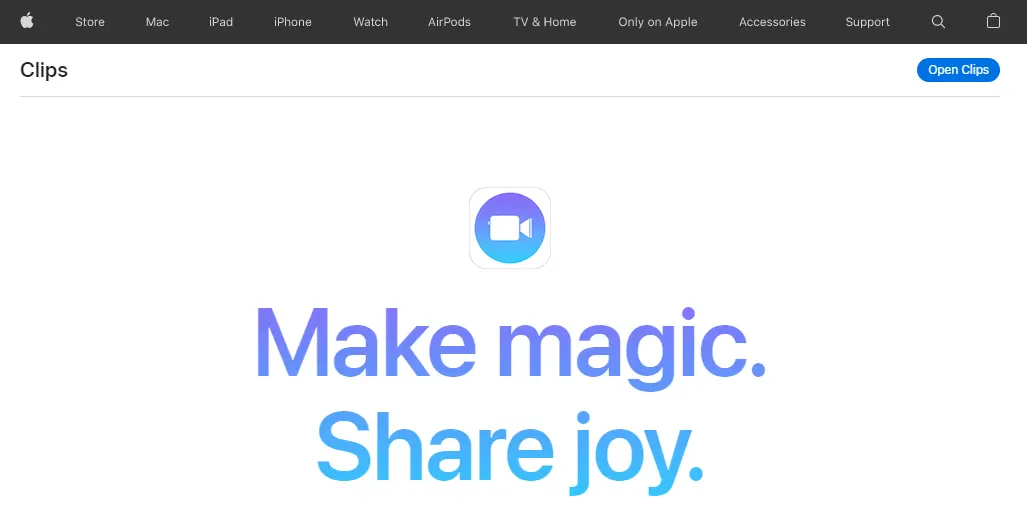 Clips is Apple's very own entry-level app for editing videos on the go. It is exclusive to the iPhone and iPad and permanently free to use.
To put it plainly, Clips by Apple should be a staple video editor for any creator who owns an iDevice and seek to create professional Instagram Reels with an artistic flair.
The careful selection of functionalities hit all the right notes and draw on innovations within Apple's gilt-edged ecosystem. Get creative with expressive Memojis, AR Spaces to switch up your real-world environment to entertaining, immersive augmented reality backgrounds like a dance floor, and 360º Selfie Scenes with special sound effects and filters.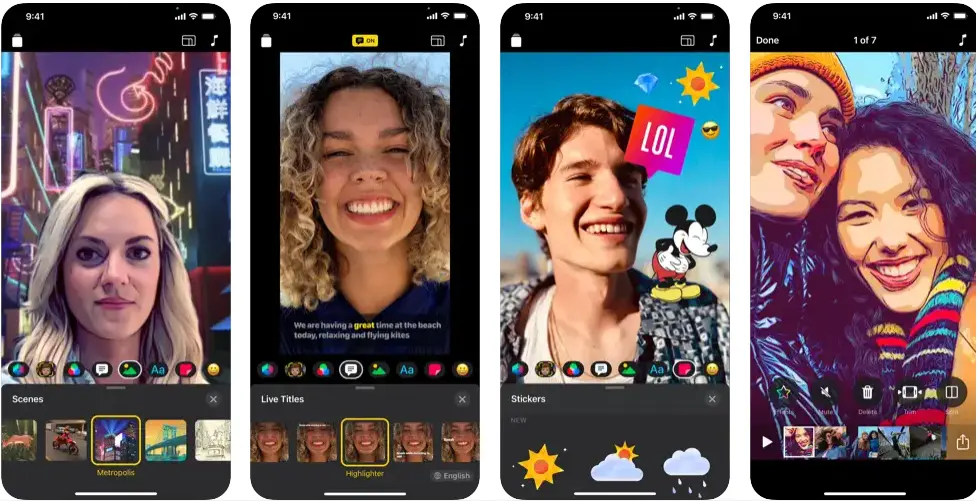 As you speak, captions appear on screen in real-time thanks to auto transcribing. Refine and style up the text afterwards. Add sounds from your library or that were created on other music apps, and use iCloud to sync to the cloud and edit same video on any iOS device you own.
For finer controls and advanced functionalities like green screen, check out iMovie, a more decked-out yet completely FREE app developed by Apple and available on iOS, iPadOS, and MacOS.
7. FilmoraGo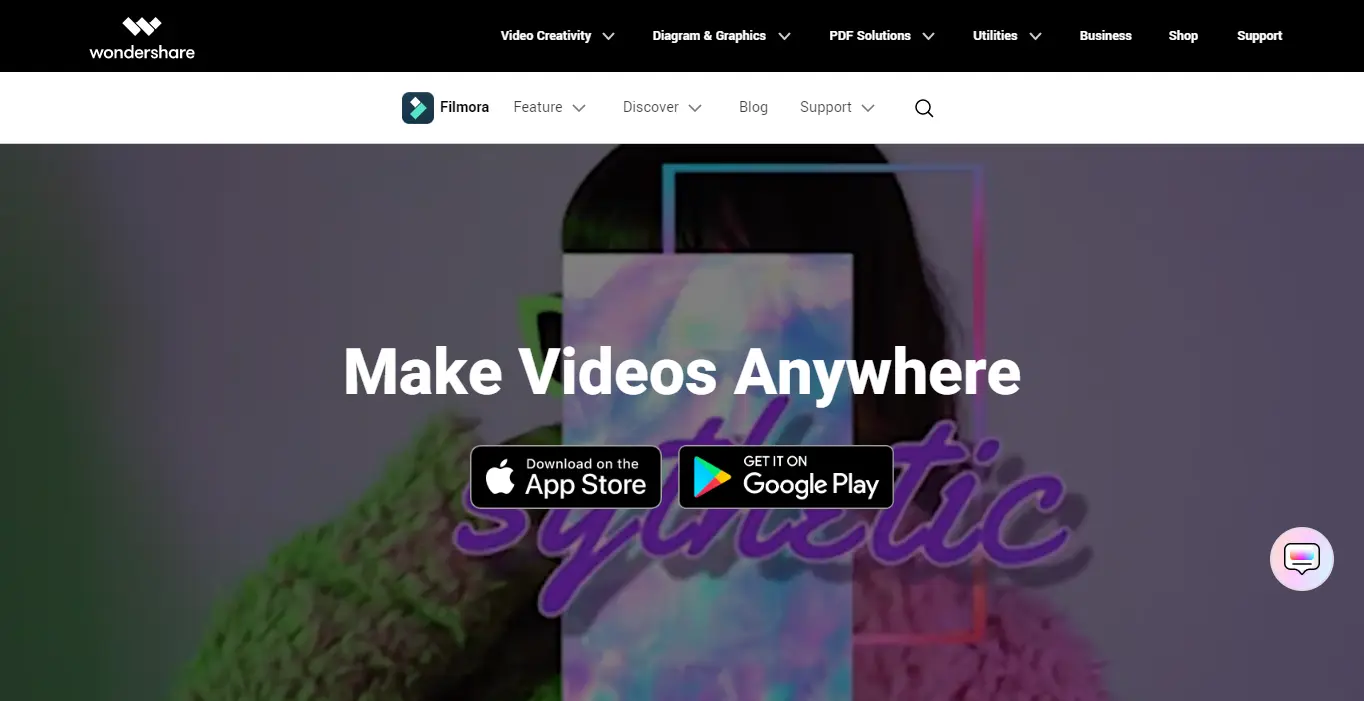 Platforms: Android, iOS; Website
Pricing: Free; Premium Subscriptions ($2.99 – $5.99/mo., $20.99 – $35.99/yr., $69.99/yr. for Cross-Platform Access, $29.99 – $59.99 for Lifetime Access); 3 Days Free Trial
Filmora (formerly FilmoraGo) is the quintessential pro-grade mobile video editor for the astute content creator. It competes favorably with our top picks—InShot and KineMaster—offering virtually every basic, intermediate, advanced, and premium editing tool and effect type you'd expect from a first-rate mobile editing app for Instagram Reels.
First off, you can resize, trim, crop, split, merge, duplicate, flip, rotate, and reverse clips. Add and work with myriad templates, transitions, filters, effects, stickers, overlays, text, audio, and emojis.
Filmora supports speed adjustments, keyframes, Picture-in-Picture, chroma key, split screen, and AI Smart Cutout to eliminate any detail or artifact with high accuracy.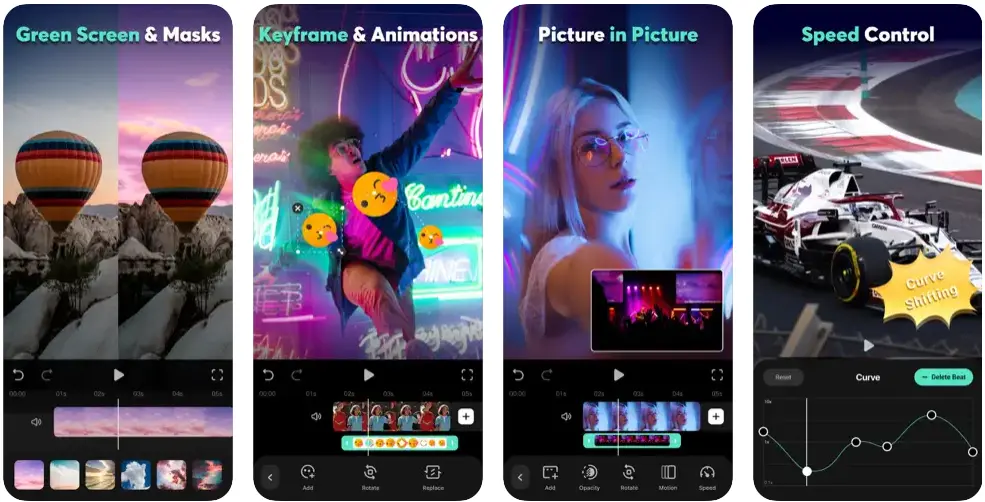 Pick a recording of your choice from its robust royalty-free music library or from your own personal library, tack on any of a multitude of sound effects, extract music, split audio, and record voiceovers.
Color grading, cluster of text fonts and styles, ability to animate elements, masking, progress bar inclusion, speech-to-text and text-to-speech; round up a feature-rich lineup of functionalities.
Most controls are available on the free version of the app, but as with InShot and KineMaster, you'll have to tolerate a watermark. Upgrade to Filmora Pro on monthly and annual subscriptions to remove watermarks, ads, and gain access to more elements. A Perpetual license can be yours for a one-time fee of $29.99 to $59.99 depending on platform. Interestingly, both pro license types can only be used on the platform you subbed on. To use Filmora on all platforms—Android, iPhone, iPad, Mac, and Windows—you'd have to sub to the Cross-Platform Plan or All Platform Pro license for $59.99 to $69.99/yr. A 3-day trial period is available.
---
The Instagram In-App Reel Editor
In the early days after Instagram Reels reel-ease, it was imperative to turn to third-party video editors to produce eye-catching and professional videos that stood out.
That is beginning to change with Instagram devoting ample resources to enhancing the capabilities of its built-in video editor for Reels.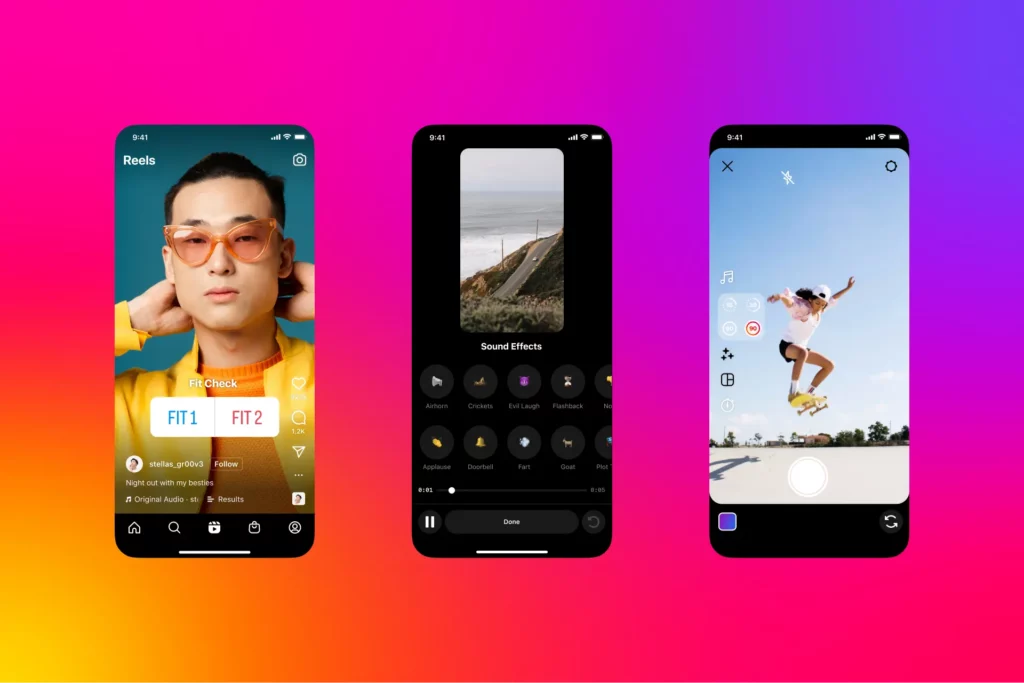 Yes, you can now:
speed up and slow down clips;
stitch multiple clips together;
use any Instagram Reel that catches your fancy as a template;
affix interactive stickers (like those already available for Instagram Stories, such as a poll or emoji slider), transitions, filters, and effects;
import your own audio or voiceover as well as explore its extensive library of thousands of royalty-free songs and sound effects
invoke Text-to-Speech functionality
And there's more in the pipeline.
Not to mention, you do not have to deal with any pesky watermark or barricaded 'premium' features and elements; as all tools are completely free.
Now, in fairness, a standalone professional video editor with multi-track editing, PiP support, and a torrent of exclusive elements that have been aggregated over years still has its place. Nonetheless, for quick edits to create captivating Reels, the era of sleeping on the native Reel editor is long gone.
---
Frequently Asked Questions Concerning the Best Instagram Reels Editing Apps
What is the best app for editing Instagram Reels?
All things concerned, the best video editing app for Instagram Reels is InShot.
InShot earn accolades for the brilliant mix of must-have editing tools, an intuitive user interface for snappy customization, and affordable premium plans including a one-time-fee lifetime license. That said, close alternatives snap at its heels including Clips, an iOS-only app; KineMaster; and Adobe Premiere Rush.
Where can you create, edit, and optimize Instagram Reels for free?
Most video editors permit users to produce Instagram Reels without parting with a fee, but limitations apply.
That said, a select number of Reels editing apps allow completely free and unlimited access to all features without subscriptions. These include the default Instagram app, CapCut, and VN.
Do you need a video editor to create Instagram Reels?
Video editors offer you the opportunity to touch up your clips and edit like a pro without having to hone specialized videography expertise or spend hours creating 60 second clips.
The best apps for editing Instagram Reels will be easy to use for anyone regardless of experience level; have lots of crystal-clear tutorials on hand; and enable you quickly and efficiently create footage that stand out, delight your audience, and boost visibility.
Can you schedule Instagram Reels?
In June 2022, Meta announced that creators could schedule Facebook Reels on desktop via Creator Studio. A few months later in November 2022, Instagram started rolling out support for scheduling Reels directly from your phone app.
The feature is currently limited to professional accounts and users can schedule Reels up to 75 days in advance. Third party management platforms like Pallyy, Hubspot, and Hootsuite are suitable alternatives.
What is the maximum duration of Instagram Reels?
Starting in June 2022, Instagram extended the maximum length of Instagram Reels from 60 seconds to 90 seconds.
The recommended aspect ratio remains 9:16.
---
Spruce Up Your Instagram Reels with the Best Video Editing Apps
Instagram Reels, like a lot of things in social media, is a free for all. To derive benefits from your uploads, they must be of the highest quality, aesthetically pleasing, and engaging.
We curated this shortlist of the best video editing apps for Instagram Reels to assuage customers and visitors alike inundated by the barrage of options out there and unwilling to hire a pro video editor or spend days getting the hang of professional, expensive full-option video editors.
From free-to-use apps like CapCut and Clips to mainstays like InShot (Android, iOS) and Filmora, there is an app for everyone. Needless to say, all our picks consistently and reliably output stunning Reels, do not require a steep learning curve, and even the paid options are competitively priced (and will pay for themselves several times over).
Did your preferred app for editing Instagram Reels make our list? Is there a feature, filter, effect, or element you can't do without? Join the conversation in the comments.