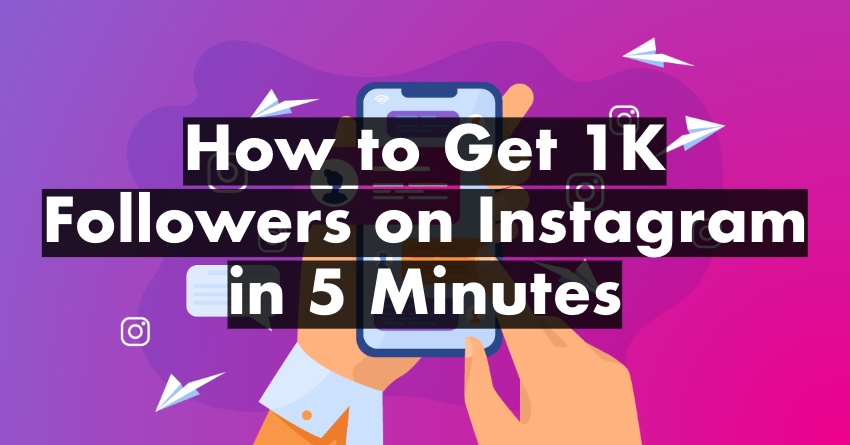 How to Get 1000 Instagram Followers in 5 Minutes or Less: The Quickest Way to get Real, Fast and Cheap (or Free!) Followers
The quest for credibility
Don't you wish you had the star power of Dwayne 'The Rock' Johnson or the brand presence of Nike? Then you'd see your followers count surge by an impressive 1 million followers every week on average [Source: @therock, @nike].
If you're on this page, odds are you're a long way off from attaining such stratospheric heights where you're a household name and regularly show up as an Instagram 'Recommended' or 'Popular' account to follow.
Lamentably, the uphill climb is tedious and arduous. In part thanks to the intense competition with other emerging content creators, influencers, brands, or businesses; as well as entrenched powerhouses eager to maintain niche dominance.
Under these circumstances, it is understandable if not pertinent to seek out legit ways to ramp up your following quickly. If that means adding 1K followers in 5 minutes, tant mieux!
That said…
Can you truly get 1000 followers on Instagram in 5 minutes?
Technically, yes.
Realistically, however, the odds of safely adding 1000 Instagram followers in as little as 5 minutes is disappointingly low for a budding creator or brand without established allure or that isn't being propped up by a sociocultural phenomenon like "The Netflix Effect".
Nevertheless, getting a large number of followers relatively quickly, without massive time and monetary investment, is not delusory.
No, we don't mean the slow grind we've covered at length in our all-encompassing guide to gaining followers on Instagram or the equally resourceful writ about a staggered build up from 0 to 20,000 followers.
We mean a pedal to the metal deluge of real, authentic followers that would not cost you an arm and a leg.
To be sure, this will require moderate strategic planning—to incorporate a rapid spurt into your long-term community and marketing goals, tempering wild expectations, and deftly navigating the time-money value-trade seesaw. But that is not as taxing as it sounds.
With that out of the way, let's sink our teeth into why you're really here:
---
How to get 1K Instagram followers in 5 minutes
Go viral



The Lowdown
Perhaps the most familiar, predictable, and immediate approach creators think of as a panacea for gaining a legion of followers in record time is to share media that goes viral.
Once upon a time, influencers relied on a restrictive array of options—such as cat videos, pranks, and memes—to get on the short track to internet fame. Today, your options are far more diverse.
Brands and creators can score a hit by participating in challenges and contests, hopping on trends, hacking hashtags, sharing brilliant parodies, among other innovative and creative schemes.
Difficulty
Hard.
Make no mistake, the difficulty of creating a viral piece of media isn't necessarily always a grueling task. It may come easy to some creators but be an almost insurmountable challenge for brands in avant-garde, peculiar, and traditionally dull niches.
That is only half the equation though. Going viral isn't an exact science. You may be fortunate to set off after your first few tries; but you could easily need to conduct detailed A/B testing with varying approaches over an extended time period.
Effectiveness, Reliability, and Cost
If one of your photos or videos wins the internet, you will no doubt snag a torrent of new followers raring to be first in line to consume any other entertaining, informative, or valuable content you put out in the future.
Certainly, that is the desired outcome. Needless to say, aspiring creators routinely underestimate the time commitment necessary to churn out a myriad of high-quality media in the hopeful search of a breakthrough post.
Time is not a limitless resource and carries a high intrinsic cost. It is not uncommon for many to take a permanent break after a series of unsuccessful attempts; opting instead for an alternative method with more predictable, reliable results.
Safety
Excellent.
---
Use a coin app



The Lowdown
In the early days of Instagram, follower count was more of a vanity metric than it is now. The algorithm was a few notches less complex and the adjunct AI system wasn't performing a million sweeps every second for bots.
In those times, quantity was just as important as quality, if not more, and certainly more so than today. This precipitated the rise of early exchange groups where budding influencers (long before they made a huge splash in the mainstream) and regular Instagrammers alike followed each other, liked each other's posts, and several similar interactions.
Coin apps, otherwise called trader apps, Instagram followers apps, or Instagram likes apps, are the spiritual, sophisticated successors of these groups.
Their MO is simple enough to grasp. You accumulate coins (or points) when you follow other accounts. You can then use these coins to incentivize others to follow your IG account. As with microtransactions in gaming, you can skip the monotonous task of following numerous accounts by buying coins directly.
Difficulty
Moderate.
Effectiveness, Reliability, and Cost
Coin apps aren't as pervasive as they once were. Following hundreds or thousands of accounts manually to get followers by and large is a chore. On a side note, you'll have to grapple with a low follow ratio, which isn't ideal nor desirable for businesses and creators; necessitating cleanups—another chore.
All of these manual actions cost you valuable time better channeled into more productive pursuits like conceptualizing new products, engaging with prospective and existing customers, or optimizing your business operations.
Nevertheless, compared to the limited prospects of striking gold with a viral share, a trader app is a more reliable alternative. And should you amass sufficient coins, you will get the sought-after boost in follower numbers.
Safety
Middling.
With interest in follower apps experiencing a sharp, accelerated decline, it is not uncommon for participation rates to be cranked up with bot and fake accounts. Optimizations to screen accounts, refine follow rates, and keep up with the ever-changing algorithm are also lacking.
---
Pay to play

Get Near Instant Instagram Followers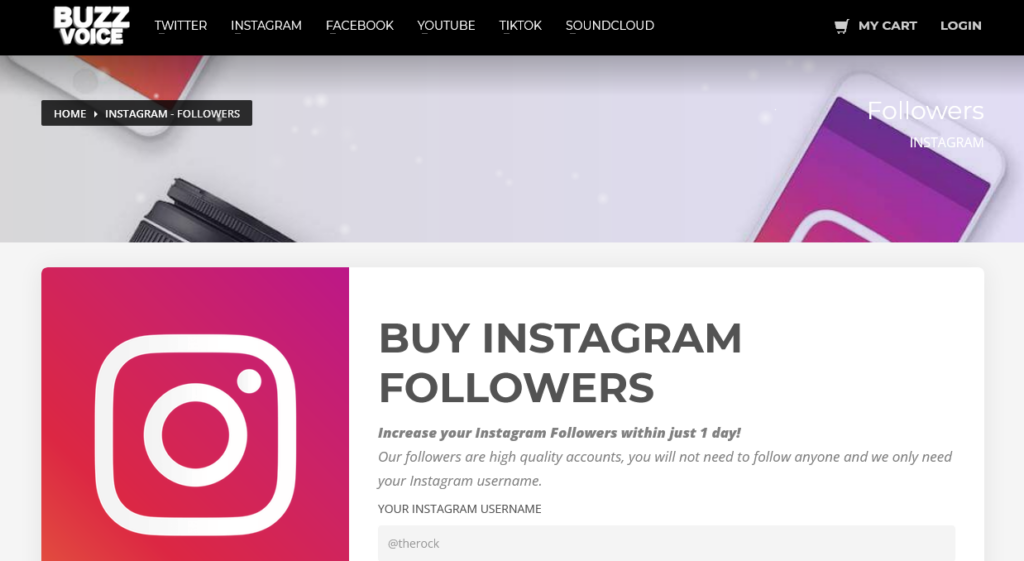 The Lowdown
You need 1,000 followers on Instagram yesterday to amplify, supplement, or get the ball rolling after your considerable and admirable efforts to shore up your following and reach.
You don't want to spend hours, days, weeks taking umpteen stabs at making a splash and analyzing—yet again—what happened with your latest misadventure. On the flipside, the prospect of manually liking and following random accounts to stockpile coins before exchanging same for followers of curious quality sounds exhausting.
What if you could:
get the exact number (and some) of authentic followers that fit neatly and safely into your overarching Instagram strategy;
by completing an easy-peasy three-step process in a New York minute;
and only parting with a trifling sum that among other things adequately compensates for saving you a ton of time and effort; constantly updating systems to work seamlessly, reliably, and efficiently with the near-constant-morphing algorithm; and implementing top-rate privacy safeguards?
This is the superlative opportunity that BuzzVoice promises, but more importantly, delivers on in spades. If you've heard enough and want your 1000 IG followers top up without worrying about the piddling background details, follow this link to the order page.
To learn more, read on.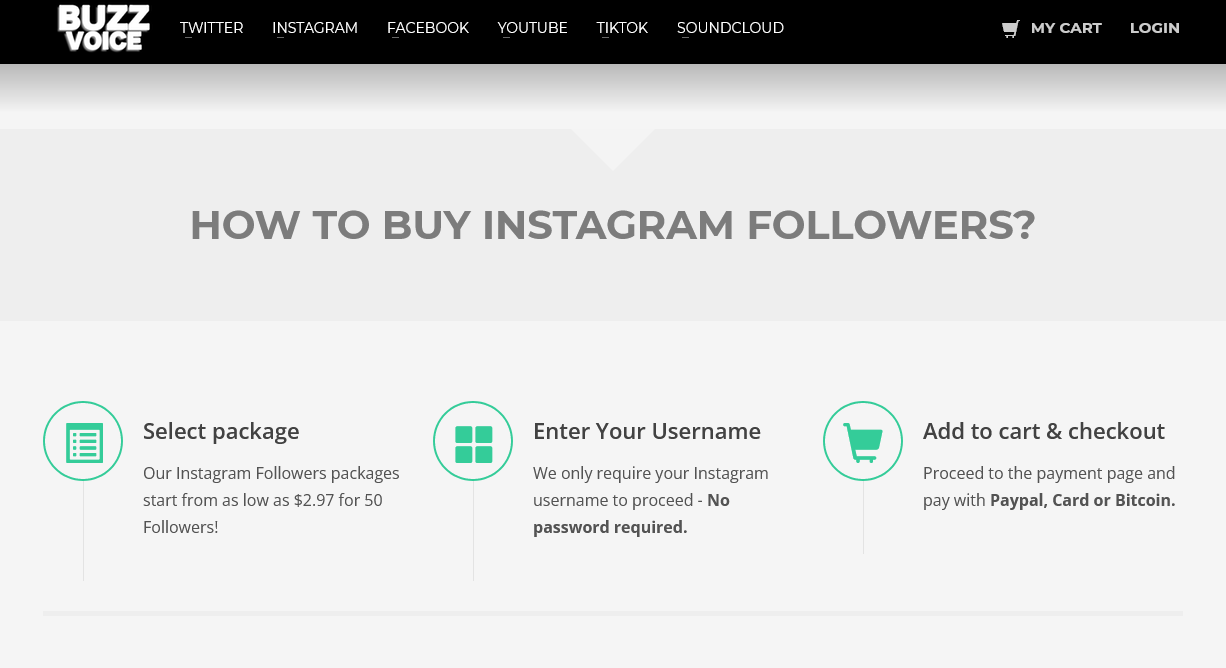 Difficulty
Easy.
No complex pre-planning, no carving out chunks of time in your day, no actual grueling energy input: simply place an order and go perform other mission-critical tasks while HQ followers drop in at an optimum delivery rate without any additional effort on your part.
To place an order, you need only share your public Instagram username, select required number of followers, and pay via any of the widely-used payment methods—Cards, PayPal, or Crypto.
Effectiveness
The benefits (or lack thereof) of buying Instagram followers have been ferociously debated since inception. However, the facts are sacrosanct.
Engagement rate and follower count share an inverse relationship. The largest accounts, with rare exceptions, have the lowest engagement rates.
One primary takeaway from this factoid is that the vast majority of the followership of Instagram influencer and business accounts do not interact with every post, video, story, or reel uploaded. In plain terms, most followers on very large accounts are inactive.
Be that as it may, Instagram continues to promote these accounts. Unsurprisingly, social proof relentlessly precipitates follower additions, as outsiders seek to be part of their ever-expanding communities.
You may not be a household name yet, but you aren't immune to these certainties. Everyone who follows you isn't going to be a zealous, enthusiastic stan who does not miss any post and scrolls your feed daily to soothe a guttural, aching itch.
Consequently, while every brand desires a cohort of super-excited fans, that is an impossible standard inexplicably out of reach. Thus, buying followers directly is just as likely to generate comparable ratios of silent or relatively inactive followers as any other method of follower acquisition.
With that said, the key to the effectiveness of purchasing IG followers is using it as a complementary resource that slots snugly into your overall Instagram marketing strategy. If routine activities on Instagram—the posts, videos, Stories, interactions you share or leave—aren't eliciting responses and driving up your follower count organically, then you are not using Instagram correctly and need a strategy refresh.
Ultimately, the followers you buy should embellish your count, negate a slump, or kickstart a fresh surge in activity after an extended lull. You should still post exceptional content of the highest quality, seek out and encourage engagement, and employ funnels to convert random viewers to informed followers to satisfied customers.
Reliability
Instant follower acquisition via the purchase channel excels in getting you the exact number of followers you need. No ifs, no buts, no excuses, no open-ended commitments.
In Instagram marketing, where concrete, quantitative results can be tough to guarantee; adding at least 1,000 followers when you want 1,000 followers without having to concern yourself with the impact of reach, niche, competition, and a dozen other extraneous factors is refreshing.
Cost
What value do you ascribe to an hour of your time?
Trading your priceless time for a paltry amount is perhaps the most relatable reason to purchase Instagram followers. However, convenience counts as only one, admittedly, important reason.
The cost also accounts for the reliability of the robust systems that screens the accounts, settles on an optimum velocity rate (the rate at which the followers are drip-fed to your account), and timely delivery (when you start receiving new followers and how long it takes).
Safety
The longevity of the instant Instagram follower service is a testament to its resolute emphasis on privacy, safe usage, and security.
The Instagram algorithm, related artificial intelligence systems, and operating terms have undergone wholesome, drastic changes since their relatively humble beginnings; and the BuzzVoice Instant Follower service has evolved just as rapidly to keep up.
It isn't enough to send quality followers your way, it is prudent to do so at carefully evaluated delivery rates that do not negatively affect your account status, and equally important, not have a material deleterious impact on reach extension and customer acquisition.
Furthermore, BuzzVoice requires no more than your username to fulfill your order. Account access, login details, or sensitive personal details and data are not needed. You'll also avail of full discretion and utmost confidentiality.
---
Subscribe to a Growth Service
Instagram has grown in leaps and bounds since inception. A profound still positive consequence of this phenomenal growth has been the proliferation of effective tips, tricks, and techniques that enable success on the platform.
Optimize your bio; choose a cohesive theme; share exciting posts; purposefully interact; exploit new additions and features like hashtags, Stories, stickers; leverage Analytics to decipher what works and what needs to be improved; and these only scratch the surface of measures you can implement for surefire progress on Instagram, regardless of account age, brand awareness, industry, location, target demography, and what not.
Instagram growth services are a recent revelation that aim to automate as many of these potent tips as is technically and economically possible and afterwards package them into a wholesome, subscription-style service for those who have trouble using Instagram productively—be it because they lack experience or expertise, can't find the time, or need to share the workload.
They are akin to hiring a social media marketing agency to perform habitual tasks you'd otherwise have had to do yourself to get anywhere on Instagram. For instance, Growthoid, one of the leading players, automates liking and commenting for better engagement as well as hashtag research to enhance reach.
While their necessity is debatable—you should learn and apply these strategies yourself when you choose to market your products or build a community on Instagram; their reliability in swiftly ramping up your following pales in comparison to instant Instagram followers.
The number of followers you'd get or the rate at which you add them are not explored, specified, or disclosed. Primarily because like with your individual efforts, performance varies wildly by niche, competition, and several other factors.
Consequently, prior to making a recurrent subscription you simply have no way to know if you'd get 1000 followers in 5 minutes, 100 followers in 1 day, or even get 1000 followers before your monthly subscription runs out.
Performance is a big unknown.
---
Promotions, challenges, contests, shout outs, and ads
The unifying theme of this collection of stratagems is that you'd have to draw up a budget.
Results are mixed and depend a great deal on the exact strategy you use.
An ad that does not target ideal personas for your brand will perform worse than a cross-platform sweepstakes promotion (say on Twitter or via your mailing list) where following your account is a mandatory entry requirement.
---
What Next?
Don't let up: Keep spinning the wheel
Hitherto, this guide has largely focused on rapidly amassing followers in a jiffy. We've gone to great lengths to expand on how to go about that reliably and safely.
Nonetheless, there is a world of difference between adding 1000 followers in 5 minutes and adding 1000 followers every 5 minutes. The former is a challenge; the latter dithers on the edge of impossibility.
Regardless of how many followers you accrue in as little time, growing your base of followers should (and can) continue in perpetuity. Thankfully, this does not require a special recipe of system and tricks; you simply have to use Instagram properly.
When you do, your content is bound to hit more eyeballs and convert a substantial segment to avid fans of your brand.
In our evergreen comprehensive guide to gaining Instagram followers, we delve deep into the easy-to-apply strategies and tools at your disposal to boost your follower count ad nauseum. We can't recommend that guide enough.
Herewith is a succinct review of effective measures to take:
Actionable tips to add followers on Instagram consistently
Work on your Bio
Post exceptional and remarkable content

Use excellent captions.
Fine-tune your hashtag strategy.
Figure out what channels to use. Should you use Stories, Highlights, Carousels, Reels, IGTV?
Use elements and enhancements that encourage action and participation, such as emojis and stickers.
Maintain a gorgeous feed with an eye-catching theme that cuts across your entire account.

Perform comprehensive analysis regularly

Who follows you? What is their demography and persona? What are their interests, concerns, wants and goals?
When should you post for maximum effect and how often?
What type of content do your followers and target audience prefer or get you the most impressions, follows, and interactions?
Track your competition. How do you measure up? What are the engagement rates of the top accounts in your industry? What are your strengths and where are you lacking?

Freely engage with other users
Whether you are a brand using Instagram for marketing or an influencer using the network for publicity, your audience will appreciate you taking time out of your busy schedule to relate with them individually.A handful of likes, comments, and shares will glitz up your brand as personable and would naturally raise your engagement rate.
Be consistent
---
Frequently Asked Questions
How long does it take to get 1K Instagram followers?
The biggest brands and celebrities on Instagram easily bag 1000 followers in under 1 minute when they share huge news, such as updates on anticipated projects or new releases.
Your only hope of ever gaining 1K followers that quickly—in 5 minutes or in 1 day—are by going viral, spending a fortune on promotions or ads, or buying Instagram followers for a pittance.
What app can you use to get 1000 followers on Instagram fast?
You can use a coin app to get 1000 followers. But it is a time-intensive process with niggling safety.
Alternatively, you can get 1000 IG followers fast without an app and without expending any effort by placing a quick order.
Is 1000 followers on Instagram a lot?
Gaining 1000 followers on Instagram is a significant milestone and admits you into the nano-influencer club if you are a creator.
You would not be able to live large on or get tangible returns from your first 1000 followers, but it is unequivocal evidence that your marketing strategy is paying off and sets the stage for phenomenal growth when you double down.
How many followers do you need to get verified on Instagram?
To get the coveted blue tick on Instagram, the number of followers isn't a prime factor although it helps.
According to official Instagram guidelines, your account must be authentic, complete, unique, and notable to satisfy the strict verification criteria. Of the four, the last—notability—is the most demanding.
---
Last Thoughts
A quick fix to solving the "how do I get 1K followers on Instagram" quandary is within reach. A web browser and some loose change is all you need. Unlike the alternatives, getting instant Instagram followers score top marks across the board on effectiveness, reliability, and safety.
After getting the desired boost, it is pertinent that you fortify this growth with stellar content and productive practices that spur more Instagram users to follow your account, interact with your brand, and ultimately perform profitable actions.