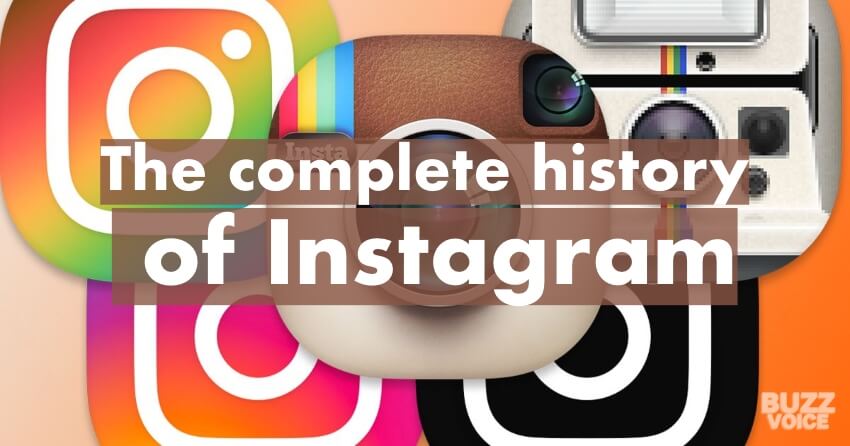 Stats show that by now, Instagram has over a billion active monthly users. This fact means that roughly 12% of the entire world's population has an account on Instagram. It is actually amazing to think and see how far the company and social media platform has grown from its first, infantile steps back in 2010. In less than a decade, it managed to become a billion-dollar business and the 3rd or 4th (depending on the stats source) largest social media platform in the world. Here is the story of Instagram and how it got to the point where it's at now.
Origins (around 2010)
If you could move back in your mind at least, to 2010, and look back at the state of social media, you could see that Facebook wasn't so dominant as it is now. After MySpace fell into the oblivion of irrelevance, everyone was looking for the next big social media thing. It seemed like Facebook should take the reigns very easily. However, no one anticipated that besides being able to connect and chat, smartphone users were increasingly interested in sharing pictures and videos. No one except Kevin Systrom and Mike Krieger, that is.
They are the co-founders of Instagram and here's something that you should know about them.
Kevin Systrom
Born in Massachusetts, US, December 30th, 1983
Studied in Stanford, graduated management science and engineering
Has a net worth of 1.5 billion USD
Studied photography during his winter term in Florence, Italy
Worked at Google for two years
Stepped down from Instagram in 2018
The former CEO of Instagram is actually a very driven entrepreneur. If you read about his upbringing, you would know that he has executives in his family. That's probably where he got his drive from.
Kevin Systrom was attracted to programming and began by programming Doom 2 levels on his computer. After studying in the prestigious Stanford college, he was already widely known as a driven entrepreneur, having participated in the Mayfield Fellows Program. If you were to dig deeper, you'd find that he is also kind of linked to the founding of Twitter.
He then moved on to NextStop, a location recommendation start-up which he joined with other former Google employees. From there, Burbn and then Instagram was born.
Mike Krieger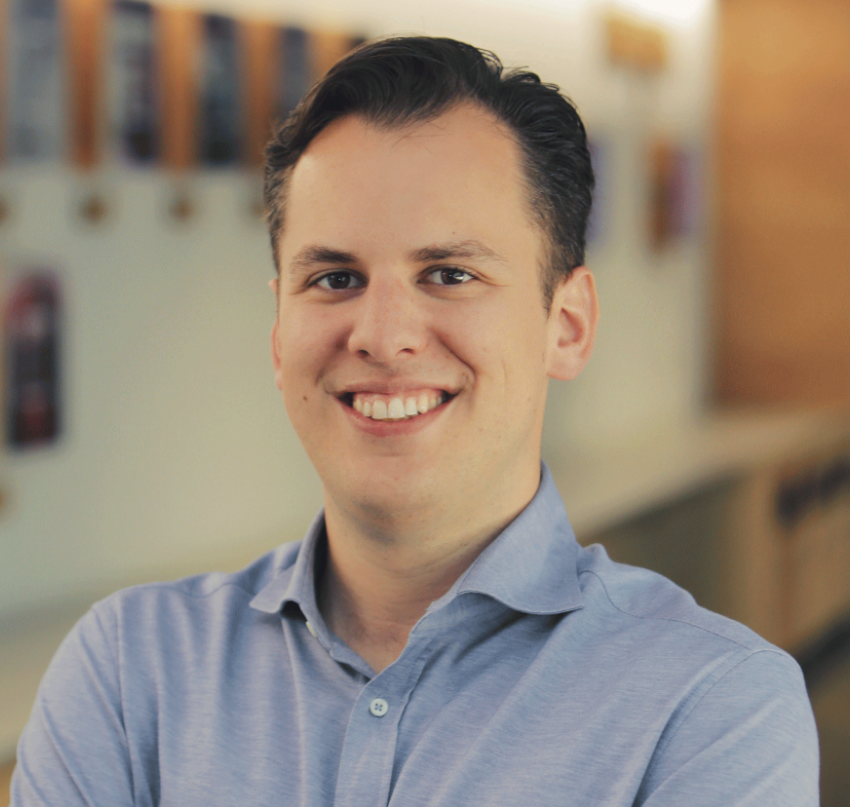 Born in Sao Paulo, Brazil, March 4th, 1986
Also studied in Stanford, and graduated symbolic systems
Has a net worth of over 100 million USD
Resigned from Instagram in 2018
The CTO of Instagram, Mike Krieger met Kevin Systrom in Stanford university. During his time at NextStop, Kevin Systrom managed to attract Krieger and they started working on an app which would become Instagram. Krieger was the architect of the foundational functional aspects and interface of Instagram.
Burbn
Have you heard about Foursquare? It's a super large local search and recommendation system. Something between Yelp and TripAdvisor. It was launched in the March of 2009 and our main characters Kevin Systrom and Mike Krieger decided that they should create something similar. They called it Burbn.
And yes, we know what you're thinking – what kind of name is that? Turns out it's actually just the slightly shorter version of the word Bourbon (the drink). However, it turned out that Burbn was too complicated and too similar too Foursquare. Realising that, Krieger and Systrom decided to go in another direction and focus on photo sharing which at the time was the most popular feature on Burbn.
So, Burbn got a massive make-over, a name-change, and with a few new devs on board, it became what we know as the early version of Instagram.
Rapid rise (2010 – May of 2012)
After its first day, Instagram already had over 25,000 users. On October 6th, 2010, Systrom, Krieger and other developers finally released the Instagram app for iOS devices and people didn't take long to notice this awesome platform for sharing images. Investors didn't hesitate as well.
Just four months after the apps' release, Instagram managed to secure 7 million dollars of investor funding. The investment deal valued Instagram at 20 million USD which means that the creators turned nothing into something that's worth 20 million in less than a year. This is just as impressive as Facebook.
However, good news just kept on coming and the year 2012 was even better than the year before and one could speculate, that in retrospective, it was also the best year ever for Instagram. After 18 months of being available for download, the Instagram app had amassed ~15 million active users. An app which offered nothing more than just exchanging photos along with 16 different filters was the hottest hit in town. New investors kept coming at the doorstep of the company and in April of 2012, Instagram was valued at 500 million USD. This means that the value of Instagram grew 25 times or 2500% over 14 months. Investing into Insta definitely seemed like the opportunity of a lifetime.
The timing for attracting investors couldn't have been better. Instagram launched the Android app, early April in 2012 and in the same month they gathered close to 50 million USD from venture capitalists for series B funding. Instagram managers played their cards perfectly. In 24 hours after they launched the app, over 1 million downloads were made which made the value of the company jump up even more. Kevin Systrom and Mike Krieger were at the top of the world. But so was Facebook.
Moving forward and purchased by Facebook (Rest of 2012)
With such a huge momentum behind them, Instagram definitely wasn't planning to stop or go into a halt. So much so that April of 2012 for Instagram was probably as busy as June of 1941 was for Nazi Germany. Alright, poor analogy here, but the point is that even after the additional funding and the launch of the app on Android, Insta wasn't finished.
On April 9th, it was announced that Facebook Inc. was buying Instagram for a whopping at the time (and still whopping to this day) 1 billion USD. So, we can say that the value of the company actually jumped 5000% instead of the measly 2500% we mentioned earlier.
After the trade closed, Instagram owners netted 300 million USD in cold-hard cash and the rest in Facebook Inc. stock. The purchase was made just before Facebook Inc. went public and this purchase bumped up the price significantly.
As with other apps that Facebook bought, you were to expect a lot of changes to make it much more adaptable for Facebook users, etc. With that being said, Facebook made it expressively clear that it wanted a separate development team for building Instagram. The trend has continued to this date – Instagram is being developed independently from Facebook.
Steady progress (2013-2015)
Stats show that in February of 2013, Instagram surpassed 100 million users. It took Instagram around 30 months or 2 ½ years to get to this point. In comparison, Facebook needed 4½ years to achieve the same goal. Mark Zuckerberg, the founder of Facebook himself said that Systrom and Krieger were amazing entrepreneurs and managers. That's why he wanted them to remain independent from Facebook and at the helm.
Over the coming years, up until 2015, changes on Instagram were mostly related to back-end features and weren't visible to the naked eye. For example, sometime in 2014, Instagram switched their location tagging API provider from Foursquare to Facebook. Furthermore, at the end of 2015, Instagram already had over 415 million active monthly users. But. A new social media challenger had emerged recently and was growing at a faster rate than Instagram itself. It was Snapchat.
We'll avoid building further suspension and say that Instagram beat Snapchat at their own game and is still way way bigger than their competitors, but during the 2013-2015 period, the outcome didn't seem so clear. If management on Instagram's part was poorer, maybe we would all be sliding into our Snapchat DM's rather than doing most of our interactions on Instagram.
Top dog and defining features (2016-now)
Instagram decided to take the threat of Snapchat head on. First and foremost, on May 11th of 2016, Instagram changed their old logo and design into the one which we see now.
This rebrand/redesign was the first of the many bold steps in a new direction for Instagram. Three months later, Instagram introduced 'Instagram Stories' a feature which was all-too-similar for Snapchat users and the 'My Story' feature which their app had.
However, it only took Instagram Stories 5 months (less than half of a year) to outgrow the entire Snapchat user count. As of January of 2019, Instagram stories had 500 million users with a very international reach. Only around 20-24% of Instagram users are from the United States, around ¾ to 80% are international (Statista, 2019).
Further down the road, Instagram became a very dominant advertising platform, especially thanks to influencers. This is all courtesy of Facebook. It helped Instagram prepare its platform for advertising and today, ad revenue constitutes to over 90% of its total revenue.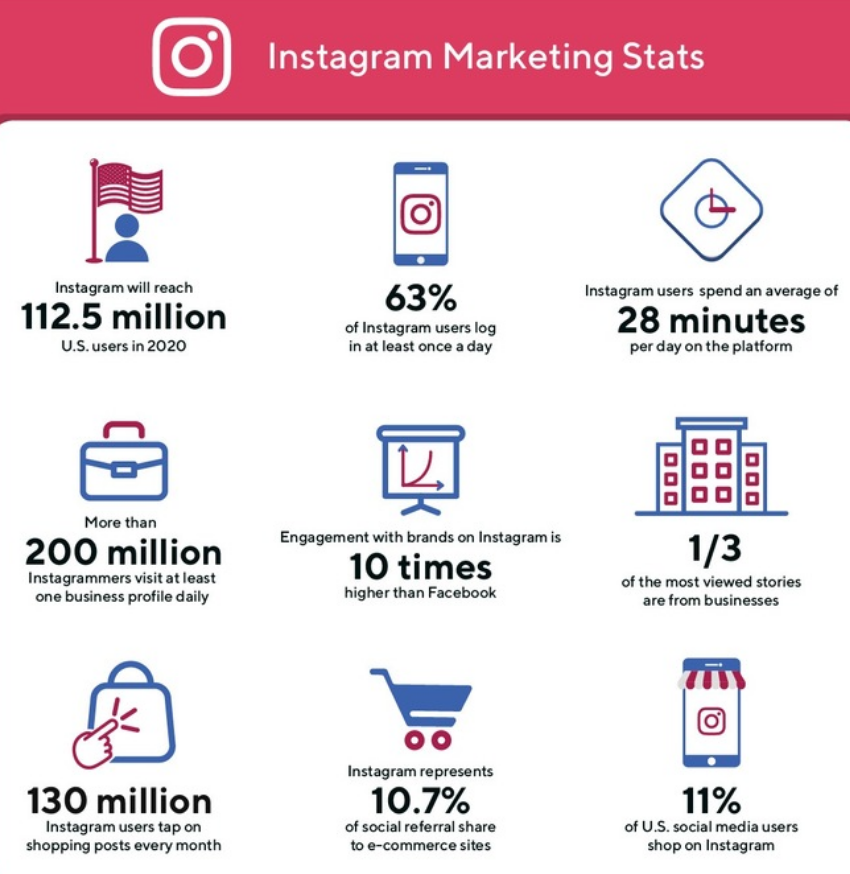 As of March 2017, Instagram claimed to have 1 million advertisers and hundreds of thousands of Influencers. Later on, the developers added a shopping feature to allow customers to buy goods without having to leave the Instagram app whatsoever.
The last major updates were IGTV and Instagram Music, both coming out in June 2018. Since then it has surpassed a billion active monthly users, its two co-founders have stepped down and no other significant upgrades were introduced. Instagram stories helped Instagram become the go-to place for social media advertising (besides Facebook) and it has been probably the most important (albeit not the biggest) social media platform in the world for unique content.
What is Instagram now (in numbers)?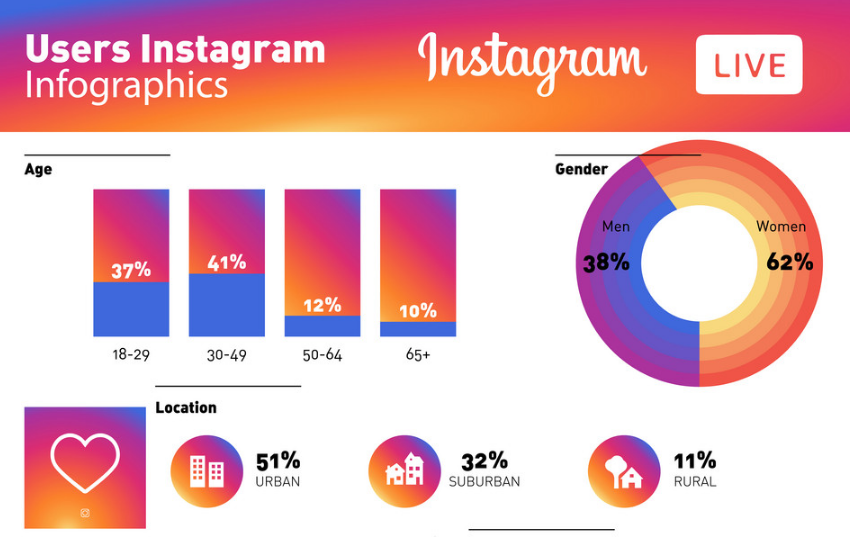 Instagram does not have more iPhone or Android users. The split between them is actually very close to 50% and 50%.
Even though the platform wants to be neutral in terms of gender bias, more than 60% of users are female.
Of course, most of the users are millennials and Gen Z members with close to 90% of all Instagram users being under the age of 36.
It's a very diverse platform with users of all social backgrounds, incomes, classes, etc.
On average, users spend about an hour (52-54 minutes) on Instagram every day. This makes it the second most time-consuming social media platform in the world.
FAQ
Who created Instagram?
Kevin Systrom and Mike Krieger, two fellow American entrepreneurs who studied in Stanford University.
When was Instagram created?
The predecessor of Instagram – Burbn was created in early 2010. However, the Instagram app was launched for iOS devices on October 6th of 2010.