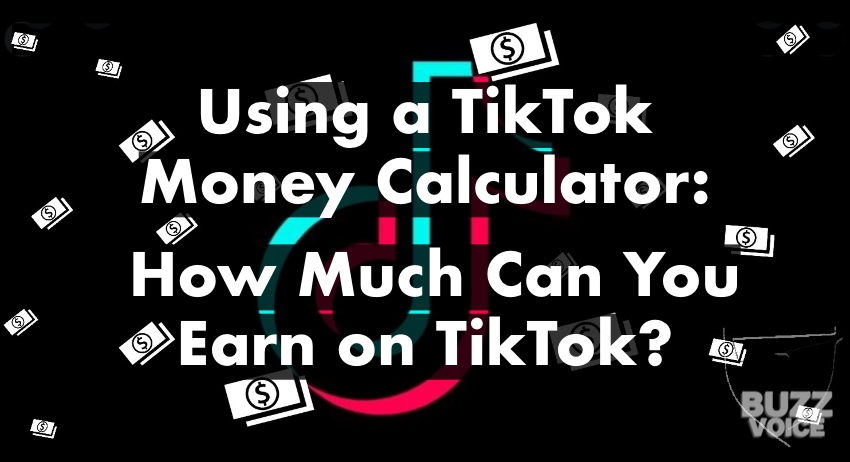 TikTok is a fast-growing, popular social media app that not only provides entertainment but can be a source of income for you. You can make short videos with this app and showcase creativity, increasing your engagement on social media, and the best news yet is that you don't even need any exceptional talent to engage and grow your follower base. Common categories of TikTok creators include lip-sync, fashion icons, comedy/skit makers, and more! You just need to tap into your inner creativity and make magic.
Sometimes, you don't even have to try that hard. You can post random stuff on the internet, and then it blows up unexpectedly. So, in essence, publish your content. (Yes, this is that sign you've been searching for).
One amazing news for social media lovers is that you can easily make TikTok an extra source of income. The high engagements you have on your page, and the more followers you get, will increase your revenue.
TikTok Money calculator helps you calculate all you've made from the engagements on the social media app. There are various kinds of calculators, and these can be used to estimate the total amount made at a particular period, how much you make from a single post, tracking your engagements, comparing the online attention, and earnings to other influencers in your niche of study, including various other analytical functions.
Different tiers of TikTok influencers.
Depending on how many followers they have, there are different kinds of TikTok influencers. It's divided into four: the nano, the micro-influencers, the mid-tier, and the macro-influencers.
The nano influencer is an upcoming influencer with equal to or less than 10,000 followers. You can keep making content consistently until you reach your follower goal if you don't have a lot of followers yet.
At the top is the macro influencer with over five hundred thousand followers. Various brands or companies can reach out to you at each level or tier of influencing. Usually, small businesses and entrepreneurs reach out to the micro and nano influencers while larger-scale businesses approach the macro-influencers.
How to make money on TikTok.
There are different ways to make money on TikTok. Some of them include;
Get Paid from TikTok with 'Creator Next' Program.
One of the most significant ways to make money from TikTok is by enrolling for their Creator Next program. The program is designed to help creatives monetize their efforts at creating content on the platform.
Joining this program will also give you access to features and tools that will help to make your content creation processes seamless and more effective.
Selling an account with a lot of followers.
It can be super hard to start your account from scratch. Many people find it easier to buy an already existing account and have a relatively large number of followers. This is a much better alternative than spending loads of time and effort to have that many followers. However, you have to practice good manners online to keep those followers and even make more. Platforms like Player Up provide good marketplaces for selling your TikTok account if you decide to go for this option.
Accept gifts and donations from fans.
When you use the live feature and your followers watch what you're doing, and they love it, they can decide to donate in-app coins or even cash to your PayPal or any app you use for financial transactions.
Create content for brands (sponsored videos)
If you've amassed many followers, different businesses and brands may reach out to you for a paid partnership to promote their product or service through the videos you make. Depending on what's more convenient for you, you can ask the brands for either a charge per campaign fee or a one-time fee. The companies that reach out to influencers expect a boost in product sales and online attention. To know how much you can request for posts, you can use a TikTok money calculator.
Become a TikTok consultant
TikTok consultancy provides information, usually to companies, to boost sales, increase online awareness, improve reputation, reach the target audience, and profit optimization. If you think you have what it takes to be a consultant, you can charge companies for your services. Companies are looking for TikTok consultants to reach their target audience (especially young adults and teenagers).
How the TikTok calculator works
Most TikTok money calculators require only your username to estimate the total or average engagement you've had on your recent posts. The likes, shares, and comments you've gotten will then be compared to that of other influencers in your niche. The total estimate obtained is then divided by the total number of views you've earned. This figure multiplied by 100 is its estimate in percentage form.
How do you increase your TikTok engagement?
You can do some tricks and tips to increase your number of followers and engagement.
Link your social media accounts
You can link your TikTok account to your Instagram, YouTube, or Snapchat account. You can do this by either adding a link to each of the social media accounts on your bio. Followers who are intrigued by your personality or content or both can seek out more information about you or your content on the other various social media apps.
Go live streaming
Going live on TikTok isn't a regular thing for most people, but you should try this to increase your engagement. One secret you should know is you can always encourage your followers to engage you in your live video since they tend to comment more. This live option is sadly not available to everybody. Only people with about a thousand followers on their TikTok can use the live feature.
Keep the audience glued to their screen.
Zero voodoo involved. All you need to do is create unique content that would make viewers want to keep watching your videos. If you're new to TikTok, you might have seen a couple of videos with the hashtag "fyp." Fyp means For You Page, and this page displays the most watched or viewed content. The more engagement you get, the more your chances of appearing on the For You page.
You can share videos of you making content.
People like relatable content, and showing them what goes on behind the camera is a sure way of rapidly increasing engagement. If you show your audience how the magic happens, you can strengthen the bond with your followers.
Promote your Tiktok account with BuzzVoice
Another fantastic strategy that can help you boost engagements on your TikTok account is using guaranteed social media engagement services tools, like Tiktok followers, likes, views, shares & comments.
Such tools can help increase your TikTok engagements more efficiently and quickly. Moreover, the best thing about this tool is that you do not have to stress it. All you need to do is make an order from their array of social media promotion packages and watch them do the magic in minutes!
Bottom Line
That's all of the essential information you need to know about growing your followers, monetizing your content, and using a TikTok money calculator to estimate your earnings. Remember that it takes some time and effort to truly become a successful entrepreneur but never be discouraged from putting out fun content and showcasing your creativity and knowledge.