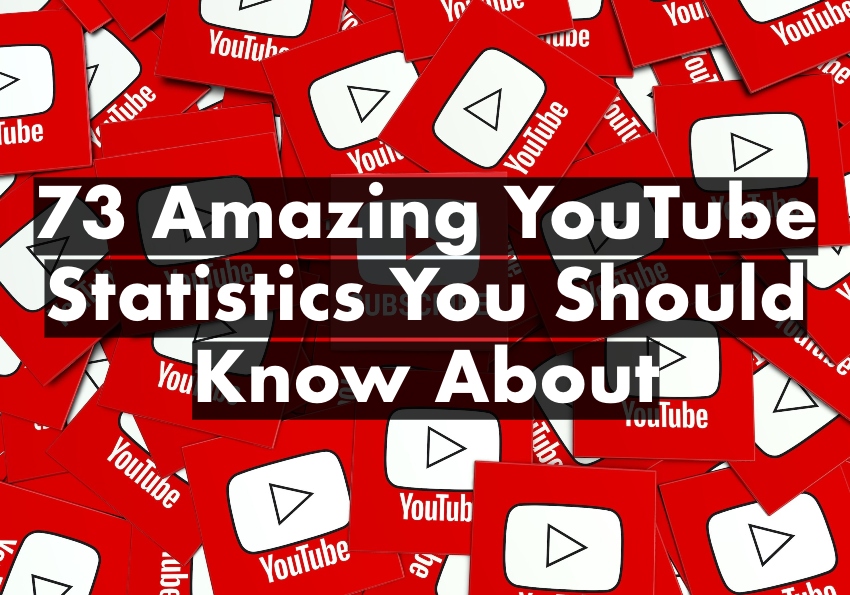 YouTube was founded in 2005 and immediately rose to prominence as a popular site for sharing videos including vlogs, tutorials, and original programs. YouTube has 100 million video views and 65 thousand daily submissions after only a year.
With that in mind, it's reasonable to conclude that YouTube is the most widely used video-sharing site on the planet. Because of its ease, producers and corporations may easily post and distribute content with big audiences. As a consequence, individuals use YouTube for a variety of purposes, including cosmetic tutorials and product reviews.
If you're unsure whether or not creating a video on YouTube is useful to your business, we've put together a set of data to assist you.
Usage on YouTube
The yearly growth rate of YouTube views is astounding between 2016 and 2021. In 2016, the economy expanded at a rate of 13%, while it is expected to grow at a rate of 4.9 percent by 2021.
In 2021, there will be more than 1.86 billion YouTube users, up from 1.47 billion in 2017.
The US is predicted to have 210 million viewers by 2022, up from 192 million in 2018.
In May 2019, 500 minutes of YouTube videos were uploaded per minute.
Every minute, 500 minutes of video are uploaded to YouTube, amounting to more than 30,000 hours of video every hour.
The number of video content hours added to YouTube every 60 seconds rose by 40% between 2014 and 2019.
With 85 percent of US internet users watching online videos on YouTube at least once each week, videos are one of the most popular methods to consume material.
YouTube had two billion daily users and one billion hours of video viewed in 2019.
YouTube accounted for 21% of global video streaming traffic in 2019, following Netflix with 26.6 percent.
With a 90% user share in 2019, YouTube was the most popular online video platform in the United States!
In the fourth quarter of 2020, there were 912,000 broadcasting channels on YouTube Gaming Live.
YouTube was deemed to help the most to improve the efficacy of PR communications in the next five years by 48 percent of individuals in 2019.
YouTube is utilized by 82 percent of people as a source of entertainment.
18% of people specifically use YouTube to follow companies and businesses.
Only 7% of people utilize YouTube to further their professional careers.
YouTube is a terrific tool for 8% of people to stay in touch with friends and family.
37 percent of people aged 30 to 49 use YouTube as a news source.
A third of women said they watch beauty lesson videos on YouTube at least once a week.
Marketing Statistics on YouTube
YouTube's ad revenue was over five billion dollars, according to the YouTube Partner Program. According to YouTube data, YouTube gets up to 0.05 dollars for each video watch, depending on the age of its viewers and their view rate. Users between the ages of 18 and 24 have a 27 percent view rate and contribute 0.042 dollars to YouTube every watch.
Between 2014 and 2019, the cost of influencer marketing grew across all channels. YouTube had the greatest rise in 2019, with each post costing $1,600.
After Facebook, Instagram, LinkedIn, and Twitter, YouTube was the fifth most popular social media site for marketers in 2020.
The average expenditure per advertising on YouTube has increased by more than 60% year on year for the top 100 marketers. For the previous several years, the top 100 YouTube advertisers have increased their expenditure on the site by 60%, demonstrating that even larger organizations consider YouTube to be a significant component of their marketing strategy. Everyone wishes to be well-known on YouTube!
With 1.99 billion impressions, Turbotax was the second-largest advertiser on YouTube. Since the company's founding, the number of businesses using YouTube for marketing has increased by more than 40% every year.
Pre-roll skippable YouTube video commercials were deemed the most successful advertising form on YouTube by 29 percent of marketers in 2019.
Non-skippable advertising, on the other hand, was deemed the most successful by just 7% of marketers. With 86 percent of firms utilizing video to promote their services or goods, video marketing is on the rise. This has improved significantly from 2016 when it was just 61%. YouTube was used by 87 percent of those that use video marketing, up from 85 percent in 2019.
For 10% of businesses, display advertising is the most successful YouTube ad marketing tactic. When it comes to regular TV commercials, YouTube data show that 47 percent of commercial time is watched. That percentage rises to 62 percent on YouTube mobile, demonstrating internet marketing's continued dominance.
The Top 100 Advertisers on YouTube have increased their expenditure by 60% in the previous few years, indicating that even larger companies consider YouTube to be an important part of their marketing strategy. Everyone aspires to be well-known on YouTube! Sixty percent of businesses stated they will boost their YouTube marketing expenditure in 2020.
Statistics on 'YouTube video content has been removed'
Spam, fraud, and misleading information accounted for 51.4 percent of YouTube comments banned in 2021.
Nearly half (42.6%) of content banned from YouTube in 2020 had no views.
Furthermore, 33.8 percent received only 10 views before being deleted owing to rampant automated content flagging.
In 2020, spam accounted for 25.5 percent of all videos deleted from YouTube.
31.7 percent of YouTube videos were removed due to concerns about children's safety.
Over 1.46 million videos were taken from YouTube in India, with the United States accounting for 1.14 percent.
YouTubers who have broken records and statistics on viral content
Ryan Kaji, as Ryan's ToysReview, was the top-earning YouTuber in the world as of June 2020, with earnings of around 29.5 million.
Ryan isn't the newest addition to the list of the highest-paid YouTubers. Anastasia Radzinskaya, often known as Nastya, is ranked seventh, with a net worth of USD 18.5 million in 2020.
In August 2020, BTS, a Korean boy band, broke a new world record for the fastest YouTube video to become popular, amassing 101.1 million views in just 24 hours. Aside from BTS, BlackPink, PSY, and Twice are some of the most prominent K-pop performers.
The most popular YouTube video in terms of lifetime views is Luis Fonsi's "Despacito feat. Daddy Yankee."
Adele's video "Hello" in just 87 days hit one billion views, making it the fastest video ever to do so.
Statistics on the Most Popular YouTube Accounts
Comedy, music, entertainment/pop culture, and how to are the top four content categories watched by YouTube users. The most popular YouTube categories include humor, music, pop culture, and how to. The exact categories popular with each gender have already been explored, but these four content categories are the most popular on YouTube overall.
Yuya (24.5 million subscribers), Jeffree Star (16.7 million subscribers), and Musas are the most popular beauty and style channels on YouTube as of January 2021. (15 million subscribers).
LEGO is the most popular brand channel on YouTube, with an average of 10 billion video views every month.
The second and third most popular YouTube brands are Vat19 (5.84 billion views) and IDJVideos TV, respectively (4.49 billion views).
With over 7.2 billion views, "Despacito" is YouTube's most popular video. Luis Fonsi and Daddy Yankee's Despacito is the most-watched video on YouTube. According to more cautious estimates, the music video has had 7.2 billion views and the copyright holder has earned more than $40 million.
With around 131 million users in 2021, YouTube Movies was rated second in terms of most subscribers.
In North America, more than 100 million hours of how-to information were seen in 2015. In 2015, Canadians and Americans viewed over 100 million hours of how-to videos. Using the prior statistic that the rise of how-to video searches grows by 70% each year, we may deduce that North America watched 310 million hours of how-to videos in 2018.
Other prominent gaming channels don't even come close to PewDiePie's subscriber base. Fernanfloo (38.2 million members) and VEGETTA777 are the second and third most popular gaming channels, respectively (31.3 million subscribers).
With approximately 45.87 million unique U.S. viewers in 2020, UMG (Universal Music Group) @ YouTube was rated #1 as the most popular YouTube partner channel in the United States.
Statistics on YouTube User Behavior and Demographics
YouTube is the most popular site for Gen Z men to follow influencers (53%).
YouTube is used by 42% of Gen Z women to follow influencers, with Instagram being the most popular.
In 2020, 62% of YouTube users in the United States used the platform on a daily basis.
Users between the ages of 15 and 25 account for 77% of all YouTube users.
The 26 to 35-year-olds are tied to the 15 to 25-year-olds with a 77 percent user share.
A third of YouTube users are between the ages of 36 and 45, with the remaining 70% falling between the ages of 46 and 55.
YouTube is constantly popular among people of all ages, according to statistics.
In the year 2020, 72 percent of male users and 72 percent of female users will have logged into YouTube.
Statistics on Youtube On Demand
With a 39 percent market share, YouTube is the sixth most popular video source in the United States.
69 percent of YouTube subscribers pay to view anything they want, whenever they want.
On the other hand, 58 percent of YouTube users pay to binge-watch episodes.
Customers who use YouTube on Demand on a regular basis account for 35% of the total.
The most popular genre on YouTube is comedy (77%) followed by thriller/crime/mystery (23%).
Customers on YouTube watch video material on their mobile devices in 72 percent of cases.
YouTube consumers would want to have access to YouTube on Demand on a variety of devices, according to 75% of them.
Consumers that pay for YouTube utilize social media more than non-paying customers.
Statistics on YouTube's Customer Base
Males make up 59 percent of YouTube users, while women make up 41 percent.
The most common age group on Youtube is 25 to 34 years old, which accounts for 32% of all users.
At least two people live in 26% of YouTube on Demand homes.
People who have YouTube on Demand are found in 58 percent of towns and rural regions.
In the United States, 37 percent of homes that pay for YouTube on Demand have a high household income.
YouTube Video Statistics
The following numbers will wow you: YouTube receives 3.25 billion views every month.
In 60 seconds, 500 hours of video are posted to YouTube. 500 hours of footage are uploaded to YouTube in a single minute. 3.8 million Google searches, 450,000 Tweets, and 150,000 emails were conducted over the same time period.
On a daily basis, 1 billion hours of video are seen on YouTube. Official YouTube statistics show that every day, users watch 1 billion hours of video on the network. Every month, 3.25 billion videos are viewed.
The typical viewing session on a mobile device lasts 40 minutes. On average, mobile users spend 40 minutes each video on YouTube. The network has the highest user engagement and average time spent on the website, with an average viewing duration that has increased by 50% over the previous year.
75 million YouTube users are actively producing videos. There are 75 million YouTubers who have made the decision to start generating content and posting videos on a daily basis. Unfortunately, few of them can surpass a barrier of 1,000 subscribers and 4,000 hours of viewing time. They won't be able to join the YouTube partnership program and receive money until they do.
In November 2008, 720p HD support was enabled. For the first three years of YouTube's existence, viewers were only able to watch low-definition videos on the platform. YouTube, on the other hand, chose to introduce the 720p HD option in 2008, or what we now regard as HD ready.