Updated on July 8, 2020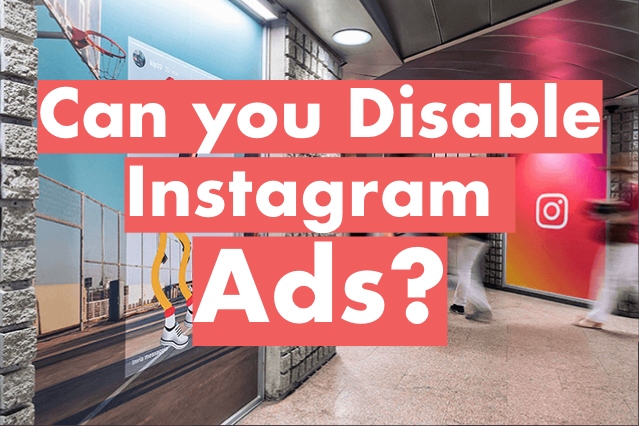 When you are a simple consumer, ads are something which you are generally accustomed to. However, ads in your social media, especially ones in your Instagram feed can become a tad bit annoying, right? Instagram sees close to 100% of its revenue come from advertising which means that it's the only reliable source of income for the company. Since Instagram is making a lot of money, all users are bound to be somewhat exposed to ads. Unfortunately, there is no direct and simple way to turn off sponsored ads on Instagram. You can only influence what types of ads will be shown. Nevertheless, we will look into some things that you can do to make ads less frequent or more tailored to your liking!
Method #1: Marking all Ads as "Inappropriate"
As you know, there are a lot of Instagram specific algorithms and apps that work behind the scenes to monitor your clicks, likes, engagement, activity, etc. This means that the ads which are shown to you are shown to you not as an accident, but as a direct result of your actions on the internet and social media.
This is a nice way to say that the business which wants to sell you something (ad owner) thinks that you fit in the category of their potential customers. However, if you find ads annoying, here is the first thing you can try to do.
Mark all ads as inappropriate.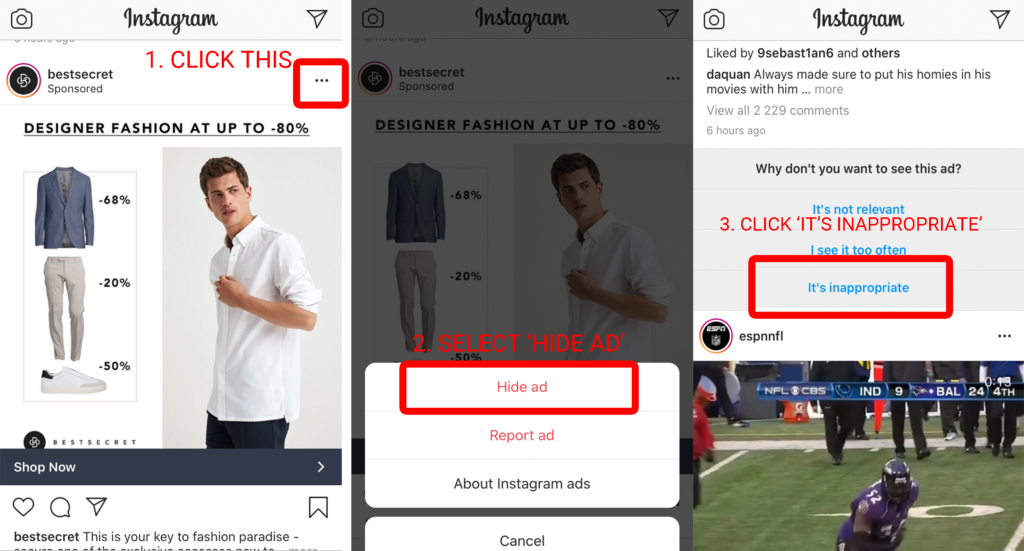 Once you see a sponsored post (an ad) in your Instagram feed that you don't like or any advertisement for that matter, and you desire to eradicate them, click on the three dots in the top-right corner. Once the settings menu pops up, click the 'Hide ad' button and mark the ad as inappropriate. The other settings will just likely rewrite the Instagram algorithm on you, and it will collect data from scratch.
This isn't a method backed up by statistical data or insider info from Instagram. Still, numerous users reported that once they click 'Hide ad -> It's inappropriate' enough times, the ads cease to bother them for a long while. It will take persistence, though, and as we said, results aren't guaranteed.
Other methods are a longshot
Unfortunately, there aren't viable legit methods that allow users to stop seeing Instagram ads entirely. You can try to contact Instagram support if you're sick and tired of the ads, but the outcome will most likely be negative because the T&C of IG states that your browsing means that you agree and have familiarized yourself with the rules and nuances of the ads. The rules say that you will be shown ads that are tailored to your liking.
Instagram really does put a lot of effort into only showing ads that are relevant, important and true 'to the spirit of Instagram' in their own words. But since Facebook bought Instagram, the advertising tools have grown very powerful and are the primary source of income for the company, which means that they aren't going away any time soon.
You can find comments on Reddit and in forums claiming that they have IG specific ad-blockers, but the reality is that those apps are likely a scam for stealing Instagram accounts. Be careful and remember that there is only one way which doesn't involve sharing sensitive info with third-parties and that's by repetitive reporting.
This is why we recommend sticking with method #1 for the time being, and hopefully, in the future, we will have something more to help us deny the ads we don't want to see.
FAQ
How to see ads that are more to your liking?
If you don't find ads entirely revolting, but you aren't satisfied with the ads that are being displayed to you, there are specific ways of forcing Instagram to show you more relevant ads.
First and foremost try to remember that the ads which you see are a direct result of your activity on social media and the internet. If the algorithm on Facebook detects that you often click likes on basketball highlights, you will likely see ads related to sporting goods, basketball, etc. If you want to see something else – interact and engage on posts from different creators and businesses.
If you see an ad that's not relevant – click the three dots we mentioned earlier, but this time select the option which says 'The ad isn't relevant'. In time, this will help Instagram, and the algorithms find ads that are more relevant to your needs and likings.
Why can't you disable ads on Instagram?
Because Instagram and businesses on Instagram want and like to make money. If not to be so frank, a more diplomatic answer would be because the current version of the application is inseparable from advertised content. It's crucial to maintain the business aspect of Instagram as well as keep users entertained by the content from people they actually follow.
Can you block Instagram story Ads?
Once again, there's no 100% guarantee here because there's no developer-approved and disclosed way for blocking Instagram ads. Once again, you can only click the three dots -> Hide ad -> It's inappropriate.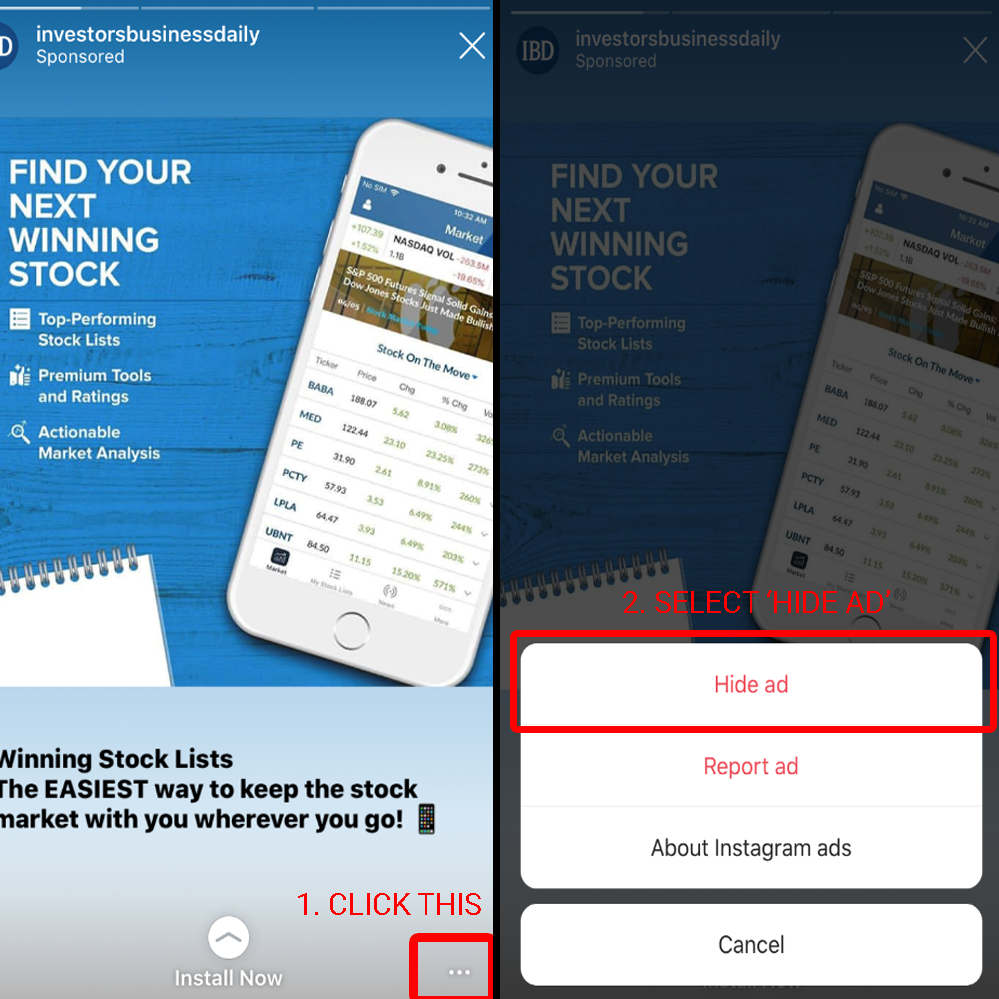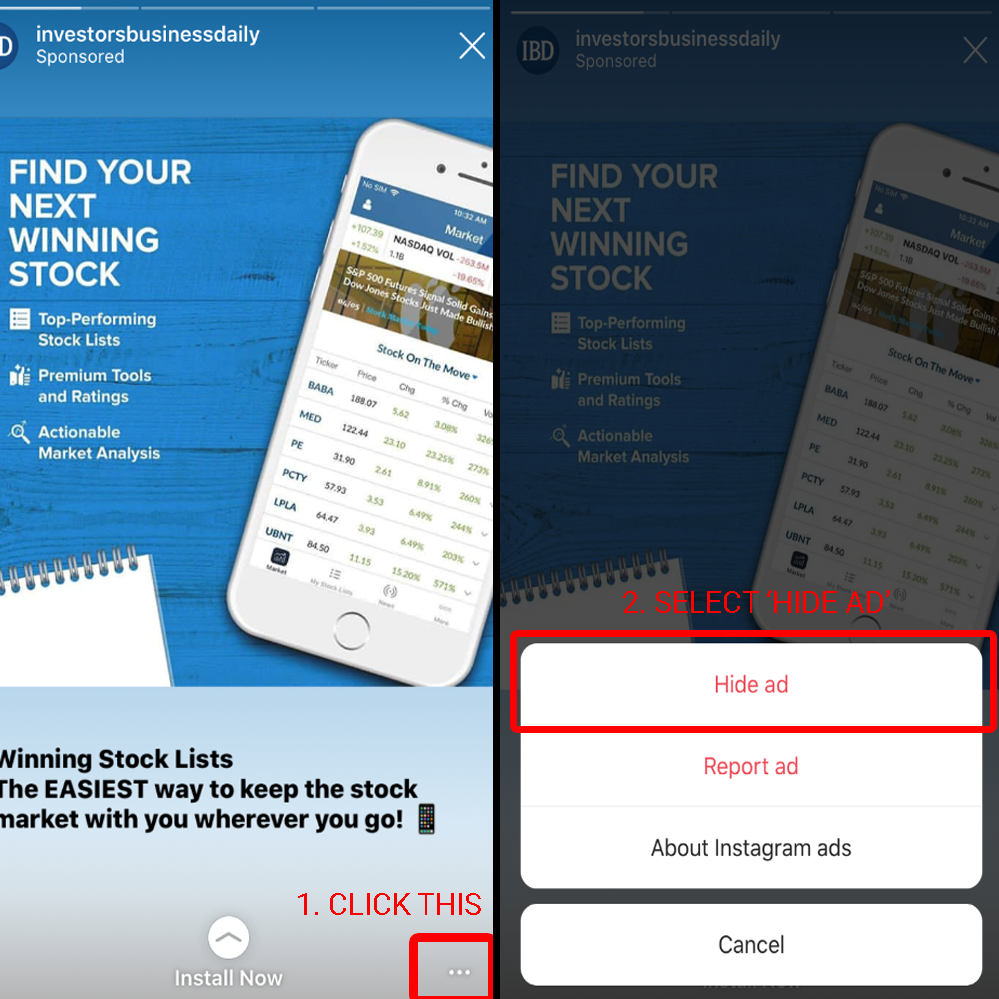 Just as with regular feed ads, Instagram story ads are shown without the ability to disable them forever. However, a lot of the users report that after repeated and more persistent clicking on the 'It's inappropriate' button, they managed to significantly diminish the number of ads that are shown in their feed and stories.
How to block alcohol ads on Instagram?
Instagram and Facebook do not allow the publishing of tobacco advertisements as well as ads that promote other illegal or in their minds 'unethical'/sensitive activities and content related to sensitive topics. You can, however, block alcohol ads on your IG account if it's connected to your Facebook profile. Here's how you do it:
1. Open this link.
2. Click on 'Hide Ad Topics' at the bottom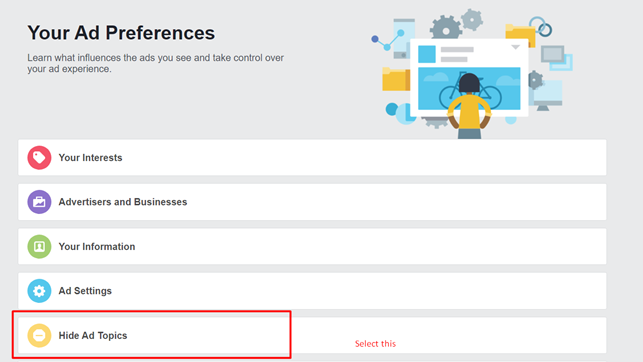 3. Facebook ad preferences allow you to ban alcohol ads for 6 months, for a year or permanently. All you need to do is toggle a switch. (See the image below)
.

4. You can also suggest other sensitive topics or hide ads that are related to parenting and pets for some reason.
Is there an app which blocks Instagram ads?
To be frank, that is nearly impossible. That's because the stream of ads comes directly from Instagram's servers. To block them would require blocking all of Instagram… However, if you were to use IG on a browser on your phone, tablet or computer, ads are pretty much non-existent there. So there is a workaround, but it's not nearly as convenient.
Can you block Instagram ads on Android?
Just use the browser instead of an app to get an ad-free experience. However, you cannot block ads on the app.
Can you block Instagram ads on iOS?
Nope, nor Android, nor iPhones can allow you to block the ads on the Instagram app. If you use a browser to browse on Instagram, then the ads are much less frequent.
How to stop seeing specific ads on Instagram?
Once again, there is no direct and 100% efficient way that Instagram's devs could suggest, but a workaround seems to do the job. Most users say that after they do this 3-5 times, the ads will disappear, likely never to return again. Here's what you need to do:
Click the oh-so-familiar three dots in the corner of the post
Press the 'Hide Ad' button
Select either the 'It's not relevant' or the 'I see it too often' options
After a few times, Instagram will likely stop targeting you with any ads whatsoever.
Can you use Instagram without ads now, and will it be possible in the future?
As we've mentioned numerous times, there currently isn't a direct way to prevent ads from being displayed to you. However, lots of users report that hiding the ads a few times can result in a significant reduction of how frequently they appear.
Furthermore, there is currently no Instagram Pro app or something like that. As you know, something like Spotify Premium comes to mind. You pay for the app (either a subscription or a flat fee) and it offers an ad-free user experience. However, as this article explains, it's way too tricky with a near-two-billion user audience that Facebook and Instagram have.