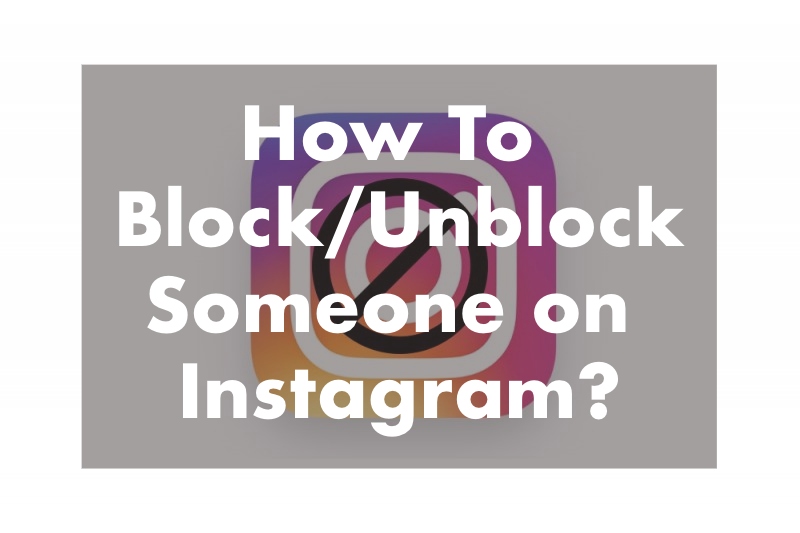 If you wish to block someone or some page on Instagram, you can do that via your app or via browser/PC. It's a really simple process which allows to stop ongoing and prevent future harassment or unwanted attention on this social media.
Blocking someone if you're on the Instagram app
Open the Instagram app
Find and navigate to the profile (via browse or by other means) of the person or brand, which you wish to block
Click the three dots icon in the top right and select 'Block'
Confirm your selection by pressing 'Block' once again.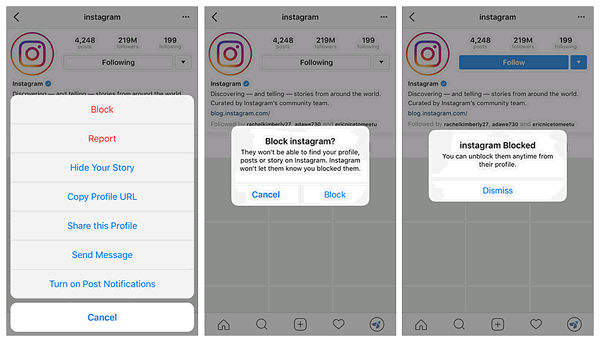 Blocking someone if you're on the browser/PC
Open www.Instagram.com.
Find the profile which you seek to block by either finding them in the browse section or clicking on their profile name in the comment sections, etc.
Once in their profile, click the three-dotted icon, next to the 'Follow' button (highlighted in red)
Select 'Block this User' from the prompted menu
Confirm your selection and decision by clicking 'Block' in the next menu prompted.
Don't worry, Instagram won't notify anyone that you have blocked this person. The only way they can find out is to navigate to your profile. Blocking is sort of a one-way street. Whatever you decide to do – goes, and you won't need to elaborate on your decision. Besides, if you change your mind, you can unblock people with the same exact ease.
Unblocking someone
Navigate to their profile and select the blue 'Unblock' button. That's it – you've successfully unblocked the profile and reversed your previous decision.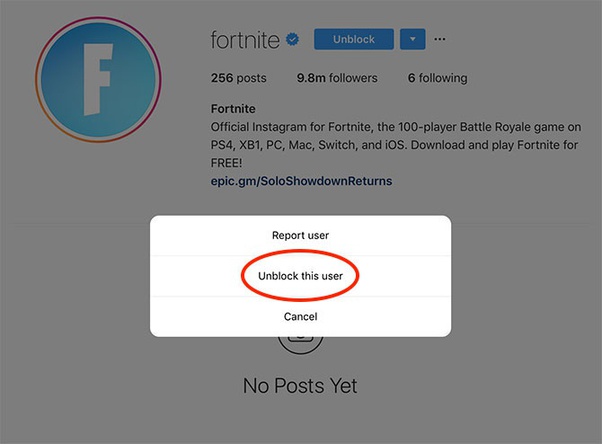 Why block someone on Instagram?
Common reasons why you might want and should consider blocking someone on Instagram include:
· Harassment
· Bullying
· Hate speech
· Threats
· Biased and unproven claims
· Bot and auto-generated comments
· Personal reasons
Alternatives to blocking on Instagram
As an alternative to blocking, you can also 'Mute' their account and 'Restrict' them. In addition to blocking, you might also 'Report' them for doing something against the T&C of Instagram or the law.
Here's what every action does
MUTE
· Requires you to follow them
· You can mute posts, stories or posts and stories
· Muting means that their posts and/or stories won't appear in your feed
· This is a method to keep following someone and see all of their content at will, but without seeing those accounts in your feed
RESTRICT
· Gives users the ability to control and stop the spread of harassment, misinformation, bullying, hate speech, etc.
· It will not allow the restricted user to see when you are online and if you have read their messages
· They will be the only ones who see their comments which they make under your posts (You can approve their comments additionally by clicking 'Approve')
· You won't be bothered with notifications about the comments, tags, other interactions made by that profile
REPORT
This is a feature which allows users to highlight and point the attention of Instagram towards accounts and profiles which are violating rules or laws. You can report someone for
· Being spam (It's Spam)
· Being inappropriate, violating T&C of Instagram (It's Inappropriate)
There are a lot of options to report people for, so use this feature wisely and don't over-do it. Not everyone deserves reporting.