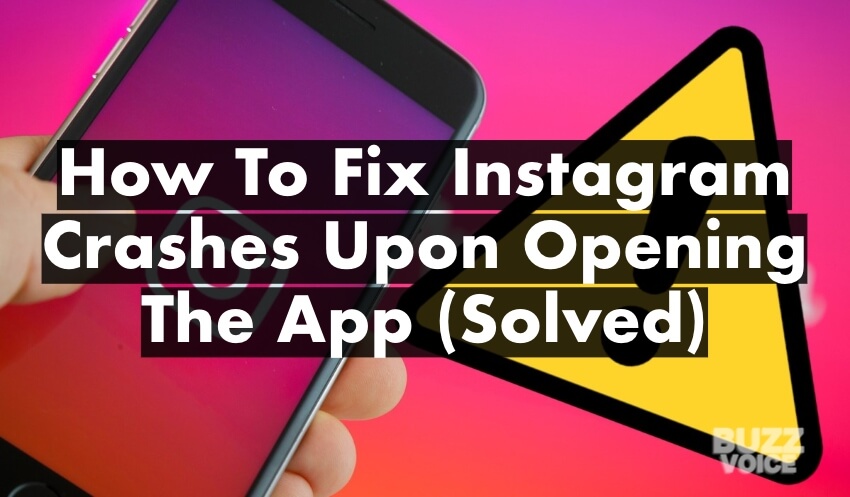 Over 1.440 billion Instagram users worldwide share different types of content on their profiles. Some might have experienced problems while uploading their photos or videos or trying to open the app.
If you are dealing with these problems, don't worry; we have got you covered! So, here is a quick guide on how to quickly share whatever you want on Instagram without worrying about Instagram crashing problems.
Check them out, and make sure you keep them in mind!
What causes Instagram to crash upon opening?
You have taken some fantastic photos, and I can't wait to upload them to Instagram. But Instagram keeps crashing when you open it, and you don't know what to do. How to fix the Instagram crashing problems upon opening the app? Well, if you are dealing with this problem, there are some solutions you should keep in mind to fix it.
This problem might be caused by the following:
Reason 1: App Problem
The application itself (It might be Instagram or another app on your phone) might have a problem. If the app has a problem, try to uninstall and reinstall it again. That's what you should do with every app experiencing such issues.
Reason 2: Operating System
The phone's operating system might not be up to date. Make sure you update both your phone's operating system and Instagram app.
Reason 3: Storage
The mobile device's storage might be full and does not have enough storage space. If it doesn't have much space, make sure to clear up some storage space so it can support the Instagram update.
What are the solutions how to fix Instagram crashes?
If you are worried about solving the Instagram crashing problems, follow the below solutions. If one of them doesn't work, consider trying all the solutions we have listed below.
Solution 1: Update
If you are experiencing this problem, immediately update the application. The iOS users should go to the app store, search Instagram, select it and tap update.
1. Go to app store
2. Search on the search bar ''Instagram''
3. Update
The Android users should follow the same steps, go to Google Play Store, search Instagram, select it from the list, and click update.
You will see the "update" button if your Instagram app is not up to date. And you will see the "open" button if it is already updated.
Updating the Instagram app won't only solve the crashing problems but also give access to the app's latest features.
Tip: Make sure to turn on the automatic app update so you won't need to do it manually.
Solution 2: Close
Try to close the application, and reopen it after some minutes.
Solution 3: Delete & Reinstall
If only the Instagram app keeps crashing, try deleting it and installing the app again. You won't lose any data; only the application will be uninstalled. Head up to the play store or app store and wait for it to install and reopen it again.
Solution 4: Clear Storage
Check out the storage of your mobile device. The full storage might be a problem since it doesn't have enough space to update the application. You must delete some unnecessary apps, photos, or videos to free up storage space.
1. How to free up storage space for iOS users?
First, you should find out how much space you have left to understand whether the problem is storage or something else. Open the setting, click on general, and you can click iPhone storage. You will see how much free storage space you have and the apps mainly consuming your space.
After you figure out that the problem is at the storage, use these methods to free up space:
1. You can delete some unused apps, photos, and videos.
2. You can clear Safari's cache and delete the messages.
3. Recheck the storage space by going to settings>general>iphone storage and trying to update the Instagram app.
2. How to free up storage space for Android Users?
Find out what the storage is by opening the settings, tapping on battery and device care, and storage. You will see there the exact free space it is left.
To free up storage space, try the below methods:
1. Clear your cache. By clearing the cache, there are temporary files removed, such as google chrome history.
2. Delete old files that you no longer use them anymore. You can clear them out manually or automatically,
3. Delete the ghost apps you have many months without using. You can check the last time you used them at the storage.
Pro Tip: Make the required updates on your mobile device and applications to stay away from crashing application problems.
Android Users and iOS user's operating system
The Instagram crashes happen on android and iOS operating systems. Remember that both Instagram and the operating system must be updated to the latest version.
If you only update Instagram and not the operating system, you might again have Instagram crashes.
The iOS user's operating systems should follow the below steps:
The instagram cache can not be removed separately
So, you should remove the entire app
Go to app store and reinstall it again
The Android user's operating systems should follow these steps:
Delete cache in the "storage" section.
Choose the ''Clear Cache'' option
If it does not work, update your system.
Our Final Thoughts
As you read above, there are many solutions you may try to solve the Instagram crashing problem. Start from the basics so you can figure out where the problem is. Now you know which steps you should follow if you experience an Instagram crash again. Hopefully, you won't anymore.
Let us know in the comments below if you have any questions or suggestions for the following article. We would love to hear from you!
Make sure to keep an eye open for the following articles!
FAQ (Frequently Asked Questions)
People also asked:
1. What should I do if Instagram keeps crashing?
The first thing you should do is check out if the app and operating system have updated to the latest version. If both are up-to-date, try deleting and reinstalling the Instagram app.
2. Why is my Instagram slow?
The low storage of your mobile device might cause many problems such as freeze, slowness, crashes, etc. Also, a weak internet connection or corrupt caches slow down the app.
3. Will I lose my posts if Instagram keeps crashing?
No, you won't lose any data or posts. This problem won't affect any published content on your account.
4. Why my Instagram crashes when I want to upload a picture?
If your Instagram crashes every time you want to upload a picture, then it might be a phone storage problem. Your phone storage and memory loss might be complete, and that's why they cause this problem. Make sure to clean up the storage and try it again.
5. How do I fix an Instagram "try again later" problem?
Consider trying the following solutions:
Restarting your device
Signing out and signing in
Clearing the Instagram cache
Linking your Facebook account
6. Can you clear the cache on Instagram?
Yes, you can. If you are an iOS user, go to settings, security, and clear search history. If your phone has an android operating system, go to settings, security, search history, and clear all.
7. How do you update Instagram?
iOS users team, go to the app store, search Instagram in the bottom menu, click Instagram, and update.
Android Users Team, go to Google Play Store, search "Instagram," and click update.