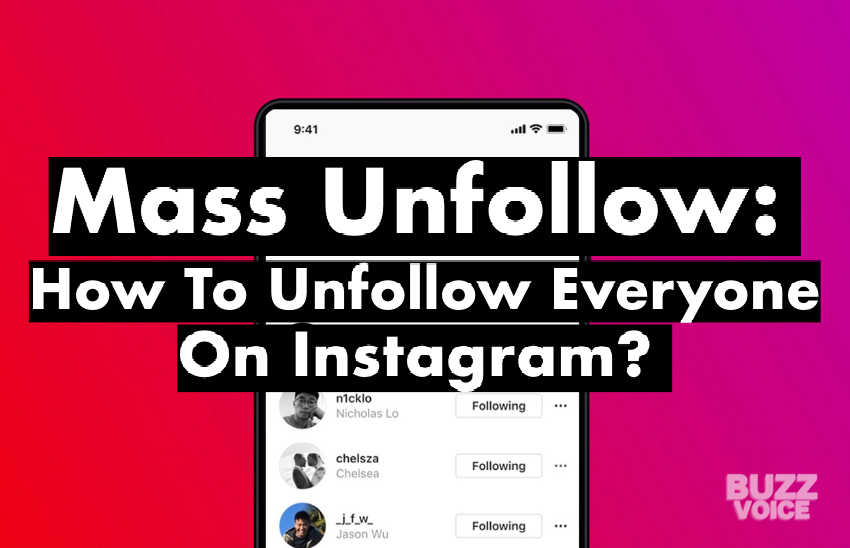 "Instagram Clean-Up: Strategies for Mass Unfollowing and Feed Refinement."
Instagram is a popular app for connecting with friends, idolising celebrities, and discovering global content. However, many accounts can clutter your feed, making it difficult to find content that aligns with your interests.
Mass unfollowing is a quick way to declutter your Instagram account, giving you more control over what you see daily. This guide aims to guide you through the steps and nuances of mass unfollowing, ensuring a more personalised and engaging experience. By doing so, you can create a more curated Instagram feed that aligns with your current tastes.
What's the Instagram Unfollow Limit Per Day?
Our affiliations and interests change over time, just like in real life, which causes us to reevaluate who we want in our online area occasionally. Thus, the 'unfollow' button becomes a tool for tidying our feed. However, in its wisdom, Instagram set barriers: You can't just hit a magic button and unfollow everyone in a split second.
Instagram has instituted a daily unfollow limit to keep the platform fair and free from potential abuse or spam-like behaviour. It ensures that users engage with the platform genuinely and prevent any misuse. So, while you can refresh your Instagram followers list, it's a process that requires patience and understanding of Instagram's rules.
Why this limit?
It stops spammy behavior, like rapidly following and unfollowing to get attention. Imagine a classroom where everyone keeps changing seats—it'd be chaos! Instagram's rule helps maintain order.
Generally, you can unfollow around 200 accounts per day. It isn't the same for everyone; newer accounts might have a lower limit. Overdoing it might get you a temporary block, preventing you from following or unfollowing.
It's not just about the number; the speed matters too. Unfollowing 50 accounts in a minute might seem suspicious to Instagram, even if you're below the daily limit.
In short, while Instagram offers a lot of freedom, it has rules to ensure everyone has a good time. Knowing these limits, like the daily unfollow count, ensures you enjoy a hassle-free Instagram experience.
How To Unfollow Everyone On Instagram Manually?
1. Open the Instagram App
Once inside the app, spot the small icon resembling a person, or it might show your profile picture at the bottom right corner. Give that a tap. This action will lead you directly to your main profile area, showcasing your posts, the tally of your Instagram followers, and the list of accounts you're following.
2. Access the 'Following' List
On your profile page, you'll see a number next to "Following." This number represents how many accounts you follow. Click "Following," and a list showing everyone you follow will appear.
3. Start Unfollowing
Each account you follow has a "Following" tag next to it. When you tap this tag, it switches to "Follow," indicating you've successfully unfollowed that account. The main aim is to gradually clean up your feed, ensuring each decision is intentional.
If you're following hundreds or even thousands of people, your thumb might tire from all the tapping! Take short breaks if you need to. It's also essential to know that Instagram might temporarily restrict you if you unfollow too many people too quickly. It's just their way of preventing spammy behavior.
Keep in Mind: With everyone unfollowed, the next time you hop onto Instagram, you'll be greeted with a pristine feed. Take a moment to ponder what sort of content genuinely excites you. As you think about the content that enriches your day, follow accounts that resonate with those preferences. Ultimately, Instagram should be a space that brings joy, inspiration, and relevance to your everyday life.
5 Tools for Unfollowing Instagram Accounts
Unfollowing people you no longer want to see posts from is an everyday activity on Instagram. Unfortunately, unfollowing each person individually can be extremely tedious and time-consuming. That's where third-party unfollow tools come in handy. Here are five popular options and their pros and cons:
Fast Unfollow:

Overview: Allows you to unfollow up to 5,000 users per day.
Pros: High unfollowing limit, intuitive interface.
Cons: A higher risk of hitting Instagram limits if not careful.

Followers Chief:

Overview: An Android app that provides insights about followers and has automated unfollow features.
Pros: Automated actions and detailed statistics.
Cons: Risk of hitting Instagram limits if auto-actions are misused.

Command for Instagram:

Overview: iOS exclusive app that provides insights and offers unfollow features.
Pros: Sleek design and simple to use.
Cons: Only available for iOS, limited features on the free version.

Follow Cop:

Overview: An Android app that identifies inactive followers and those who don't follow back.
Pros: Quick unfollow, easy to identify non-followers.
Cons: App can be a bit laggy with large follower counts.

InstaClean:

Overview: Available for iOS, it's an app that helps you mass unfollow on Instagram.
Pros: User-friendly interface, fast actions.
Cons: Free version has limits, in-app purchases required for unlimited features.

Unfollow for Instagram – Non followers & Fans:

Overview: An Android app allowing you to unfollow 20 users with a single click.
Pros: Quick unfollowing feature, identifies non-followers.
Cons: Ads in the free version, and a risk of hitting Instagram's action limits.

Mass Unfollow for Instagram:

Overview: A simple iOS app designed specifically for mass unfollowing.
Pros: Simple and direct functionality.
Cons: Limited additional features.

Unfollow Users:

Overview: With this Android app, you can quickly unfollow users.
Pros: Basic and straightforward to use.
Cons: Contains ads, and might have occasional glitches.
Remember to use these tools responsibly. Instagram can be sensitive to rapid actions, which might appear as spammy behaviors. Always stay within the guidelines of Instagram to prevent any potential action blocks or account bans.
Should You Use 3rd Party Apps to Mass Unfollow on Instagram?
In the age of digital connection, Instagram has become a cornerstone of many people's daily social media interactions. As users follow more and more accounts over time, their feed can become crowded, leading some to contemplate a significant culling of their follow list.
This need for a cleaner, more curated feed has given rise to third-party applications promising to make the unfollowing process smoother and quicker. But with the convenience these apps offer, are there hidden downsides to consider? In this section, we'll delve into whether you should use third-party apps to mass unfollow Instagram, weighing the pros and cons to help you make an informed decision.
Pros:
Speed: These apps can help you unfollow accounts faster than manually on Instagram.
Convenience: A few taps and the app will work for you.
Filtering Options: Some apps might let you sort and choose whom to unfollow based on specific criteria, like "inactive users."
Cons:
Security Risks: 3rd party apps often ask for your Instagram login details. It could risk your account's safety or lead to privacy breaches.
Instagram's Policies: Instagram isn't a big fan of such apps. Using them can go against Instagram's terms of service. If caught, your account could face penalties like a temporary block or, in extreme cases, a permanent ban.
Unreliable Apps: Not all apps are trustworthy. Some might have hidden charges, while others might not work correctly.
Lost Connections: If the app mistakenly unfollows someone you didn't want to, it could lead to misunderstandings or lost connections.
While 3rd party apps can offer a quick way to mass unfollow on Instagram, they come with risks. Your account's security and standing with Instagram are vital. It might be more time-consuming, but manually managing your following list ensures you have full control and keeps your account safe. Always prioritize safety and think twice before giving any app access to your accounts.
Why Do People Want to Mass Unfollow on Instagram?
1. Too Many Posts
Sometimes, people post a lot in a short time. Imagine a friend who talks non-stop without a break; it can be overwhelming! If an account keeps filling up someone's feed with too many photos and stories, they might unfollow to get some peace.
2. Change in Content
Let's say you started following someone because they shared cool pictures of animals. But now, they only post about their favorite food. If you're not into food pictures, you might choose to unfollow them.
3. Seeking a Clearer Feed
Some people like a neat and organized Instagram feed. If they feel their feed is too cluttered or messy, they might unfollow some accounts to make it look cleaner and more focused.
4. Personal Reasons
Maybe two friends argued or aren't close anymore. In such cases, one might unfollow the other on Instagram to put some distance between them.
5. No Longer Interesting
Interests change! What someone found exciting a year ago might not be as appealing now. So, they unfollow accounts that no longer match their current likes.
6. Too Many Ads or Promotions
Some accounts often promote products or services. If someone feels they're seeing more ads than fun content, they might hit the unfollow button.
7. Taking a Fresh Start
Every once in a while, people want to start fresh. They might unfollow many accounts, or even everyone, to reset their Instagram experience and then choose new accounts to follow based on their current interests.
8. Following Limit
Instagram imposes a limit on the number of accounts an individual can follow, capped at 7,500. Once users reach this number, they must unfollow some accounts to follow new ones.
9. Not Following Back
Many users prefer a reciprocal relationship on Instagram. If they find that an account they've followed doesn't follow them back, they might decide to unfollow.
Benefits of Removing Inactive Followers on Instagram
Having many followers on Instagram can feel exciting, but did you know that having too many inactive followers might not be as good as it seems? Here's why cleaning up your follower list can be helpful:
1. More Meaningful Engagement
When you remove inactive followers, you're left with people who genuinely care about your posts. It means more likes, comments, and interactions that matter.
2. Clearer Insights
With active followers, you can better understand what your audience likes. It helps you post content they enjoy, making your Instagram experience more fun.
3. Avoiding Fake Engagement
Some inactive accounts might not be real people. By removing them, you avoid fake likes and comments that don't truly reflect your popularity.
4. Improved Reach
With active followers, your posts are more likely to reach more people. Instagram's algorithm shows your posts to users who engage with you, boosting your visibility.
5. Positive Reputation
You build a positive reputation when your follower count matches your real engagement. Others see your authenticity and might be more interested in following you.
6. Better Connection
Engaging with active followers means building real connections. You can have conversations, share interests, and feel more like a community.
7. Focusing on Your Goals
Refining your follower list allows you to reconnect with the core reasons you joined Instagram. Whether sharing your passions, exploring hobbies, or showcasing unique talents, you'll build meaningful connections with an audience that truly values your posts. Periodically refreshing your follower list can help maintain that authentic connection.
Frequently Asked Questions
Can you bulk unfollow on Instagram?
The straightforward answer to the question of whether you can bulk unfollow on Instagram is no, not directly through the Instagram app. Here's why:
Instagram Restrictions: Instagram has always been vigilant about actions that might come across as spammy or automated. Bulk unfollowing within a short time can trigger Instagram's automated systems, which can lead to temporary or permanent bans. Instagram has specific limits for actions to prevent abuse and preserve the user experience.
Rate Limits: As of my last update in 2022, Instagram allows users to perform a maximum of 60 follow/unfollow actions per hour. However, new or smaller accounts have even tighter restrictions. This means that even if you are using third-party tools, you should be cautious not to exceed these limits.
Third-Party Tools: While there are third-party apps and tools (some of which we discussed earlier) that offer bulk unfollowing features, it's crucial to be wary when using them. Instagram's API strictly regulates these kinds of actions, and using tools that violate Instagram's terms of service can result in penalties.
Instagram's Stance: Instagram's terms of use clearly state that users shouldn't access their platform using unauthorized means, including third-party apps. This includes apps offering bulk unfollow services that don't use the official API.
Manual Unfollowing: The most secure and guaranteed way not to breach Instagram's terms is to unfollow manually. While it's more time-consuming, it ensures you stay within the platform's guidelines.
If you decide to use third-party tools to manage your Instagram following, ensure you:
Stay well within Instagram's action limits.
Use reputable tools that don't ask for your Instagram password.
Regularly review Instagram's terms and policies, as they can change.
In conclusion, while you can't bulk unfollow directly on Instagram and must be careful with third-party tools, manual management remains the safest method for managing your follower list. Always prioritize the safety and security of your account when considering any actions or tools.

Why would someone want to unfollow everyone on Instagram?
Instagram, for many, is a personal space. Over time, tastes and interests change. Some users might find that their feed no longer reflects their current interests or that they've been inundated with content they don't connect with. Unfollowing everyone is a way to hit the reset button and curate a feed that aligns more with who they are now.
Is it possible to unfollow everyone on Instagram at once?
Unfortunately, Instagram doesn't provide a one-click solution to unfollow everyone. Users will have to manually unfollow each account or resort to third-party tools. But be careful, as these tools might not always align with Instagram's policies.
Does Instagram have a limit on how many people you can unfollow per day?
Yes, Instagram does this to prevent spammy behaviors. Typically, users can unfollow around 200 accounts per hour. Exceeding this limit might temporarily lock your actions or flag your account.
Will people know if I unfollow them?
No direct notifications are sent from Instagram when you unfollow someone. However, if they're particularly observant or use certain tools, they might spot that their follower count has decreased or that you're no longer on their follower list.
Can using third-party unfollow apps get my account banned?
It's risky. Instagram's terms discourage automation and misuse of their platform. Regularly using third-party tools to automate actions could get your account flagged or even banned.
How do I know who isn't following me back on Instagram?
Some apps can highlight non-followers. However, for those who prefer a hands-on approach, if you visit a profile you follow and don't see the "follows you" tag, they're not following you back.
What should I do if I accidentally unfollow someone?
No worries. Just visit their profile and tap on "Follow" again. While they won't know you have unfollowed, they will get a notification saying you're now following them.
Is it better to have fewer followers on Instagram?
It's not about quantity but quality. Fewer followers who genuinely engage with your content can be more rewarding and beneficial than thousands who don't interact.
Will unfollowing everyone affect my engagement rate?
It might, initially. You'll likely interact more with the content you genuinely enjoy with a cleaner feed. As you re-follow accounts aligning with your interests, you'll find meaningful interactions might lead to a better engagement rate.
How often should I clean up my following list?
It depends on you. Some people clean up when they feel overwhelmed, while others schedule regular intervals every few months to keep their feed fresh and relevant.
Conclusion
Refreshing your Instagram by thoughtfully unfollowing certain accounts can dramatically improve your browsing experience. By curating a feed that aligns with your genuine interests, you ensure that every post you encounter is enjoyable and relevant. It's essential to remember that the value isn't in the quantity of your followers but in their quality.
Whether you trim down just a few or undertake a comprehensive overhaul, the primary aim is to personalize your Instagram environment to best fit your tastes and comfort level.
Ultimately, Instagram should serve as a platform of delight and motivation, and you're in charge of sculpting that experience by selecting whose content enriches your daily interactions.