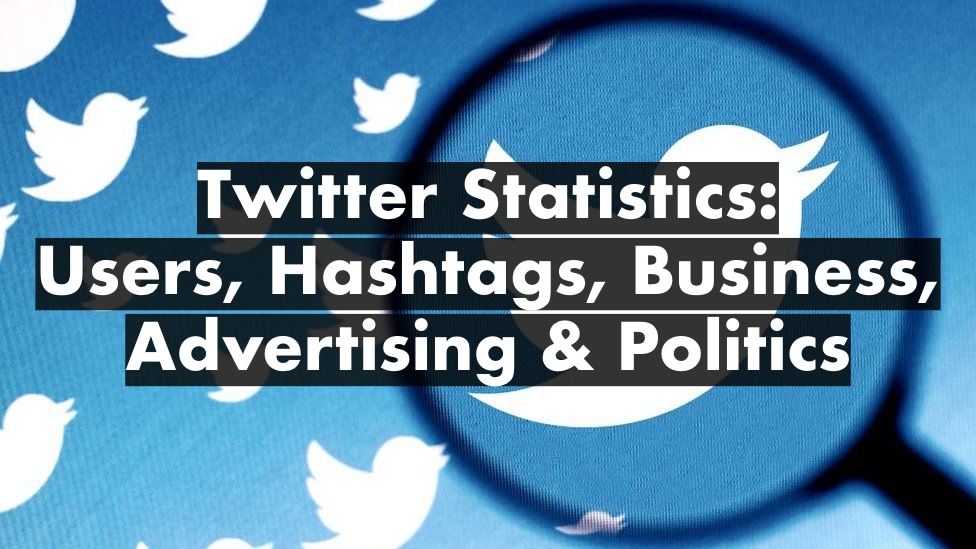 For the 21st century business, social media is arguably the most important weapon in your arsenal. You stand to gain a lot from incorporating social media platforms like Facebook, Instagram, Snapchat, and Twitter into your marketing strategy.
Leveraging social media can help increase your brand reach and awareness. Social media is also valuable for research and engaging with your clients or customers. Of the popular social media platforms, Twitter is one of the most used in the US and other countries of the world.
Given the peculiarities of this platform such as the unique demographics of users and the challenging character limit, anyone interested in marketing their brand or product on this platform needs to be aware of some basic statistics.
To learn how to optimize your Twitter strategy, you must understand who is using the platform and how they're using it. In this article, we will cover some Twitter statistics that will provide some insights into the app's usage so that you can coordinate your marketing efforts effectively.
Twitter User Demographics
Being one of the most popular platforms in the world, Twitter is used by people of all ages and genders. However, it is important to understand the age and gender distribution of the platform.
Number of users
From the first tweet sent out by Jack Dorsey on March 21, 2006, Twitter currently has 396.5 million users according to the latest figures released by Twitter. Out of this figure, about 206 million users make use of the app daily with more than 500 million tweets shared daily. That's an average of 6,000 tweets per second or 350,000 tweets per minute.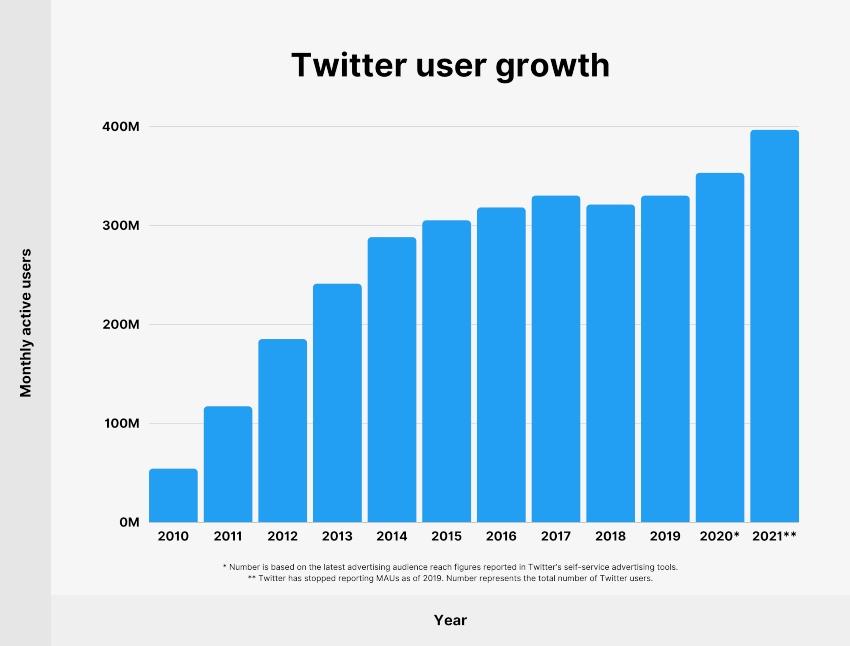 The 206 million user figure is the Daily active users (DAUs). This is the number of unique visitors to the platform within 24 hours and is different from the monetizable daily active usage (mDAU). The mDAU is the number of logged users that Twitter can show ads to daily. The total number of daily monetizable active users currently stands at 199 million users worldwide. Twitter has 37 million monetizable daily active users in the United States while the rest are from international markets.
These figures are not surprising since Twitter is one of the most used social media platforms not only in the US but also worldwide. As of July 2021, Twitter was ranked the 16th most popular social networking platform worldwide and is among the top 3 most popular networking applications in the United States. For further context, the total number of users on Twitter right now is about 8.85% of all social media users in the world.
Twitter's popularity in the United States is quite enormous. However, the platform is becoming increasingly popular in other countries of the world as well. Currently, over 55 million of Twitter's daily active users are in the United States. That's about 28.6 percent of Twitter's total user base. Up to 90% of the U.S. population are familiar with Twitter even if they don't use the platform.
Age
Twitter's most active user base is dominated by younger and middle-aged users. However, it still trails behind Instagram and Snapchat as far as its appeal to the younger demographics goes. About 59.2% of Twitter users are between the ages of 25 and 49 years old.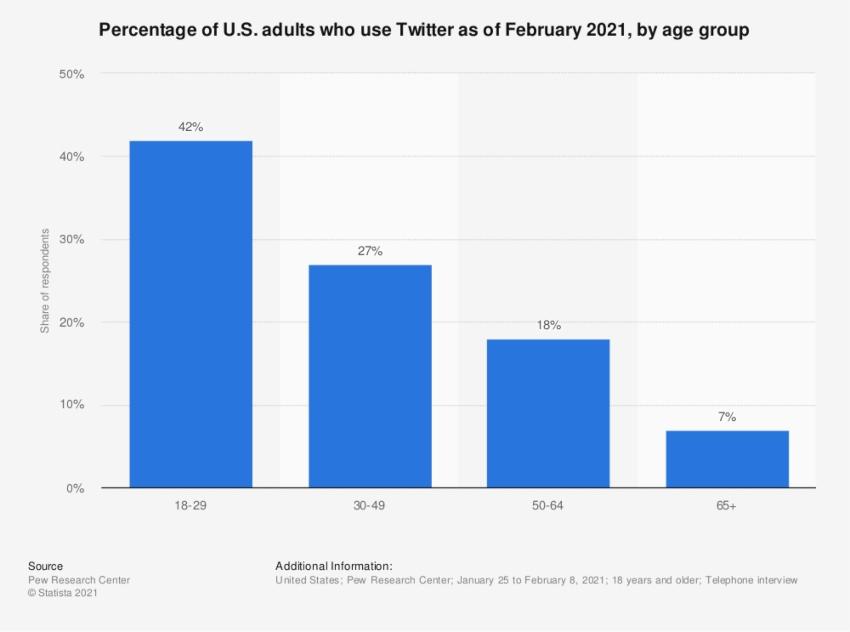 Also, another related statistic shows that approximately 63 percent of Twitter users worldwide are between 35 and 65 years old. This further proves that Twitter's main appeal is to audiences that are a bit more mature.
Gender
In terms of gender distribution, Twitter is more popular among male users than females. According to a 2019 report from DataReportal, about 66% of Twitter's global user base is male and only about 34% is female. This puts the male to female ratio of Twitter roughly two to one.
However, despite the obvious disparity in gender statistics, it is important to note that women tend to interact more with brands on social media than men do.
User distribution by country
Twitter was launched in the US, so, understandably, the platform's largest user base will be from the country. However, Twitter is gaining rapid popularity in other countries of the world as well. In recent years, Twitter has been growing more rapidly in the International market than it is growing locally in the United States.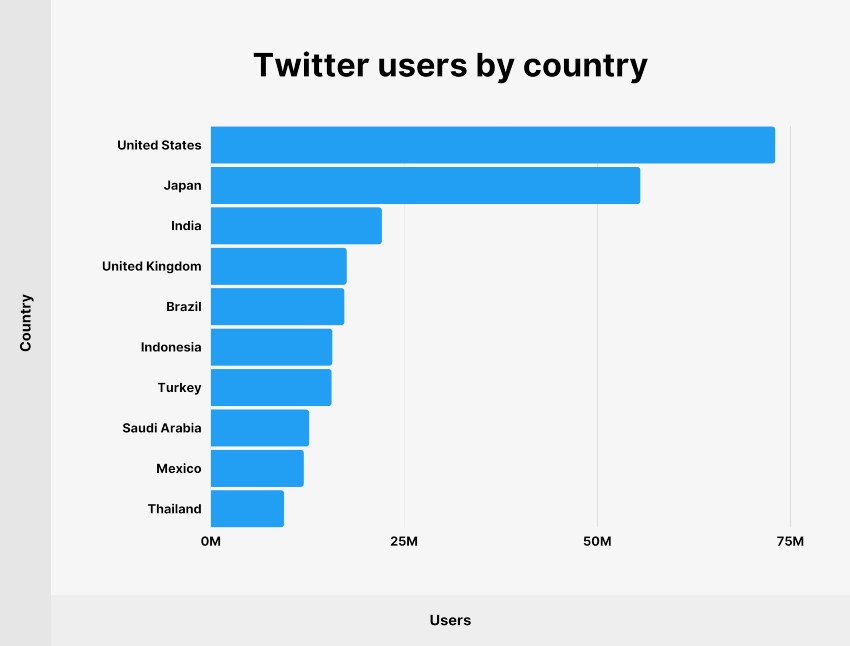 Twitter's growth in Japan, India, and other Asian countries has been the most rapid. The population of Twitter users in Japan and India combined is now larger than the United States audience. Countries like the United Kingdom, Brazil, Turkey, Indonesia, Saudi Arabia, and Mexico have a user base of over 10 million each.
Twitter's popularity has been growing steadily in Europe as well. The platform's German audience grew by about 30% in the fourth quarter of 2020. This is the largest user base increase of all Twitter markets all over the world.
Why do people use Twitter?
Twitter has a variety of uses including entertainment, staying in touch with friends, and following corporate accounts. But the platform's most predominant usage is for getting the news. Twitter's usage as a news sourcing platform has been on the rise in recent times and is one of the major reasons people make use of it.
According to data from Reuters, up to 17% of Americans get their news from Twitter. Similarly, 12% of the app's global uses say they use Twitter as a news source. This shows that the app is behind Facebook, YouTube, and WhatsApp as a news source globally.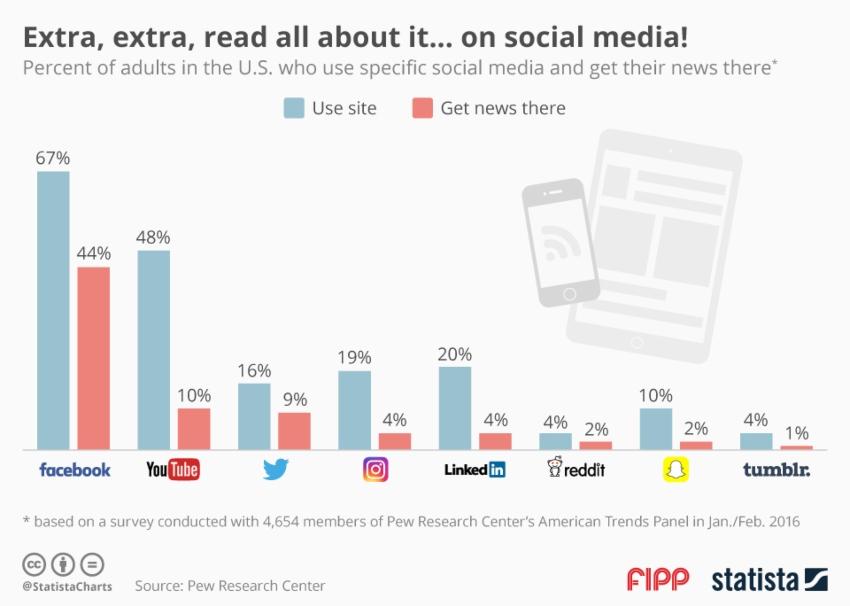 Nearly a quarter of all the verified accounts on Twitter as of 2015 were journalists owing to its popularity as a medium for communicating breaking news. News on Twitter is delivered in a bite-sized form which encourages quick consumption.
However, this also results in a relatively short time spent on the platform. According to Statista, the average time spent on Twitter by users tweeting, retweeting, and liking tweets is about 3.39 minutes per session. This is a relatively short time compared to the average session time of other social media platforms.
Twitter and Politics Statistics
A lot of political conversations take place on Twitter with many political leaders and country governments using Twitter as a medium of communication with their citizens. One of the most followed accounts on Twitter is that of Barack Obama with 130.4 million followers. The former president of the United States, President Donald Trump used to be an avid Twitter user before he was permanently suspended from the platform in January 2021.
Statistics show that in the United States, there are more democrats than republicans using the Twitter app. Of the total population of U.S. adults who make use of Twitter, about 65% are Democrats or lean Democratic while only about 33% are Republicans or lean Republican.
Twitter for Business Statistics
In an early 2021 survey conducted on social media platforms usage by business-to-business and business-to-customer marketers worldwide by Statista, up to 54% of responding B2B and 46% responding B2C social media marketers said that they used Twitter to market their businesses.
The stat is even higher for organic content marketing. Up 82% of B2B content marketers say that they use Twitter for organic content marketing. This puts Twitter on par with Facebook and closely behind LinkedIn for organic content marketing.
More than just a medium for advertising to a large user base, social media platforms, and Twitter, in particular, has made it easier for brands to interact personally with their customers and grow a brand-to-consumer relationship in a multi-directional manner.
More than just having a handle on Twitter for their customer to follow, a lot of brands actively interact and engage with users on this platform. Doing this holds a lot of potential benefits for the brand. According to one survey, 77 percent of Twitter users say that they have a much better impression of brands that respond to tweets than those that do not. Also, six out of ten Twitter users said they expect a brand to respond to consumer inquiries within one hour.
Your Twitter marketing efforts hold huge dividends as well. According to one survey from the Digital Marketing Institute in 2019, four out of ten Twitter users stated that they carried out a purchase after coming across a product or brand on the platform. This goes to show how influential Twitter can be on consumer purchase habits.
Twitter is also valuable as a customer service tool. Currently, up to 19% of retail banks have a separate Twitter handle to respond to customer service requests in addition to their main account. This allows them to respond faster and more efficiently to incoming requests compared to those who do not have a handle.
Twitter Advertising Statistics
Advertising on Twitter is one of the most effective ways to increase your reach to your target audience. According to Hootsuite Digital 2020 report, Your Twitter ads can reach 5.8% of the world population over age 13. While this is not the largest reach of all social media networks, it is still a substantial number especially if you target the right niche.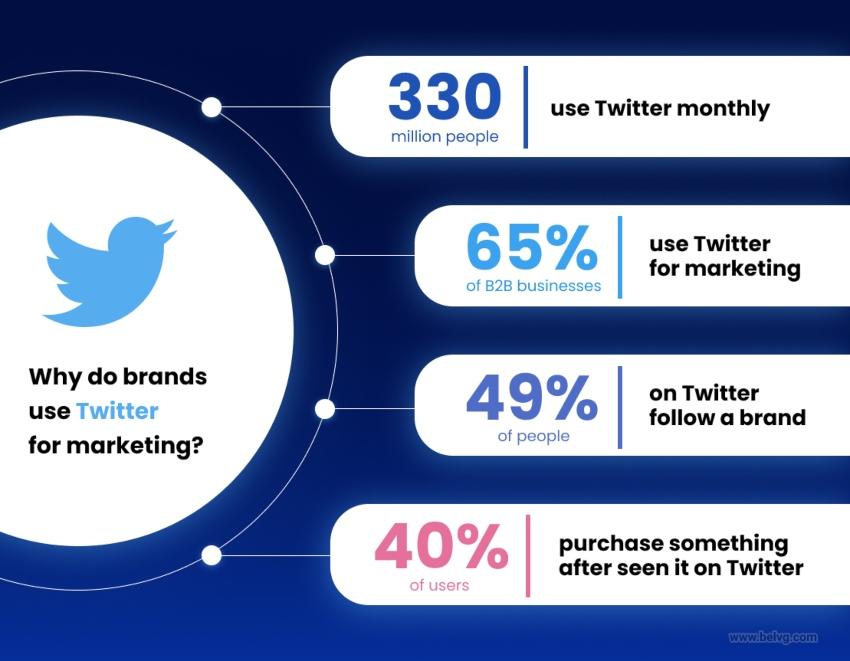 To tap into Twitter's fairly enormous user base, advertisers spent as much as $1.14 billion on Twitter ads based on company data from the third quarter of 2021. This represents an increase of 41% year over the previous year. Most of this advertising income originated from the USA, followed closely by Japan.
Businesses placing their ads on Twitter can also boast of better results. According to a 2020 third-quarter report, users have been increasingly engaging with Twitter ads with ad engagement up to 27%. By the third quarter of 2021, Twitter's ad engagement grew by six percent over the previous year. Twitter also revealed that the cost per engagement for each ad placed reduced by up to 9%. This price decrease is noticeable for most ad formats including the recently launched Twitter website carousel ads which saw an average 15% increase in Click Through Rate over single-asset ads
Twitter Hashtag Statistics
If you want to expand your reach on social media platforms, one of the most efficient ways to do so is by leveraging hashtags. On Twitter, an average of 125 million hashtags are tweeted daily. However, to know the best hashtag strategy to employ, you must be familiar with some of the statistics relating to hashtag usage.
When posting on Twitter, adding hashtags to tweets can help boost your tweet engagements by 50% for a brand and as much as 100% for individual tweets with the chances of getting a retweet standing at 55% more than tweets without a hashtag.
However, when using hashtags, there's an optimal amount to use for the best result. Unlike Instagram where you can use as much as 30 hashtags, using too many hashtags on Twitter can actually reduce engagement. Generally, you should keep the number of hashtags on your tweets to about one or two. Using more than two hashtags has been shown to reduce engagement by 17%.
Also, it has been discovered that using hashtags on paid ads is counter-effective. According to a Twitter survey, ads without hashtags or mentions were found to generate 23%more clicks than those with hashtags.
In all, if you want to get the best results from using hashtags, you should learn how to research and find relevant hashtags that resonate best with the online behavior of your target audience.
Twitter by the Money
Since its launch in 2006, the Twitter company has continued to grow both in numbers of users and in the company's value. At the time of its first funding round in 2007, Twitter was valued at $220,000. The company's valuation grew over the next decade with its value reaching over $9.25 billion by 2011.
By the time the company held its IPO in 2013, it was valued at $14.2 billion. As of January 2021, the company had attained a market cap of over $46 billion. The company's revenue is generated through advertisement and data licensing. Twitter generated $1.053 billion in advertising revenue by Q2 of 2021 and $137 million through data licensing and other revenue sources. The company currently employs about 5,500 employees with an average income of. $121,000 according to PayScale.
Conclusion
From these Twitter statistics, it is obvious that Twitter is undoubtedly one of the most prominent social media sites that every business should consider tapping into. Leveraging Twitter for digital marketing, advertisement, and customer service should be part of your brand strategy. With close to 400 million registered users and over 200 million daily active users, there is a huge pool of consumers you can tap into for free or for a small fee to grow your business and increase your brand awareness.