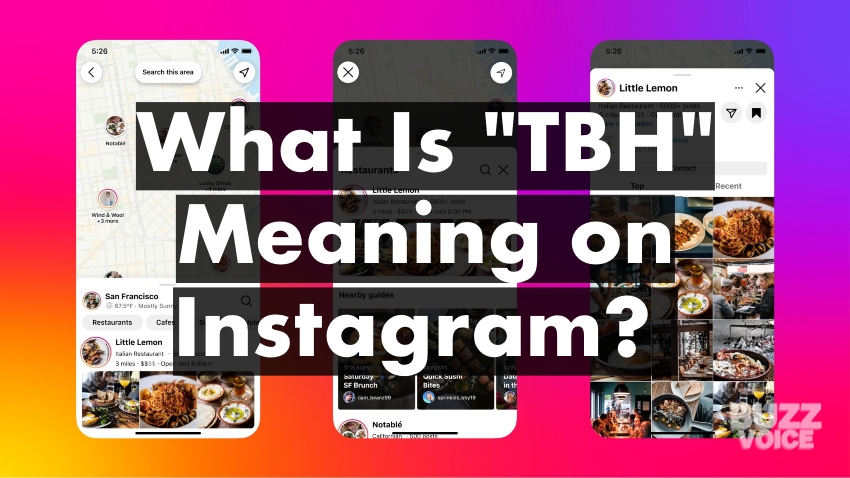 When we talk about abbreviations, you should know that there are a ton of them online, such as TBH, and most people use and invent new ones daily. This is done to help them reply quicker and get on working with whatever task they were working on before replying.
The phenomenon is apparent in this society that's so busy and has so much going on that it's hard for us to take time out to think about what we're saying or how we're saying it. That's why we use these shortcuts to help us say what we want in record time.
However, there are some that are quite not realistic or that don't really need to be said in a short way whatsoever. In this article, we will show you what's the meaning of TBH, a few other great abbreviations, and some that don't make the most sense, so stay tuned.
What Does TBH Mean?
If you're wondering what TBH means, then you've come to the right place. This is where you'll find out everything you ever wanted to know about the abbreviation TBH.
So, what does TBH stand for? Well, it stands for "To Be Honest." And that's exactly what it means. If someone says they want to be honest with you, then they are telling you that they will be honest with you.
So, how do you say this in text messages? Well, you just type "Tbh" and then whatever comes after it. Let's take a look at an example.
Let's say your friend tells you that she wants to go shopping today. She might write something like this:
"Hey, can I borrow $20? I'm going shopping today."
You would reply back with:
"Sure, no problem. I have $50. Can you buy me lunch too?"
Now, you don't need to ask her if she needs money. All you need to do is tell her that you have $50 and then ask her if she wants to get lunch together.
But, if you don't have any money, then you should be honest with her. So, you could respond back with the following:
"TBH, no, sorry. I don't have that much money. I only have a tenner or $10.
Another example is when TBH was used on social media such as Facebook to get a rate from their friends. It would go like this first you give an honest opinion about the one that posted it, then rate them as a person, and finally if you'd date them or not.
What are Online Acronyms?
An acronym is a word made up of the first letters of another word. For example, if I tell you, "I'm hungry," then you can understand that I am hungry because you know that I am talking about food. However, if I told you "I'm H" instead, then you would have no idea what I was talking about.
The same thing goes for acronyms. They are words made up of the first letter of each word in the phrase. So, if I told you that I had been studying all day, then you could understand that I had studied all day because you know that I had been studying. You wouldn't know anything about my hunger unless I explained it to you.
This is why we use online acronyms. We use them to save time by using only one word to mean something else. It also helps us to communicate more efficiently.
There are many different types of online acronyms. Some are very common, while others are used less often.
The following are some of the most popular:
TMI – Too Much Information
OMG – Oh My God!
LOL – Laughing Out Loud
BTW – By the Way
FYI – For Your Info
FYM – Friends With Benefits
FWM – Friends With Men
FWB – Friends With Boys
FFS – Forgetful Friend Syndrome
TLDR – Too Long Didn't Read
SMH – Shaking My Head
ROTFLMAO – Rolling On The Floor Laughing My Ass Off
RT – Retweeted
TMY – Time Management
TTYL – Talk To You Later
The following are some of the most exciting abbreviations:
TTIP – Text Talk Interesting Person
TTFN – Talk To You Next Week
TTH – Talking To Himself
TIA – Thanks In Advance
TTR – Take That Route
TBD – To Be Determined
TBL – Thank You But No Love
TBM – Thank You But Maybe
TBS – Thank You But Seriously
TDS – Tired Down Sunday
TDW – Today Was Weird
TBH – To Be Honest
TMW – Too Much Work
TK – Tell Me More
TKS – Thank You Kindly
The following are some abbreviations that don't make the most sense but I've seen them used online:
TKR – Thank You Really
TKD – Thank You Deeply
TKP – Thank You Pretty Please
TKU – Thank You Very Much
TKW – Thank You Without Worry
TKX – Thank You XOXO
TJ – That Just Happened
TJW – That Just Won't Stop
TJP – That Just Pisses Me Off
TJQ – That Just Quiets Me Down
TJU – That Just Unsettles Me
TJW – There's A Winner
TJX – That Just Exists
TJZ – That Just Zaps Me
TJE – That Just Enrages Me
TJW – There's A Winner
TJX – There's An Exit
TAU – There's An Upsetter
TJQ – There's A Quieter
TWQ – Three-Way Quiet
These are some commonly used acronyms when texting on Instagram or other social media. But that's enough; let's talk about what TBH means.
How Do People Use TBH?
People use TBH all over the world. They use it in their daily lives, as well as in their relationships. It's one of those words that people use every day without even thinking about it.
People use it in their personal life, as well as in business. They use it in different situations, such as when they are talking to friends, family members, coworkers, clients, etc.
Here are some examples of how people use TBH:
1) When Someone Asks For Money
When someone asks you for money, you can simply reply back with "Tbh," followed by your reasoning of whether you're going to give that money or not.
2) When Someone Says They Need Help With Something
When someone asks you to help them with something, you can simply reply with "Tbh" and explain why you aren't able to help them.
3) When Someone Needs To Know The Truth
When someone asks you a question, but you don't really know the answer, you can simply reply "Tbh" and tell them that you don't know the answer.
4) When You Don't Want To Talk About Something
Sometimes, we don't want to talk about certain topics. We may feel embarrassed or ashamed, so we don't want to discuss these topics. In this case, you can simply reply to someone with "Tbh" and say that you don't want to talk to them about that topic.
5) When Someone Tells You What To Do
Sometimes, people tell us what to do. They tell us what to wear, what to eat, and what to think. However, sometimes, we don't want advice from others. In this situation, you can simply reply by saying "Tbh" and state that you don't want anyone giving you advice.
Closing Thoughts
In conclusion, there are many ways to use TBH in our everyday lives. Whether you're talking to friends, family, colleagues, or clients, you can always use TBH to show that you're being honest and straightforward.
So, next time you're having a conversation, try using TBH instead of lying. It'll make everything easier for both parties involved.
FAQ or Frequently Asked Questions
Q: How old does a person have to be before they can use TBH?
A: There isn't an age limit on using TBH. Anyone can use it at any time.
Q: Why do people use TBH?
​A: People use TBH because they want to be truthful and upfront with other people. They also use it because they don't want to lie to other people.
Q: Can I use TBH in my relationship?
A: Yes, you can use TBH in your relationship. If you're in a relationship, you can use TBh whenever you need to be honest with your partner.
Q: Does TBH mean anything else besides telling the truth?
A: No, TBH doesn't mean anything else besides telling another person the truth.
Q: How do I respond if someone says "TBH" to me?
A: If someone says "TBH" to you, you should simply smile and nod your head. This way, you let them know that you understand what they said.