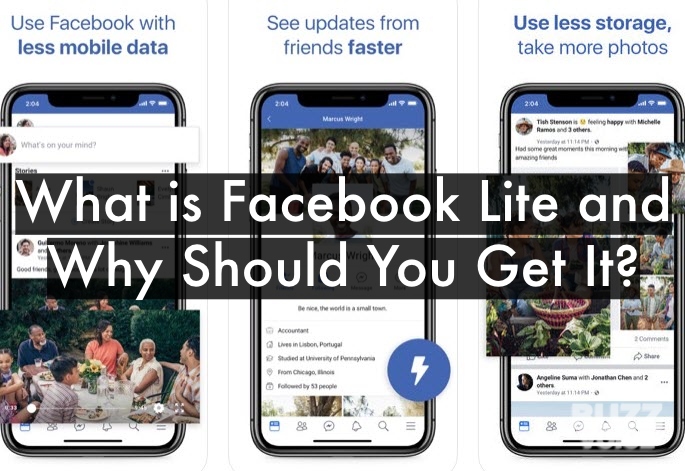 It can be super annoying having very little space on your mobile device. It's even more annoying when you try to free up space, and you'd have to delete an app because it's taking up so much space, especially when it's your favorite application. You might even begin to wish that the app takes less space but still works as well. Thankfully, this is what Facebook has done with the Facebook lite.
Facebook Lite is a version of Facebook available on the Google Play Store for Android users and the Apple store for iOS users. One unique thing about this app is that it doesn't occupy much space, yet it still functions pretty well.
Some people confuse Facebook lite and the regular Facebook app for themselves. If you're one of these people or want to learn more about the lite version of the app, this article is for you. We will teach you top essential things to know about this minimalist but effective app and how to use it. Read on for more information.
What is Facebook lite?
You can liken the Facebook lite app to a more improved and faster version of the standard Facebook app. It has most of the features you would find on a regular Facebook app. It helps you stay connected with your loved ones and friends. Like the regular all, it is a platform to share your thoughts and ideas and meet new people. However, it comes with some added benefits, which includes the following:
It still works even if you don't have good internet connectivity
If you constantly struggle with poor connectivity on the regular app, the lite version would be best for you. Facebook is on its way to improving user experience and meeting customer demand by breaking any barriers that could hinder you from using the app as much as you want. And that includes poor connectivity.
It's a waste of time and can be so annoying waiting for a stable network or moving to a place with a better network to use social media. Thankfully though, the lite version of Facebook solves this problem by making it possible to access your socials even with poor network reception.
You can kiss lack of storage space goodbye
Yes, Facebook lite offers you so much quality for so little space. The app size is roughly 1.5MB which is pretty impressive compared to the standard Facebook app. This app is excellent for people who have minimal storage space. Now you have no excuse not to keep in touch with your friends.
Compared with the standard Facebook app, the lite version consumes less space. This is also why the Facebook lite works faster.
How to download and install the application
As mentioned earlier, the Facebook lite app is available for installation on both Android and iOS devices. It is available in over 100 countries for download on Google play store and iOS devices. You need to navigate to the search icon and look for the Facebook lite app. After that, you can follow all the instructions on the screen to install the app successfully. Now you can start connecting with other people!
If you already have a Facebook app and want to switch to the lite version, you don't have to open a new account. All you need to do is type in your login details and password and continue using the account you opened. It's that simple!
But is the Facebook lite app safe?
Of course, it is. The lite version is as safe as the standard app. You can read through the app's privacy policy if you have any doubts. If you're also a private person, you can choose to change the settings on the app to one that suits what you would like.
For instance, if you don't want your contacts to discover you and you'd like to go low-key on the app, you can change this in the settings feature of the app. This app can also manage your audio settings, phone settings, storage, and location.
Facebook vs. Facebook lite- which one is best for you?
Comparing the features of both apps, they both have their cons and perks. Here are some of the features of both apps
1. Data usage
The Facebook lite app works well on even the slowest internet connections, such as 2G, making it more desirable if you live in a place with inferior internet connectivity.
The regular app will not work and might be slower when the connection is poor. If you also want to cut costs of spending on data, the Facebook lite app is best because it uses less data, which is more beneficial in terms of price.
2. Storage space
If you have a truckload of space on your phone, it might not bother you very much to see that an app is taking a lot of space on the device. However, with limited space comes putting thought in the RAM an application occupies on your phone. If this is you, no offense, you should opt for Facebook lite.
3. Professionalism
If you intend to use Facebook for more professional reasons like for business or work, the regular Facebook app might be best suited for your situation. This is because it supports buying, selling, and creating more content.
4. User interface
The standard Facebook app is more colorful and attractive than the lite version. However, this is arguable. You can compare both apps to see which one you like best.
Conclusion
Now that you've read the entirety of this article, it is time to choose. Think about all your needs and prioritize. Also, consider your phone's storage and location to determine whether you should use the Facebook lite version or not.
In summary, if your internet connection is poor, and you have insufficient storage space or both, then Facebook lite it is!