We all know the importance of first impressions. It's crucial to get off on the right foot because starting off right is a lot easier than fixing things on the go. Your Instagram bio is a great tool for making an excellent first impression because it's usually the first thing people look at when they view your profile. It's quite essential and helpful to have a neat and cool bio. However, definitely not everyone has the ideas and the knowledge on what to say and what not to say in your bio. In this short guide, we'll give an overview of Instagram bio ideas that you can use to make your profile stand out in the right way!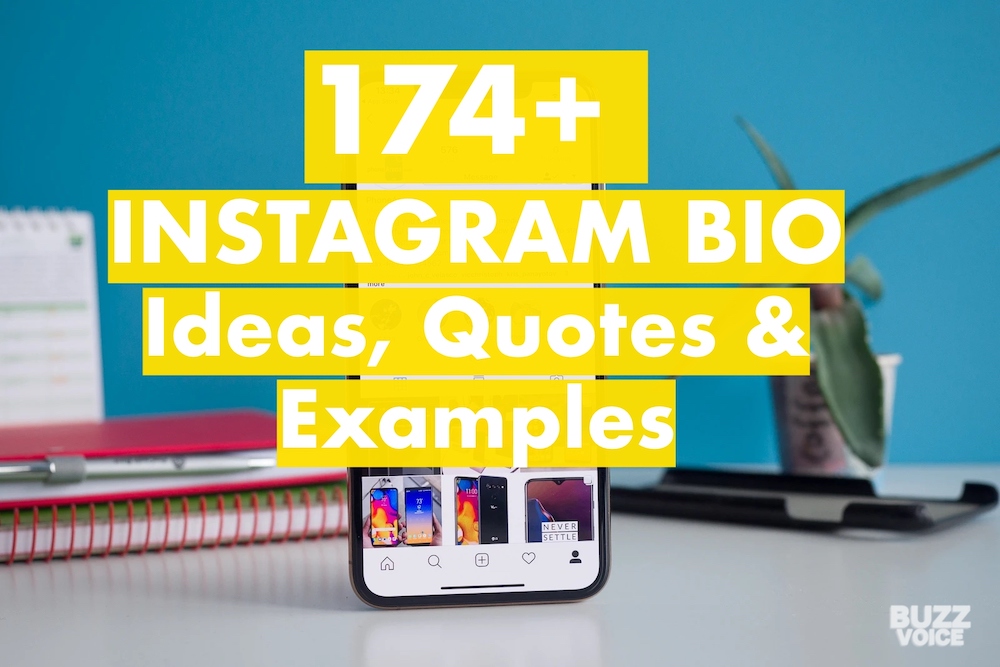 174+ Instagram Bio Examples List
---
Hipster Instagram bio ideas
💰You must spend money to make money💰
"In the end, we only regret the chances we didn't take, relationship we are afraid to have, and the decisions we waited too long to make" – Levis Carroll
If you never try you'll never know
You were born to build📈
🌟Day dreamer, night thinker🌟
Ordinary life does not interest me😎
Smile and enemies will hate it but true friends will always love it.😊
People keep thinking i care. weirdos…⁉️
🔒Don't let anyone steal your dreams🔒
Don't want to. Won't have to. Not gonna.
Best Instagram bio ideas for girls
My standards are high just like my heels.👠
Never do the same mistake twice. unless he's hot.💃🏾
"Cinderella never asked for a prince. All she asked was for a new dress and a good evening out."
He offered me the world, sadly I already have one.
"I only want one thing of men, and that is, that they should leave me alone."
I'm a queen with or without you.
I want world peace.. oh, and bigger boobs.
Turned my dreams into my vision and my vision into my reality.
Sometimes it's the princess who kills the dragon and saves the prince.👀
🔥Harder to get
harder to forget.🔥
Love quotes for instagram bio
"Give me a little bit of affection. just a little bit.."
"Never give up on something that you can't go a day without thinking about"
"Three words. Eight letters. Say it and I'm yours."
"All that you are is all that I'll ever need."
"We are most alive when we're in love"❤️
"Love is friendship that has caught fire"
"You know you're in love when you can't fall asleep because reality is finally better than your dreams"
"We accept the love we think we deserve"
"Being deeply loved by someone gives you strength, while loving someone deeply gives you courage."
"Love is that condition in which the happiness of another person is essential to your own."
"Love is like the wind, you can't see it but you can feel it."
Sassy quotes for Instagram bio
"first i drink the coffee.
then i do the things."
"To live is rarest thing in the world. Most people just exist"
"Don't say I'm sorry when you have nothing to apologize for."
"Remember the guy who gave up? Yeah, neither does anyone else."
"When you're backed against the wall, break the goddamn thing down."
"She was right. Karma was a bi**h, but so was I."
"Treat me like a joke and I'll leave you like it's funny"
"Now, if you'll excuse me, I'm going to go get drunk enough to make you all seem interesting."
"Welcome to a place of trouble"🚩
"If I were some people. I'd mind my own business!"
"I call my writing style 'Short-Attention-Span Stand-Up.' Or SASSU for short. Sassy."
Inspirational quotes for Instagram bio
"Be a warrior, not a worrier."
"Be the change that you wish to see in the world"🖼
"No one can make you feel inferior without your consent"
"Live as if you were to die tomorrow. Learn as if you were to live forever"♾
"We are all in the gutter, but some of us are looking at the stars."⭐️
"Fairy tales are more than true: not because they tell us that dragons exist, but because they tell us that dragons can be beaten."
"Yesterday is history, tomorrow is a mystery, today is a gift of God, which is why we call it the present."🎁
"There is no greater agony than bearing an untold story inside you."
"Everything you can imagine is real."
"Life isn't about finding yourself. Life is about creating yourself."
"Do what you can, with what you have, where you are."
Swag Instagram bio ideas
You can't have everything. Where would you put it?
Even if you had instructions, you still couldn't handle me
"Seek respect not attention. it last longer."
I'm not addicted, I'm committed.🤞🏻
You always have a choice.😉
I'm like 102% amazing.🙃
😈Calling for my demons to let me go😈
"I don't get lucky. I make my own luck."
"Sorry. I can't hear you over the sound of how awesome i am."
"Understanding is an art. Not everyone is an artist."
Best Instagram bio ideas for guys
We don't have to fear anything except fear itself
Responsibilities are what kills the fun of adulthood.
Success is in my veins.
Not overthinking
Silence is the best response when you're dealing with an idiot.
Winners focus on winning, losers focus on winners.
Sleeping with my demons.
You win some, you lose some.
Just say yikes and move on
I got a mind full of unsaid things
Short quotes for Instagram bio
Livin' a little
This is me
Meet (name)
Wine + dinner = winner.🎯
Bruh 👀
Hey now👋🏻
Follow me😛
True story📖
This is my world 🌎
🌼 Creatures 🌼
Best Instagram bio to get followers
Thank you, come again!👋🏻
Follow for follow
Click the follow button to be part of my journey🛤
Be sure to hit that follow button 😉
Follow me to see what's next
Click the follow button. Trust me.
You can follow my journey for free
Thanks for following me!
Wanna know my story? Press that follow button.
That follow button is the key to a journey with me🔑
Funny Instagram bio examples
We're all going to hell 🙂
Oh, and yes i am driving the bus.
Actually i'm not that funny. I'm just really mean but people always think I'm joking.🤷
"Everything in my life has something to do with coffee."
if eating cake is wrong than i don't want to be right..
If you love something, set it free. Well unless it's a tiger.
"When I get sad, I stop being sad and be awesome instead. True story."😎
"I don't like it when people take food off of my plate, okay!?"😤
Huh.. didn't see that coming.
What must it be like not to be crippled by fear and self-loathing?
I wish I could, but i don't want to
"Because the more I drink, the less there is for the kids to drink."🧐
Cool quotes for Instagram bio
"I wear my cool on the inside; that's why my hands are always so cold."
"Secrets…are the very root of cool."🤫
"Be yourself because an original is always worth more than a copy"
"Whether you choose right or left, or left than right. You have a choice, so choose the right one."
"A clever person solves a problem. A wise person avoids it."
"Always take the scenic route."
"How your life feels is more important than how it looks."
"Better an oops than a what if.."
"Being cool is being your own self, not doing something that someone else is telling you to do."
"Be young, be dope, be proud."🌙
🎵"I can never know how far I'll go, I am just in love with the feeling of losing control"🎵
Cute Instagram bio ideas
"Be brave, be kind, be you."
"I was never looking for trouble. I was only following the sound"
We were together so I forget the rest.💕
Live in the sunshine where you belong.
My life is not everyone's cup of tea.
I'm here so i can spread happiness🎈
I'm wearing the smile you gave me😊
Try to be a rainbow in someone's cloud.🌈
✨Add a little sparkle to your everyday.✨
Cause' I'm a dreamer and you are the dream.🦋
My feelings don't make sense
Cool Instagram bio ideas with emoji
Enjoying my ☕️
Welcome to my 👑dom
I'm good at 💸🛍
🐶 lover ❤️
Livin' in my own 🌎
It's time for 🍷
Catching ✈️, not feelings
🌟Don't let anyone steal your dreams🌟
🆘 I'm surrounded by 🤡 🆘
general life update; hungry again🍕🍟🍔
Edgy quotes for Instagram bio
"Risky business, damn it. Being human."
"Until the sky rolls back like a scroll, I have failed nothing."
"Lazy people are always anxious to be doing something."
"Constantly torn between 'if it's meant to be it will be' and 'if you want it go and get it'."
" I wish there wasn't so much hate in my heart. "
"Maybe i've always been more comfortable in chaos."
"More people would learn from their mistakes if they weren't so busy denying them."
"When life gives you lemons throw them back."
"Real eyes realize real lies."
"People have maybe, sometimes, said that I can, occasionally, be a teeny bit edgy and judgemental." 🤔
Instagram bio catch phrases
"Eyes never lie."
"Enjoy the little things."
"As free as the ocean"
"It's showtime!"🎪
Hey you guys!🤩
"Holy moly" 👀
"I know kung fu"👊🏼
"I'll be back"🔜
"Why so serious?" 🤷
"You Talkin' To Me?"
Instagram bio ideas for business
Official home of (brand name) on Instagram
❗️Follow us to get more offers❗️
👇Link below👇
We work hard for you❤️
Visit our website to see even more 👀
Contact us for more info. We're happy to help🥰
Thanks for your support
What you think matters! Give us feedback😉
Good websites to put in your Instagram bio
What to put in your bio?
Let's begin by focusing on what's worthy of your bio. The things you say here can resonate with your current and potential audiences. It's crucial to pick out the right words and phrases. It may sound difficult, but if you know the drill – it's really not. Without further delay, here are a few good Instagram bio ideas:
Harmless & funny quotes
Whether it's from your own life, from a movie, a book, a blog or anywhere else, a wise or telling quote is one of the most popular things one can put in their bio. A popular one is from Phoebe Buffay, a character from the legendary sitcom F.R.I.E.N.D.S – "The more I drink, the less there is for the kids to drink". Another one for those who love being slightly introverted is "I don't go outside because I'm allergic to pollen and social situations.".
In general, you can have fun with it and try to make other people crack a smile.
Links & CTA's
Bio links and Call to action buttons are beneficial when you want to boost sales and/or promote a product, video, etc.
If people trust your personal image or your brand (or find it interesting, at least), they'll likely click the link to find out more. Maybe this isn't the most impressive thing to put in your personal bio (unless you're a content creator), but for businesses and influencers, this works really well.
---
How to put clickable link in Instagram bio?
If you want to add a clickable link to your Instagram bio, all you need to do is click on the 'Edit profile' button, which is visible when you're looking at your own profile.
Once clicked, look at the third line from the top which will read 'Website'. In there, type or paste the link which you wish to add. Once you've done typing, click 'Done' at the top-right and that's it! Now, you've successfully added a clickable link to your profile. Make sure you don't leave any gaps in the link or misspell it, otherwise it won't work.
If your Instagram link isn't working, here are a few ways in which you can try to fix it:
Check your link for type-o's. If you made a mistake in the domain or the extension, it will definitely not work.
Make sure that the website with the link isn't down.
A few emojis to help with reading
When you want your bio to have meaning, and send a message, it's highly likely that you will put more than a few words in it. This also creates a problem because it becomes difficult to read. After all, formatting options are limited.
Try to space your text and limit yourselves to a certain number of characters. Put an emoji after every point to help with reading. Don't make points too long. Try to keep each one about the same length.
Here is the copy-paste list of most popular emojis to use on Instagram bio:
🥺 Pleading Face
❤ Red Heart
😂 Face with Tears of Joy
🔥 Fire
🥰 Smiling Face with Hearts
✨ Sparkles
😊 Smiling Face with Smiling Eyes
✔ Check Mark
😍 Smiling Face with Heart-Eyes
You can find more emojis on https://getemoji.com
Accolades & Achievements
It's good to remind yourselves what you've achieved. Over time, even mighty accomplishments can start to look less interesting. However, if you show others that you've done something nice and/or something you are proud of, it sends a strong message about you as a person and your values.
Here are a couple examples by @insane_lukas and @neilpatel: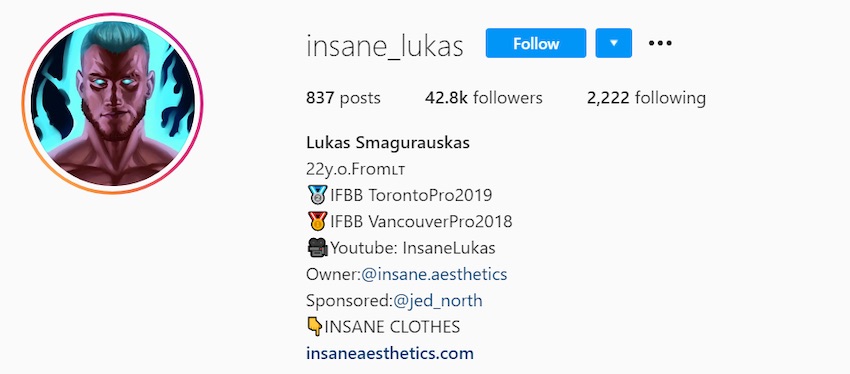 Just make sure that they are at least a teeny bit exclusive. Of course, you can go a different route and take a humorous approach by saying something like "The 3rd best burger chef in the house" or "Globally renowned inventor of excuses", etc.
Cryptic messages

Here you can see the Instagram bio of Canada's best known export – Drake. He is known for putting up cryptic messages and sending out subliminal shots to his rivals, peers, friends and other people in his inner circle via his lyrics. However, Aubrey Graham (real name of Drake) also enjoys the hype behind his secret messages. His Instagram bio is often changed before a song or an album is released. Just before the debut of his album "Views" he changed his bio to say just "Views".
It stood like this for a few months and people were wondering what's going to happen. Hype, debate, conspiracies and other attention just increased the sales of the future album.
@Champagnepapi and other entertainment figures do it best. But you can too. Of course, artists and people who mingle in the circles with those artists are the best and sending subliminal messages. It's their profession. Whether it's one word, a verse from the Holy Bible, an emoji, a motive from a song, a link or anything else, cryptic messages do get audiences riled up (in a good way). Try to curb it for yourself.
Contact info – a must for businesses and influencers
Don't forget to include your contact info in the bio. It's best to show your email, phone number and a link to your website as well.

What to avoid in Instagram bio?
Whether it's hurting your relationships, business prospects or chances of a career, some things in your Instagram bio are just not a good look. It's not to say that some of the items listed here aren't important in our lives. On the contrary, they might be vital to our society, but it's much more beneficial in the long run to keep things simple. Others, however, have no place in our society, not even mentioning social media. So, here's what to avoid in a bio:
Strong political allegiances

It's essential to vote and to be politically active. However, if you're not a politician or a political candidate, putting your allegiances in your bio just adds negative attention. Yes, this might be appreciated by people who share your views, but you never know where and when this could backfire. On a job interview, the person hiring you could have opposing views, and this could likely persuade them to make a biased decision on not hiring you.
The same goes for influencing and business activities online. You should try to reach as many people. You can have your ideals and ideas without harming your chances for career and success in business. Strong political ties usually harm those, so it's best to avoid them.
Bigotry, racism, etc.
There shouldn't be an explanation necessary why racism is wrong. It is a criminal offence, and you shouldn't tolerate it.

Bigotry can be funny on occasion, you can't deny that. However, there's a place for it – stand-up comedy, entertainment shows, etc. You shouldn't be posting it on social media, even as a joke. People tend to take things personally on Instagram, and you risk angering a particular social group. Don't get us wrong, we are not encouraging bigotry. We're merely saying that people can make fun of it and that your Instagram bio is not the right place for it.
Babbling & rambling (<150 characters)
Your Instagram bio should be under 150 characters. This is considered to be an optimal length for an Instagram bio. Whether you're looking for ideas for business or personal profiles, keeping it short is probably the best piece of advice anyone can give you.

Tasteless and senseless use of emojis

In one episode of SpongeBob SquarePants, Patrick and SpongeBob find curses and swears, written on a dumpster. They debate on what exactly these words mean and settle on an idea that they're intended to liven up the sentence, spice it up so to speak. Patrick and SpongeBob end up overusing them and hilariously frightening the inhabitants of Bikini Bottom in the process.
Emojis do the very same thing. They're meant to help avoid monotony and liven up the text. However, if you're using too much of them, it becomes no fun and quite annoying, actually. Limit yourself to a few emojis, tops. Even if you want to brag about visiting all of those countries and putting flags in your bio, don't. Use three emojis at most for your bio or one per every bullet point.
Grammar mistakes
Its not that dificcullt too avoid mistkakes (Mistakes intended).

Seriously, though, your bio is sort of like your personal ad. If you couldn't care so much as to proof-read your own ad, it shows that you're either sloppy or don't care about your appearance at all. These are not desirable traits for an individual or an influencer.
Leaving grammar mistakes in a bio of a business page is even worse because it will result in a loss of confidence from the customer, almost guaranteed to take away a potential sale.
There are also strange ways that some people type. NFL star quarterback Cam Newton is a prime example.
Alright, maybe he can pull it off because he is a celebrity athlete. Still, you should show your creativity with regular words, from the regular alphabet. Once you also become famous, you can begin to play your own tune!
Too many keywords
SEO optimisation is important. However, too many keywords in your Instagram bio is actually bad for business and clients. Use a few to help people find you through Google but other than that, in such a small space, too many keywords are a buzzkill.
Links to spammy sites
Even if they offer to pay you, it's better to avoid putting links to spammy websites in your bio. Also when you're a beginner influencer, instead of using a cash-grab option of doing whatever business comes to you, prefer to do a lesser amount of higher-quality collabs. Low-quality links tend to hurt the influencer and the person who put the link in their bio more than the website owner.
People will stop trusting your content and opinion because you've misled them, and tricked them into cheap or scam websites.
FAQ
How to center Instagram bio?
If you want a cooler-looking Instagram bio that has centered text, here is how you do it.
Copy the spaces that are inside brackets, and don't copy the brackets themselves: |⠀⠀⠀⠀⠀⠀⠀⠀⠀|
Side note: You can also copy spaces from any other app or text editor on your phone.
Navigate to your profile and click 'Edit profile'.
Click on your bio
Paste the spaces you have copied in every line and enter your text.
You can do this with every line or with every word that you wish to appear in the centre. However, your work isn't entirely done yet. After confirming your changes, navigate over to the profile to check whether everything is in place. If a few words or a whole line is off, adjust it by adding or deleting spaces according to your needs.
How to put spaces in your Instagram bio?
There are a few ways of adding spaces in your Instagram bio to make it look cooler. The first option is to copy the spaces from the previous FAQ point or to copy them from a third-party text editor app on your phone.
The easy, but not as-good-looking method is to do line breaking with symbols. So a line-break will have a stop, a comma or any other punctuation point, but will provide line breaking as well.
What is the limit of characters for an Instagram bio?
Your Instagram bio can only contain no more than 150 characters.
How to change the font in your Instagram bio?
If you want to have a more distinctive, and unique Instagram profile, you might be looking into changing the font of your Instagram bio. You can do that by going to https://igfonts.io or any other site that offers similar services and insert your bio text. The tool will automatically generate tens or even hundreds of different font variants that you can choose from.
Once you find one that you like, copy and paste it in your bio to change the font!
How to get public figure status on Instagram?
The simplest way to get a public figure status for your profile on Instagram is this.
Go to your profile and select the settings menu
In the settings menu, click to 'Switch to Business Profile'
Complete the setup and link the page to your Facebook page

You don't even need a page that's already created, you can setup one right here
Create a page in the 'People' category and select the 'Public Figure' subcategory

After you complete this small procedure, your profile should proudly state that you are a 'Public Figure'.
How to add a Whatsapp link to your Instagram bio?
If you want to add a Whatsapp link in your Instagram bio, here are the steps you need to follow:
Find out your phone number
Paste in the link with the wa.me extension
So, for example, if your phone number is 1 987 654 321
Your link should be https://wa.me/1987654321
Exclude any "+" or "00" signs from the phone number, otherwise it won't work.
How to add a location on your Instagram bio?
Adding a location is a feature that is exclusive to Business profiles on Instagram. So, if you desperately want to add the location, but you own a private profile, you have to switch to business. Otherwise you can only type it in your bio which will not make it clickable, and leave it looking the same as other text.
If you have already converted your account, click the 'Edit Profile' button. Then, select 'Contact Options' and there, press on the 'Business address' and select the location which you desire to see displayed. You're going to need the street address, the name of the town/city and your ZIP code.
After finishing, click done and save your changes. Voila, you should now have a location in your Insta bio.
How to make a bullet list in your Instagram bio?
You can either do a regular bullet list or create bullets from various emojis. All you need to do is go to your 'Notes' app or any other application that allows you to input text and type in the bio text. Then add emojis or regular bullet points at the beginning of every line to turn your Instagram bio into a bullet list.
Here is bullet list template for copy-pasting to your bio:
Pro tip: You can simply use different emojis as a bullet-list for more appealing look.
How do you get an arrow in your Instagram bio?
You can add in the arrow symbol via 'Notes' or any other, similar app. Copy your bio to the notes and add the arrow where you'd like to see it. Copy the finished notes, with the arrow and paste it in your bio. That's it!
Here is the list of commonly used arrow symbols: ↑↓→←↔↕↨▲▼►◄