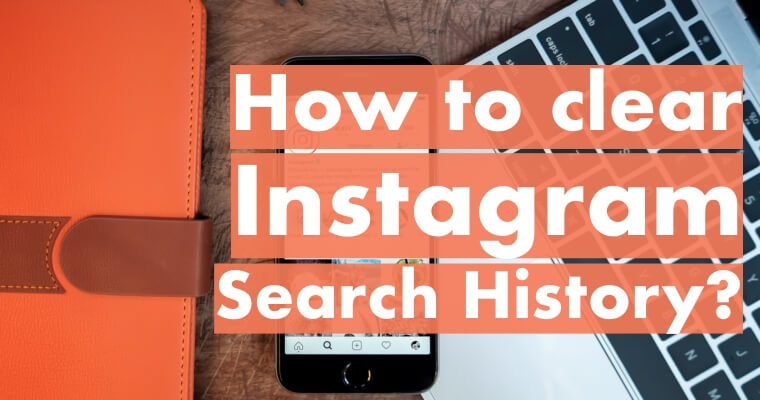 If you're tired of seeing someone's Instagram account name in your search bar or if you don't want someone else to accidentally find out who you have been checking out, this is the right place to come. We will provide you with information about how to clear your Instagram search history. It really isn't a difficult process and you can choose one of two options.
Clearing search history – option #1
Open the Instagram app on your device
Click the 'Explore' icon at the bottom menu
Scroll slightly down to see your most recent searches
Find the account, hashtag or location which you want to delete from your search history
Click the 'X' next to the search which you want to remove
And that is it! This way, you can remove individual searches one by one or eliminate all traces of your most recent stalking ventures really quickly.
With that being said, it's not the only method for doing so.
Clearing search history – option #2
Open the Instagram app on your device
Navigate to your profile tap and click the three-stripes icon at the top right
Click on Settings.
In this next screen, look for 'Security' and click on it.

Find 'Clear search history' and tap that

You can manually delete individual searches by clicking the 'X' icon or press the 'Clear All' button at the top-right to erase every single search history item.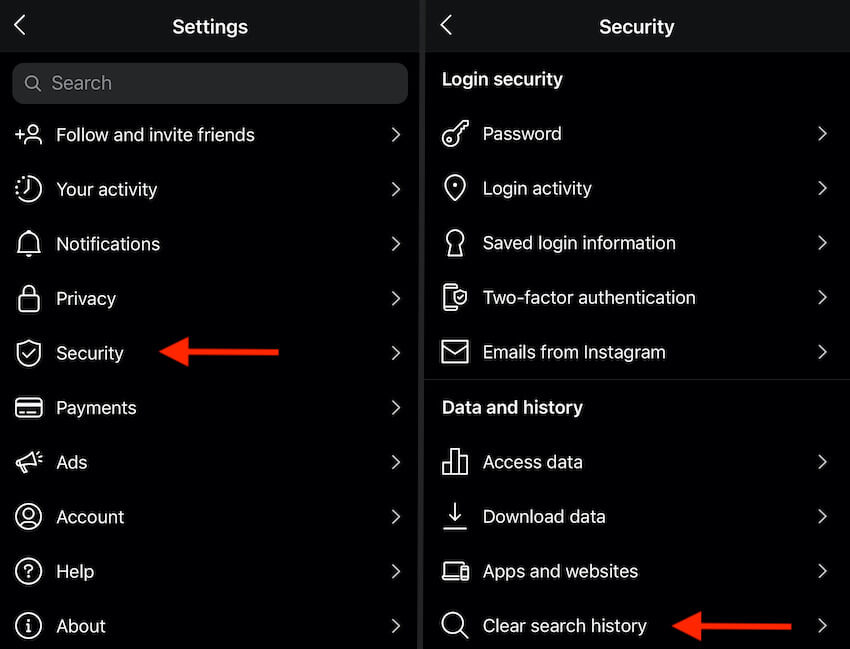 And with that – you should be done!
Clearing search history – option #3
Finally, there is also a way to delete your search history from a browser or your desktop device. Since option #1 and option #2 are done via the app respectively, we feel like you should also know about the third option on deleting search history from your PC or browser.
Visit Instagram.com on your browser
Click on your profile tab and select 'Settings' from the dropdown menu
In the next screen, focus on the left-hand side menu and click on Privacy and Security

Once in there, scroll a bit down and find 'Account data'. Click on the blue highlighted text that says 'View Account Data'

Find the part labelled Account Activity or use CTRL+F (find function) to locate 'Search History'. Click 'View All' – the blue highlighted text just below 'Search History'.

Click 'Clear Search History' to delete your search history

That's pretty much it! You have three options when you want to delete your search history. One is available on your desktop or browser while 2 more are accessible via the Instagram mobile app.
FAQ
How can I view deleted Instagram search history?
Unfortunately, there is no way to look at your Instagram history after you have deleted it. With that being said, your past searches do influence the search results you see. This means that when you type in anything into the search, the algorithm will offer auto-suggestions based on your previous search history.
After I clear my search history, some names of users that I have searched for before, are still there. How can I get rid of this?
This is a really strange situation but it does to tend to happen for Android devices very rarely. In this case, maybe you deleted the search history items individually, and failed to recognise that one? Try to clear all of your history and if that does not help, clear your cache and app data. If that doesn't work either, try and delete and reinstall the Instagram app. It should be gone by then.
How can I delete my Instagram history on a MAC computer?
Look at option #3. Removing search history on Mac computers through browser work the same as deletion on PC's.
What to do when even after I delete my Instagram search history, the deleted item still appears as the top suggestion after I input the first letter even if I don't follow them?
Instagram algorithm does base its suggestions from your activity on the app. Even if you don't follow someone but you do interact with their content or check them out frequently, there is a high chance that they will appear in the suggestions list.
How to unblock a particular Instagram account when I can't find them anymore after I cleared them from my search history?
Navigate to their profile by going to www.instagram.com/*insertUserName*
Or find them through the app, either via mutual connections or otherwise and click the 'Unblock' button.