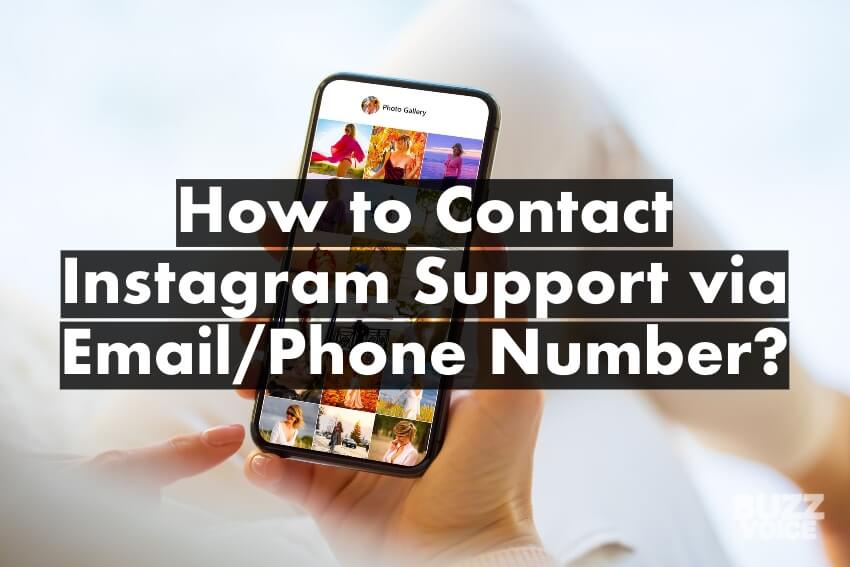 Have you ever tried to contact the Instagram support line? If not, then you should try now. There are lots of issues that could occur via apps such as Instagram that require immediate attention from Instagram customer service.
Instagram has become one of the biggest social media platforms worldwide. Millions of people now use it daily for posting pictures, interacting with their friends, and keeping track of the latest trends. Although it started out as a photo-sharing platform, today, you can also use Instagram to promote your business or even sell stuff, and that's why sometimes it's crucial to contact the support line.
Contacting customer service at a company can seem daunting, especially if you don't understand the whole concept behind the service. For example, Instagram offers two ways to contact customer care – either through their number or email. If you're looking for help regarding an issue with your account, then contacting them directly through the number is probably a better fit for you.
If you want to get in touch with the Instagram team, you need to know how to do so. You'll find this article helpful because we've explained everything about contacting Instagram customer service. We have listed all the possible methods you can use to reach the support team.
Can you Easily Get in Contact with the Instagram Support Line?
Well, Instagram has over 2 billion users, so you can imagine the number of questions that they get each day. It's not that easy to operate such a large company even if you have the best support lines that exist. Simply because the sheer amount of volume that they get is quite big.
That being said, there are still some things that you can do to make sure that you get in touch with the right person. The first thing that you need to do is check whether you can easily get in touch with the support team. This means that you need to be able to access the phone numbers or emails of the customer service representatives.
You might think that you can't get in touch with them, but you actually can. All you need to do is follow these steps:
1) The first step is to go to Instagram.com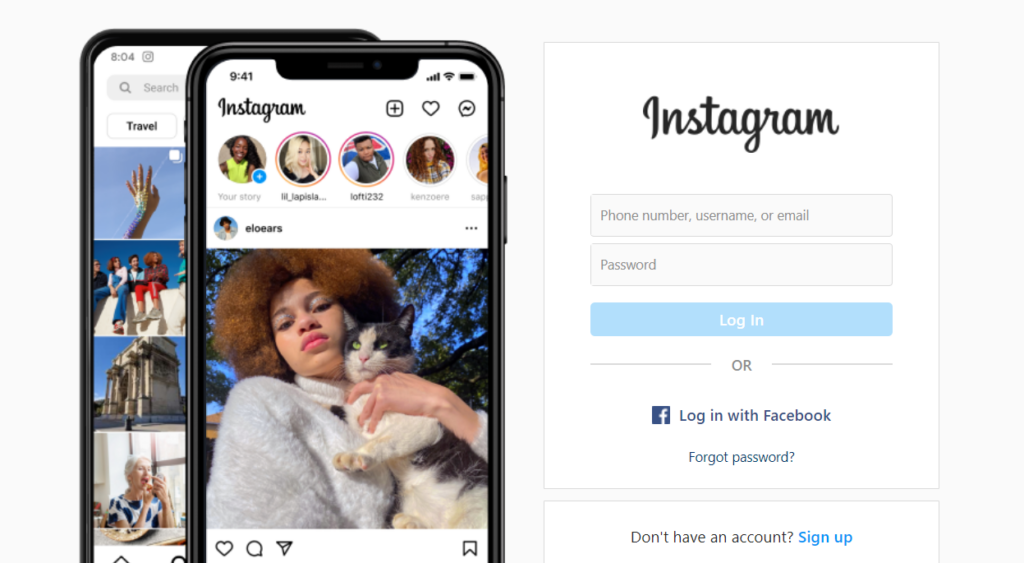 2) Then, you need to navigate to the bottom and click on the "Help" button.

3) Click on the "Privacy, Security and Reporting" tab from the left side menu.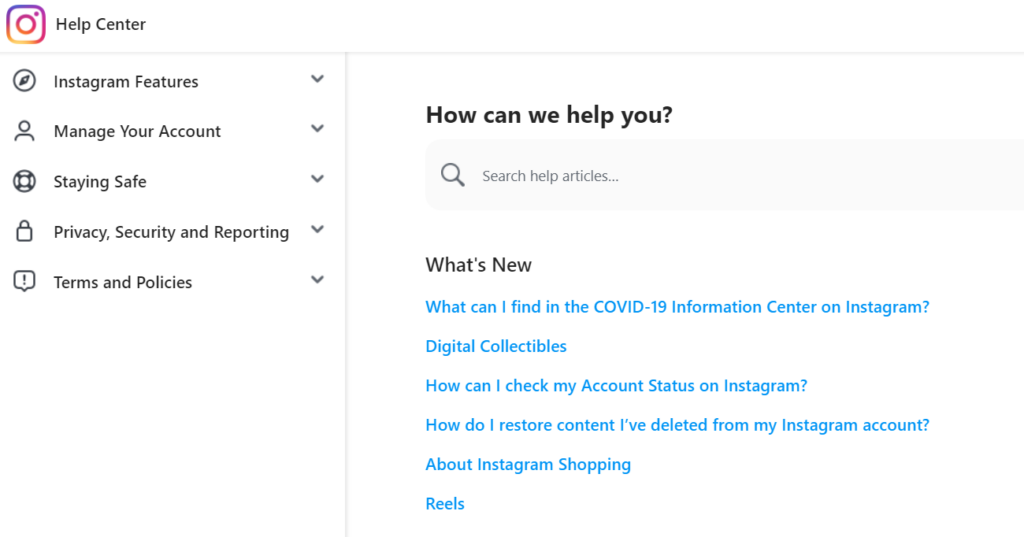 4) Then, on the search bar, enter "Report a Problem" and search it.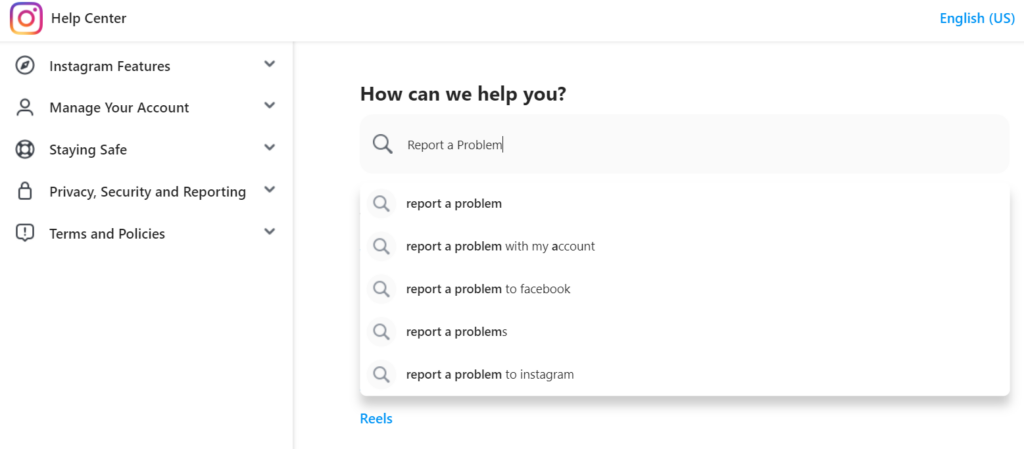 5) If you have a technical problem, click on the first link that pops up there you'll find all sorts of information you're going to need to contact Instagram officials.
How to Report Technical Issues with Instagram
The next method that you can use to contact Instagram is by using the official app. If you're having problems with the app itself, then you can always report those issues to the developers. However, if you're experiencing something more serious, like losing data or getting banned, then you should definitely contact the support team.
To report any kind of technical issue, you need to follow the steps below.
How to report a Technical Issue with Instagram on iPhones:
Step 1: Click on the profile picture that's on the bottom right of your screen to go to the profile.
Step 2: Then, you need to click on the three lines on the top right side. From there, select the Settings choice out of all the available options.
Step 3: Tap on the "Help" button and then click "Report a Problem."
Then all you need to do is to follow the on-screen instructions to finalize the report of said technical issue. Remember that the faster you report an issue from the moment it has happened, the better it is, and it helps Instagram understand the problem better.
The process is the same whether you're on an Android Device, Mobile Browser, or Desktop Browser.
How to Check the Status of a Report You've Submitted?
If you've submitted a report for a certain issue, then you can check its status at any time. Just follow these simple steps:
Step 1: Go to your account's personal profile by clicking on the icon located on the bottom right of the screen.
Step 2: From there, click on the three lines on the top right of your screen. Then select the "Settings" option from the drop-down menu.
Step 3: Scroll down until you see the "Help" button and click it.
Step 4: There, you will see "Support Requests" click on the "Reports" tab.
Step 5: You're going to see a list of the report requests you've made. Click on the report you want to see the status of. You have to remember, though, that not every report request you've made is viewable in this section.
How to Contact Instagram Support as an Influencer
We all know that being an influencer is not that easy and especially in today's day and age. That's because you're going to get attacked a lot more because your account is much more valuable. If an account with, let's say, 100k followers gets attacked is much more detrimental than an account with 1k.
We all remember what happened a few years ago when some of the most major Twitter verified accounts got hacked. The hackers released messages and pictures that inquired the public audience to send Bitcoin to certain wallets, and they will get 2X back. They made millions in a matter of seconds, and the evildoers were never apprehended.
On top of that, it's going to ruin your reputation because not everyone knows that you've been hacked, and they may think you've just scammed your fan base. That's why Instagram has other channels of communicating with influencers that are faster and more direct.
Most of the time, big-time celebrities have someone on the inside that works at Instagram or that's in close proximity to help them resolve these issues. Even if your email has been stolen and they've changed your passwords, that way, you can still contact someone working for Instagram and reinstates everything.
The thing you have to do later is to let your audience know that it wasn't you and that you were hacked, but that's all; no need to worry more. It's definitively beneficial to make friends, especially ones that work for Instagram, if you're an influencer.
How to Contact Instagram Directly Through their Number and E-Mail?
You might be wondering how to contact Instagram directly through their number and e-mail. Well, we don't recommend doing so unless you really need to. We suggest contacting them via their official website and channels instead.
That's because the best way to reach out to them is to use their official website. This is where you'll find all the information about their terms and conditions, policies, and even how to file a complaint.
If you're looking for a quick resolution, then you should try calling their customer service line. Their phone numbers are listed on their website. However, if you're looking for a quicker response, then you should go ahead and write them an e-mail as well.
That's because they usually respond within 24 hours. But again, we don't recommend using their e-mail and phone lines unless you really need to because there's a high chance that they won't answer your questions.
Here are the official Instagram Contact Number and E-Mail:
Number – 650-543-4800
E-Mail – [email protected]
As I've said numerous times in this article, make sure to contact these support channels only if there's a real emergency and you can't find a solution through their help page.
I Think My Instagram Has Been Hacked. What can I do?
Instagram is one of the biggest social media platforms in the world right now. And it's also one of the easiest ways to grow your business. You can easily gain thousands of new fans every single month.
But like any other platform, there are always risks involved. One of those risks is hacking. Hackers are constantly trying to steal people's personal data and accounts.
And unfortunately, some of them succeed. So what can you do when you discover that your account has been hacked?
Well, first of all, you should check if you've been hacked by visiting your profile settings. If you see anything suspicious, report it immediately.
Next, you should change your password. Make sure that it's strong enough and that you haven't used the same password anywhere else.
Then, you should remove any suspicious apps from your device. These could be apps that are not owned by you. They may also be fake apps that are designed to look similar to yours.
Now, if you think that your account has been compromised, you should call Instagram support. They're available 24/7, and they can help you with everything related to your account.
If you're Locked out of your Account, Request a Login Link from Instagram.
To help Instagram confirm that you're indeed the owner of the account, you need to verify it by logging in to your account via a special link that's sent to the email account that's linked with the account. That's one of the best ways to prove your identity in case of emergencies like this one.
So, what are the steps you need to take in order to get this special login link? Follow the steps below carefully, and you'll find out exactly what you need to do.
The steps you need to take in order to request a login link:
First, you need to open the Instagram app and if you're on an Android device, click on the "Get Help Logging In" button, if you're on an iPhone, you need to click the "Forgot Password" button.
Enter the user name, email address, or telephone number associated with your account. Then click next.
If you're on the web application, you need to complete the captcha verification to confirm that you are indeed a human and not a bot programmed to steal your account.
Then you need to select either your email address or the phone number as a way to continue the recovery process.
Finally, you just need to click on the link, and you'll be logged in to your account. From there you can change the password and take the necessary precautions to make sure that this is never going to happen again.
That's it; now you know how to act when your account has been hacked into and what steps you need to take in order to get back access.
Closing Thoughts
Instagram is one of the biggest social media platforms out there, and it's definitely worth investing in. You can easily earn money from it by creating content and sharing it with your fans. However, you're going to run into problems once in a while, and if the problem is big enough, you may even have to resort to having to contact the Instagram support team.
If you have any questions or suggestions about this article, don't hesitate to leave a reply in the comment section below. We're more than ready to help you out with whatever issue you may be having with the platform.
FAQ or Frequently Asked Questions
Q: Can I contact Instagram Support via Phone?
A: Yes, you can call their support team at any time. Just dial +1 650 543 4800.
Q: Do I need to pay anything to contact Instagram Support?
A: No, you don't need to pay anything to talk to the support team. All you need to do is provide some basic details like your username, email address, and phone number.
Q: What happens if my account gets suspended?
A: Your account will be temporarily disabled until you fix the issue. If you keep getting suspended, then you should probably look into fixing the issue before trying to contact the support team again.
Q: How long does it take to get reinstated after being suspended?
A: It depends on the reason behind the suspension. Some people get reinstated immediately, whereas others have to wait for weeks.
Q: How do I report spam comments?
A: To report spam comments, simply click on the "report" button next to each comment.