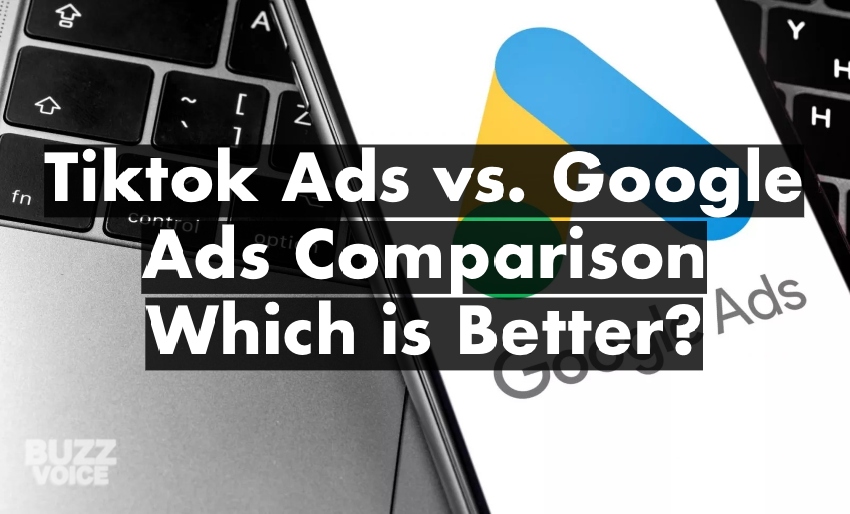 Updated on July 31, 2023
When it comes to generating revenue from video ads, has TikTok Ads overpassed Google Ads? What makes it better? Should you start using them? Is it worth switching platforms?
Since 2016, TikTok has come out on top as the fastest-growing social media site – surpassing Facebook and Instagram. The popularity of TikTok apps is due to their unique algorithm that offers content on the For You Page. It is so good that sometimes it feels like they're reading your mind.
Personally, I was not a big fan of TikTok, and I used to waste time on Instagram Reels; however, when switching to TikTok, I understood immediately. It's not that it offers content based on the things you like; it also offers cool new interesting things to you on top of the ones you regularly like and engage with.
Google Ads has been around for ages, and its quality is proven on the market. However, there are some drawbacks in terms of performance and cost. This article will compare both services and see which one is better.
Let's continue the rest of the article to learn more about Tiktok ads vs. Google ads and which one is the champion.
TikTok Ads
The best thing about TikTok ads is that everyone can see them, and the distribution on the FYP or For You Page is large. You can browse the FYP, and then ads will be shown to relevant users. In addition, they are very easy to create and manage.
You can easily add an ad to your account through the dashboard or via the mobile app. Once added, you can edit it whenever you want. Creating ads on TikTok is straightforward, and there's no need to go over a guide or something similar. However, if that's something you need, don't hesitate to leave a comment below asking for it, and we will deliver.
Ads Targeting
To make sure that your ad reaches the right audience, you can target people based on age, gender, location, interests, and even device type. In addition, you can set up different budgets for each campaign. This way, you can control how much money you spend per day.
Unlike Google Ads, TikTok bets on users' interactions with the content instead of just promoting something to them. If you make the ad provocative or add a question that sparks interest, more people will interact with it.
We recommend you use services such as TikTok Likes, TikTok Followers, or TikTok Views, TikTok Shares, or TikTok Comments to help you with engagement .
TikTok CPM
One thing to keep in mind is that TikTok has a high CPM or cost per thousand impressions. It starts at around $10, which is a lot more than Google, which has a starting CPM of $3. This isn't necessarily bad; however, you need to organize your budget accordingly.
According to a study made a while back by Wuclick, TikTok ads leads have less intent on buying. The average CTR or Clickthrough Rate is a little below 1%, which is relatively low compared to other choices and providers in the market.
However, this doesn't mean that TikTok ads aren't effective. They are still able to generate revenue from the engagement rate. According to the same study, the average conversion rate is 0.4%. This means that for every 100 clicks, four people will buy.
This is impressive, considering the average CTR is only 1%. So, if you're looking for a cheap option, TikTok might be worth checking out.
Advantages
Easy to Create and Manage
Targeting Options
Budget Management
Higher Interactions with the Content
Targets Mainly a Younger Audience
Cheap Option Overall
Disadvantages
High CPM Starts at $10
Low CTR at 1%
Conversion Rates Low
Google Ads
Google Ads is probably the most popular service available today. Google first started as a search engine, but now it offers many other options in the marketing area, such as display advertising, video advertising, and social media marketing.
It also allows you to target specific audiences based on demographics, locations, devices, and interests. There are several ways to reach those audiences, including text ads, image ads, videos, and interactive ads.
The main difference between Google Ads and TikTok is that Google Ads focuses on targeting the user rather than the content. While TikTok targets the content itself. Also, Google Ads offers various targeting methodologies, which are great.
When creating an ad on Google Ads, you'll first select what kind of ad you'd like to create. Then, you'll choose where you want to place it. Finally, you'll decide whether you want to run the ad on desktop or mobile.
Once you've created the ad, you can start promoting it. You can either promote it yourself or use a third-party company called AdWords. Overall if you're comparing the two platforms, Google is the King of the Internet. It has more searches than TikTok, so the audience is broader.
With that being said, a higher volume audience means there are more potential buyers in the market. If you edit your ad in a way that attracts that kind of audience, you're going to get some great conversion results. It's a matter of using the plethora of tools that Google has at its disposal for your benefit.
Advantages
Targeted Audiences
Great Targeting Options
It can Be Used For Other Marketing Channels
Great User Interface
Low CPM at 3$
Works Well with Local Searches
Wide Variety of Tools Available
Disadvantages
A bit pricier than TikTok
RequiresTechnical Skills to Use Efficiently
The User Interface it's a bit trickier than TikTok's
Are TikTok Ads Profitable?
If you're wondering if TikTok ads are profitable, then YES, they are. The reason why is because of the high interaction rates. With each click, you have a chance to convert into a sale.
In order to make money off of TikTok ads, you need to have a high engagement rate. The best way to do this is to create engaging content. Once you've done that, you should focus on increasing the number of views.
Closing Thoughts
So, we hope that this article helped you understand how to make the best decision when choosing between TikTok and Google Ads. We know that both services offer different advantages and disadvantages. However, we do believe that they both have their own merits. Make sure you choose accordingly and that your choice makes more sense in your use case instead.
If you have any questions or suggestions about the article, don't hesitate to leave a comment in the section down below. We'll do our best to answer promptly and be as helpful as we can.