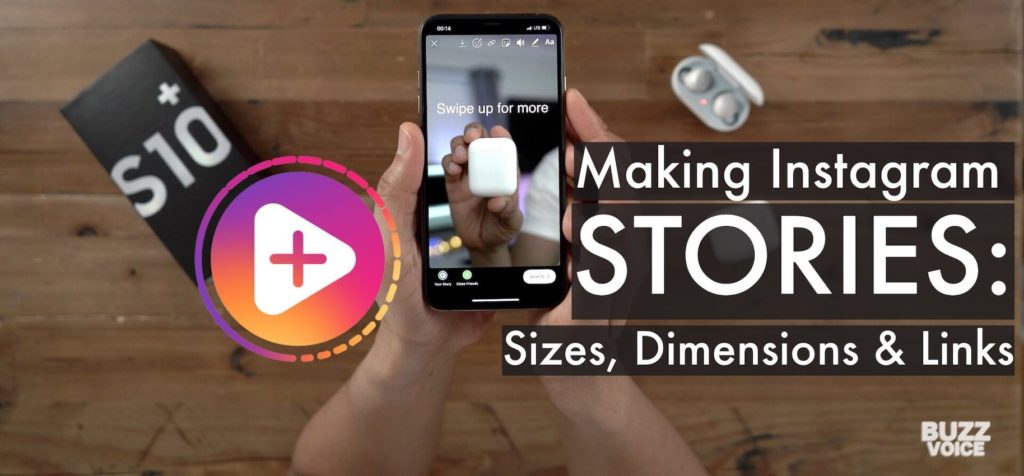 Instagram story is one of the most important and recognisable features the social media app has to offer. It's one of the defining elements, a cornerstone of the platform so to speak. Regular users, influencers, businesses, non-profits and every profile imaginable has dabbled with stories more or less. But making a good Instagram story is not an easy job. However, let us first focus our attention on the simple task of uploading and publishing any Instagram story. Here is a step-by-step guide on uploading a pic or video to an Instagram story (spoiler: it's actually super simple):
Making stories via the app
1. Open your Instagram app and go to the home screen
2. At the top, where you have the story feed, click on your profile pic or the blue '+' sign
a. Alternatively, you can just scroll left from anywhere to open the camera
b. You can also click the camera icon at the top-left of your home screen to open the camera
3. In the camera screen, snap the picture or record the video
a. Alternatively, you can click on the bottom-left located icon to choose an image or a video from the camera roll
4. Edit the story by adding filters, stickers, drawings, text, etc. (optional)
5. Click the 'Your Story' or 'Close Friends' buttons at the bottom to make your stories visible to other people
Making stories via PC / Mac
There is also a way to upload stories from your PC. It's a bit trickier but not very difficult overall.
1. Open www.Instagram.com on your browser
2. Click the Right Mouse Button on a blank space on the screen to make a menu appear
3. Select 'Inspect'
Google Chrome/Microsoft Edge shortcut for 'Inspect Element' is – Ctrl + Shift + I, so you can press that to quickly breeze past the first three steps
4. Press Ctrl + Shift + M or select the 'Toggle Device Toolbar' option (highlighted in red in the image below) to change the look of the screen to resemble the one you have on your mobile app
5. Just refresh the page (shortcut for 'Refresh' is F5)
6. Click on the very same '+' or Camera icon at the top of the screen
7. Select the image or video which you want to upload by using Mac or Windows file explorer
8. Use the editing interface to scale, rotate, add filters and edit
9. Post it!
Close Friends for Stories
What is Close Friends for stories?
The term 'Close Friends' for Instagram is used to describe a select number of people that any Instagram user can hand-pick and publish stories which won't be seen by other people. So, for example, you have 100 followers. Still, you want only your closest friends or colleagues from work to see a particular story video. You add them to your 'Close Friends' list and upload your story for 'Close Friends' only. This way, only the people who are added to this list will see the image or video you posted.
It's great for sharing inside jokes, funny videos, hyping something up or even planning a surprise party for your friend.
How to add someone to Close Friends on Instagram?
Currently, there are two ways to add someone to Close Friends.
Method #1:
1. Open the Instagram app
2. Go to your profile page and click the three stripes at the top-right
3. Select 'Settings'
4. Click on 'Account'
5. Select 'Close Friends'
6. Search for people that you want to add to Close Friends by using the search bar or scroll below to find other followers in the 'Suggested' tab
You can only add people that follow you.
Method #2:
1. Open the Instagram app
2. Open the Instagram camera
3. Click the gear/settings icon at the top-left side of the screen
4. Click on the 'Close Friends' bar
5. Search for an account using the search bar or scroll below to find other followers in the 'Suggested' tab
Instagram stories formats, settings and restrictions
Instagram story format
Instagram stories also have quite strict standards for formatting, scaling, etc. Due to the billions of images and videos that are shared every day, you likely won't see 4K UHD HDR Instagram stories anytime soon. However, the current Instagram stories:
· Should follow the 9:16 aspect ratio or they will get scaled to fit this ratio
· Can be up to 1080px wide and up to 1920px tall
· 1080×1920 is also the most popular and optimal resolution as the stories might get a significant decrease in quality due to post-processing by Instagram itself. With lower-res images, details might be lost after this processing.
Instagram story editing and filters
Instagram stories can be edited just like regular posts. However, when it comes to filters, you have so much more variety than with regular posts. This plethora of filters alone allows making any story more unique than the most pimped out post.
When it comes to regular images or videos, you have the very same Instagram camera filters, you have the ability to:
· Add text
· Draw on screen
· Insert an icon
· Tag a location
· Mention someone
· Add a large hashtag sign
· Add a GIF
· Add a Donation bar
· Add Call to Action buttons (allow people to ask questions, make polls, start a challenge, initiate a countdown, rate, etc.)
Options are seemingly limitless, and it works just the same as with regular posts. However, the real magic is in the story filters, which are created by the community. Think of it as Snapchat Turbo with much more variety and much more straightforward use of filters. You literally have hundreds of thousands of unique filters that you can use. From ones that show Harry Potter's sorting hat which randomly shows which Hogwarts' house you'd be best off into those who add a beautiful glow to your skin.
If you're tired of scrolling through the filters, you can use a filter that someone else has created. Open their profile and look for the icon of a smiley face with sparkles. It's located above the post gallery. Once you click on it, you can see all of the filters that the user has created. You can immediately use these filters.
Instagram story duration
Instagram story is divided into sections. Each section has a fixed duration. Photos will be shown for 7 seconds, and video sections will not be longer than 15 seconds. If you try to make a longer video, it will be divided into many parts that are no more than 15 seconds long.
So, for example, if you make a video for your Instagram story that is 40 seconds long, you will get three separate story posts. Two that last 15 seconds and one which lasts 10 secs to a combined total of 40 seconds.
FAQ
How to stop certain people/accounts from seeing your stories?
You can use your 'Close Friends' to exclude certain people from watching your stories. However, if you want to stop stalkers or just not share particular moments with particular accounts, there are two routes that you can go:
Option #1:
1. Go to your profile and click on the three-striped icon at the top-right
2. Select 'Settings'
3. Press 'Privacy'
4. Click 'Story'
Alternatively to the first four steps, you can just open your Instagram story camera (swipe to the right / click on your profile pic on the home page / click on the camera icon on the top-left of the home screen) and click the gear icon on the top-left.
5. Press on the tab which says 'Hide story from'
6. Enter the username of the person which you don't want seeing your stories and live videos or select them from the scrollable list
7. Click 'Done' to approve your selection
This works best if you have more than one account in mind.
Option #2:
1. Go to the profile of the person or account from whom you wish to hide the stories
2. Click the three dots on the top-right
3. Select 'Hide Your Story'
This works better if you only want to restrict one or two accounts, especially stalkers or trolls.
There is also blocking, but that's an extreme measure compared to this.
Now you will know how to stop someone from seeing your Instagram stories.
How to have more people watch your stories?
If you want more people clicking and spending time watching your Instagram stories, you might need to add a little work. There are methods and tools that you can use to improve engagement rates and viewer numbers on Instagram stories.
The first and most obvious thing is to do something creative. If you upload a story that is unique and worth watching, people will share it, and you'll get more views. If it's only as exciting as watching paint dry, don't expect viewership numbers to trample the re-runs of F.R.I.E.N.D.S. It can be comedy, raising social awareness, challenges, etc. Doesn't really matter as long as it's original. You can use this guide we published, to get ideas for creative story videos.
Next up, you could try to add music to your story. Maybe all that you need is a good, well-known song or a pure head-banger to get people more interested in your content.
We strongly recommend picking only prime times for publishing both posts and stories. The schedule really depends on your audience, but you likely won't miss with 9AM, 1PM, 3PM, 7PM and 9PM uploads. Later or earlier uploads could have less engagement due to lesser overall activity.
Furthermore, if you do it for a good cause – for example, raise awareness on social issues, help out others or try to encourage people to help those in need, you can attract a lot more people to look at your stories and improve watch numbers.
Trick your audience by adding everyone to 'Close Friends'. They will likely feel special, noticed and should watch your story. Be careful as this has an effect which will burn out.
Next up – create your own filter. Spend some time with it to make it unique. Share a story, and more people could come to your profile to see your new creation.
Finally, you can also buy followers or automatic Instagram engagement from BuzzVoice. By improving the prestige of an account, everyone can attract more people via the algorithm or organically, just by appearing more popular.
How to know who watched your story?
Seeing who watched your stories is very simple. You can watch the viewer list for all stories that are currently available and up to 48 hours after they are posted. Here's how to do it:
1. Open the story post
2. Look at the bottom-left portion of the screen. It should say 'Seen by x' and show profile pics of users. Click on it.
3. Watch statistics of the viewership like the total amount of people who watched your story, who screenshotted, etc.
For stories that are no longer published but aren't more than 48 hours old:
1. Go to your profile
2. Click the three-striped icon in the top-right
3. Click 'Archive'
4. Find the story post
5. Click on it and swipe up the screen to see the list of viewers
How to know statistics about your Instagram story (saves, shares, etc.)?
If you want to know who screenshotted your Instagram story – it's too bad, but you can't. There used to be a stalker-proof method which highlighted the person who took the screenshot in the list of viewers but was removed and still not active as of Summer 2020. So, besides the total amount of viewers and reactions in your DM, you can't see much else on a personal profile.
Instagram Business accounts have slightly more insights about their stories.
By clicking on an active story, swiping up and selecting the chart icon, business profile owners can see the viewer list and interactions with the story. Furthermore, they can look at a whole lot of other juicy stats just by navigating to 'Insights' -> 'Stories' -> See All and filtering the desired info.
Information regarding how many users (their identities remain a secret) saved a photo or DM'd it is only available as part of insights, and exclusively to business profiles.
How to repost old stories on Instagram?
If you feel like sharing a past moment or a photo/video that was previously uploaded to your 'Stories', Instagram actually allows you to do that with ease. Any user can do this in 4 quick steps:
1. Open 'Archive' from 'Settings' in your profile page
2. Browse the stories which you want to share and click on them
3. Press the button 'Share' which is found at the bottom of the screen
4. Edit the post and share it with all of your followers or just your close friends
How to add a link to an Instagram story?
Adding links to Instagram stories is a fantastic business tool that offers more views, sales, conversions and other benefits to commercial accounts. However, Instagram imposes a few restrictions on adding those 'Swipe up' links to your stories. Your profile must meet two criteria before links can be added:
· The account has to have above 10 thousand followers (you can buy them here)
· The account has to be verified
Then, when these two criteria are fulfilled, users will see the 'Insert Link' option (an icon of a chain) when creating a story.
Otherwise, you could just type in the text in the story, but it won't be a clickable or an interactive link. You can also direct them to your bio by saying 'Link in bio', but in terms of efficiency, the latter two methods are way inferior to the former.
How to watch someone else's story on Instagram without them knowing?
There are a few tricks for those who wish to stalk or do social media espionage on the highest level. Unfortunately, Instagram will show the person who uploaded the story who has seen it, so remaining private or secretive is quite a challenge. There is no official way to watch someone else's story without them knowing, but you can utilise a few tricks that should work!
1. Open the next story from the one you wish to see without being identified
2. Immediately pause the story by pressing on the screen and swipe to the right about half-way
3. You can peek and see a part of the story without being added to the viewer list
4. DON'T swipe all the way because the story will start and your secret will come out'
This method has a considerable downside. You will only see a part of the image that is published. Or if it is a video, the end result is even more underwhelming because you will not be able to see anything much at all. Regardless, you can try it out.
There is yet another method, that is far more effective and far more popular.
1. Create a burner account
2. Follow the account you want to watch without being noticed
3. Open the stories with that account
How to screenshot an Instagram story without them knowing?
Besides the fact that screenshots of Instagram stories aren't highlighted; Instagram could reintroduce that feature later on. And what then? Well, we might have a solution for you which seemed to work in the past. This is how you screenshot IG stories without other users knowing:
1. Open the app (only doable via smartphone or other smart devices)
2. Wait for the story to load or manually load it by clicking on it
3. Open the settings and turn on airplane mode
4. Go back and take the screenshot
P.S. if you are on Android, you have to force close the application before turning off Airplane Mode. Albeit not needed, we still recommend doing the same on iOS.
How to use Instagram stories to promote something?
Instagram stories are one of the most effective tools for influencers and businesses on social media. We'll give 3 small tips on how to use Instagram stories for promotional purposes:
1. Add a 'Swipe up link' (10 thousand followers or verified status necessary)
2. Picture the promoted item or service in the story
3. Promote your stories via IG advertising