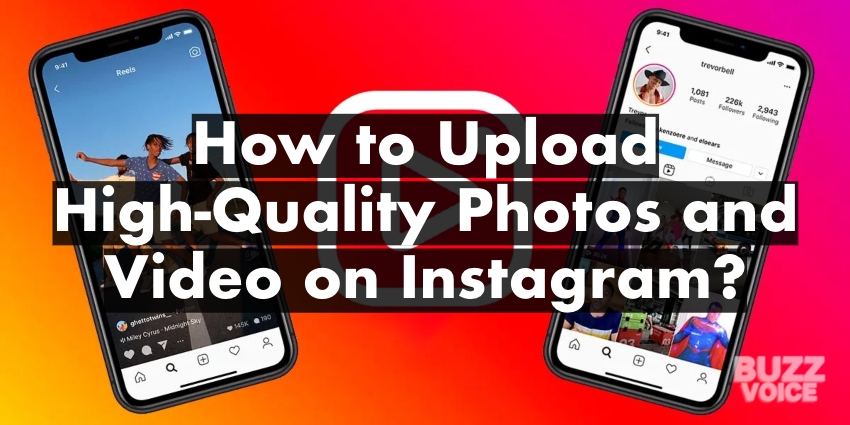 Instagram is about sharing and interacting with each other. When sharing, everyone makes sure to share the best photos, videos, and captions. So while dealing with this part, here are some tips on uploading high-quality content on Instagram. 
Pay attention and get ready to level up your Instagram account!
1. How to upload a high-quality photo on Instagram for iOS Users
It is compulsory to know how to take photos as well as knowing how to upload them with high quality on Instagram. Follow all the instructions below to get the most out of your photos.
Open the Instagram app, click on your profile icon and tap the three dashes on the top. Select settings, click "Account", after that click "Data Usage".
Activate the second option, which is "High-quality uploads". When you upload a photo or video, it will be of higher quality despite using Wireless connectivity or cellular.
2. How to upload high-quality posts on Instagram for Android Users
The process is approximately the same as explained to iOS users.
Open the Instagram app, click the profile icon, and then tap on the three dashes on the top. Select Settings from the list, then click "Account", and "Cellular Data Use".
Enable the "High Quality Media Upload". After activating it, you will upload higher quality videos on cellular, and WiFi.
3. Understand the Instagram posts guideline
Make sure to check out and follow the Instagram guidelines about uploading photos:
Use the latest version of the Instagram app. If not, update it from the apple store or play store.
Make sure to upload the photo with a max width of 1080 px and min width of 320 px. If the picture is more expansive than 1080 px, it will compress and lose quality.
The aspect ratio of the photo must be between 1.91:1 and 4:5.
4. Sharing by copying and pasting
Many people like copying and pasting different types of content on Instagram. It can be visual media or caption as well. You can easily copy and caption; however, visual media is not that easy. You can download the visual media, but you can also copy and paste it.
Clipboard on Instagram posts
If you are wondering how to see the clipboard when posting a photo on Instagram, take a look at the below steps.
1. Go to the website and copy the material you want. After you copy it, open the Instagram app
2. Click on the "+" icon in a square box and go to your photos gallery
3. Choose a full-quality photo you want to share, and click "Next."
4. You can choose or not a filter from the Instagram options if you want, and click again "Next."
5. You will see there "Write a caption", where you should tap and hold on to that part.
6. After doing so, you will see the "Clipboard", click on it, and see the content you already copied.
You can follow these steps if you are an iOS or Android user. Also, using clipboards on Instagram posts, you can copy visual media but not paste them.
Clipboard on Instagram stories
We mentioned above that you cant copy but not paste visual media from a clipboard on Instagram posts, but it is possible on Instagram stories. Take a look at the steps you should follow to find the clipboard on Instagram stories:
1. Go to the website and copy the material you want. After doing it, open the Instagram app.
2. Swipe right to get the camera, and click the gallery button on the left side of the bottom page.
3. Select the photo you want from the gallery, and click on the 'Aa" button on the right side of the upper page.
4. Tap and hold the text entry box, and you will see the "clipboard" from where you can choose to paste the material you copied.
5. Top editing apps for photos and videos.
If you want to take your Instagram photos and videos to another level, you should know some basic editing. Nowadays, everything is much easier; thanks to these editing apps, you can curate your Instagram profile will glow like you were a blogger.
Below we have listed some of the best editing apps which are easy to use and have a standard free version, but you can also upgrade to "premium" for more advanced features.
Best photo editing apps:
VSCO is an amazing photo editing app that offers about 20 free photo presets that you can directly use for your image. It has also included some basic editing tools, such as brightness, contrast, grain, etc.
It is very easy to use. After you edit your photo on VSCO, you can save it to your gallery and share it to your Instagram account. This VSCO app also has a paid version which costs about $20 and includes more than 200 photo presets, advanced editing, and some editing tips for the subscribed members.
You don't need to know photoshop if you want to erase some unnecessary people from your photo. You just need to download the Photoshop Express app, and edit your photos like a pro.
The free version of the app includes many editing tools such as enhancing, smart healing, retouching, themes, and many others. In comparison, the premium version has more advanced features such as multiple layers, selective editing, etc.
If you want to add to your photo not only effects but also some text, then this is the ideal app. Expect for texts; this app offers many templates which cover not only Instagram posts but also business cards, posters, covers, etc.
You can choose from the stock images it offers, different design elements, and also an animation tool to make your content more attractive. The free version allows you store up to 2GB of photos and videos. The paid version of the app offers a bigger storage size of 100Gb, more stock images, and more advanced features.
This app is a perfect tool to post your photos on the right Instagram size, whether a post, a story, a landscape, or other formats. The free version of Instasize includes many editing tools and different filters to choose from. At the same time, the paid version includes more advanced photo editing tools and filters, costing about $5 a month.
Best video editing apps:
Splice is one of the most uncomplicated video editing apps. It is easy to use and offers a free and paid version. The free version included many features such as speed effects, overlays, text, etc. The paid version included more advanced tools such as animation, captions, and sound.
After you upload the video you want to edit, you can choose from the formats: a reel or a square video. You can use it not only for Instagram but for other platforms since it has included all the format options.
This is an all-in-one app with many editing tools, such as adding overlays, text, transitions, splitting clips, effects, filters, and many others. It is entirely free, so you can use every feature.
You can use it not only for your personal videos but also for how-to videos, intro videos, marketing, promotion, or e-commerce videos.
The free option of this app features many editing tools such as text, filters, cropping, trimming, etc. The paid version includes more effects and transition options, and it is watermark free as well.
This app is perfect for beginners. You can use it to put photos or videos with a maximum of 30 seconds into a template and add whatever text you want on it. The paid version includes more stock images and brand assets; the maximum length is 60 seconds.
Our Final Thoughts
After reading all these tips on how to glow on Instagram, you are ready to do so. Start sharing quality captions, photos, videos, and more. With all these tips sharing through copying and pasting couldn't be more straightforward, and uploading high-quality images on Instagram and editing them like a pro couldn't be more accessible.
We can't wait to hear your thoughts about this article from you. Tell us which of these tips you liked the most, and you can't wait to put them into action.
Ready?! More than ever before.
FAQs (Frequently Asked Questions)
People also ask:
1. What is a clipboard on Instagram?
The clipboard is a space where you can see your copied posts or files from other platforms. You can directly paste them on Instagram from the clipboard.
2. How do you delete the clipboard?
Open the clipboard, tap on the "delete all" button on the right side, and your copied files will be deleted.
3. How to stop Instagram from reducing video quality?
Consider using HandBrake, a free software. Compress the video and keep its quality. The Instagram app doesn't reduce the quality of MP4 and MOV formats.
4. Can you upload 4K to Instagram?
No, you cant upload 4K to Instagram. On this app, you can only upload videos with a max resolution of 1080×1920 px.
5. What is the max resolution for Instagram?
The maximum resolution is 1080x 1080 px. for square Instagram videos.
6. What are the best photo editing apps?
Photoshop Express, VSCO, and Adobe lightroom are the best photo editing apps.
7. How to edit photos aesthetically?
You can edit them by using filters or presets. Focus on details, and optimize the size. Extra Tip: Apply the same preset or filter to all the photos you post on Instagram to make the profile look aesthetic.