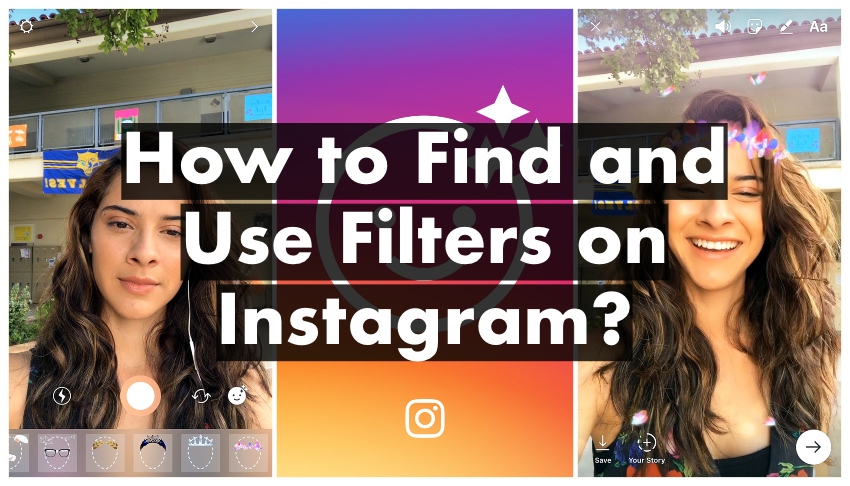 Instagram has become one of the most popular social media platforms today. Millions of people use it every day to share their photos and stories with friends and family. It's an excellent way to showcase your life and let your friends know what you're up to. That's not all since this platform also grows influencers, and they share their lives with hundreds and millions of people in the world.
Whether you are in the first category or the second, you're still using some Instagram filters to some extend. Filters are special effects that add artistic flair to your images. They can make your pictures look more professional or give them a fun new twist. There are hundreds of free filters available for everyone on Instagram. If you want to get started using Instagram filters, you should know how to use them properly.
When you learn how to use Instagram filters correctly, you can have fun taking beautiful pictures without having to worry about getting negative comments. You can apply multiple filters at once, change the filter settings, adjust the brightness, contrast, saturation, and hue. Learn how to use these features to create unique images that stand out from the crowd.
So whether you're sharing photos of yourself working hard or creating artsy selfies so you can show off your best looks, no doubt learning how to use Instagram filters will help you achieve both goals.
In this article, I'll give step-by-step instructions on using Instagram filters and other useful information that you might need.
Select Filter Settings
When selecting Instagram filters, the main thing to consider is which ones you will use. Some filters work better than others depending on the type of picture you take and the theme you choose. For example, if you shoot food photography, you might need to use a sepia tone filter instead of a black and white filter because foods generally don't appear as vivid as other objects do. So before applying any filters, check the photo editor options to find out what works best for each image.
The next option to think about is which ones you like. Whether you choose soft or sharp edges, vignette, blur, or even vintage filters, you can always change the strength of your filter later on. It all depends on how you want the picture to look, the aesthetic of your page, and, as I mentioned at the beginning, your liking.
As soon as you open an image, you'll see various filters icons along the bottom. You can access them by moving your cursor over to the right side, where the menu appears. To select an icon, click it and drag it into your image, the same way you would move an object on a canvas.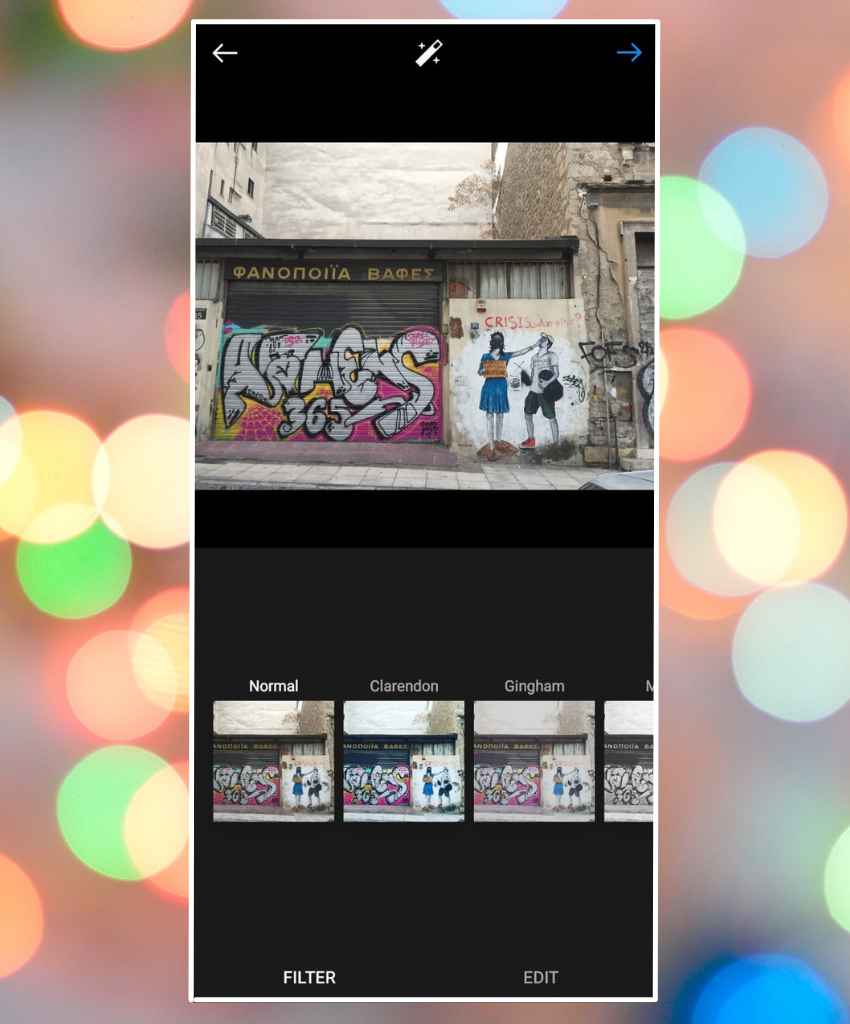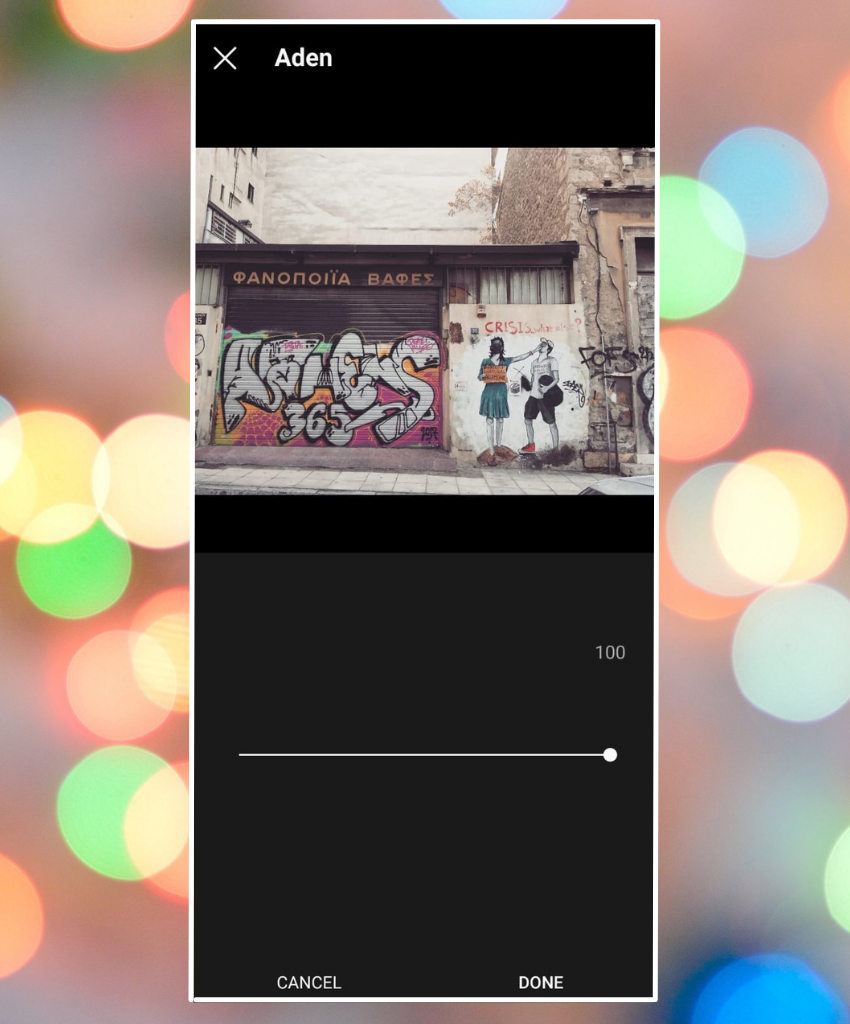 Once you've selected a filter, you can customize its effects by adjusting its strengths. Click the box icon near the center of the button and choose different values (from 0% to 100%) depending on how much of the effect you want. Here's how you change the strength:
To reset your filter back to default settings, just click the X icon within the filter itself.
The last setting to consider is what color mode you use. You have two ways to set your colors manually on mobile devices: light/dark or split tone. Light/dark only lets you pick between three preset shades: gray, green, and blue, whereas split-tone allows you to select specific tones to define each separate color component.
It's all up to you whether you want your filters to be subtle or bold. You can try changing the opacity, saturation, contrast, exposure, or focus. But you can also customize each shade separately in custom modes, so you can easily control the amount of red, blue, and yellow used for each color channel.
You may notice that certain filters won't play nice with one another. So here's a quick tip on how to avoid this issue. Just stay away from VSCO Cam filters, which combine several types of filters together. And if you want to keep things simple, stick with the basic app.
Adjust Your Image for Best Results
After choosing a filter, the next step is to adjust your camera settings, including exposure level, shutter speed, ISO sensitivity, aperture, and other factors to make sure your images are well exposed, taken, and lit. Don't worry too much about the technical stuff; there are plenty of experts who can teach you those tricks online if you're interested. Instead, make sure you know the basics to get great results immediately.
You should aim for a good shot time and a high percentage viewfinder display for starters. A bright scene doesn't require flash lighting, but if your model isn't wearing enough makeup due to not having enough natural light, then you'll need to add more exposure to compensate. This also makes sense for pictures that you take for yourself and not just models. Also, if you don't see the face clearly, take another few seconds to double-check the location before snapping the pic. This will help to prevent awkward selfies.
Position your subject off-center from the frame and shoot vertical instead of horizontal for portraits. In addition, you can crop down the sides of your photo to create a cleaner profile. Lastly, make sure she looks happy while posing by making small alterations to your composition.
Choose the Right Settings
Now that you have a beautiful image in mind, your final decision comes down to the settings on your phone or DSLR. Before you begin shooting, take some test shots using varying levels of brightness, white balance, clarity, and other features you'd like to fine-tune. Then, simply tap the corresponding icons at the top of your screen to apply them.
With that said, most iPhone users start out with the "Auto" mode, where Apple automatically adjusts these settings based on your device's conditions. For example, if your photo is underlit, it will give you an option to enhance depth. If your shot is too dark, you'll have the option to increase its overall exposure. However, if your picture is overblown, you'll have an option to reduce brightness and sharpen edges.
If you're not sure what settings best suit your needs, ask friends to recommend their favorite settings. You can also download apps like Camera+ to further tweak your photos later on after you've got them safely stored on your smartphone.
How to Search for Filters on the Instagram App
Instagram has hundreds of filters to choose from, ranging from simple black and white snaps to surreal dreamscapes. To get started, head into a filter dropdown menu and select one of your favorites. After that, there's no limit to how many filters you can combine together.
Filters can be fun, creative ways to change up your photos without spending hours in front of Photoshop. But they aren't always meant to be used all at once. Start with the classic ones first, such as black & white, sepia, oil paint, etc. As new filters become available, you can even try combining two to create a unique new look! Before getting too crazy, experiment with different combinations of filters until you find something you genuinely love.
When choosing multiple filters, keep in mind that each uses a bit of processing power when you save your edits. So it's best to play around with different combinations of filters before saving your changes. That way, you can avoid battery drain and slow your camera roll time down.
But remember, the choice is yours. No one knows your tastes better than you do—so go ahead, use whatever filters you think work best. Once you master the art of using filters on Instagram, share your best tips and tricks with everyone else through our comments section below.
Now, you may have heard about how filters are ruining photography, but we think Instagramers might disagree with that assessment. Filters offer endless possibilities when you're looking to spice up your social media feed, from blurring people's faces to creating ghostly effects. Instagram has a lot of filters to offer for you, but there are also other ones you can find from different people; I'll talk about it later in this article. Let's look at how you can search the Instagram filters from the application.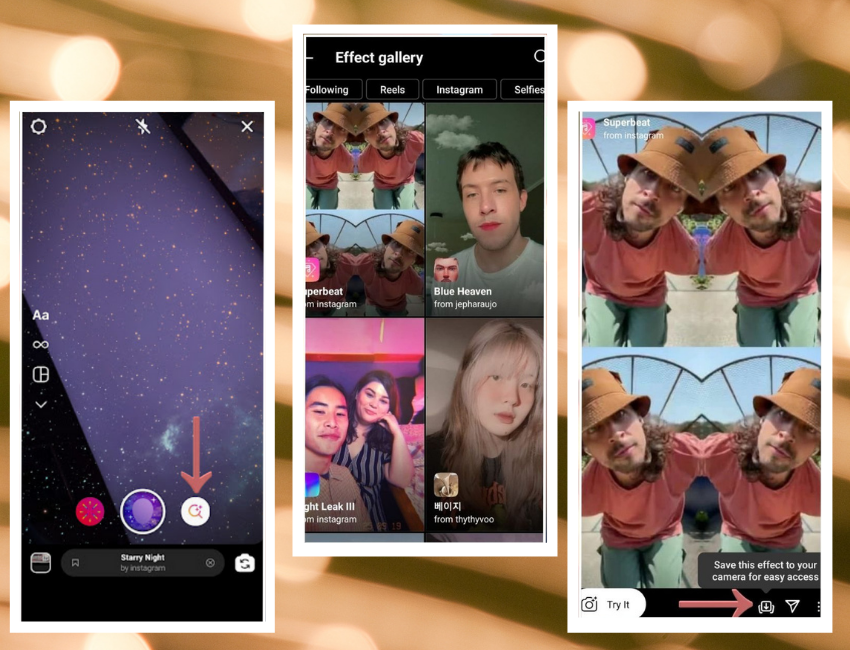 1 – First, open the camera from the Instagram app and swipe to the right from the icons at the bottom of the screen, then press the magnifying glass, which is the 'Browse Effects' button.
2 – In this new window, you can click the magnifying app at the top right of the screen or browse to find new effects that you want to try out.
3 – After you've selected an effect by clicking it, you can try it by pressing the button on the left where it says 'Try it!' or you can choose to save this effect to your camera for easy access by clicking the button as shown in the picture down below.
4 – You can select the newly added filter by scrolling to the left of the effects.
How to Find Instagram Filters from Creators
You can use the method above to search for filters made by different Instagram creators. However, in case you want to find out if a creator has filters follow this section.
1 – First, you need to open the Creator's profile and see if they have the icon highlighted in the picture below available to their profile.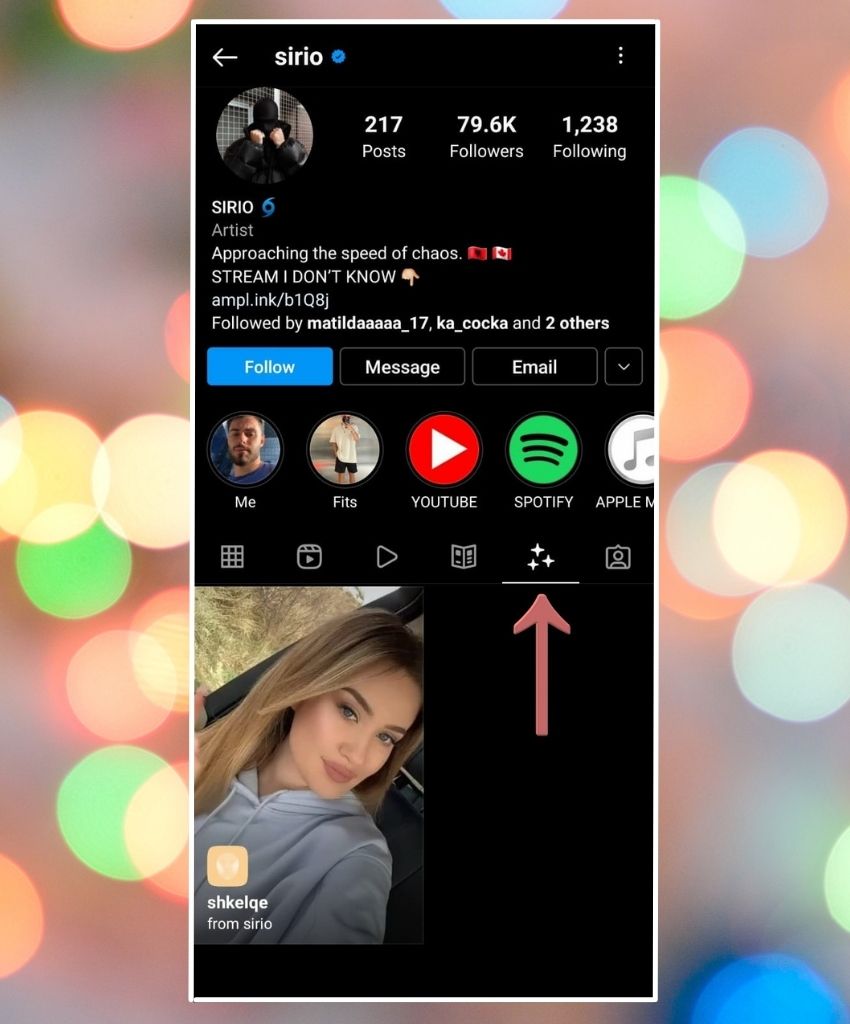 2 – Then, select the filter you want. You can either try it out or save it to your camera, and it's the same process as above.
That's it, and you're done now; if you want, you can snap a picture of a video with the new effect, and you can tag the Creator to show some love.
How To Get the Filter that Your Friends use on Instagram
Have you also come across some cool filters that your friends use on their Instagram stories? Have you wondered about how to get them and how to use them for yourself? If you answered yes to these questions, then don't worry, I'm going to show you in a few steps how you can do that; it's straightforward!
So, to begin with, you need a story from a friend that uses a filter you enjoy; once you've found that, click the filter's name. You can find it at the bottom of the screen, and once you've clicked it, there will be two choices for you. To try it, press the button that says 'Try it!' and if you want to save it to your camera for easy accessibility, press the down arrow.
If you can't get this to work for some reason, you can always ask your friend to send you the filter. That's really simple to do as well; all they need to do is to open their story, click on the filter's name at the bottom, and then press the 'Send to' button. It's that simple to do it, and I've shown you multiple ways you can do it, so I hope this helped.
The List with the Top 15 Instagram Story Filters:
In this section of the article, we're going to list some of the best Instagram filters that we think deserve the top spots over the rest. Keep in mind that this is just a preference of us at the end of the day so take them with a grain of salt. Either way, we've taken into consideration things like usability, functionality, and how long they've been active.
1 – Oslo
Oslo is an excellent photo filter for people who want to take photos without looking too artificial or fake. It makes your images softer, more natural-looking, and easier to post online.
2 – Kaleidoscope
Kaleidoscope is a color distortion that will add some magic to your Instagram stories. Change colors, shapes, text, and more.
3 – Dreamy
Dreamy is a lightroom-inspired look. The shadows are slightly blurred, and the details are sharper. It's perfect if you like vintage styles. This option looks similar to the standard 'vintage' setting on LightRoom.
4 – Vintage
Vintage is probably the most popular Instagram story filter so far. With this feature, you can make your pictures look like old film negatives. The edges are crisp and sharp, while the colors are faded.
5 – Retro
Retro gives your image a nostalgic vibe. There is a slight blur. A retro effect will bring back memories and give you a feeling of nostalgia.
6 – Diorama
It was designed to mimic the look of a live-action photograph taken with a diorama backdrop. The background creates a unique texture and adds depth. You can edit the colors and blend levels together for a professional finish.
7 – Blur
Create dreamy, artistic shots. Blurred backgrounds let you create subtle, soft lines in your photographs. There are six options for the amount of blur and three blending modes.
8 – Soft Focus
Soft focus is used to achieve a beautiful portrait style. Apply it to your subject's face.
9 – LoFi
LoFi takes your images into another world. The grainy look and texture evoke feelings of nostalgia.
10 – Lens Distortion
Lens distortion distorts the photo using lens imperfections. It adds depth and dimension to your images.
11 – Glamour
Glamour adds a touch of glamor to your pictures. If you wish to show off your gorgeous skin, use it on your selfies!
12 – Pop art
Pop art features vivid colors with strong contrasts. The image comes to life with the help of vibrant hues and abstract patterns.
13 – Gradation
Gradation is very close to the HDR technique. You can manipulate the tone curve, exposure settings, and contrast. Add dramatic atmosphere to your photos and share them online.
14 – Pinhole
Pinhole filters are pretty rare. They recreate the charm and simplicity of an analog camera.
15 – Motion Blur
Motion blur lets you apply different amounts of movement to a photo. It's great when you need a little bit of creative inspiration.
The List with the Top 15 Instagram Filters for Pictures and Videos:
Instagram filters aren't as simple as selecting the most popular option or applying the same filter to every photo or video. Also, they are different from the effects on the stories. They want to make sure users understand how they work before you apply them. This is done to make you be more creative and try out new things rather than settling with an effect for the rest of your posts.
1 – Clarendon
Clarendon is an excellent filter if you're looking for a simple filter that makes everything look more saturated. Skin tones stay naturally warm, and the overall look is very close to real life. Clarendon isn't as useful for other subjects.
2 – Old Film
Old Film brings back the vintage look. The color palette has been slightly adjusted to have warmer shades. You may enjoy this style if you love the good old days.
3 – Black & White
Black & white photos are commonly used in editorial photography. The result can be stunning.
4 – Paper Texture
Paper Texture adds a vintage, handmade feel to your digital photography. It helps add a sense of depth and interest to your images.
5 – Fisheye Photo
Fisheye Photo simulates the traditional fisheye lenses by zooming in one side without any distortion. However, the resulting view stays flat because there is no 3D perspective. 
6 – Juno
This filter increases the contrast and brightness of the image, making colors brighter and more vibrant. It also makes images warmer and gives them an enhanced effect.
7 – Dramatic Tone
It combines three toning methods — Red-Eye Correction, Exposure and Curves, and High key — to produce dramatic results.
8 – Vintage Camera
A vintage camera is perfect if you want to capture the beauty of old cameras. It adjusts saturation and vibrancy to preserve the original colors and textures.
9 – Soft Focus
Soft focus blurs faces while keeping the background sharp. It creates dreamy images where people seem like they're floating. It works best on portraits.
10 – Light Leaks
Light Leaks hides spots in the frame to give an ethereal glow to your photos. It's especially helpful if you frequently take videos during daylight hours.
11 – Polaroid
Polaroid produces nostalgic feelings and helps you connect with your audience.
12 – VSCO Cam
VSCO Cam uses film-like vignettes and saturation filters to create unique looks.
13 – Cartoon
Cartoon turns scenes into colorful cartoons.
14 – Pin Hole
This is a simple yet elegant way to bring more character to your images.
15 – Color Sketch
The color sketch takes black-and-white photographs and adds color to them. It can also adjust lighting and exposure for artistic control.